7 Excellent, Affordable Alternatives to Lipsense: Smudge-free, Kiss-Proof Lipsticks That Won't Break the Bank
Love long-lasting lipstick but not sure the cost of Lipsense or if you can afford it? I put seven Lipstense dupes to the test to see if they last and qualify as Lipsense alternatives. Here's my video proof and review of 7 excellent, affordable alternative to Lipsense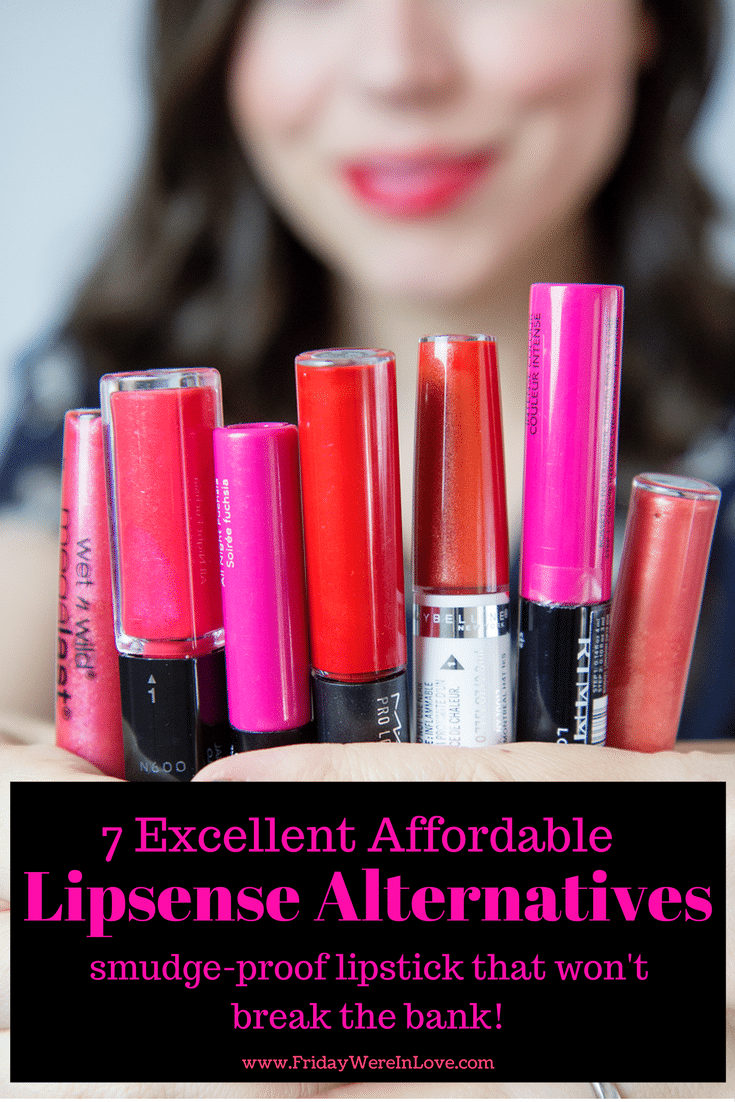 I'm pretty excited to finally share a project I've been working on for about a month now! I've been prepping, testing, and filming and I'm finally ready to compile and share this endeavor! I may even pretend I know what I'm doing and pretend I'm a regular vlogger too.
If you've been a reader for a while you know I dove into lipstick a few years ago after never really wearing it previously, and fell in love with bright colors for date night. I almost always have some form of lip color in my purse ready for a date or girl's night at any moment. I've worn several brands from the cheapest to some of the best, and I've been teased by several friends they are afraid to stand next to me because they feel washed out in pictures thanks to my love of bright lipstick at parties.
Best Drugstore Lipstick
I'm always testing new products, and when smudge-proof lipstick became a thing I was hooked! I wanted to share my thoughts on Lipsense, and experience trying other Lipsense dupes for anyone curious how they work. I figured there had to be other lipstick that stays on options, and I bought them all to review! My quest for the best drugstore lipstick options that wouldn't smudge began!
If you want to watch the intro in video format, feel free to watch this movie and skip down the alternative list with trial videos and ratings of each below!
Also, I wanted to add this is not paid/sponsored by any brand in any way. It's my experience and opinions honestly shared. Affiliate links are also used in this post.
Lipsense Lipstick and Lipsense Dupes
INTRO:


Intro Movie link: https://youtu.be/6QMiLRAvqGw
I'm sure you've heard of Lipsense by now and have probably had several parties or pop-up shop invitations, or Facebook or other social media invites. I feel like a new friend announces they will be distributed every week. So for those aware, great, you can skip the rest of this paragraph. But for those who haven't heard of Lipsense, here's the deal: It's a product that made a huge comeback this year mostly due to social influencers and bloggers. It's a lipstick/gloss that goes on in three coats and then stays put for pretty much an entire day.
It's smudge-free, kiss-free, long-lasting stuff. And people have fallen head over heels for a good product that lasts and stays in place! So much so, that many are joining as a distributor just to get a discount on the product! Lipstick that doesn't kiss off or doesn't rub off or smudge seemed like such a novel, innovative idea, and Lipsense is marketing themselves as the hot new formula that does this.
Lipsense Cost
I will admit upfront I really do like Lipsense, and I think it's a great product! But, there's something I really don't like about it- the price. We're talking $55 to get a starter kit, which yes, you actually need the entire kit to use and wear the product. As a girl with a few premium lip colors in her makeup bag, I even felt that sting pretty hard when I purchased my first kit.
I should also add it's totally up to the distributor selling, but Lipsense cost increases if they charge you shipping and tax. They may choose to eat either of these costs and not make as much, but they will likely pass it along since they are paying for it too.
My first came from a friend selling, and I totally love and appreciate women hustling to make a buck. But this still just seemed like a huge splurge to me. I had a second one gifted me. After that, I thought how much of a fan I was of a lipstick that won't kiss off that I can wear around my baby and kiss my husband during date night. It's really an amazing concept!
How Much is Lipsense?
But I just couldn't justify continuing to buy $25 colors that I was plowing through quickly despite the claims it lasts so long that it makes it a good value. I also was told the gloss would last with so many colors, but I was wearing it more than the color with refreshes throughout the day. That was another cost adding up due to constant wear.
I also had the marketing message presented that it's a super-premium product, and thus a higher price tag than you'd expect from a makeup company. I decided I'd own my two premium Lipsense products and have to settle at that since the Lipsense cost is so high.
Wait, There Are Lipsense Alternatives?
A friend on social media shared an Instagram story stating she didn't have the budget for Lipsense period, but had found a product that did something similar. She was happy with an $8 tube that didn't smudge and lasted pretty much all day. She said she couldn't compare because she hadn't tried both, but was a big fan of what she could afford! I knew I needed to try it, and put it on my shopping list! I had tried Lipsense, and I really did want to compare the two options.
At the same time, I had another friend sign up to be a Lipsense distributor, and she opened up to me that she was pretty distraught about the company while sharing some figures. Apparently, to earn a 50% markup distributors need to place a $700 order. So that's a fair amount of sales for one person, and a lot of cash towards makeup in only one order! I had my jaw drop a little hearing this. No wonder everyone was jumping on this multi-level marketing (MLM) train!
And although I'm like, yay for friends making a buck! I'm also like, wow, if they are making that much and the company is making a great profit too. Good for all of them. But for anyone on a budget, it's a hard pill to swallow. I'm feeling like the huge price tag is not going to a premium one-of-kind product so much. And, maybe it's time other cosmetic companies launch a product similar to Lipsense for those who can't do the Lipsense price.
Lipsticks Like Lipsense
The day I went to buy the Rimmel Provacalips, the one my friend had shared, I noticed there was a new display from Revlon, one from Cover Girl, and one from Maybelline too. Right then and there I decided it would be fun to try each of them and write a blog post about my experiences. It only expanded from there! I eventually found seven Lipsense alternatives to try out and thought I'd save everyone the cash of trial and error and let you know my thoughts on each.
Phew, long backstory, but I promise worth it! So here I have been the past month trying each one at least once, recording my experience putting each one on in the morning with my first impressions, and then filming my thoughts and results with each brand each night after trying it all day. I've compiled each of my experiences and thoughts into a series of YouTube videos, and I'll include each one with each product embedded in this post if you want to see the results instead of just reading the results.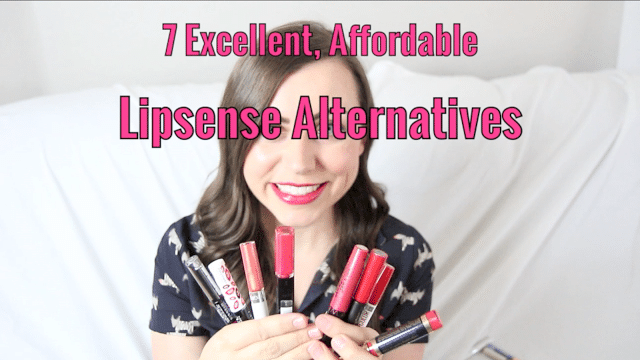 Lipsense Alternatives: THE TRIAL/REVIEW
I'm going to go through each of the 7 options and share pros/cons with each and rate them on a 5-star system. Here's what earns a product its stars:

#1. Does it work? Will it smudge or kiss-off?
#2. Longevity- does it stay on at least close to as long as it claims?
#3. Color – does it stay true to the color advertised, does it stay vibrant?
#4. Formula including application, appearance, consistency, etc.
#5. Price/Value- cost per unit and value of each bottle.

I also have a video to show my first impressions of each lipstick the morning of application, and the evening before I went to bed. All are taken the same day without any touch-ups and include wearing the product as recommended. I demonstrate the smudge test on each and share thoughts morning and evening. I'll add a few notes with the rating below each movie.

Rimmel Movie Link: https://youtu.be/ib0pmYvAQxw
The Pros:
No kissing off, it lasts a very long time (close to the claim of 16 hours), and the thick formula means only one coat applied. It's an easy-to-apply formula, with a quick coat and rubbing lips together like a traditional gloss. The thickness may turn off those who are used to Lipsense. It takes a little getting used to, but by the second wear and application, most people fall in love with this easy-to-use formula that really lasts all day! The gloss is also a great product.
This is a great value product with only one coat needed and a $5.80-$8.70 price tag.
The Cons:
My only complaint is the chunking the first week while my lips exfoliated, and the color limitations. I had to get used to the formula and really clean my lips before wearing, I also had to get used to applying one thick coat evenly. Once I had that it was great, but first wear threw me off with this thick formula. The bright fuchsia tube was a little deeper than expected, and there are limited colors available in this product.
Overall Rating: 4 Stars


Lipsense Alternative 2: Revlon Overtime Lipcolor
Revlon Movie Link: https://youtu.be/mQdPG4XBZFg
The Pros:
Easy to use, easy to apply correctly on first use, zero smudging/rubbing off, and the color options are amazing! We're talking 30 options, easy to find in stores and online, and the color is very true to what you'd expect. This one also did one of the best jobs lasting with a lot of wear and tear. It's a great formula that doesn't flake or chunk off, and it only takes one coat of use with minimal gloss needed.
The Cons:
A bit more money than the other options, about $13 with about half the product most the competitors' supply. The value is still great, but compared to others it's a bit on the higher cost side. Not enough to turn me off or prevent me from future purchasing!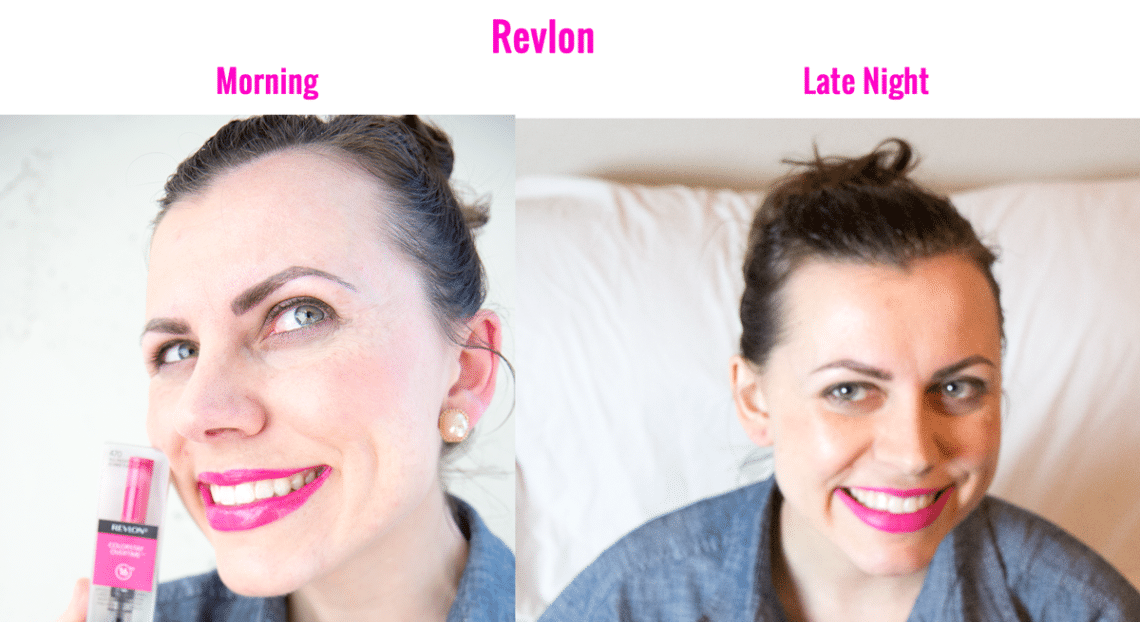 Overall Rating: 3.75 Stars, and is VERY comparable to Lipsense in feel and wear.

CoverGirl Movie Link: https://youtu.be/F5FXToGpJg8
The Pros:
This one claims to be a 24-hour formula and I'd have to agree! It's the same from start to finish, it goes on smoothly, it's a good value, there are a ton of colors and the colors are pretty true to what you'd expect. It really is a quality item that's easy to use, stays put, but is still easy to remove with a makeup remover.
The Cons:
I thought it faded or wasn't as vibrant first wear, but the second time I wore it for a shorter time and didn't feel this way. I think I just had to get used to the idea of a neutral color instead of the bold I'm used to wearing. I'd say it's still better than most of the great products I'm listing, but it's just shy of the 24 hours at full color.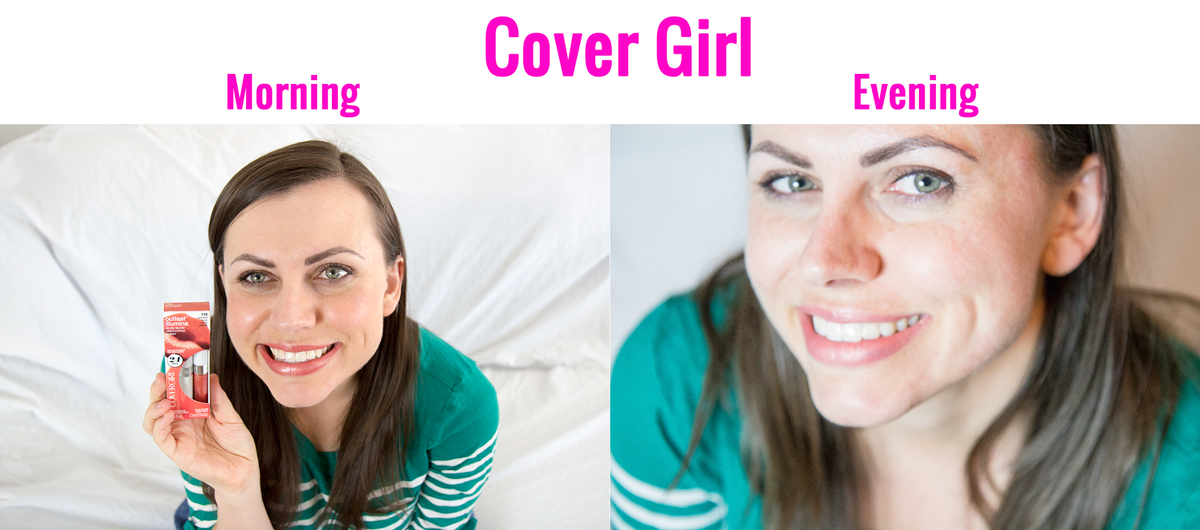 Overall Rating: 5 Stars!
Great value and a great product! If you're looking for a Lipsense copycat I'd say this is the closest thing!
[youtube https://www.youtube.com/watch?v=Tftasdvo3xI]
L'Oreal Movie Link: https://youtu.be/Tftasdvo3xI
The Pros:
Oh, my color! The color is a gorgeous, bright, perfect pigment, and there are lots of options! It has a great formula that goes on thick, dries super fast, no flaking or issues, and it stays put 100% almost instantly from the first application. It's also a great value at about $8.00 a unit without much needed to get an even, beautiful coat. I'm going to list this one as a pro, but may be a con to others. The formula is different than Lipsense or traditional stain-like pigments that go on your lip and work with your skin. This goes on and behaves like a stain, but looks more like a thick lipstick. It has a smoother, prettier finish and it blends the best of lipstick with all the perks of stain.
The Cons:
Slight color fade by the end of the day and corners had fading too. It held up pretty well, but I'd probably only do this one for 8 hours and then remove and apply again.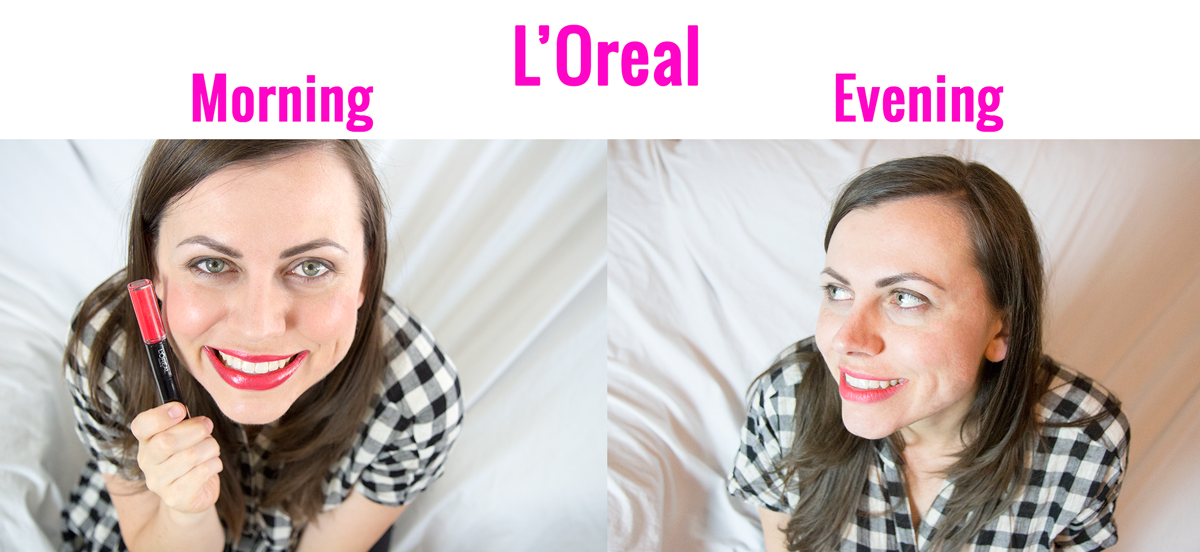 Overall Rating: 4 Stars
This is tied for second place in my book. I loved how beautiful it looked, it exceeded my expectations! It's by far the easiest to apply and aside from not lasting as long as some, it did everything you'd expect at a good value!

Maybelline Movie Link: https://youtu.be/K0lW2Gr0Frs
Pros:
Bright color that stayed put the entire day and night. It has a mixed formula closer to lip bonding stains but still some of the polish of traditional lipstick. It's the best of both worlds and it's easy to tell once you put it on. There's zero smudging and it's a lipstick that won't kiss off or rub off while eating for sure.
Cons:
The price is great but this isn't the best value on the market. In most drugstores, it's about $8.00 a unit, and the fluid ounces per cost seemed great when purchased, but this is one that needs to go on a little thicker so you may use more product faster than the others.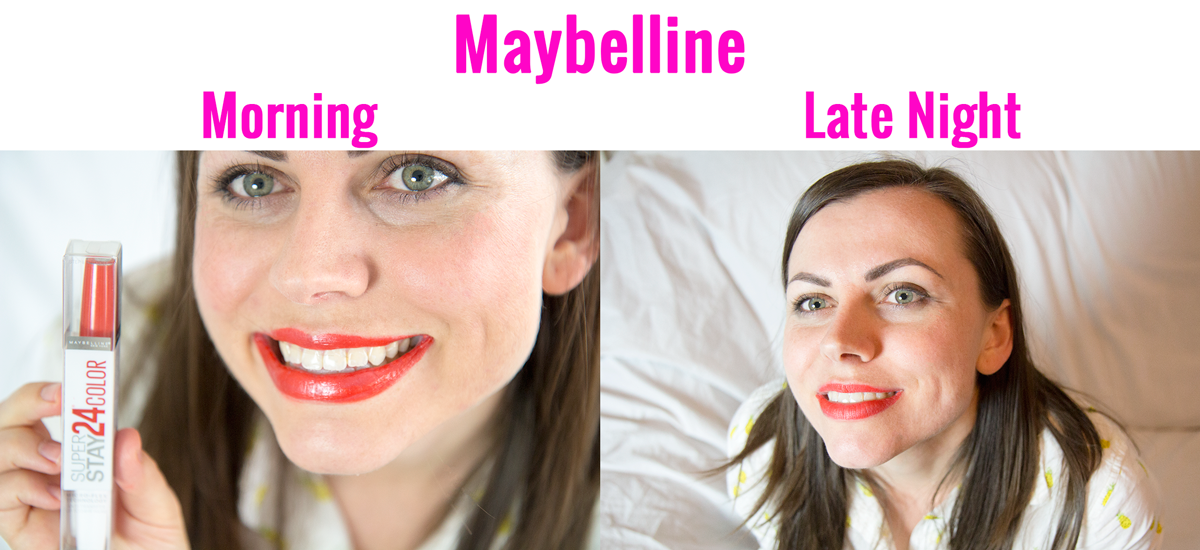 Overall Rating: 4.5 Stars.
I'm going to be blunt and say I'm pretty sure this was my favorite! My lips looked amazing all day. I was pretty confident I could sleep in this amazing color/texture product and wake up looking amazing.
*Post-edit. I've used all for months now, and this is still my favorite and I love it the most! I've bought a few more colors and they all look amazing and feel fantastic while really lasting!
They've also updated the formula to include the gloss and matte finish as one. I have to say it's fantastic! There are so many more color choices too!
After Wet n Wild was discontinued I looked for another option to test and I'm SO glad I did! This is my most used lipstick and the one I think is best to not prematurely age your lips! I love that it looks like a classic lipstick and wears like a lipstain. All this without drying and aging your lips.
I love a bright color, and each lipstain seems to take its own hue with your skin. My favorite thing about Shine Cosmetics Liplast is the color is the true color! I own three different colors, and they are all true to what you see online. Genuine is my favorite, but if you need a solid neutral Timeless is gorgeous too!
They also make a new Lip Velvet that's even more of a gloss application but still dries matte and stays put for hours.
Shine Cosmetics Liplast Link: Click Here
Pros: I found LIplast when I started to notice Lipsense and other alcohol-based lipsticks drying and aging my lips. I knew there had to be a moisturizing lipstick with better ingredients that lasted. Shine Cosmetics delivered!
It applies easier than any of the other options! It goes right on like lipgloss and lasts for hours!
The Cons:
Because this one isn't alcohol-based, it doesn't last the entire day. You will need to reapply a second coat if you want to work it for 12 hours!
It's a bit more pricey than some of the others, but remember you can get 10% off with Shine Cosmetics promo code: CAMILLEW10
Overall Rating: 4.5 Stars
A pleasant surprise with products I know aren't aging my skin! I love this one and it's one of my most-worn lipsticks!
Mac movie Link:
https://youtu.be/wL89MiFJihE
The Pros:
Excellent formula- goes on smooth, stays put, and it's bright and vibrant. It's just what I expected from this company, and was thrilled to see it's just like my
favorite tube of bright red
. This was also my favorite gloss by far! Zero smudging, quick drying, and a smooth formula make this such a winner!
The Cons:
It's still half the price of Lipsense, but it's $25 a unit, which is quite a bit more than other products tried.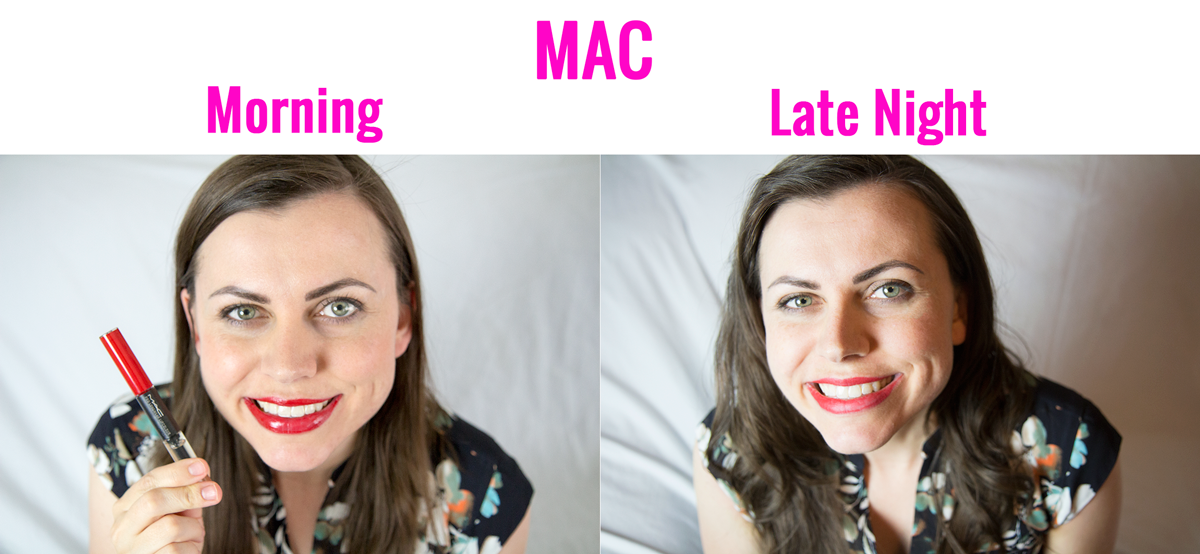 Overall Rating: 4.5 Stars
Such a great product, price and being a little harder to find is my only complaint.
Post Update:
Five years ago I tried Wet N Wild Megalast and shared my thoughts about it as an alternative. It was my least favorite of the group. It's not hard to find and expensive, so I'm dropping it from the list, but if you'd like to see past thoughts, here it is!


Wet N Wild Movie Link: https://youtu.be/tNT09kg6ipU
Pros:
Oh my cheap! $3.00 a unit, a good size tube, and it doesn't kiss off or transfer! I had low expectations and found myself very pleasantly surprised with the pros! The color is great and stays true for at least 5 hours. It's a great one for every day if you don't want to break the bank!
The Cons:
With my first wear (recorded in the movie) I don't think it was mixed right, so you'll want to shake the tube! It was thick, chunky, and flaky almost instantly on the dry spots. This one doesn't come with a top gloss like all the other Lipsense alternatives, so it's a different feel. I'd highly recommend adding coconut oil first and then applying the product if you want long wear and the right formula! After I did that I was pleasantly surprised by how well it worked, but it's pretty bad without it. Also, the application brush isn't so great on this one, but it does the job.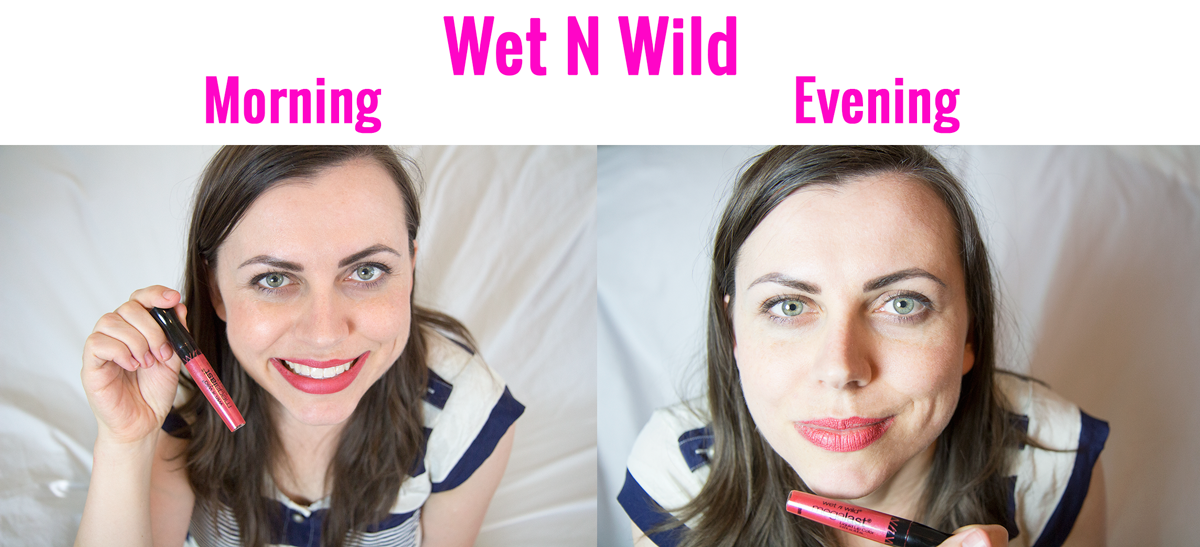 Overall Rating: 3 Stars
A pleasant surprise with some quirks, but a product I'd use again for such a low price!
And I feel the need to include a Lipsense review here too for relativity:

Lipsense Review
The Pros:
Easy to mix-and-match and create your own custom color! Non-GMA, Vegan, and has alcohol to help sanitize. Lipsense ingredients are definitely tops. The color works with your lips, and it really stays on! Zero smudging or issues, dries fast (faster than anything else I tried), and looks great on most people!
The Cons:
Lips have to be conditioned without chapstick or other products whenever using. There's often some flaking and issues, and a week adjustment time. It can be a little frustrating to go through the process and use that much product while your lips condition.
The biggest and main reason for this post is the cost. $55.00 for a starter kit with a 50% (or less) profit margin going to the MLM. That's a lot of money for one product! It's a great product, but the cost is out of a lot of people's price range. That's why I started this search for Lipsense alternatives to begin with!

Overall Rating: 4 Stars



Lipsense Dupes CONCLUSION/SUMMARY


Conclusion/Summary Movie Link: https://youtu.be/Ew8-hbA3xSs
All these are great options and worth your time and money! Don't feel pressured next Facebook group add or in-home party. There are other great choices out there that won't break the bank if you can't afford Lipsense!
I've also had such an amazing response to this post asking about how to get started conditioning lips as mentioned above, what is Lipsense, and the cost breakdown per ounce. I did a smudge-proof lipstick FAQ and follow-up post to this post you can read here.

One last thing, I've had several people let me know they are still totally interested in where to buy Lipsense and are wondering if I know someone they can buy it from. I totally get that, it's awesome and worth the splurge to so many people! I still use and love it too! I'm happy to hook you up! Email me: [email protected] with what color you're looking for and I'll hook you up with a distributor!
Get 365 Date Ideas!
We want to help you have the best date nights ever! Grab this FREE printable with 365 date ideas, a date for every day of the year so you never run out of ideas!