Vintage Curls Using Vintage Rollers Tutorial
These vintage curls using vintage rollers are one of the easiest styles to get some volume and retro style! This vintage curls using vintage rollers tutorial will walk you through everything you need to recreate them yourself.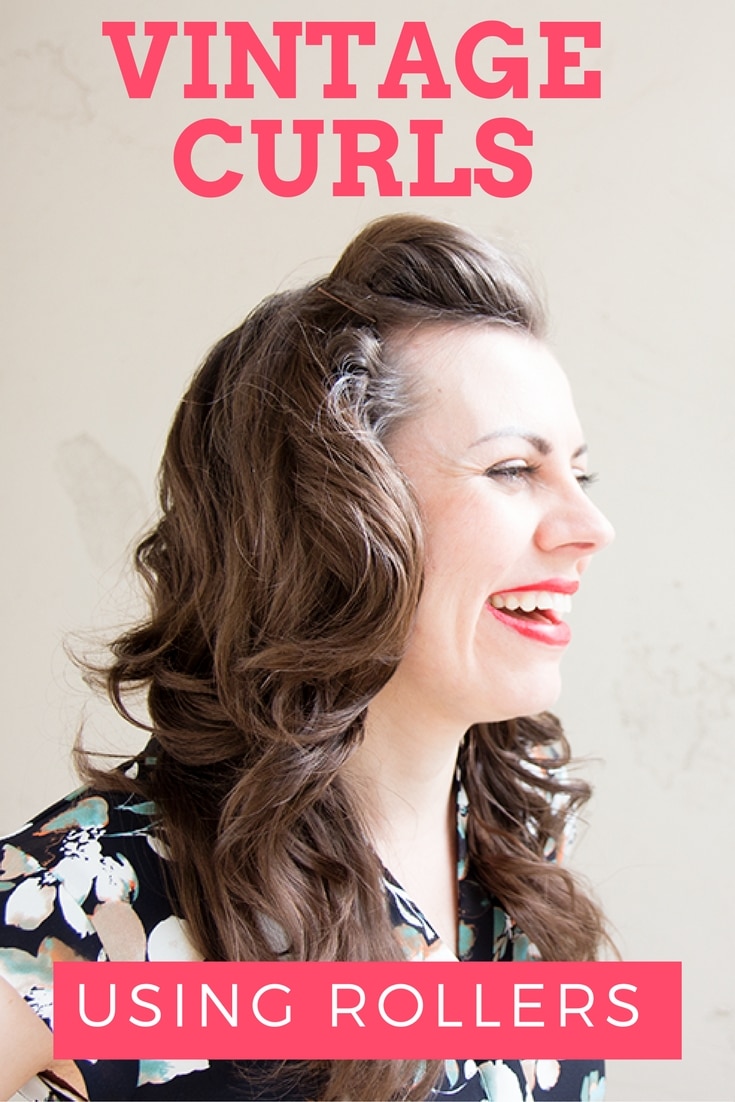 Maybe it's a love of full skirts, or maybe it's the fact that love comes from a very pear-shaped body and smaller waist that lends to vintage styles fitting better, but sometimes I just love to play up 1950's/1960's styles with clothes, hair, and make-up for date nights.
I've had a set of rollers for over a decade, they are old, they are vintage rollers, and they still do a killer job at what they do. Plus a lower heat to help with my goals to strengthen hair postpartum and they just have me sold. It's just been the past few years I've decided to really learn how to use them. After asking several girls with great volume their secret, many have said they use hot rollers. I decided it was time to get more comfortable in the name of volume, but I've been thrilled with the luck I've had in using them for vintage curls more than anything! Today I'm going to share how to use them in a vintage rollers tutorial and best practices for keeping hair looking great!
Here are a few awesome stats on this amazing line!
– Infused with B7 Biotin, a vitamin known for superior benefits to strengthen hair.
– The products are proven to strengthen as well as use Pureology® Strength Cure®.
– The shampoo and conditioner system reduces breakage by 95% vs. non-conditioning shampoo for dramatically less hair fall and full, thick looking hair (hello other postpartum mamas, did you hear that!?!)
– Anti-Breakage Serum makes hair is 20x stronger vs. non-conditioning shampoo.
It's about as easy as can be to shampoo and condition and then apply treatment to your hair while it's wet right out of the shower. I love doing this since hot rollers spread heat throughout your hair, it's nice to worry less about breakage and know Suave has your back!
I let my hair air dry, but you can definitely blow-dry if needed. This also works well on 2nd-day+ hair, so keep this in mind if you need to push your hair in-between washing.
Here's a set almost identical to the one I'm using!
To start you'll want to heat your rollers. Most vintage and modern sets need at least 20 minutes to heat up and do their job, so I'd plug it in right when you wake up or get out of the shower.
Vintage Rollers Tutorial
After this, it's all in the sectioning and rolling techniques.
I knew I could write a novel, but I thought a show instead of tell would be best, and I'm including a YouTube tutorial I created just for you guys!

So there you have it! Just a few rollers in the right direction later and a bit of styling is all it takes.
I have about the flattest, straightest hair ever and I love that even my hair can pretend it's well-behaved for a day or two since these work so well!
I also love in an era of very loose beach waves that this adds a bit of variety to going out looks.
Be sure to visit your local Walmart to try out all of the new 2016 Suave Professionals collections: Coconut Oil Infusion, Coconut Milk Infusion, and Biotin Infusion, while supplies last.
Like this hair and beauty tutorial? You may love these posts: