Summer Pregnancy Survival Guide
The struggle is real with overheating, having a space heater attached to your belly, and surviving a summer pregnancy when you're expecting! Here are tips and the best ways to stay cool and survive while being pregnant in the summer.
Maternity swimsuit: C/O Pink Blush Maternity
My mom had nine pregnancies, and six became children. She said with each the biggest concern was how to avoid a summer pregnancy. Consequently, we are all born between January and May so she never had to overheat pregnant during a summer pregnancy.
I wish I could have been as fortunate as my mom to never know summer heat or overheating while pregnant. Infertility lead us to take whatever pregnancy we could get, whenever we could get it! For me, both pregnancies have included not just being pregnant in the summer, but being pregnant in Arizona in the summer.
With my first, I was due the end of September, and had him the week he was due. I spent the entire summer pregnant experiencing every degree of heat that summer. It gets up to 120 degrees in Phoenix, and during the end of summer, the monsoon season comes which brings slightly lower temps and a lot of humid heat. Boy did I learn quickly what I'd have to do to take care of myself!
With this pregnancy, I'm due at the end of July, the hottest temperature time in Phoenix. I know I'll be experiencing the most intense heat while I'm my biggest. Thus I've had to take a few precautions to make sure I figure out how to stay cool while pregnant and survive the summer.
For any expecting moms who also find themselves pregnant in the summer, I thought I'd share the top tips I've learned through experience and by talking to my doctors about how to survive a summer pregnancy.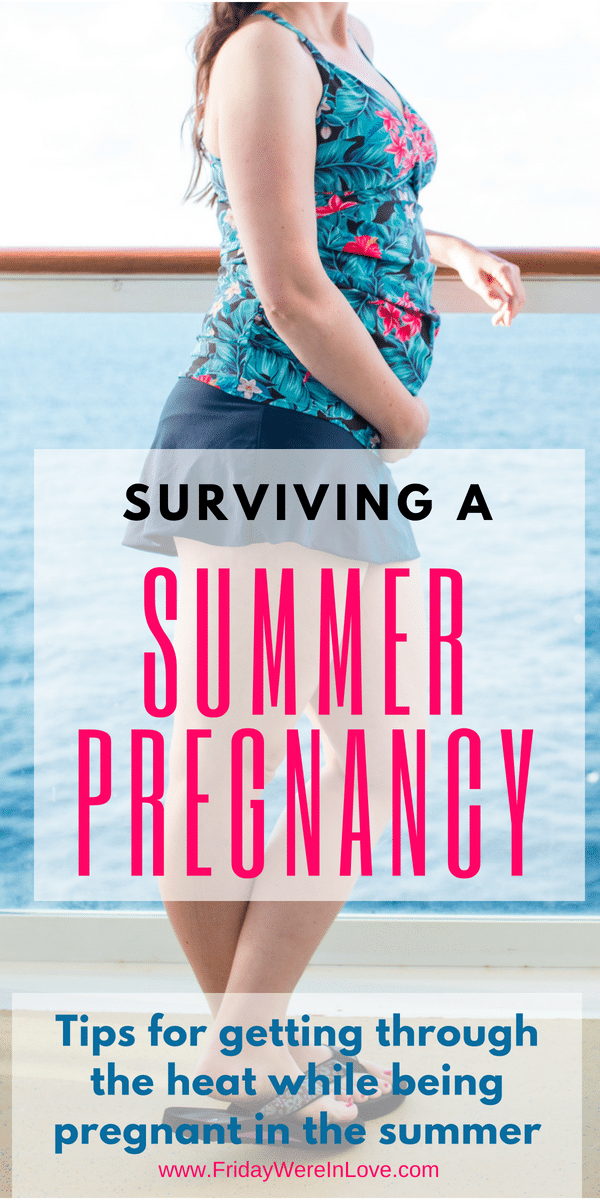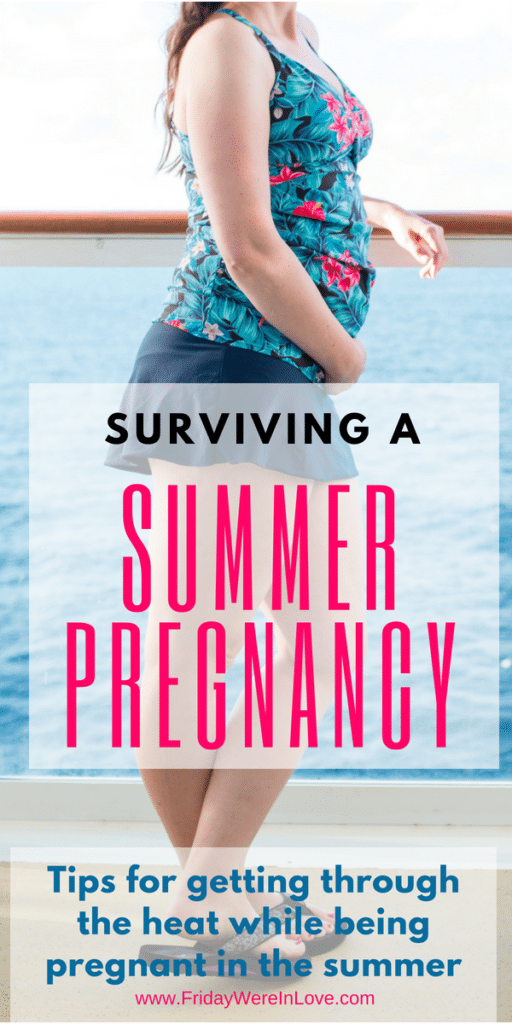 Summer Pregnancy Survival Tips
Stay in the air conditioning as much as you can! This one seems obvious, but really, it's just not a time to be outside and risk overheating or heat exhaustion.
Hydrate hydrate hydrate! Every issue I've had, I've had a doctor of my Labor and Delivery Nurse friend Hilary tell me to fix it with water. Swelling? drink more water. Low blood pressure? High blood pressure? Drink more water. Dizzy after working out, you'd better believe hydrating pregnant is the top tip! I feel like I can't fit in more water some days, or that I'm always heading to the bathroom. But guess what, the hydration does indeed actually help every heat-related summer pregnancy issue I've had!
Keep those feet up!
Speaking of swelling, my doctor told me it may be twice as bad for a summer pregnancy in the heat as it normally is. Yikes, it's not something I enjoy and something I've definitely experienced! Keep your feet propped whenever possible. It's a great opportunity to test that baby glider or get a little stool for under your desk at work.

How to Stay Cool While Pregnant


Make friends with the swimming pool.
I learned with my first baby I could keep my summer pregnancy swelling down about half the normal levels with a morning swim. An evening swim cools you down too. If you own a pool that's amazing! If you need to buy a kiddie blow up pool, by all means, do it! Also, if you know someone with a pool ask for permission to swing by often. You can always find a community pool too and make regular trips. And if you're looking for a great maternity swimsuit, I can't recommend Pink Blush Maternity clothes enough! That's where this one came from. They have so many styles and options. It was so easy to find the perfect suit to get me through this summer!
Ice chips are your best friend. I actually have sensitive teeth and normally go easy on the ice. But ice chips are different with pregnancy. They help keep me hydrated. They help me stay cool while pregnant. If I have to be outside at all, I keep a cup of ice chips on hand. They make a huge difference!
Run errands, work out, and do whatever you need to early in the morning. Find the coolest time of day and make that the only time you go outside. I used to go to work earlier just to avoid the walk from the parking lot to the office in hotter temps. Now I run my errands with my toddler first thing. After that, we avoid the hot summer air!
Set a temperature limit. For me, anything over 80 degrees just won't work. We've turned down fun zoo trips, travel, and even eating on the patio at restaurants. Know what temperature you can handle, and don't push it!


Surviving the Heat of Being Pregnant in the Summer

Give yourself permission to eat some cold treats.
A little indulgence is fine, and sometimes that ice cream cone is just what you need to cool off! Shaved ice is saving me this summer!
Find cold food items you can eat.
I'm digging every acai smoothie bowl, protein smoothies, cold salads, etc. We're doing this at home to keep the oven off, and sometimes I find myself ordering the cold plates at restaurants too.
It's okay to take an afternoon nap.
Growing a human is hard work. The heat of the day hits right at siesta time. If you're lucky enough to fit it in your schedule, even just on the weekends, give yourself an afternoon nap.
Being pregnant in the summer also has some perks. Your swelling typically goes down right after delivery. There are far fewer diseases to worry about for the newborn. And of course, you have the best excuse to indulge in some summer pregnancy clothes! Which deserves its own summer pregnancy survival section!
Pregnancy Outfits for Summer
Go ahead and invest in some lightweight knit dresses. They are so breathable, and they make a summer pregnancy so much more stylish and doable!
Avoid layers. A simple maternity t-shirt and shorts or a skirt will do! Avoid buying those items you'll need to wear something under. If you work in a cold office, buy a lightweight sweater you can easily remove before you head out in the heat.
Buying loose cuts and fabrics is your friend! Don't do anything too tight or constrictive. Make sure you get breathable fabrics and breathable cuts.
Also, if you need some ideas where to find pregnancy outfits for summer, check out my post on The Best Places to Buy Cute Maternity Clothes. There are so many great options there!
Like this summer pregnancy post? You may like this pregnancy tips too:
The Best Places to Buy Cute Maternity Clothes
Stitch Fix Maternity: Pregnancy Style You'll Love!
15 Maternity Outfits Using the Same Maternity Dress
Fun Things to Do While Pregnant: Date Ideas While You're Expecting!
Get 365 Date Ideas!
We want to help you have the best date nights ever! Grab this FREE printable with 365 date ideas, a date for every day of the year so you never run out of ideas!