15 Maternity Outfits Using the Same Maternity Dress
Looking to get the most out of the maternity wardrobe and put together some pregnancy outfits you'll love? Here are 15 ways to style the same maternity dress to create 15 different maternity outfits!


Maternity Fashion
I fall somewhere in between minimalist and shopaholic, depending on the day and the item. I think most people do. It's no secret I love clothes and finding new date night looks. But I also know consumerism downfalls, and sometimes I opt to just save the money and make what I have work until it wears out. Let me tell you, nothing brings this out in me more than pregnancy and maternity outfits.
I have found two levels of the bump: oh cute it there! And, in the third trimester, I look like a whale almost instantly. My body is engulfed by a belly and people love to ask when I'm due even when I'm at 30 weeks. I kid, but I know this is also a universal truth that there's pregnant and really pregnant, and many women need different sizes throughout pregnancy. That, or one really great stretchy item that sticks around from start to finish.
Maternity Styles
I've learned to fall in love with knit dresses that work from start to finish. It's one of those maternity styles you can wear from first trimester to delivery. They appeal to my minimalist side that knows these pregnancy outfits are only going to be around for so many weeks. But I also really hate getting bored with one item.
Last pregnancy I invested in a striped bodycon maternity dress that I wore up until two days before delivery. I worked that dress weekly! And I learned to style it to make it work for me!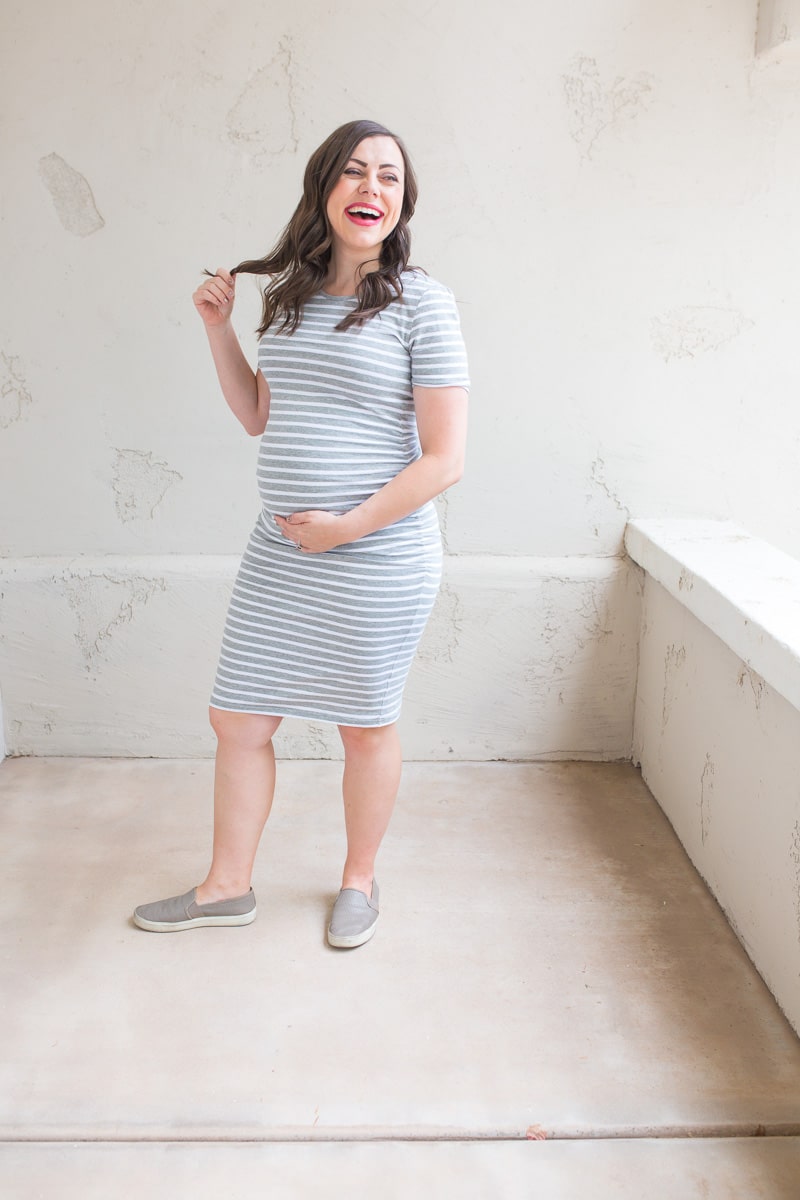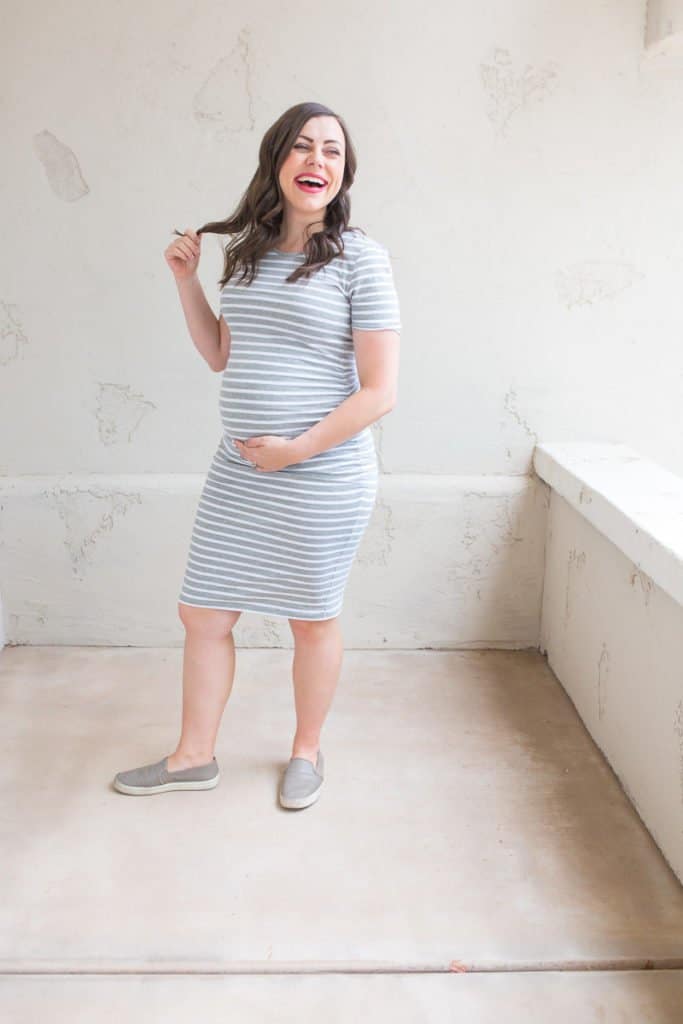 I vowed if I was lucky enough to be pregnant again (infertility mama over here) I would shoot a bunch of ways to style the same maternity dress. And today friends is that day. I can't wait to share these maternity outfits that make an appearance in my wardrobe often using the same maternity dress as the base for all maternity outfits!
15 Maternity Outfits Using the Same Maternity Dress

Start with a maternity dress you love all on its own. I highly recommend a fitted maternity dress that is easy to wash, super comfortable, and in a neutral pattern. A neutral color doesn't hurt either! Blue and white striped dresses, a little black dress, your favorite color, or something like this gray dress is always a good idea.
Find my Gray Striped Maternity Dress HERE!
Maternity Outfits: Dress it Down
Add a Vest

The utility vest is so darn functional, and it makes any dress feel appropriate for everyday wear. I also love that it helps mask the belly button as an outtie and anything else I'm feeling a little self-conscious about with maternity outfits when I zip or button it.
Give a nod to the 90's in a denim vest

I love this vest I found for $25 on Amazon (it comes in tons of sizes and color options too) and how it goes with everything! It will be worn after baby, but it's a great piece to add interest to outfits now.
Add a t-shirt

I love a good band t-shirt to remind you that you once could stay up past 9:00! It also dresses down a dress, accentuates the bump, and lets you enjoy some of your pre-pregnancy wardrobe.
Dress it down with a baseball cap and sneakers

A hat is always a great idea, but a casual baseball hat and sneakers scream casual. This is one of my favorite maternity outfit ideas for a fun weekend date night look.

Pregnancy Outfits: Dress it Up

Add a kimono

Sometimes you just need something loose and less structured to feel great when pregnant. A kimono is a great way to do this without feeling frumpy. You actually dress up your look, and there are so many options and colors to choose from! Plus, this is an excellent postpartum piece you'll adore when the baby comes too.
P.S. This kimono came in my Stitch Fix Maternity box
Add a lacy duster

Mine is short just because it's hot this summer, and thus summer maternity clothes work best for me. But, you could grab a longer duster for a fun layered look. This also works with chunky sweaters if you're lucky enough to be a winter pregnancy and not worry about the heat!
Dress it up with a blazer

It never ceases to amaze me what my suit jacket can do for a dress! It instantly classes up any look, and even a basic t-shirt dress looks dressy with a blazer! File this under maternity outfits for work that are easy to pull off!
Dress it up with a statement necklace and heels

A little jewel or pearl bling moves the eyes up from the body, and it makes an outfit feel far more formal. This is one of my favorite tricks for nice nights out when I'm wanting to be in comfy pajamas.

Maternity Style: Remix it Unexpectedly

Wear it as a skirt with a peplum top

Sometimes you just don't want to wear the same dress again. That's why rocking it as a skirt with a peplum top adds new life! This is a fun time to pattern mix, or to just wear a shirt you know you'll love after delivery.
Add a button-down shirt

Tying a shirt around your dress adds a little structure to the outfit. You can also leave it unbuttoned for a fun casual look. Play with colors and patterns, and make sure your pre-pregnancy favorites get a little wear right now too.
Wear it as a shirt, add a skirt

A fitted maternity dress works so many ways, and sometimes I love rocking it as a shirt! Grab a skirt just longer than the dress and give yourself a nice waistline above the bump.

Accessorize To Style Your Maternity Outfits

Grab a leather jacket

Want something a little edgy while you're pregnant? I've never seen a pregnant woman not look chic in a leather jacket! It's a great way to mix up a dress and add some edge to the sweet nature of a maternity dress.
Add a pop of unexpected color with a jacket

Color blocking is an easy way to add new life to the same piece you wear over and over again. Grab something unexpected and make a new color combo to make the dress feel more fun.
Add a scarf

One of the easiest accessories to add, and I love that you can wear it around your neck or around your waist. Try fun patterns, monochromatic looks, and different scarf tying techniques to make the dress feel fun and different with the same accessory.
You can never go wrong with the denim jacketIt's a classic for a reason, and it goes with everything.
Like this pregnancy style post? You may like these too:
The Best Places to Buy Cute Maternity Clothes
The Best Flowy Non-Maternity Maternity Dress
Pregnancy Overalls: The Trend to Rock
Get 365 Date Ideas!
We want to help you have the best date nights ever! Grab this FREE printable with 365 date ideas, a date for every day of the year so you never run out of ideas!