A roundup of the best Christmas slippers. Don't miss out on holiday slippers to pair with your Christmas pajamas, or for the perfect gift this holiday season!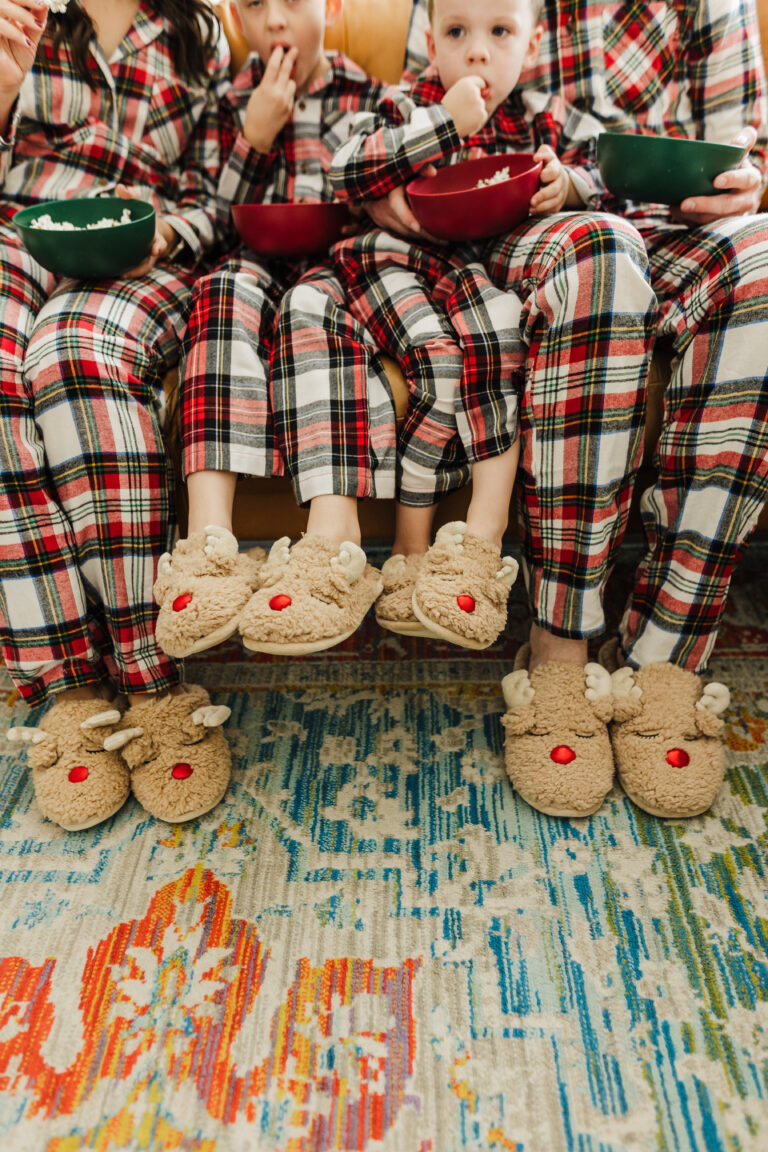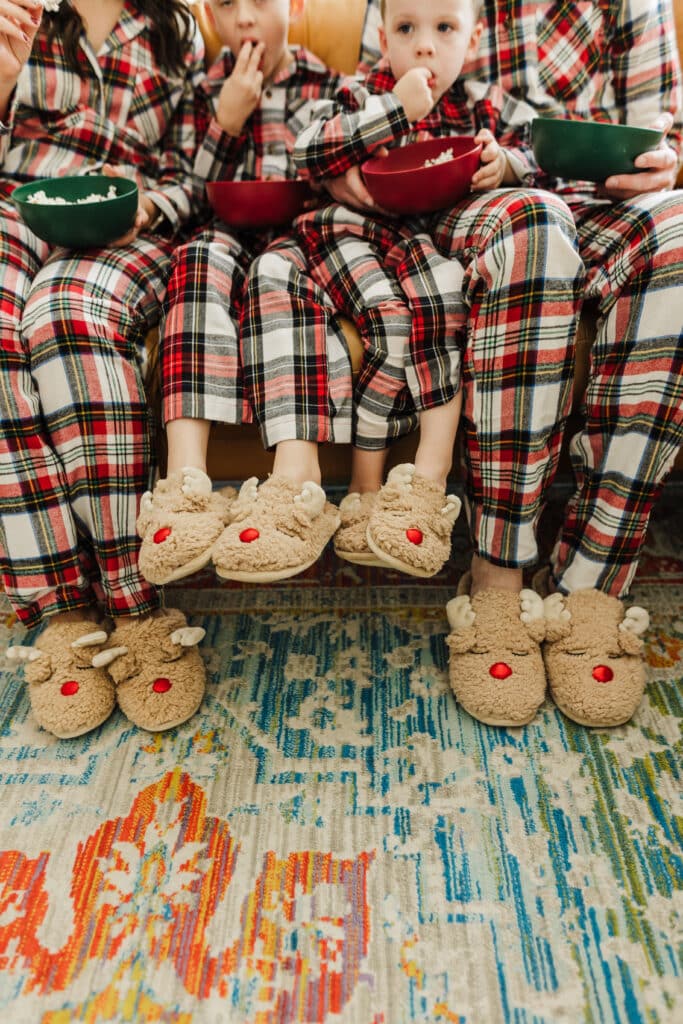 We love to do matching family Christmas pajamas, getting our boys Christmas pajamas, and even love couples Christmas pajamas. This year, I realized we all could use some new slippers, and how fun Christmas slippers would be to enjoy with our Christmas activities at home and at pajama parties.
Family Christmas Slippers
There's just something about grabbing slippers for the whole family. When everyone gets a fresh set of family Christmas slippers, it feels like a special holiday tradition, and one I think is worthwhile!
The moment I saw these Rudolph shearling slippers for the whole family, I went from "This might be fun" to "We definitely need to make those happen!" Our matching family slippers are a great deal at regular prices, but there are often coupons and sales!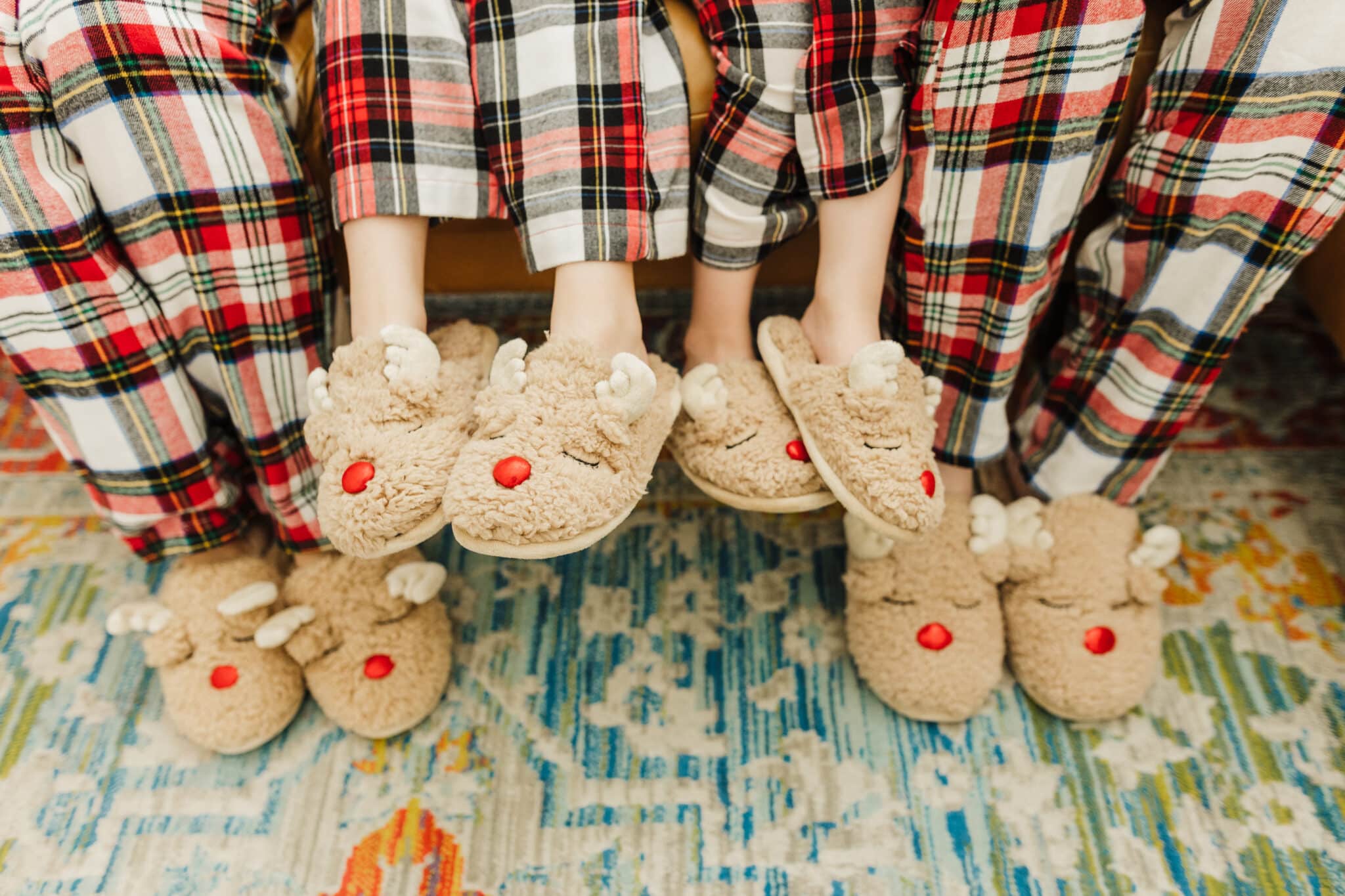 Cute Christmas Slippers
If Rudolph isn't your jam, check out all these original designs with a holiday twist! Dearfoam Christmas slippers are always darling, and they're a gret price for the quality!
This line of bear plush slippers that look and feel like soft bear fur is perfect for the holidays, or to enjoy long after. I love that they make sizes for everyone, and you can include even aunts and uncles and get the quantity you need for matching slippers!
And of course, you can go with a classic quality sheepskin slipper as Christmas slippers for the family and look fantastic with a classic!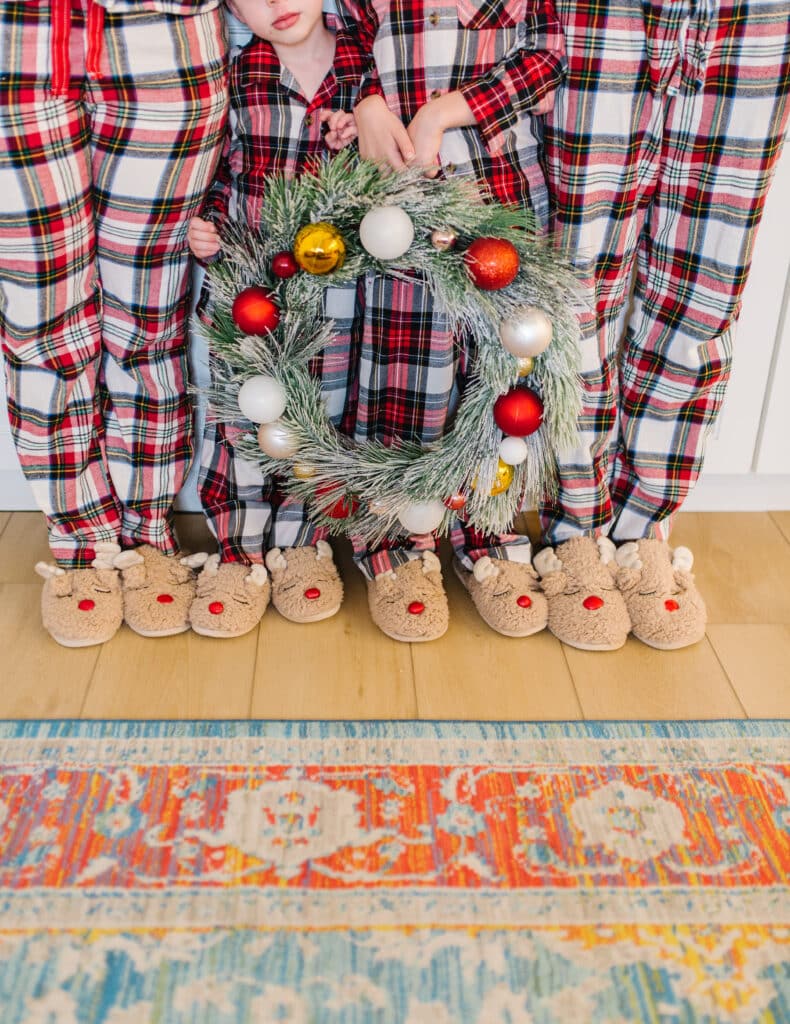 If you need some fun Christmas slippers, here's a roundup of some of the cutest out there!
Women's Christmas Slippers
Whether you're looking for something very Christmas-y, a little festive, or just a classic pair to enjoy during the winter, here are some of the best Women's Christmas slippers!

Men's Christmas Slippers
One of my favorite parts about men Christmas slippers is what a great gift they make! Slippers are something men don't always buy for themselves, but many use and love all winter long! Find a great festive pair, or go with some classics to gift as men's Christmas slippers.
Here are some of our favorite Christmas slippers for men!

Kids Christmas Slippers
Even if you ditch out on Christmas slippers for adults, it's fun to make sure you have some kid's Christmas slippers set for the holidays.
Here are some of our favorite boy's Christmas slippers (since we have boys!), but they work great for girls too!

Toddler Holiday Slippers
Don't leave out the babies or toddlers! The cutest thing you'll see is those tiny feet tromping around in toddler Christmas slippers!
Here are some great places to get cute little sizes of baby and Toddler Christmas slippers.

It's been so fun to work through our Christmas movie list printable on family movie night each Saturday, and cozy up with family Christmas pajamas and Christmas slippers! We're loving kicking off the rainy boots and wearing Christmas socks and Christmas slippers while we bake cookies. They've been so fun for The Polar Express, Christmas pajama photo shoots (just add a Santa hat and you're set), and just to keep our feet warm and festive!
A Perfect Cozy Christmas Gift!
And if you aren't convinced that you want a pair to celebrate the season, I'm convinced a new pair of slippers for Christmas is one of the most useful and practical items to gift! 'Tis the season for cold feet. And a solid pair of slippers to wear around the house are a great item to gift.
My parents used to splurge on high-quality sheepskin slippers to gift to each family member for Christmas. The high-quality slippers lasted until I outgrew them, and I wore them every day for at least half of the year! The quality upper with a solid bottom made for makeshift shoes we wore around the house and on the cold tile during the entire snowy season. Hint: You can find great deals when they're in stock on Zulilly!
Whether you go with plush slippers with a favorite character, quality shoe-like slippers, holiday-themed slippers, or slip-on that double as a shoe- Christmas slippers are a great idea!
Like this Christmas slippers roundup? Be sure to check out these posts too:
50 Holiday Date Ideas: Christmas Date Ideas for the Holiday Season!
Husband Gift Guide: What to Get Your Husband for Chirstmas
Get 365 Date Ideas!
We want to help you have the best date nights ever! Grab this FREE printable with 365 date ideas, a date for every day of the year so you never run out of ideas!