Christmas Puzzles Holiday Tradition
Why Christmas puzzles make a fantastic holiday tradition at home, and a roundup of tons of cute and affordable Christmas jigsaw puzzles to build together.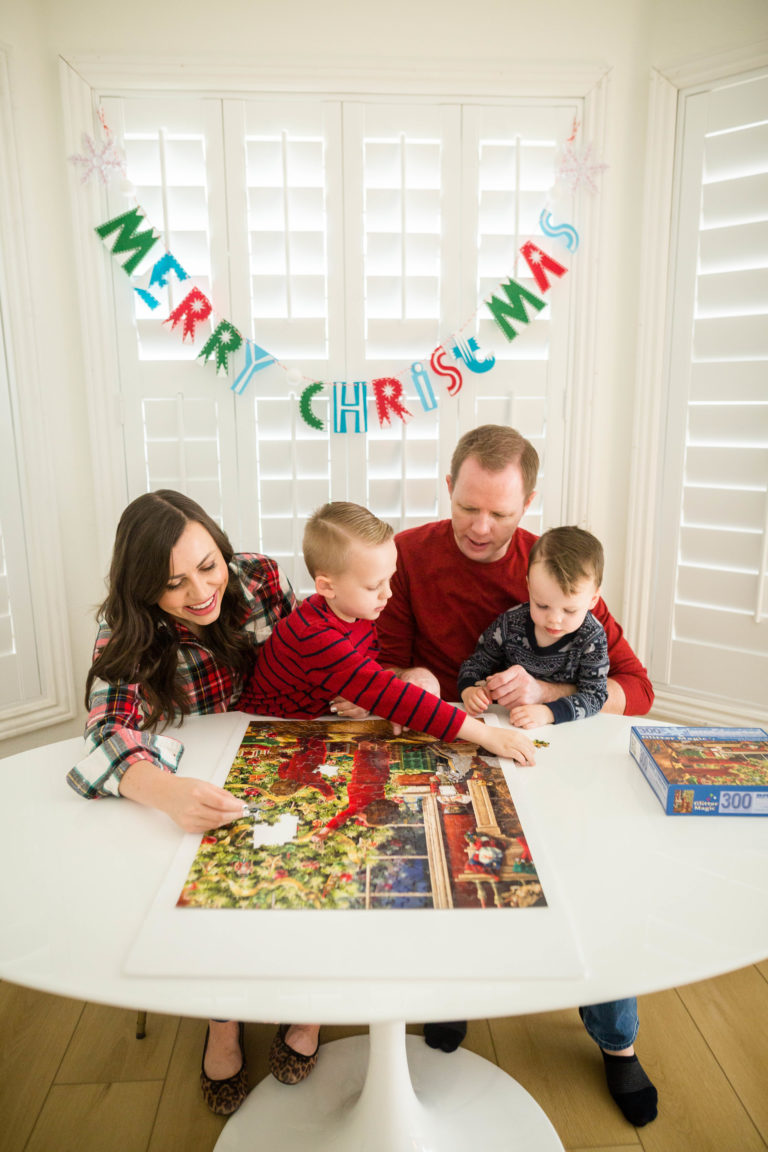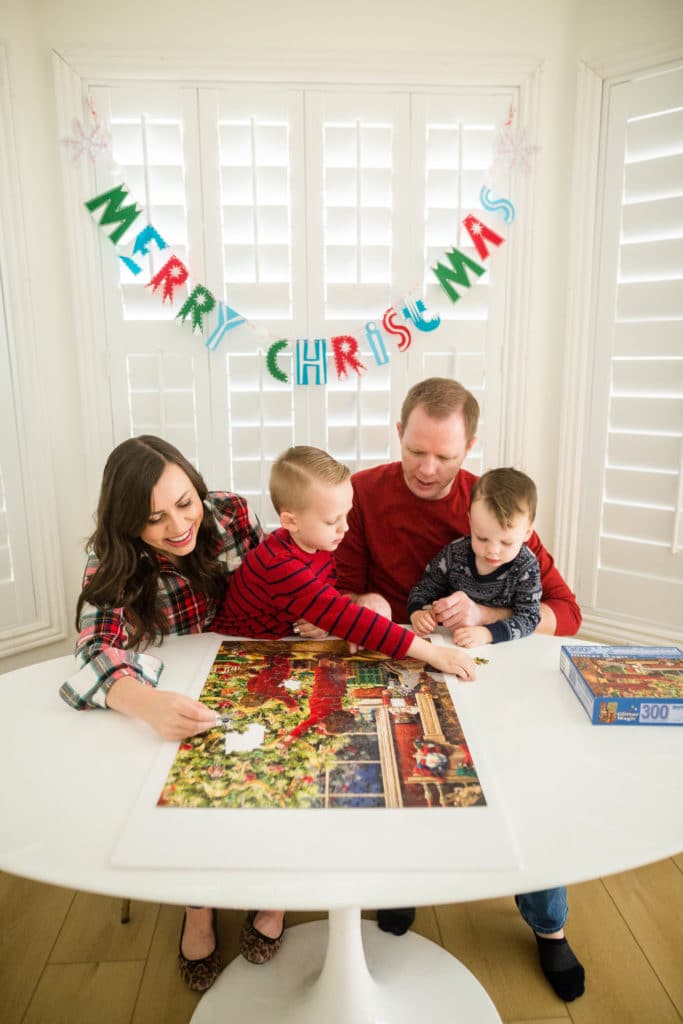 Christmas Puzzles Tradition
I grew up in a family of six children, and my parents did so much to create family holiday traditions we'd look forward to and enjoy together. That's no easy task with children of various ages, but my parents did such a fantastic job!
I remember turning into a teenager and thinking about how our family was growing up, and many of the traditions we did were evolving. My dad used to take us all swimming at the recreation center to wear us out so we'd sleep. But as we became older, my mom no longer wanted us out of the house. She wanted us in the house ready to help with food prep or errands.
To get in the holiday spirit, we'd unwrap a new 1000-piece jigsaw puzzle with Christmas themes, and make a lot of good memories putting them together as a family.
Christmas Jigsaw Puzzle Tradition
As a large family, we needed something that we could all do together, but easily get pulled away from to complete a holiday task. And one year, my mom got the brilliant idea to buy a jigsaw puzzle. A 1000-piece Christmas puzzle was the perfect thing! We loved it so much, we finished it in a day! It became one of my favorite Christmas traditions!
When my parents realized how much sibling bonding time had occurred, they were ready to make this a permanent thing! Every December, my dad ran us to the store to pick up a few new puzzles. And the rest is history! Christmas jigsaws, or just jigsaw puzzles in general, became a holiday tradition I still smile remembering fondly from my teen and college years.
It felt like great therapy to sit and talk, drink some hot cocoa, and complete holiday puzzles together.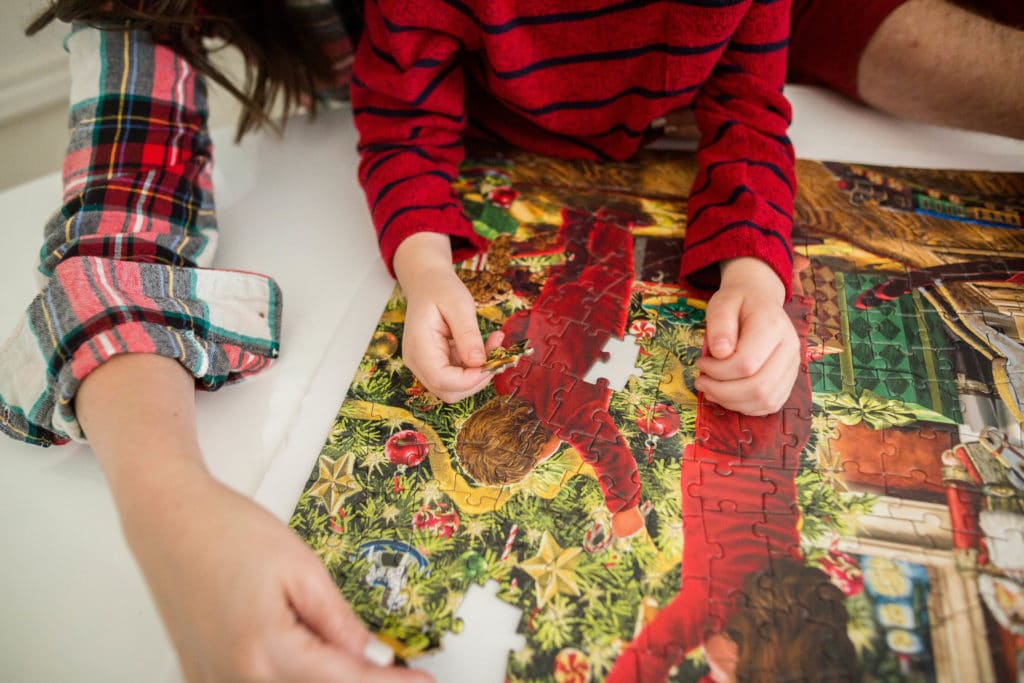 Why We Love A 300 Piece Christmas Puzzle
We have learned this isn't only the perfect holiday tradition for teenagers! It's a great experience to open a new jigsaw puzzle even with younger kids. Christmas puzzles make a great date night, a fun family puzzle night, or a puzzle party with friends. Even our young kids could help with parts of 300-piece puzzles. They're truly a fantastic tradition the whole family can enjoy during the holiday season!
I'm so grateful in a year that we're spending more time at home than we usually do, that I found a darling Christmas puzzle. Truly you can enjoy any jigsaw puzzle. But there's something a little extra magical about a jigsaw puzzle that comes together into a magical Christmas scene! And this one with kids about the ages of my two kids just felt perfect this year!

They make great gifts, there are so many cute items to complete together, you can find just about any difficulty level, and it's truly a time-honored tradition that brings in the spirit of the season!
The Best Christmas Puzzles
If you could use some extra family fun this Christmas season, I'd highly recommend grabbing a Christmas puzzle to enjoy together during the festive season. It just may create some of those forever Christmas memories, and give your entire family something they can all enjoy doing together!
Whether it's putting together a scene fit for Santa, some reindeer pulling a sleigh, a Christmas village, or a winter scene, get ready to pump the Christmas music and spend some quality time together!
Here are some of the best Christmas jigsaw puzzles that make a great experience Christmas gift!

I hope one of these different products works great to add to your winter holiday jigsaw puzzles collection. May they be a fun addition to your Christmas games and Christmas plans. And most of all, may you enjoy some quality time with your favorite puzzler this holiday season!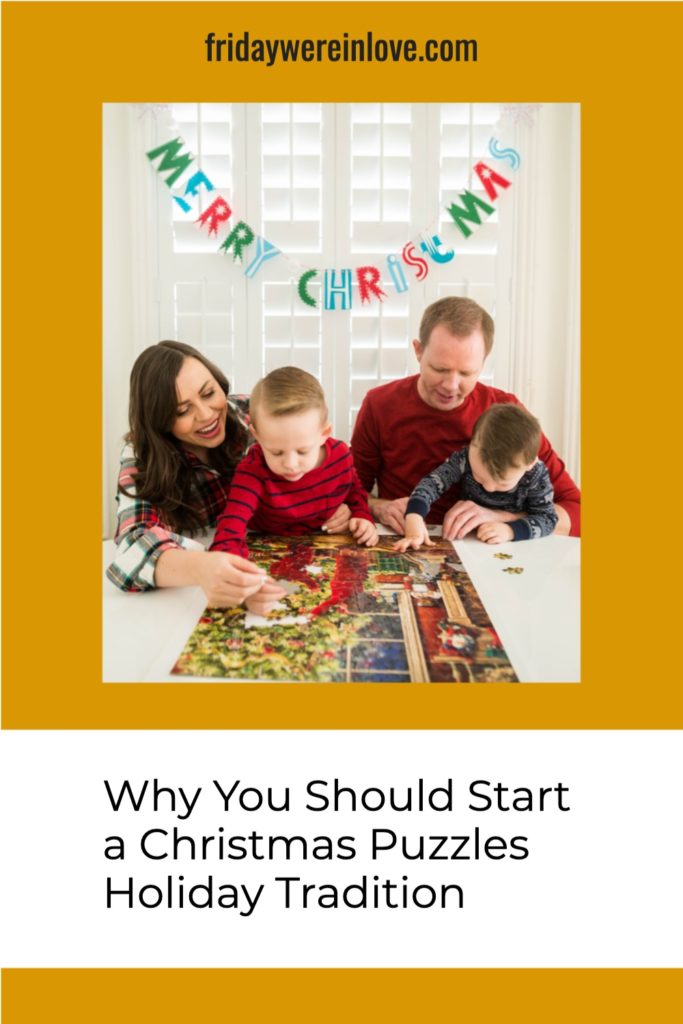 Need more family fun this Christmas? You may like these posts too:
Get 365 Date Ideas!
We want to help you have the best date nights ever! Grab this FREE printable with 365 date ideas, a date for every day of the year so you never run out of ideas!