How to pull together a Rey Star Wars costume. Find your inner Jedi and rock your next costume party with this Rey from Star Wars costume.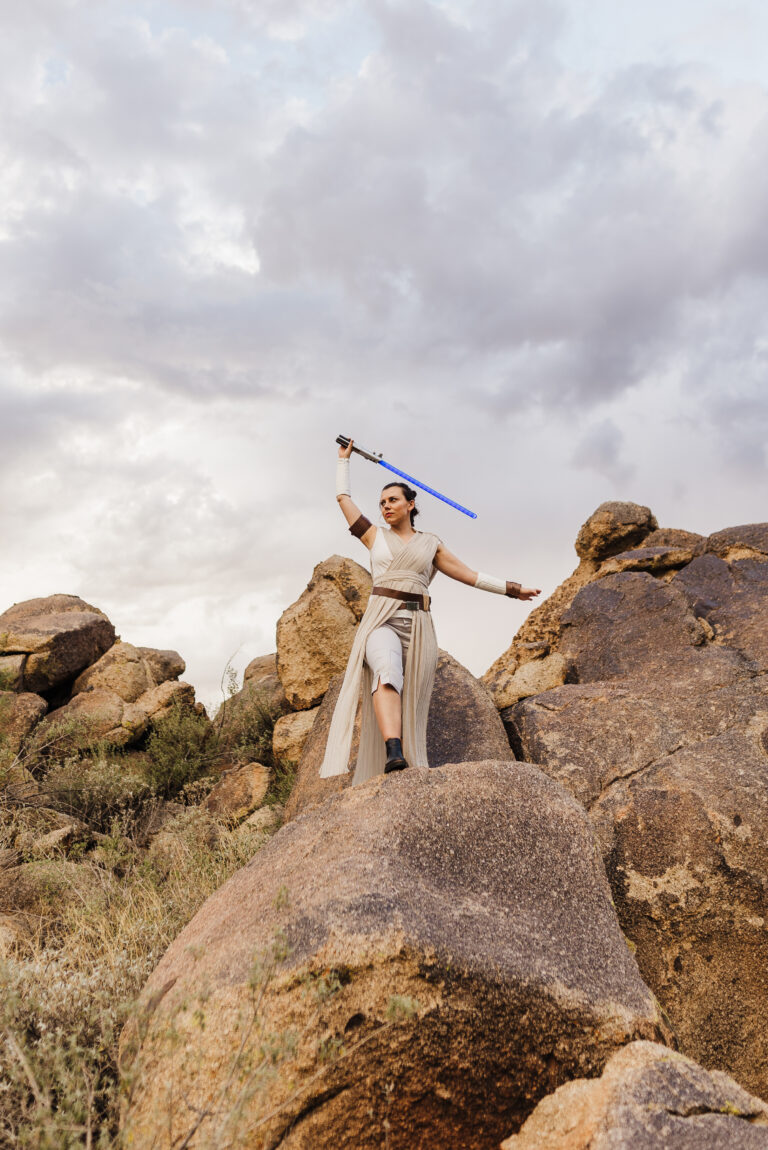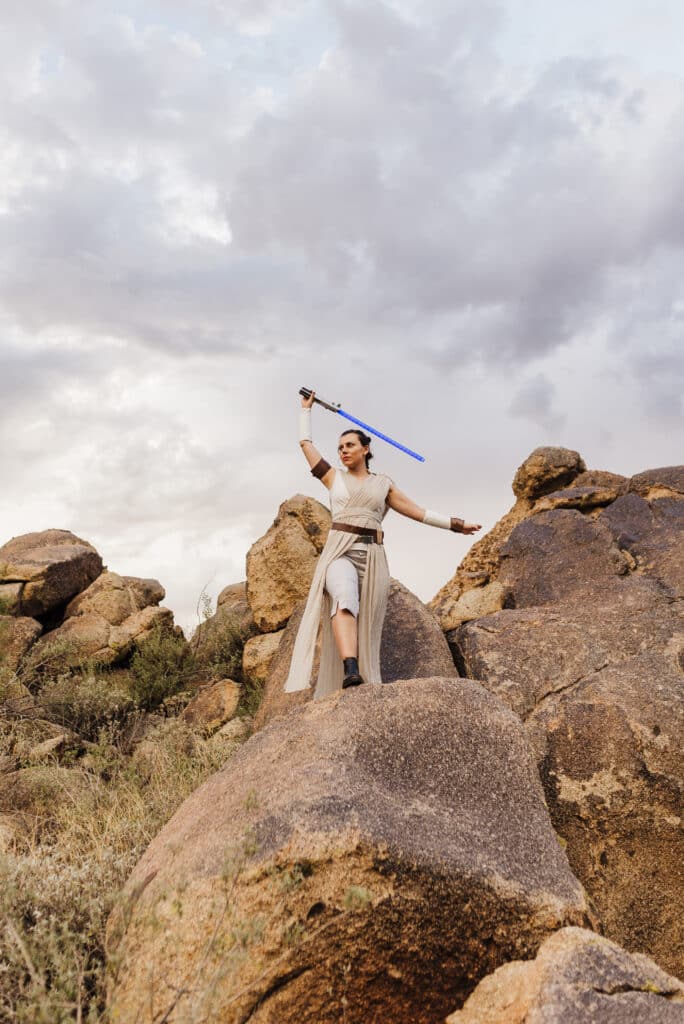 This year we made my Star Wars loving son's dream come true and went with a Star Wars family Halloween costume theme. He wanted to be his favorite character and hero, Luke Skywalker. I decided quickly I wanted to be a strong Jedi too, and he loved the idea of everyone joining in our family Jedi costume.
Check out our full family Jedi Costume HERE!
I absolutely love Rey from Star Wars, she's such a great strong female character, and it's such a recognizable costume. Truly, a Rey Halloween costume is so fun. If you're even thinking about it, I can't recommend some Rey cosplay enough!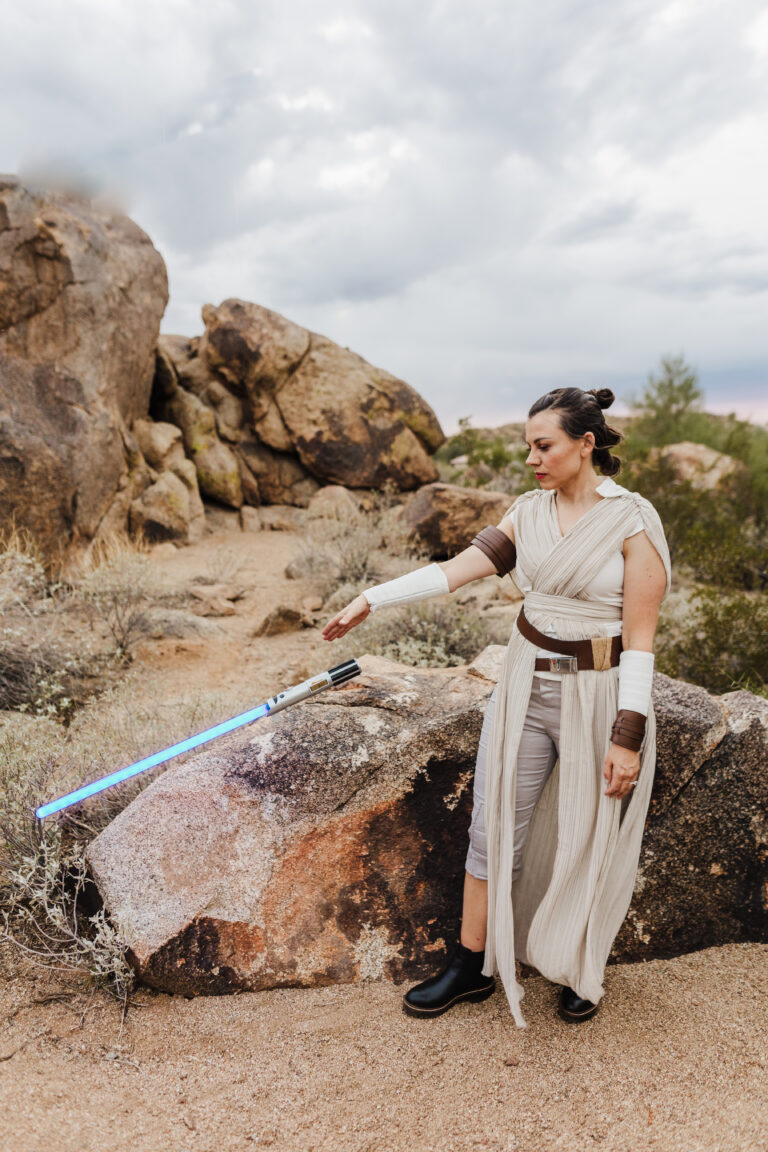 Costume Sources: Rey Costume / Black Boots / Lightsaber
Rey Halloween Costume
I chose a Rey from Star Wars costume and immediately got to work searching for Rey costumes. I found a few great options on Amazon. The great news is there are easy options to rock Rey's outfit in each of her The Force Awakens, The Last Jedi, and The Rise of Skywalker.
In fact, if you want a girl's Rey costume, there are some great options for kids too!
Since we were leaning heavily into the Jedi theme, The Rise of Skywalker Rey felt like the best Rey from Star Wars costume for me!
For this costume, I ended up hiring a seamstress on Etsy. I had a hunch that maybe a few more dollars would take the costume up a notch, and that was the best decision I've made! This seamstress has rave reviews, and you can order every piece of the costume, or just get Rey's signature top and add in your other pieces. But I'd highly recommend getting each of the core pieces to Rey's costume. It's cheaper to get her bundle and everything!
But if you're ready to DIY the costume, or piece together all the elements, here's what you'll need to pull off her look.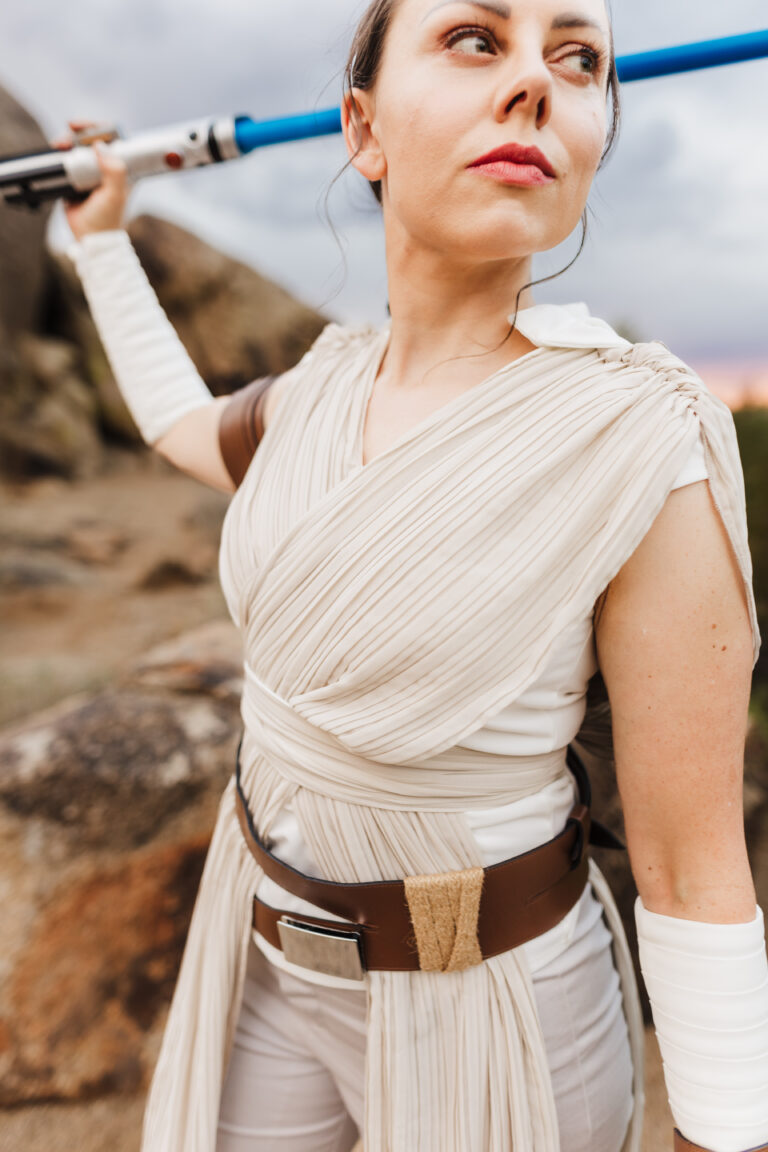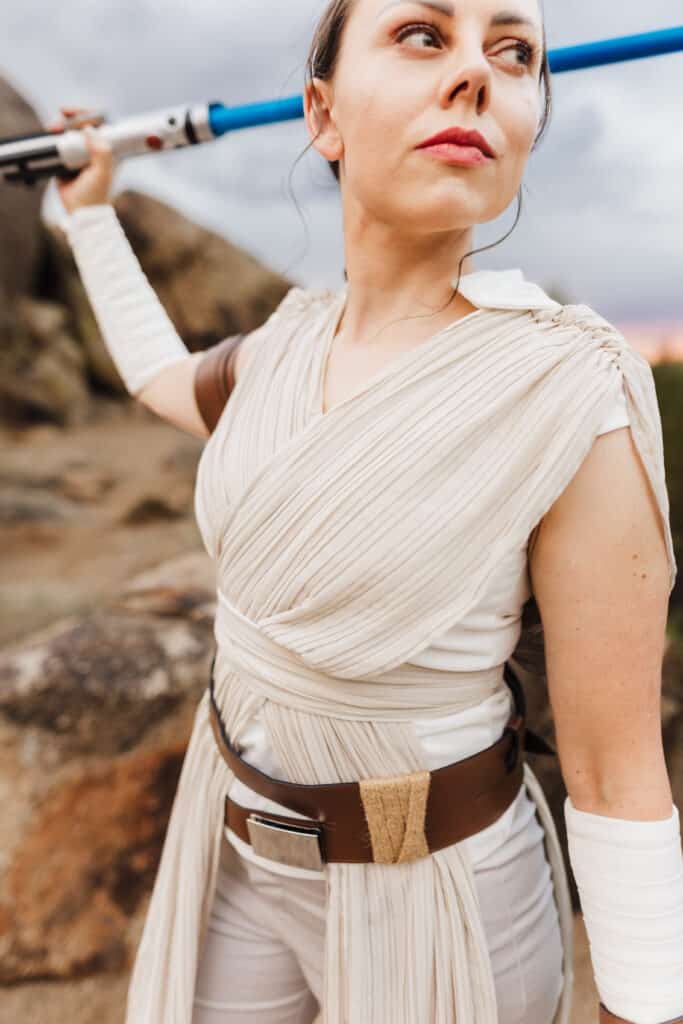 Rey From Star Wars Costume
Rey's top:
Rey has one of the most iconic outfits in the galaxy, and her tunic with wrapped pleated style fabric that crisscrosses around the chest are a key piece to the look! You could find two scarves to create this look. I'm glad I had an exact costume replica for this detail. Don't skimp on this part, it's key to becoming the Last Jedi.
Leather Belt:
Rey has a belt with two buckles. If you're doing a DIY costume, I'd get two brown belts. Make sure the belts loop through the pleated fabric on the top and cinch at the waist. Make sure the other belt lays around your hips. There's also a holster that hangs on the lower belt for Rey's blaster. Most costumes come with this key piece, and it may be worth it to get the costume look with an exact replica.
Pants.
Rey wears gray pants with her white outfit. You could grab leggings or a pair of football pants. My seamstress makes a great pair, it was less money to add them onto the costume than to buy pants separately.
Arm Guard.
White sleeves that fit over the forearm work perfectly.
Leather Wrist Cuff.
Rey has one wrist cuff that goes on top of her armband.
Leather arm cuff.
This goes on the right arm, just below the armpit. about an inch between the sleeve of the shirt is the perfect spot.
Lightsaber.
Rey uses a blue lightsaber and ends with a yellow one. Since blue is quite a bit easier to find, it works great for a costume prop!
Star Wars Rey Hair
Iconic Rey from Star Wars Hair
Rey has some of the most iconic hair of any character! Make sure to add three buns to complete the look. I used this tutorial and it worked perfectly for me!
Other Star Wars Characters for a Couple's Costume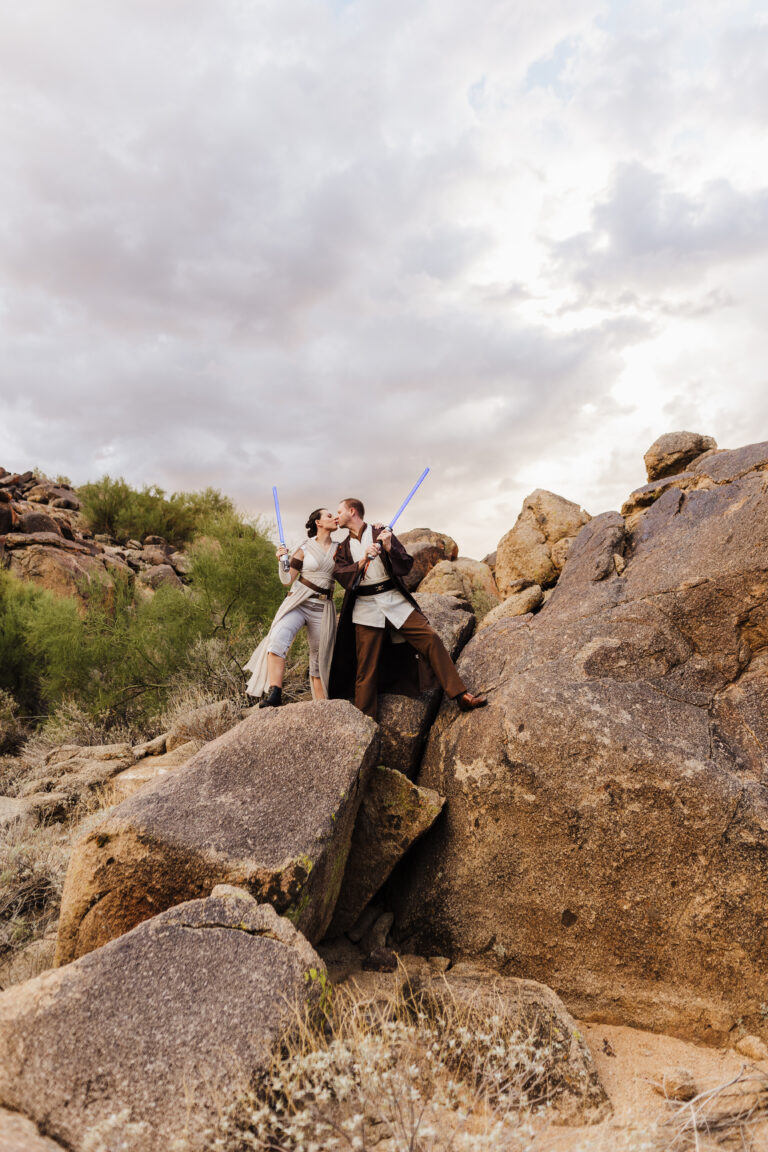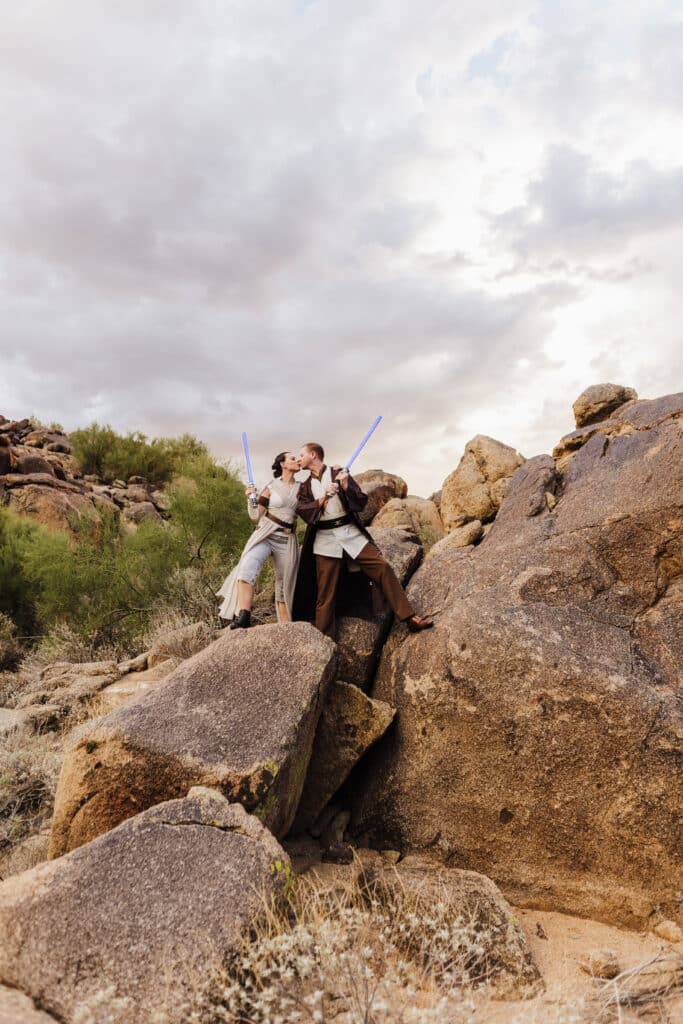 Since we were already Jedis, my husband went with Obi-Wan Kenobi. And I'm sure I just offended many die hard fans with a picture of Rey kissing Obi-Wan. I know, forgive me!
But if you want to stay true to the characters close to Rey, these add-on characters for a group costume or a couple's costume are a great choice!
Kylo Ren
Finn
Luke Skywalker
General Leia
Han Solo
Storm Trooper
Chewbacca
I hope you love being this movie icon as much as I have!
Like this post? Be sure to check out these related posts too:
Jedi Costume: Star Wars Family Costume
Star Wars Gifts for Star Wars Lovers
The Best Star Wars Books for Kids