Pull off an easy Cat Burglar Costume with items you likely have on hand! This Bank Robber costume is the perfect last-minute costume!
I love Halloween, and we go all out with family Halloween costumes every year. But even with little kids, I'm already experiencing Halloween outings where my kids don't want to wear the family costume. And my husband travels for work leaving mom the lone ranger. Honestly, sometimes I feel a little silly dressing to a theme by myself.
That's why I think it's always great to have an excellent and super easy costume alternative you can wear in a pinch. And a Bank Robber costume DIY is one of those easy excellent costumes! I mean most people recognize a cat burglar costume a mile away, and they are so easy to pull off with items you likely already have on hand. It's one of my favorite last minute costume ideas.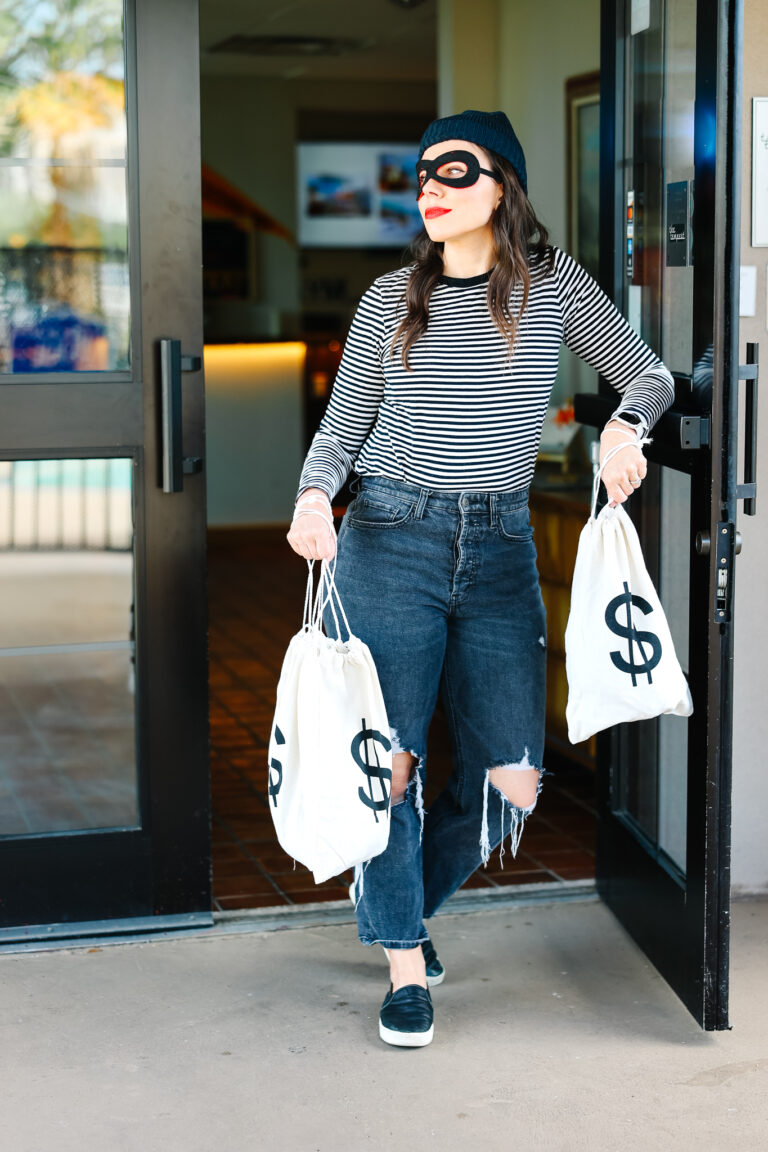 Cat Burglar Costume
Here are the items you need:
A black and white striped shirt
Truly any will do! but opting for a long-sleeved shirt with thinner stripes does the trick to give a bit of a vintage feel and that classic look.
A black eye mask
I used this superhero mask with an elastic band. I love that you can easily make adjustments to fit your head with the elastic string. It was comfy and easy, and you can snag free shipping if you need one! I borrowed mine from my son's toybox.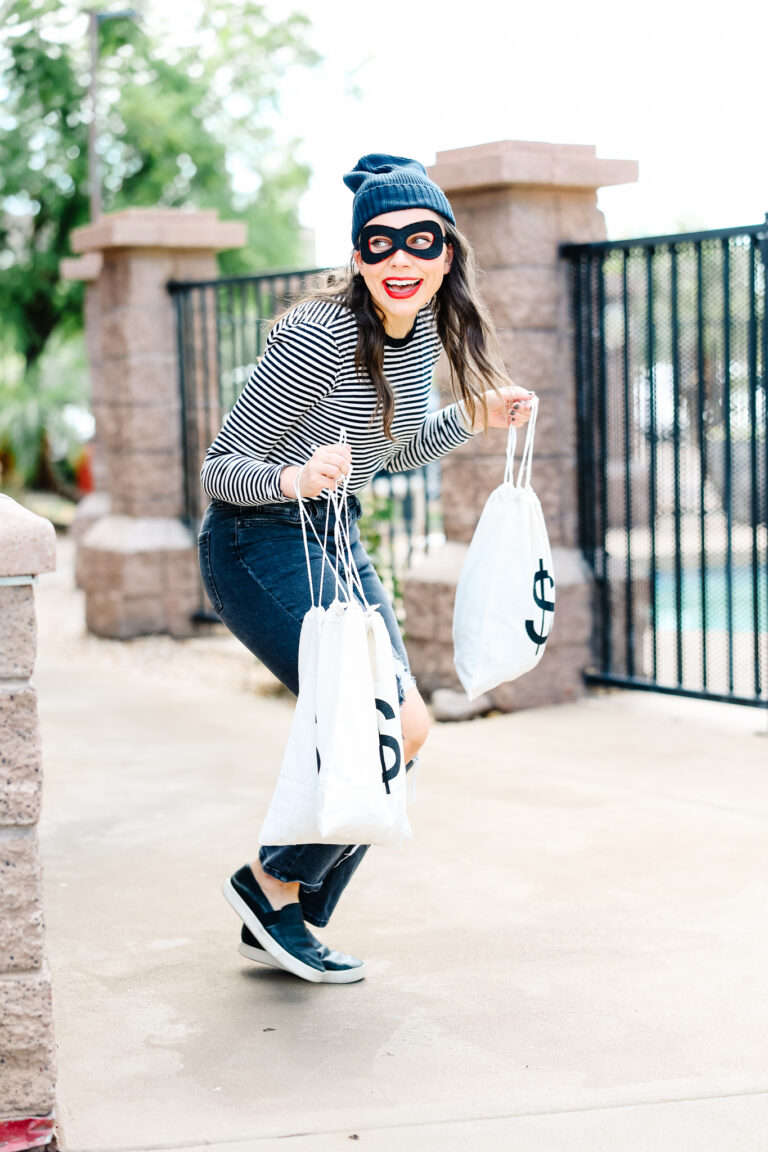 Black pants or black leggings
I've seen this look with sleek black leggings, and also black jeans. You can't go wrong with whatever you already own, or whatever you know you'll get a lot of use out of long after the costume.
A black beanie or skull cap
I know most people in cooler climates may have this sitting in their closets. As a Southwest United States resident, I was happy to find overnight delivery times on this inexpensive hat that worked perfectly!
A money bag with a dollar sign
I ordered some pre-made bags after finding some discounts. But I've also seen people make these themselves in a pinch. It's truly just a bag with a dollar sign that you can draw on. If you only get one, great. But three felt like the perfect quantity for this easy mom costume!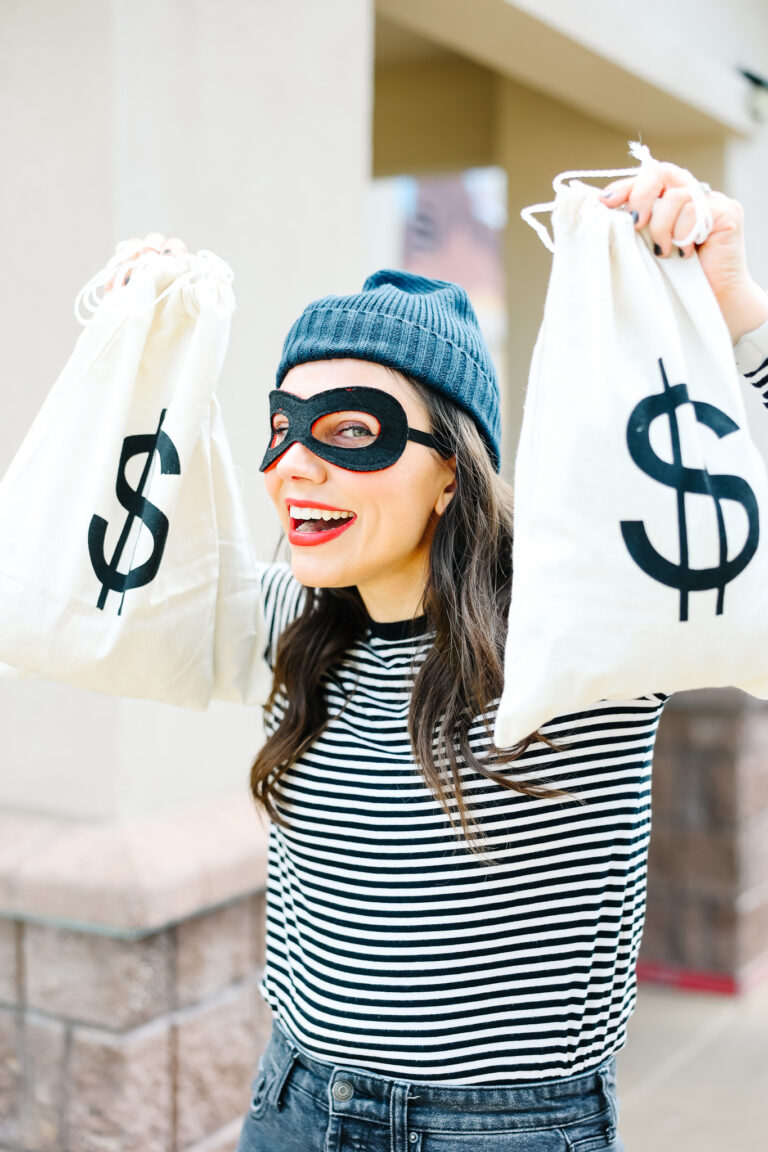 Great Alternatives/Optional Items:
Like this easy Bank Robber Costume DIY? Be sure to check out these costume ideas too:
Easy Rosie the Riveter Costume
Bonnie and Clyde Halloween Costume