Bonnie and Clyde Halloween Costume
Bonnie and Clyde, the ultimate infamous criminal couple, just may be the ultimate couple's costume. Here's how to pull off a Bonnie and Clyde Halloween costume.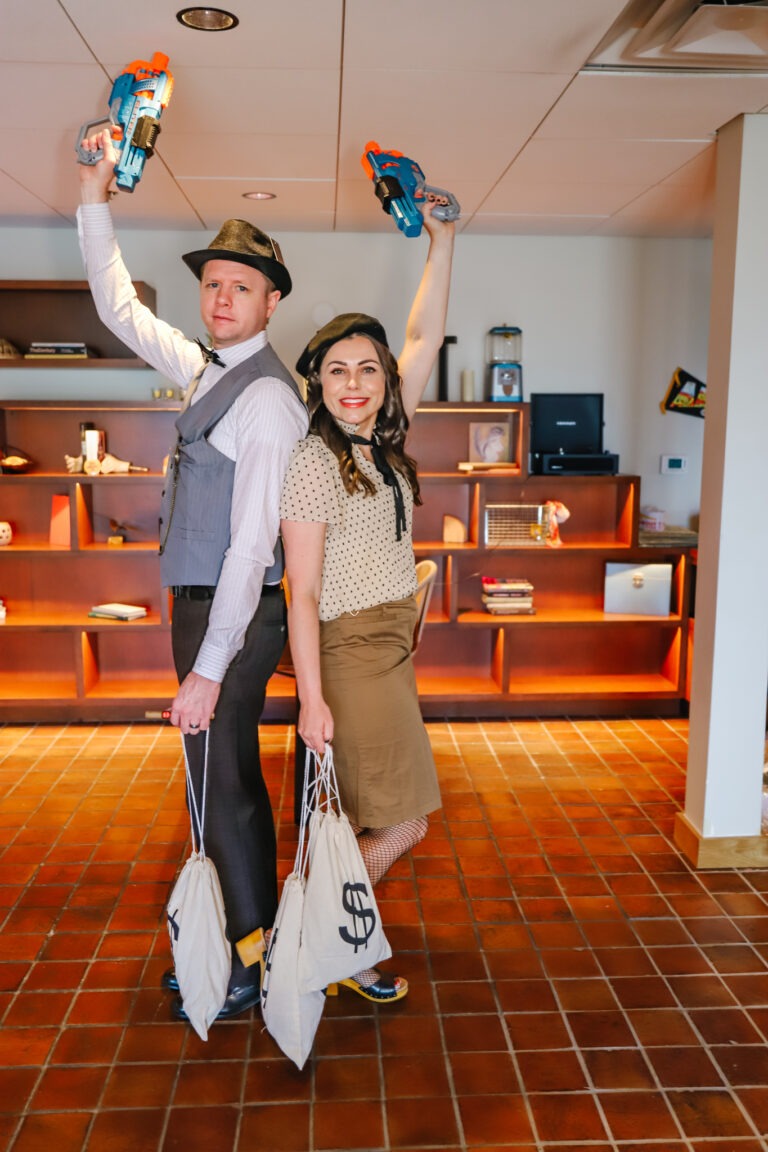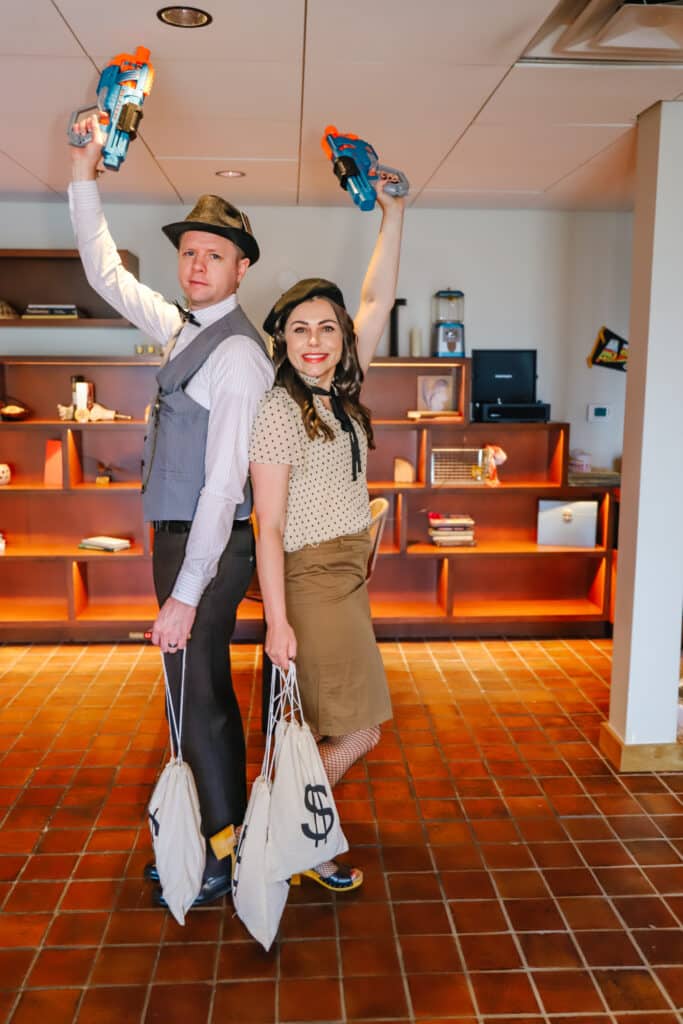 Bonnie and Clyde Couples Halloween Costume
Bonnie Elizabeth Parker and Clyde Chestnut Barrow were infamous gangsters during The Great Depression era during the 1930s. They were known bank robbers, who also loved to rob rural mortuaries and small-town local stores. Also, infamous for leading a gang and killing nine police officers and at least four civilians- yikes!

They were the ultimate infamous criminal couple, and consequently, a Bonnie and Clyde couples costume is always popular for Halloween! It made our list of 150+ Couple Costumes for Halloween and remains strong on the list!
The 1967 film Bonnie and Clyde, starred Warren Beatty as Clyde Barrow and Faye Dunaway as the character of Bonnie. The Bonnie and Clyde movie glamorized the criminals and also gave them a romantic vibe as well as a look to copy for couples' costumes.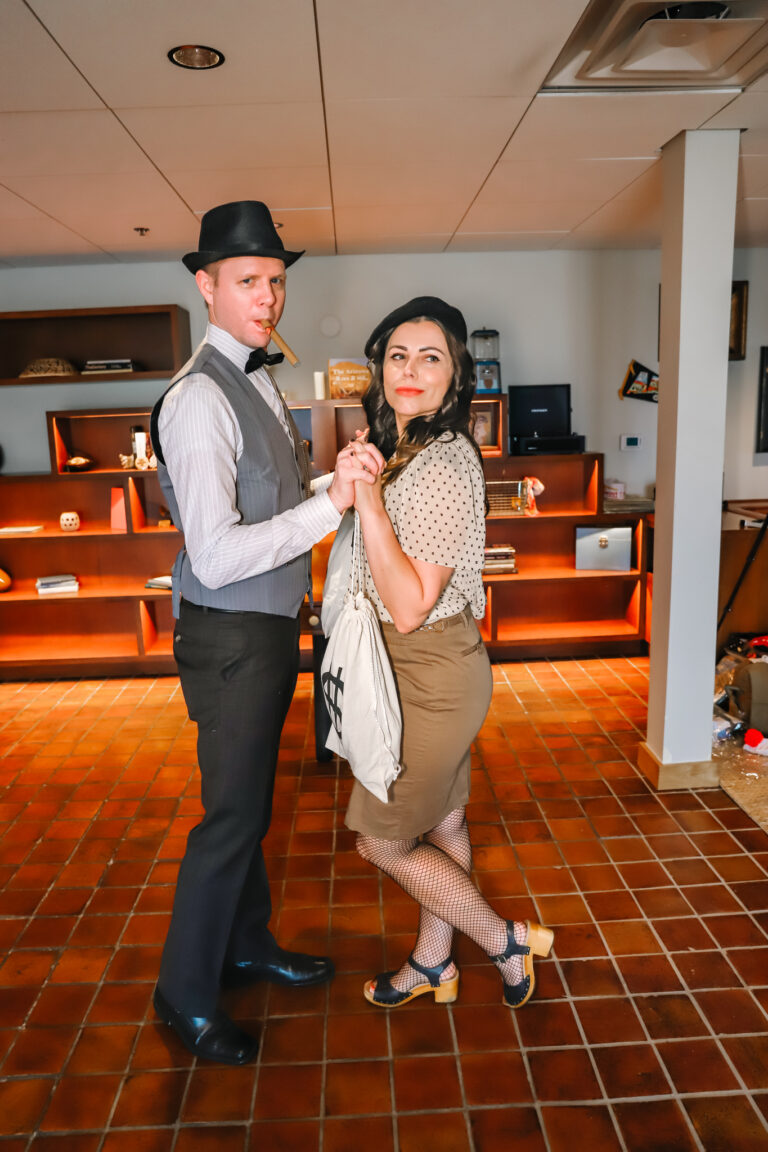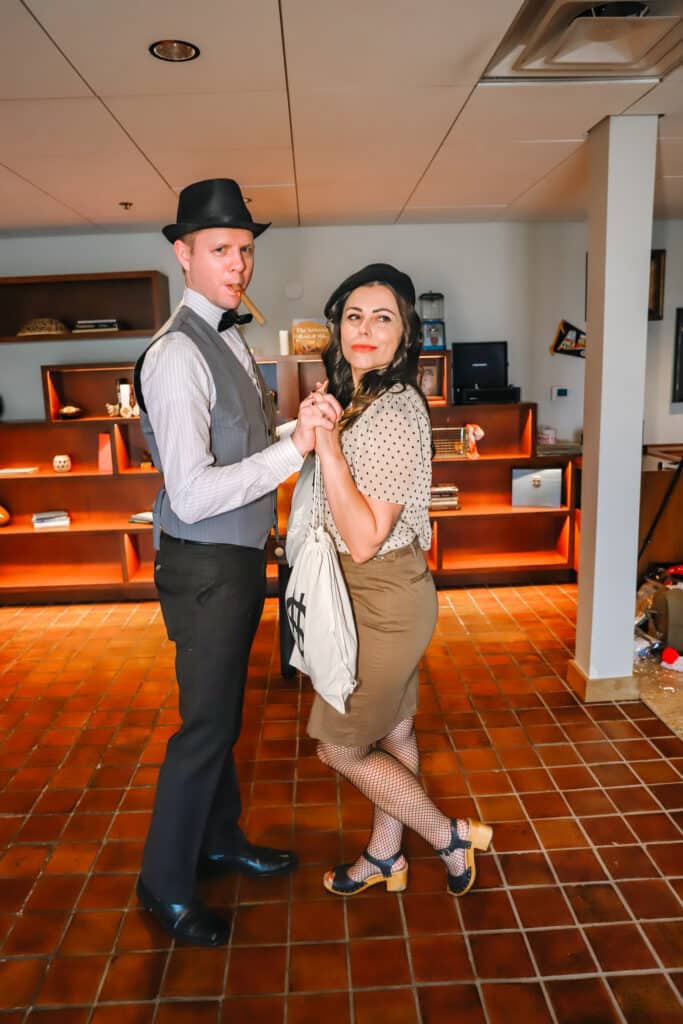 Inspiration for Outfits
You can copy the film characters, use the classic black and white photos of the real-life Bonnie and Clyde, or get a little creative with 1930s attire from the thrift store and your own closet.
Here are the staples to pull off a Bonnie and Clyde couples costume.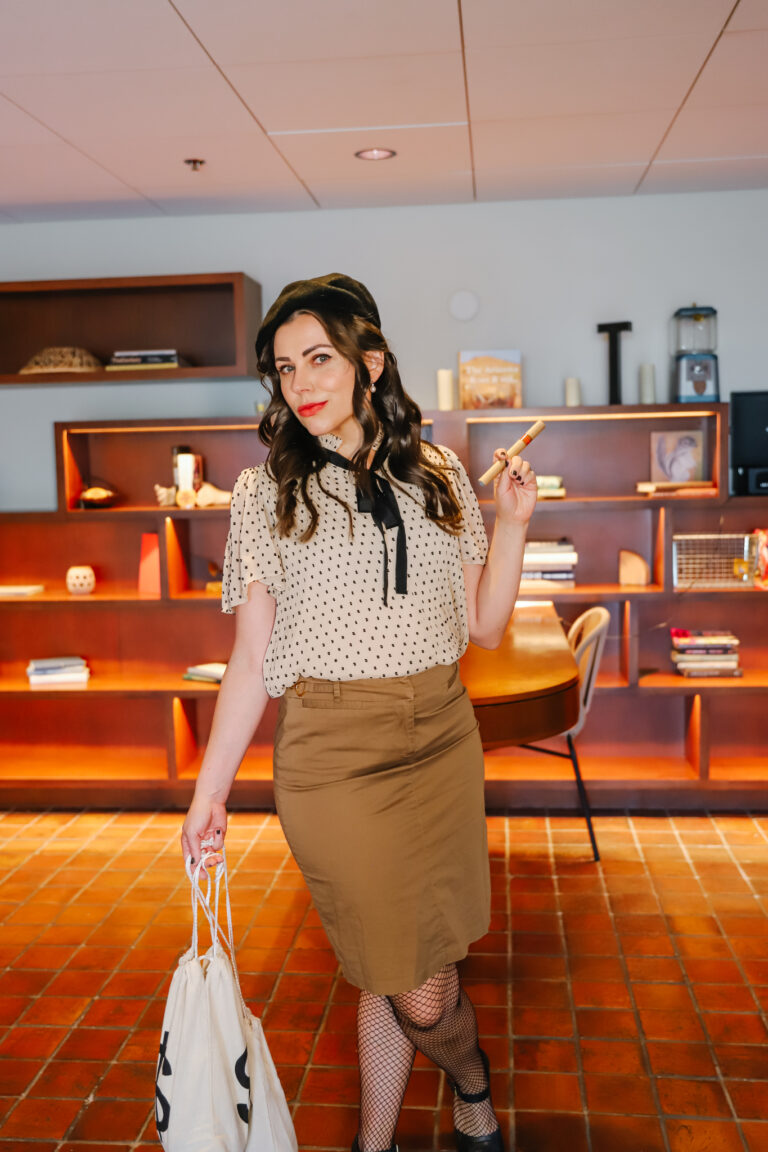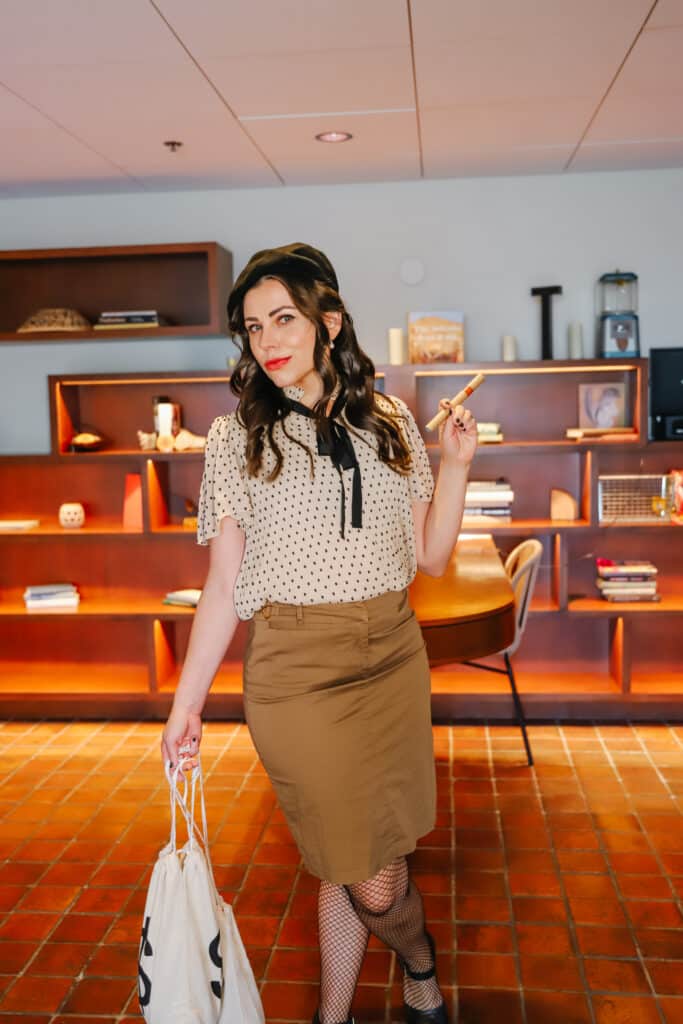 Bonnie Parker Costume
Bonnie is your quintessential 1930s woman with a bit of glam. Feel free to dress up a little fancy and flash that money (that doesn't belong to you). A skirt and blouse with a few of Bonnie's accessories from the 30s is all it takes!
Skirt
Long skirts were the fashion trend at the time, so avoid a super short skirt and aim for at least knee-length. Mine is from New York & Co and has severed me well for many work meetings and costumes alike!
Blouse or Sweaters
Bonnie Parker in the movie wears a yellow sweater with a scarf. I found a great blouse with a tie-neck that gave the same effect. And since I live in Arizona, I opted for the cooler options with a necktie.
Fish net Stockings
I had no idea how much some fishnet stockings would to the costume add until I tried them on. They really add that extra oomph to a costume!
Berets
Bonnie had a signature look with a beret. Don't skip this detail, they're cheap and easy to find!
Scarves
A nice circle scarf will do, or a shirt with a necktie to mimic a scarf is just perfect.
Clyde Barrow Costume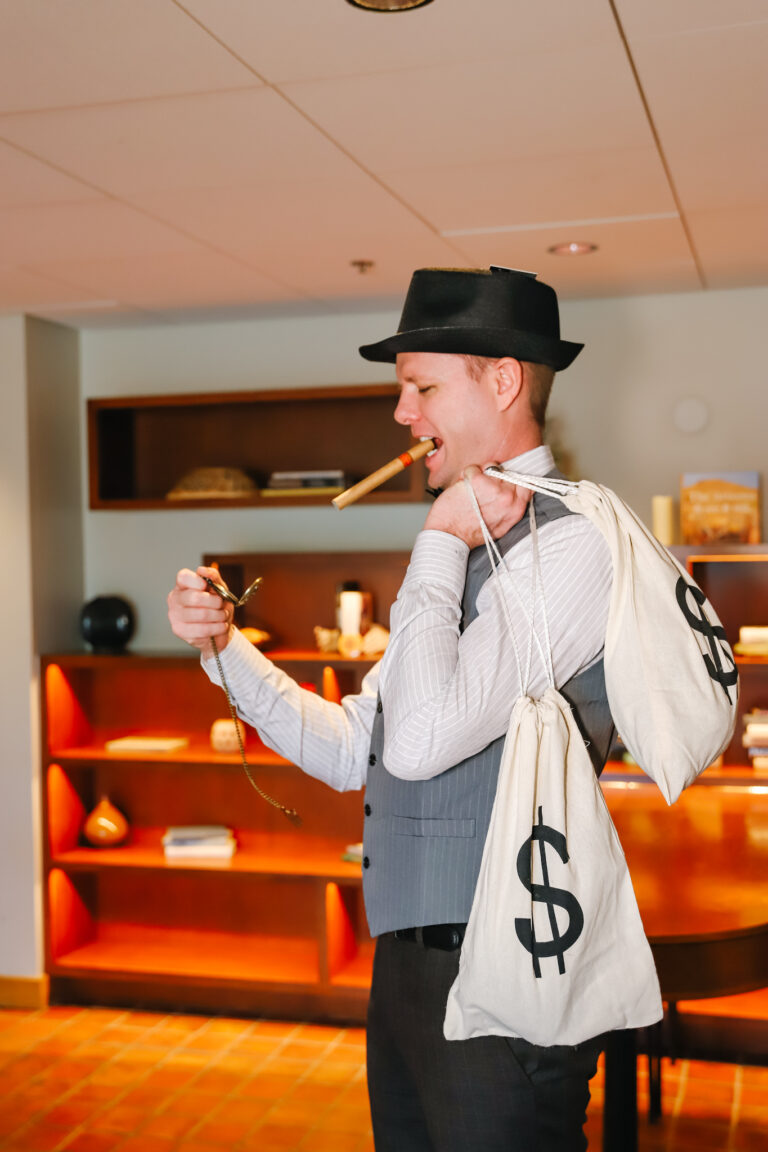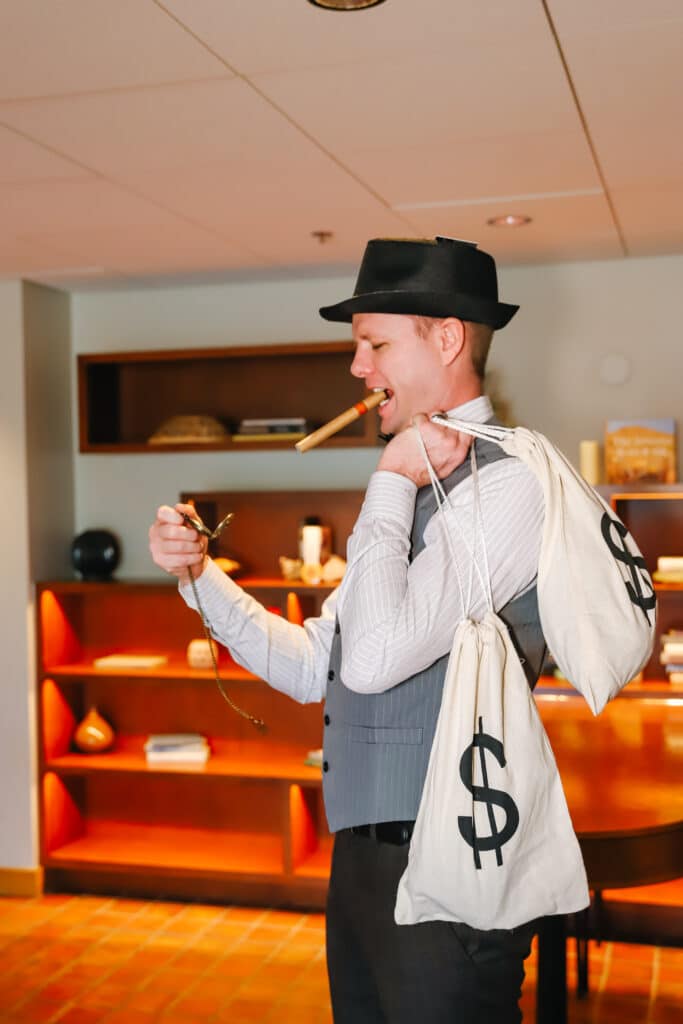 Clyde was a flashy and functional dresser ready to step into a bank and also live in an abandoned hideout. For Clyde's outfit, you'll want to lean into men's suiting pieces with a white shirt and dress paints. But a mobster-style vest with white stripes, a jacket, or a sports coat is completely appropriate to pull off his look!
Dress Pants
I'd say go with what you have! But this was an era known for men's dress pants prints like plaids and pinstripes.
Dress Shirt with a Collar
Once again, go with what you have! Just make sure there are functional buttons and it's a dress shirt.
Button Closure Vest
I love this set from Amazon that comes with a vest in many different color options, plus tons of props.
Dress Jacket
This is optional, but the original Clyde definitely has a sports jacket in most pictures.
Fedora Hat
Look for a brown fedora hat or a black color fedora hat to complete the Clyde Halloween costume. I loved that this set came with one!
Bow Tie
Bow ties or thick neckties work perfectly for the era and the costume.
Suspenders
This was the fashion at the time, and if you forgo a vest, you'll definitely want suspenders!
Black oxford shoes
A pair of dress shoes you own are great, and if they're black oxford shoes, even better!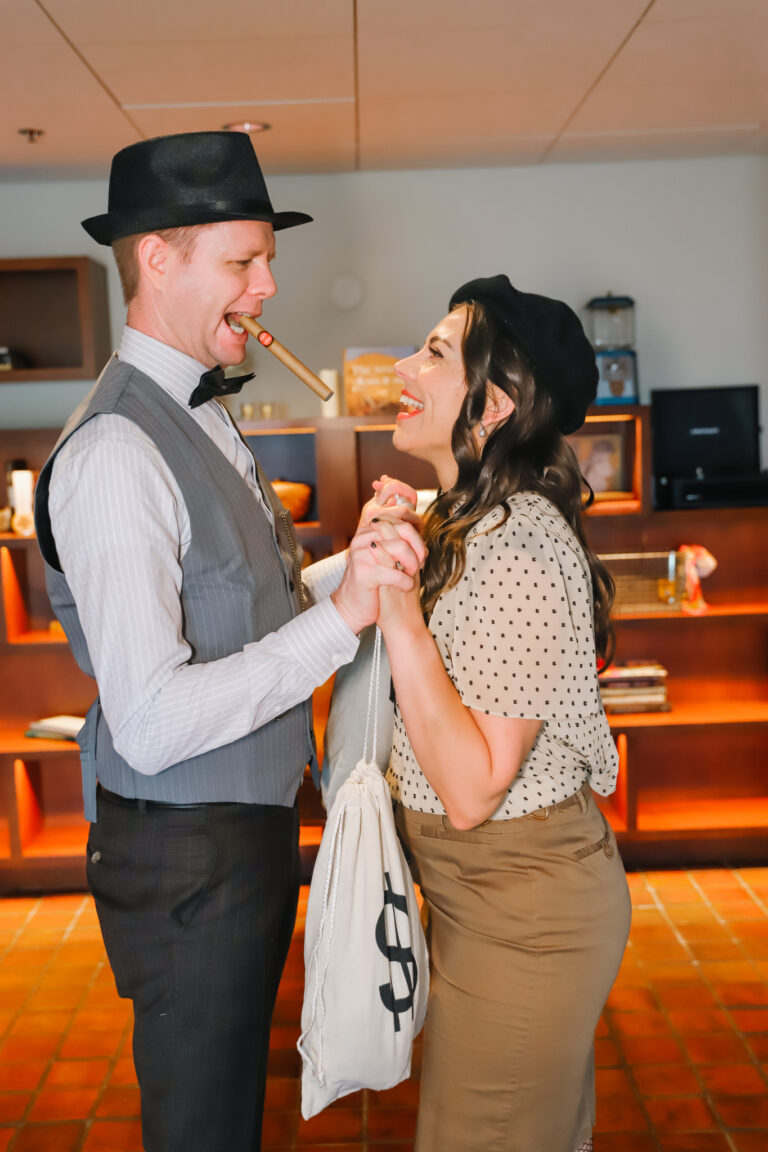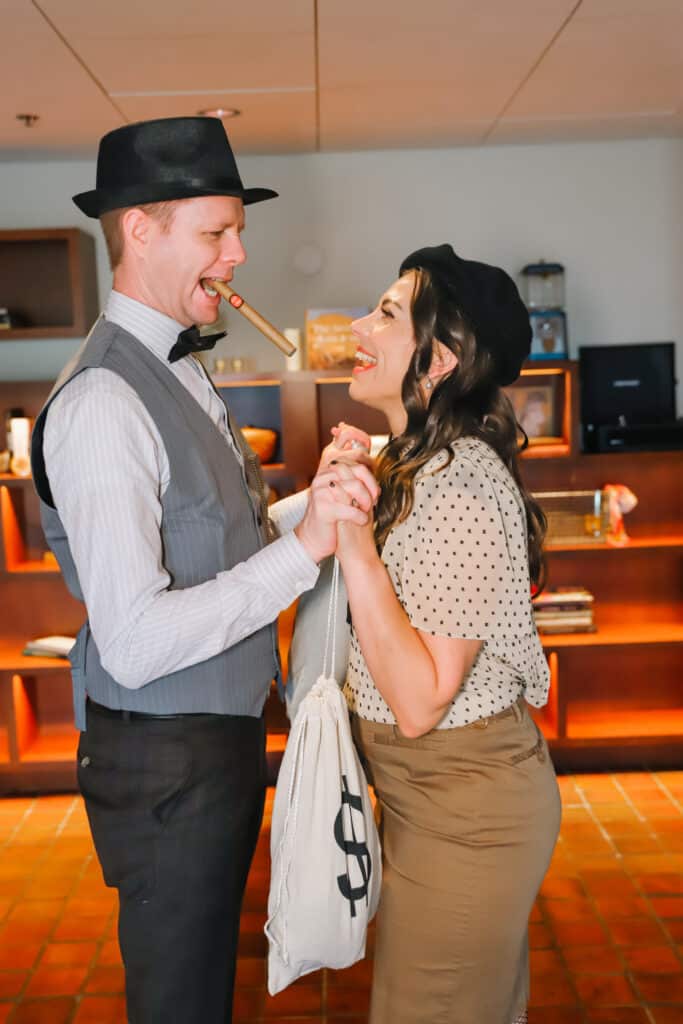 Props:
Money Bags
Does it make it a little bit more fun to carry your wallet and your phone in a money bag? Yes, yes it does!
Fake Cigar
Clyde was known to carry these, and they seem to fit perfectly with the gangster vibe. I loved that this set came with one.
Toy Gun
Look for revolvers or Tommy guns as props. We decided to make an obvious costume party prop and use Nerf guns our kids use for Nerf target practice.
Fake Blood
Many like to look like a Bonnie and Clyde zombie or lean into the last day of their life. You may need some fake blood or ketchup for the effect.
Bullet/Shot Wound
This can be done with fake blood or some Halloween makeup. Grab black and red face paint and you can easily create bullet wounds for a gory Halloween-style costume. And ultimately, they met an untimely ending with many bullet wounds.
Have fun putting together a vintage-era look and becoming the most infamous couple in American history! They really do make the perfect Halloween costumes!
Like this fun costume idea? Be sure to check out these posts too:
Carmen Sandiego Costume + Where's Waldo Couples Costume
The Guardians of the Galaxy Costume
100+ Disney Couple Costume Ideas