Looking for an easy couple costume? Need a last-minute costume idea? Here's a bunch of easy Halloween costumes you can throw together with things you probably have on hand.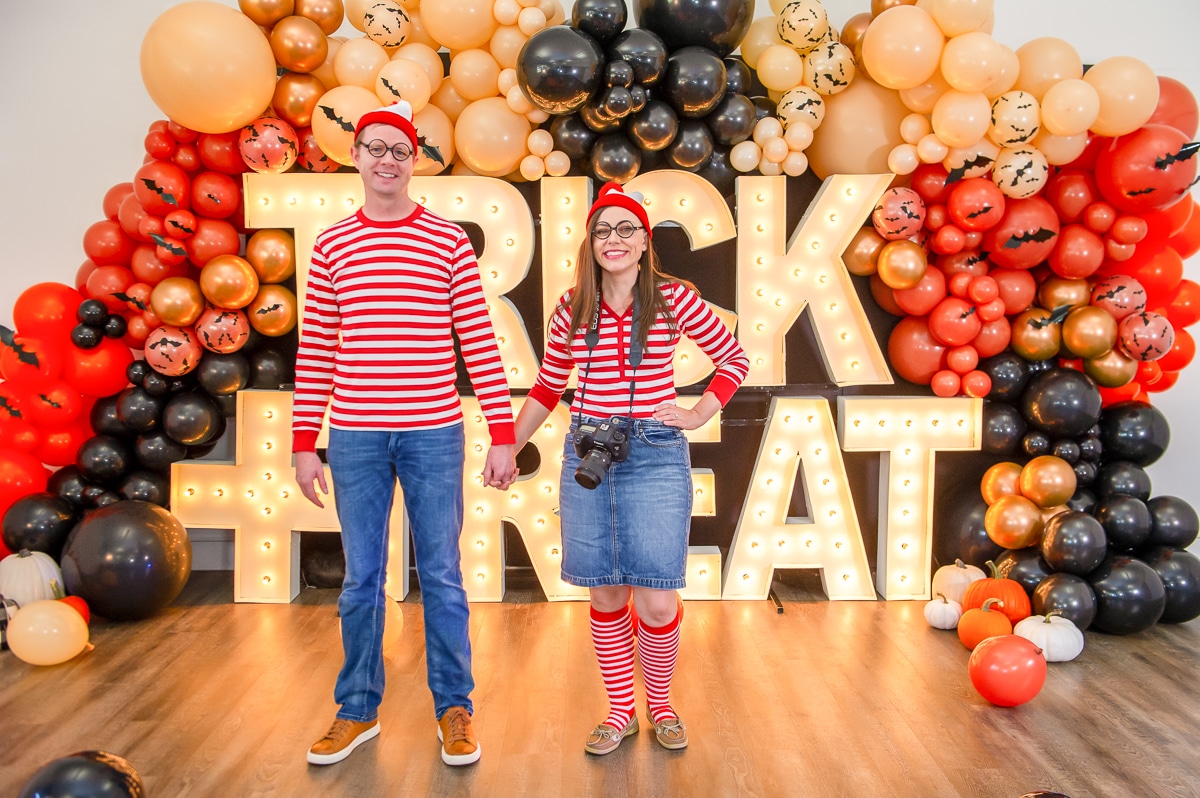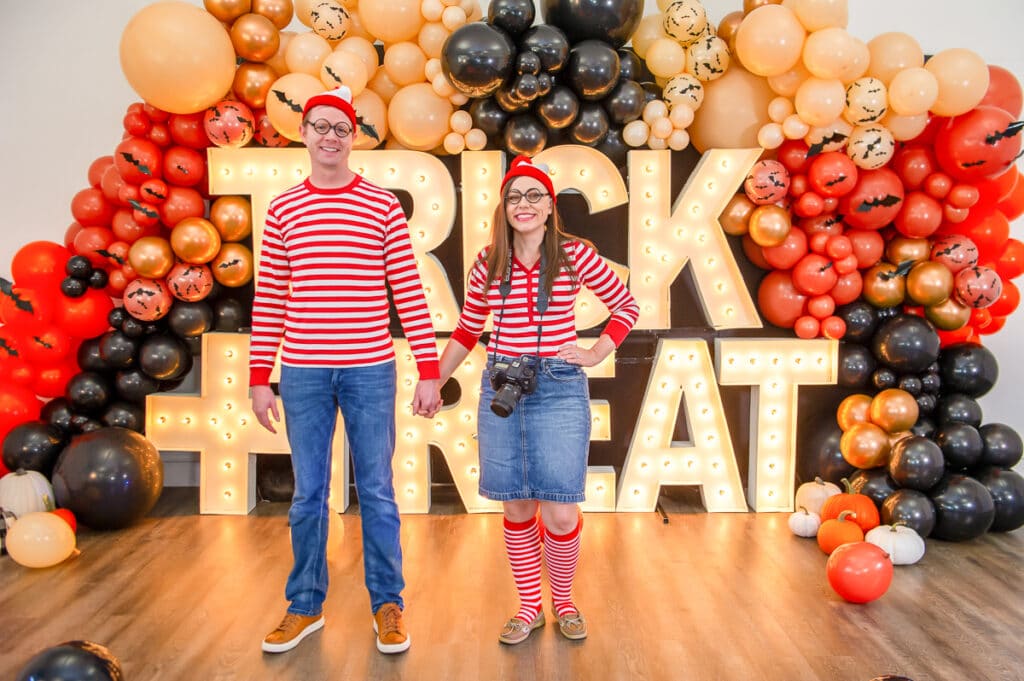 We are all about going all out for Halloween costumes, but have learned easy couple costumes are always needed! You never know when you'll need a last-minute Halloween costume or just something that's low maintenance. Sometimes I can't spend hours applying green paint as I did for this Guardians of the Galaxy costume. Also, as busy parents, we've learned we'd rather have less fuss with our costumes and easy couple costumes are often needed.
Easy Halloween costume ideas are also great if you need a simple costume to wear to work, for a last-minute party, or for easy college Halloween costumes.
So if you're looking for something you can throw together quickly with a few things you likely own (or can easily borrow) and only a few simple additions, these easy couple costumes are for you!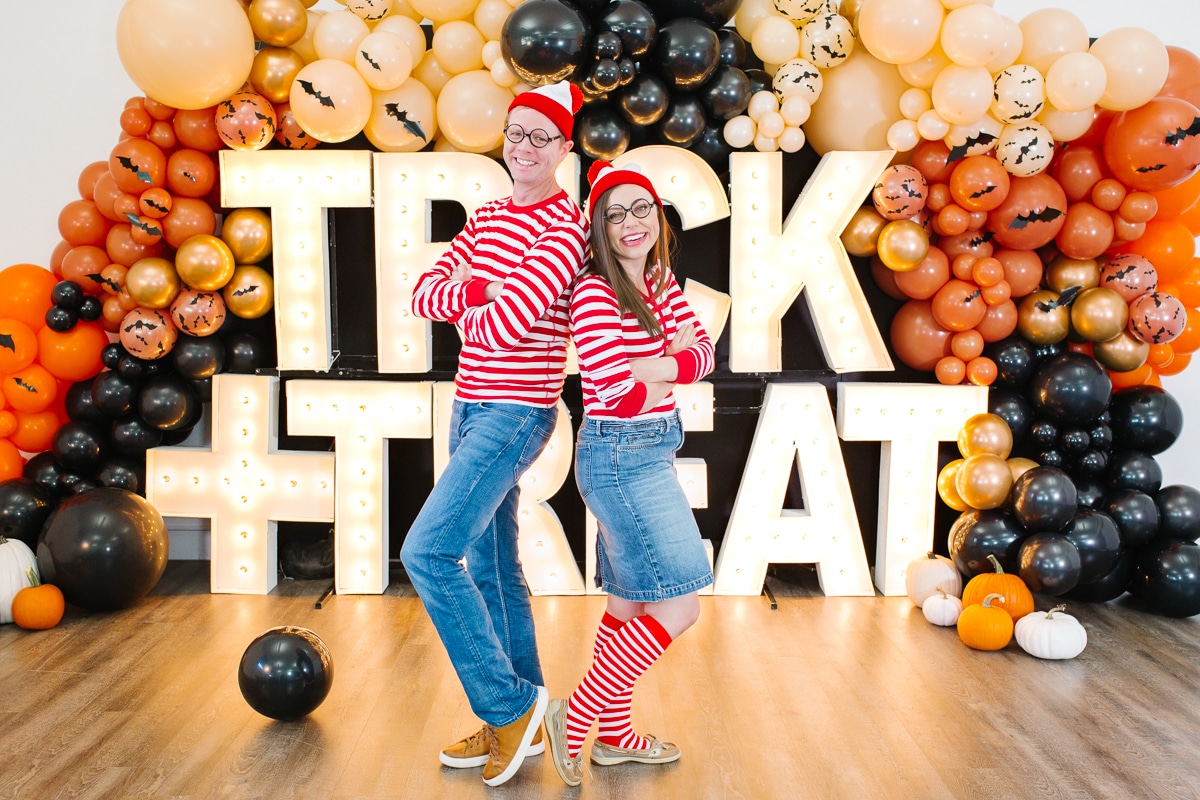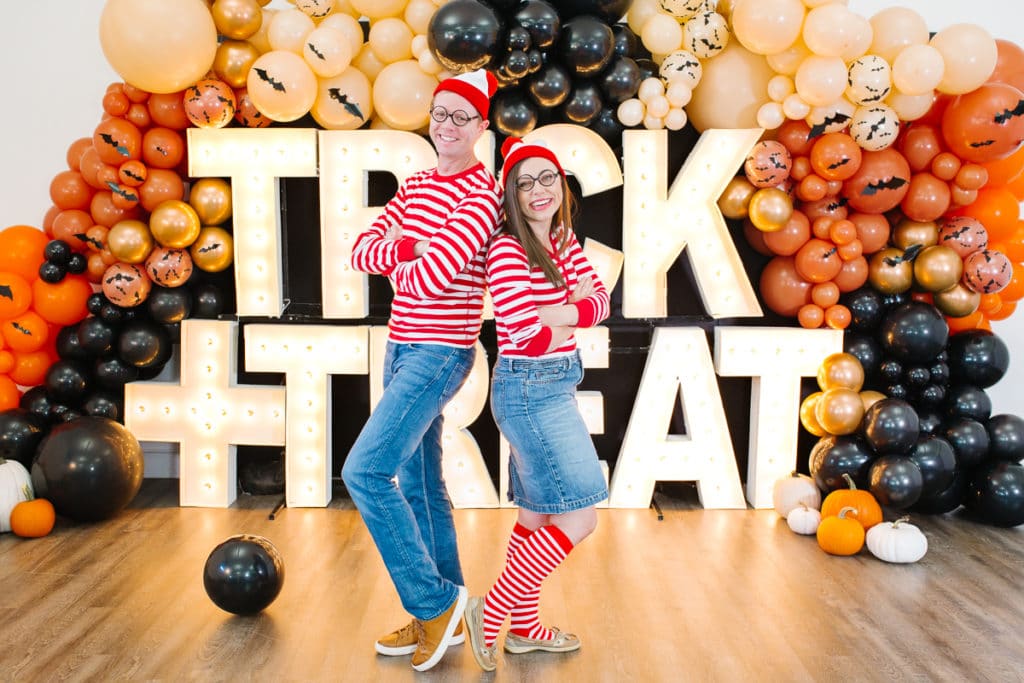 Easy Couple Costumes
Where's Waldo and Where's Wanda
We did Where's Waldo costume year as a family with pajama tops and hats and glasses we ordered from Amazon. Get this easy tutorial here!
Carmen Sandiego and Where's Waldo
People will be searching for you all night as this dynamic duo!
Cat and Dog
Don't feel the need to go all out, grab black/brown/yellow/white/etc. clothes and pick up a set of ears. You could even get a cheap headband and make your own with paper or felt.
Cat and Firefighter
See above for an easy cat idea. But if you have a navy shirt and pants, it's not hard to print out a fire logo and tape it on. Also, if you have a friend who works for the fire department, they may be willing to loan a hat or jacket.
Mailman and Dog
It just takes a light blue shirt and hat to tape on a printed logo and become a mail person. Also, see number two for an easy dog costume idea.
Cowboy and Cowgirl
If you buy cowboy hats and already own a flannel or plaid button-down shirt, you're set for this costume!
Sully and Boo
Grab a turquoise shirt and attach purple dots. The other party just needs any oversized pink shirt and pigtails to complete this look. Plus, who doesn't love a solid Disney Couples costume?

Puny Halloween Costumes

Running with Scissors
Our friends did this punny costume one year cutting out a cardboard box to create a giant pair of scissors. Add one person in their running clothes and you have an easy, puny costume idea!
Green with Envy
Write the word ENVY on a t-shirt. Dress the other party in all green. Boom, you have another round of super easy couple costumes,
Smarty Pants
I'm going to go out on a limb and guess you likely own pants. Buy a pack of Smarties and tape them to the pants. Go ahead and let others laugh and be impressed with your easy costume and cleverness.
Cereal Killer
Grab some mini boxes of cereal and apply a few knives poking out of them. Attach them to your clothes and enjoy your easy puny costume!
Copy Cat
On one person add a paper or write on a shirt the copy command: CTRL + C. Dress the other party as a cat (some ears and monochromatic outfit are all it takes.
Ghost Couple
Get two white sheets and make the most classic Halloween costume known to mankind! You can get funny with glasses and accessories added. TikTok went super viral with this trend, and the possibilities are endless!
When Life Gives You Lemons
Write the word "Life" on two t-shirts, and buy a bag of lemons to pass out to others.
50 Shade of Gray
Head to a paint store and grab 50 different gray paint colors. Attach them to your shirt, and enjoy a really great puny costume!

Easy Classic Halloween Costumes

Zombies
It only takes a little face paint and fake blood to pull off an excellent zombie look. Grab some white, gray, or green face paint. Add some fake blood coming from your mouth and you're set!
Mummies
Grab a roll of toilet paper and get to work creating this super easy last-minute Halloween costume!
Skeletons
If you have black pants, a shirt, and masking tape, you can easily create a skeleton. If you're in the market for some new pajamas, a pair of skeleton pajamas make this costume a breeze too!
Vampire Costumes
Add some powder or white face paint, a little fake blood, and some vampire's teeth and you're set!
Bats
Dress in black. Grab a garbage bag or some black fabric and cut to look like bat wings. Safety pin the fabric between your arms and side.

Clever Halloween Costumes

Janitor and Trash
If you have a jumpsuit and a baseball hat, this costume is a breeze! Grab some trash (like wadded paper, empty takeout containers, a soda can, etc.) and tape them to the other party.
Carpool Karaoke
Find a large box and cut it out to look like the front of a car. Borrow a microphone (or draw one on cardboard) and jump behind the wheel for some carpool karaoke.
Men in Black
If you have black suits and a white shirt, you can pull off this easy costume idea in minutes!
Bob Ross and Julia Child
We did this costume years ago, and a wig and an apron were all we needed to pull of these iconic costumes.
Bob Ross and a Happy Little Tree
See our Bob Ross costume for some easy inspiration. Go find a tree with large leaves and collect the fallen leaves. Attach them to your hands (or gloves) and a hat and voila, you're a happy little tree!
Swipe Left/Swipe Right
Play off the online dating culture and create a frame that says "Swipe left/right". Dress accordingly.

Easy Creative Couple Costumes

Super Heroes
Our little boys love this pack of superhero masks and capes. They'd make an easy and cute costume for people of all ages!
Pantone Color of the Year
Pick a color, dress in that color, and print out the Pantone logo to attach to your clothes.
Tourists
Do you have a fanny pack, camera, sunglasses, and hat? Add in a shirt with a city logo, a Hawaiian print shirt, or a linen button-down shirt and you're an instant tourist.

Disney Parks Couple
Grab those Mickey shirts and ears and be a Disney tourist couple.
Minions
Hello, yellow shirt, jean shorts, and suspenders (or a pair of overalls). Add in a yellow beanie and goggles and you have the perfect easy minion costume.
La La Land Sebastian and Mia
Hello, white button-down shirt and slack meets a yellow dress and red lipstick! If you have these clothes, this look is easy to pull off!

Couple Costumes…We Go Together Like…

Ketchup and Mustard
Dress in red and yellow. If you want to get fancy, get a funnel to add to the top of your head so you look like ketchup and mustard restaurant bottles.
Peanut Butter and Jelly
Find two cardboard boxes and cut out giant pieces of bread. Color one to look like peanut butter, and the other to look like jelly.
Mac and Cheese
Another excellent pair to create out of cardboard boxes.

Dr. and Pepper
We had friends work this costume at our first-ever Halloween dinner party. A little cardboard box creativity went a long way!
Oreo Cookie Halves
While we're on a cardboard box roll, use one to cut out two large circles. Make sure you both wear white and become a Double Stuff Oreo!
Cookies and Milk
Buy a package of cookies and attach them to your clothes. Have the other party dress in all white.
Peas and Carrots
If you have an all-orange outfit and all green outfit, you can easily pull off this costume. And if you don't, hello cardboard box drawings.
Salt and Pepper
Dress in black and white and add a shiny metal colander as a hat to look like salt and pepper shakers.
Tacos and Tuesday
See if Taco Bell will hook you up with some taco wrappers to attach to one person's clothes. Have the other party wear a shirt that says "Tuesday".
Bonnie and Clyde
These famous bandits are easy to recreate with a few easy accessories from your closet. Look up some pictures and get inspired.

TV Couples Costumes

Jim and Pam
TV couples are often great easy couple costume ideas. A button-down shirt and chinos for Jim, and a pencil skirt, a button-down shirt, and a cardigan with sneakers for Pam is all it takes.
Leslie Knope and Ben Wyatt
I have laughed at every Leslie Knope costume that emulates her hair from the half-perm episode. Curl one half of your hair, style the other straight, and wear a pantsuit. Ben wears basic office clothes, so anything business casual works!
David Rose and Alexis Rose
Head to a thrift store and find the loudest black and white sweater to pull off David Rose. You could also just wear black and tape on some cut-out white lightning bolts. Grab a headband to wear around your forehead, dress, and some boots to pull off a classic Alexis.

George Michael and Maeby
If you own khaki pants, this costume is easy to do! We wore this Arrested Development-inspired costume years ago and it only took a polo shirt from the thrift store and some cheap blue aprons to pull this one off! It was our easiest costume and bringing frozen bananas made us very popular at our Halloween costume party!
Chip and Joanna Gaines
Find a great picture of Chip and Joanna Gaines and dress like them. Print out a large picture of an old beat-up house and cut it in half for each of you to hold up. You're both the characters and the reveal in Fixer Upper.
Morticia and Gomez from The Addams Family
If you have a black dress and a black suit, you can pull off this costume with little effort!

Last-Minute Halloween Costumes

Greek God and Goddess
These are easy college Halloween costumes at their finest! Grab some white sheets, drape them around you to look like a Greek God or Goddess. Add a belt and some gold shimmer eyeshadow to your arms and face and you're all set.
Cat Burglar
If you have a black and white striped shirt, you'll only need a black beanie and black mask to pull off this classic costume together.
Workout Instructors
Wear your favorite athleisure and enjoy telling others to drop and give you 20 all night.
Two Peas in a Pod
Wear green shirts and cut out cardboard to look like a pod. Each of you can wear one side of the pod so you go together perfectly.
The Bachelor and The Bachelorette
If you have a cocktail or formal dress and a suit, you'll only need some red roses to carry around to pull of this easy Halloween costume idea.
Slumber Party
Wear your favorite pajamas, and add a party hat.
Mime Costume
Grabbed a striped shirt, some black pants, a beret, and some face paint. Get ready to get in character with this fun costume!

Easy DIY Couple Costumes

Emojis
Find your favorite emoji and clothes that look like them and dress up to become them for a night!
Filter/No Filter
Cut out a cardboard box to look like a frame and write "Instagram" at the top. Have one of you look amazing (filter) and one look pretty beat up and messy to pull off this funny costume.
Hunter and Deer
Have the hunter wear flannel and a hat. The dear only needs some makeup to paint on a nose and some spots to pull off this easy look.
Beanie Babies
Dress like any animal or popular Beanie Baby. Create a heart TY tag to attach to your ear so you look like a Beanie Baby.
Lobster and Chef
Get red oven mitts and wear red and just like that you're a lobster! An apron and/or chef's hat are all it takes to pull off the chef costume.
Cactus Costume
Find a long-sleeved green shirt or sweatshirt. Tie white yard pieces to look like cactus spikes coming through.
Bunch of Grapes
Blow up a pack of purple balloons and attach them all over your body. Bam, you're a bunch of grapes.
Stick Figures
My family loves to do a glowstick dance party after Thanksgiving each year. I've always thought creating a glowstick stick figure and taping it to your clothes would make an excellent (and super easy) costume.

Fun Couple Costume Ideas

Rock Stars
You can dress up, paint your faces, or just wear a lot of black to look the part.
Frosted Animal Cookies
Have one person dress in all pink, and the other in all white. Buy a pack of colorful pom-poms to glue or safety pin on as your sprinkles.
Crayons
Dress in monochromatic outfits. Add a funnel the same color as your outfit to your head so you look like a sharpened crayon.
Sandy and Danny from Grease
Tight black pants and a tight black shirt are all it takes to pull this off!
Lumberjacks
Do you own a flannel shirt? If you don't maybe this is your sign to go buy a flannel shirt and suspenders you'll use long after Halloween.
Mouse and a Cookie
Pick up some cheap mouse ears, or grab a headband and glue some flannel circles on it. If you want to give a nod to If You Give a Mouse a Cookie, add some overalls. Grab some cardboard and cut a giant circle to create your cookie.
Jelly Belly Bags
Fill up a bag of small multi-colored balloons. Wear a clear trash bag on top of your shirt (be sure to cut the headspace out and not suffocate yourself).
Chip on Your Shoulder
Attach a chip to your shoulder. That's it! That's the costume!
Mario and Luigi
Overalls, green and red shirts, hats, and a fake mustache instantly turn you into this iconic duo.
Bonnie and Clyde
Rock prohibition era with a fun costume nod to America's most infamous couple! Grab your 1920s looks and get ready to feel gangster.
Top Gun
This makes a great couples Halloween costume, because you only need a few key items! Check out our Top Gun Costume post for all the details!
Jurassic Park Costume
Rock a classic Dr. Ellie Settler and Dr. Alan Grant look with a Jurassic Park costume. It's really simple to throw this together, and iconic enough, everyone knows who you are!
Jedi Costume
We went all out for a family Star Wars costume, but you can pull this off pretty simply! Get some bandages, a brown robe, and some boots and rock a Luke Skywalker or Star Wars Rey costume. Or, you can replicate your favorite Star Wars jedi and still be on theme.
Peter Pan and Wendy
Grab a green ensemble and a blue nightgown, and your set! You could also include Captain Hook, Tinkerbell, or any other Peter Pan costume characters!
Princess Bride Costume
It took very little prep to create our most viral costume! Check out all the details to pull off a Wesley and Buttercup Princess Bride Costume!
Curious George and the Man in the Yellow Hat
Dress in Yellow, paint a hat yellow, and grab your favorite monkey for this cute duo!
We hope this list helps you feel a little inspired to pull off something great, even if you need a last-minute costume idea!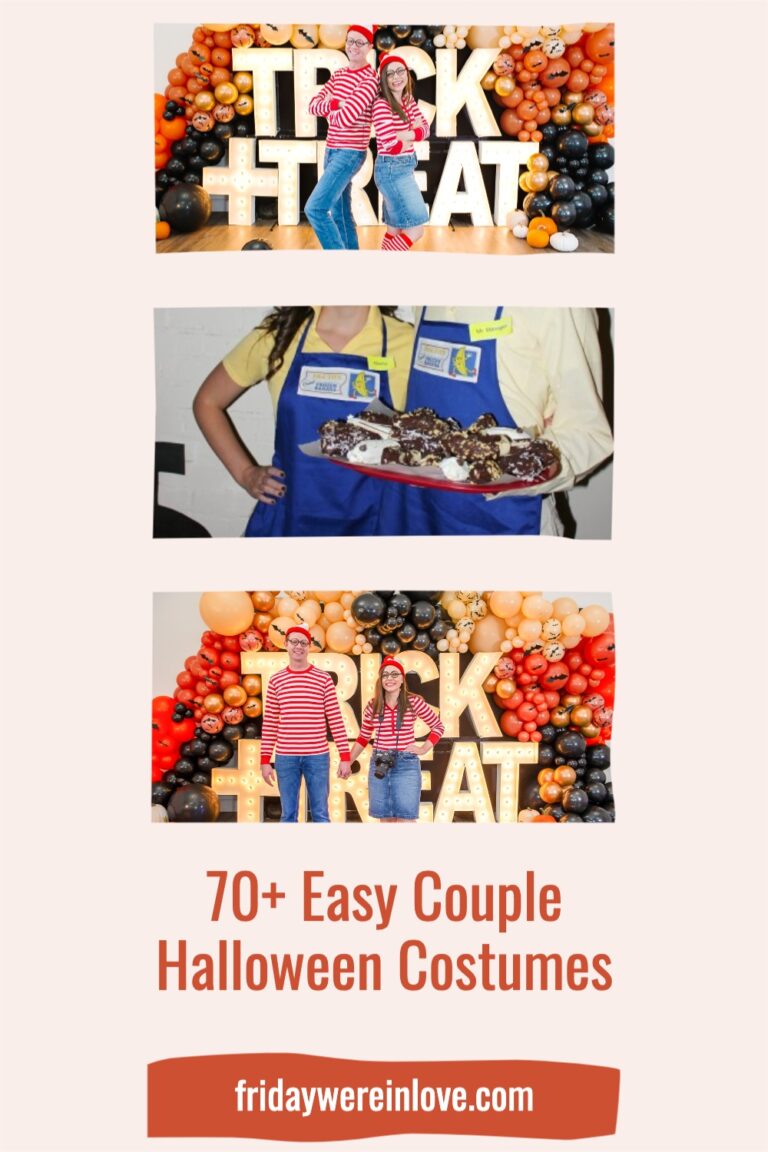 Like these easy couple costume ideas? Be sure to check out these posts too:
Over 150 Couple's Halloween Costume Ideas (With Family Costume Ideas Too!)
Halloween Costume Pictures: Pre Trick-or-Treating {Free Halloween Printable}