Dinosaur Valentines Day Cards: Easy Last-Minute, Free Printable Valentines
Ready to look like a Pinterest mom with little time, effort, or cost? Here are super easy free printable Valentine's Day cards you can put together even the night before with two dinosaur Valentine Cards kids will love!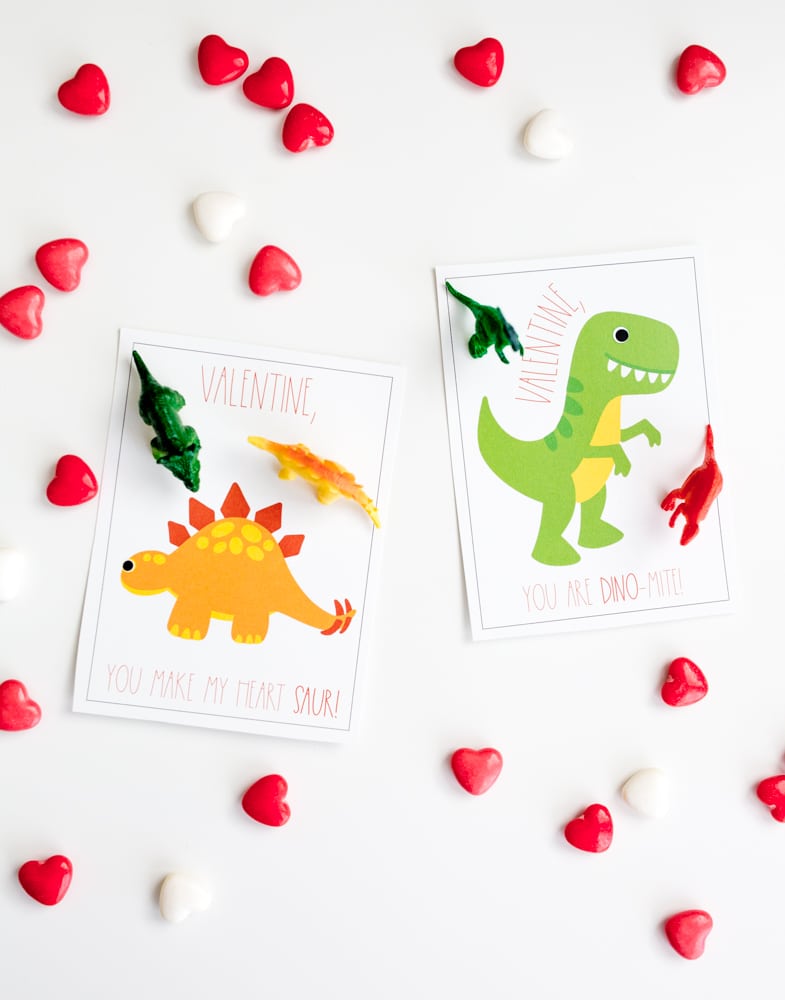 Raise your hand if you have a three-year-old/four-year-old who loves Valentine's Day and loves dinosaurs. Naturally, that means Dinosaur valentines are in order.
Our first classroom Valentine's party was at a fairly low-key preschool, and I wasn't sure if we'd be participating in a Valentine's Day card exchange or not. I wasn't sure until I asked the teacher. She confirmed, there would be a Valentine card exchange. That gave us only a week to get ready.
Making Valentine's Day Card Easy
So three things about being a first time Valentine's Day card exchange mom you need to know:
1. I'd heard from many moms the Pinterest craze has made Valentine's day a bit over the-top. Expect darling Valentine's cards at the classroom party, and maybe do something aside from buying a cheap pack at the store.
2. I'm not very crafty, I own minimal craft supplies, and I instantly went into a panic that I'm going to have to use glue gun. That can be a dangerous thing for me friends!
3. I decided something cute that's still super easy and makes me look like a Pinterest mom must be in order.
I figured I can't be the only mom facing this problem. So the second I came up a ridiculously easy Valentine's Day card exchange idea, I had to share it!
Dinosaur Valentine's Day Cards
I asked my friend Elise if she was up for a quick design project. Good news, she was. Even better news, she thinks drawing dinosaurs is fun.
I wanted two options so I could share an easy dinosaur Valentine's Day card printable with all of you, and even if you're doing this the night before, you can still pull it off.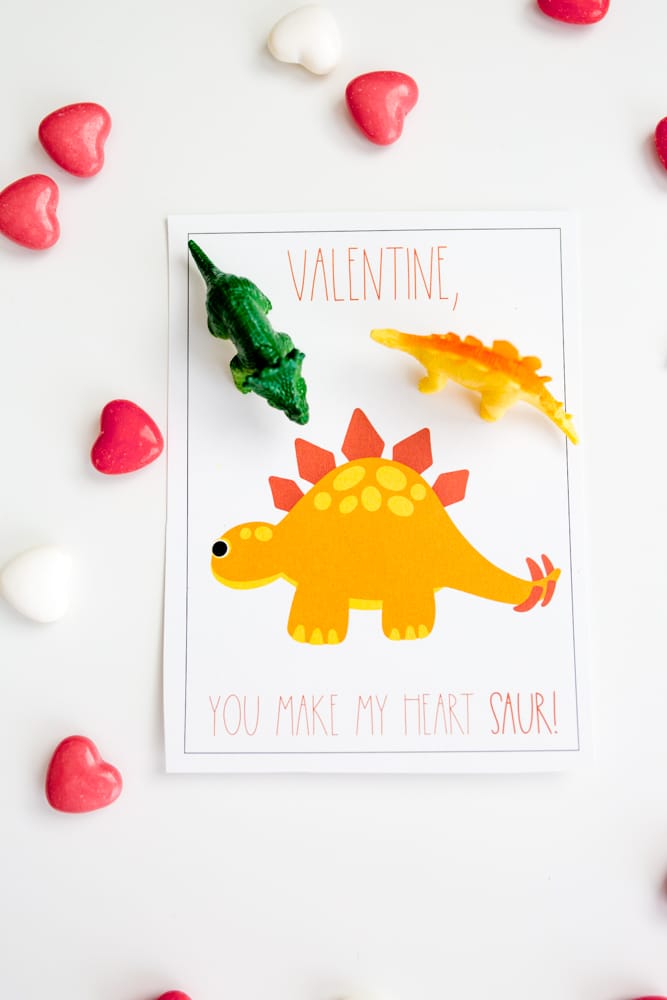 Option #1: The Dinosaur Valentine with a Dinosaur Toy
I love that you can buy a ton of plastic dinosaurs almost anywhere. Check toy aisle, the One Spot, and of course, there's this set we bought on Amazon with 1-day shipping. They cost about what you'd pay for the candy. So I felt like they were super reasonable, super easy to gift, and there are several ways to put them together.
If you have your own color printer, fantastic! I'd recommend some white card stock and you can print whatever you need. If you don't have a color printer, you can either skip down to option #2 and print at home, or you can easily send it to a printer. If you haven't done this before, Staples, Kinkos/FedEx, and even Walmart and Costco do printing services. Several offer 1-hour prints. You can upload as a business document or print on photo paper.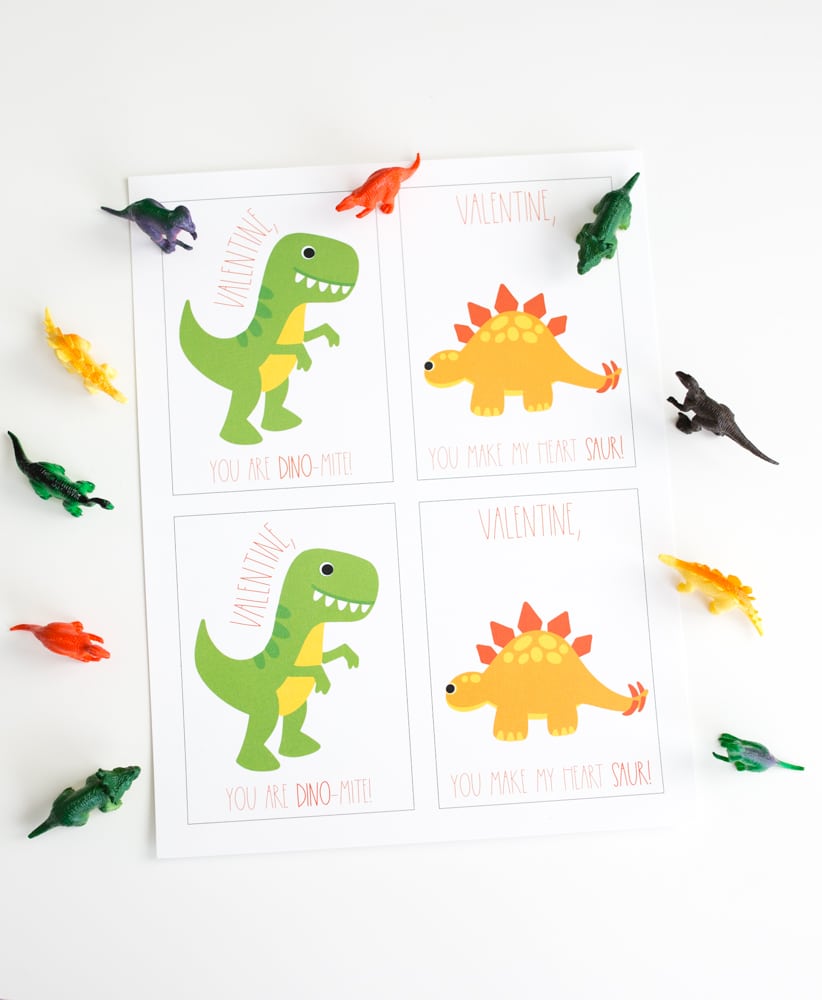 I love to outsource this because they do such a great professional job. It's super fast, super easy, and you go home with cards you'll be proud to send out! Hello, did we just become Pinterest moms with one upload of a doc and an Amazon order- I think so!
Grab your scissors or paper cutter and cut out the cards from the printed pdf file downloads.
From there it's just attaching the dinosaur. A hole punch with a string or ribbon works great. Or, an even easier route that I may be able to put aside my crafty anxiety for: the glue gun. One small dot is all it takes, let it cool for a second so you don't melt the dino. Attach one leg, and you're all set with your dinosaur valentine. Easy, and worth owning a glue gun for!
And if you want to make it even easier, good old-fashioned tape or double-sided tape may do the trick too.
Grab Your Free printable dinosaur valentines right here!

Option #2: Dinosaur Printable Valentines Cards to Color
Once again, we're going candy free and offering a fun activity for kids' valentine cards. It's the same design, but sans the applied color. You'll still see the "Valentine you are dino-mite" print as well as the "Valentine, you make my heart saur" free printable dinosaur Valentine's cards. You can easily print this one off at home with a black-and-white printer and some heavyweight paper or cardstock. But once again, feel free to use business printing at any of the places listed above.
This coloring page clearly could use crayons to go with it. These are pretty inexpensive and it's not hard to find a party pack with lots of small crayon boxes. I love this set from Amazon, once again ordered with Prime 1-day or 2-day shipping.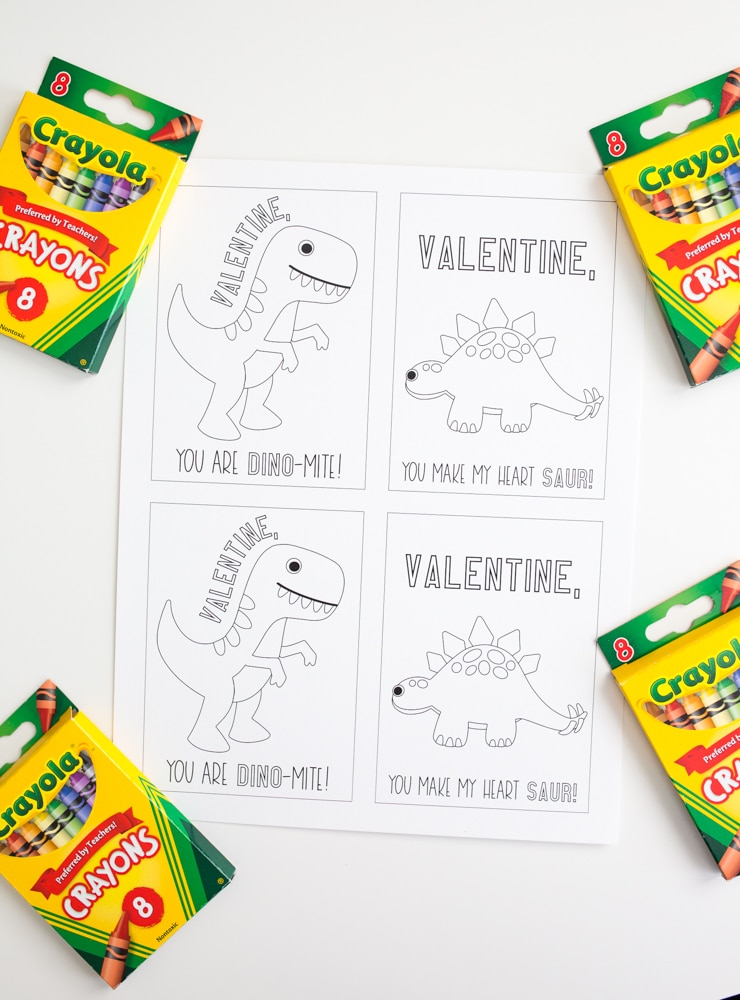 But if you're thinking "That's great, but I'm REALLY last minute here and don't even have time to order!" don't fret! You can easily run to any drugstore and get a large box of crayons. Take two to four out of the box and attach them to the coloring page. It only takes a few to have fun coloring, and most kids don't care what color their dino ends up being.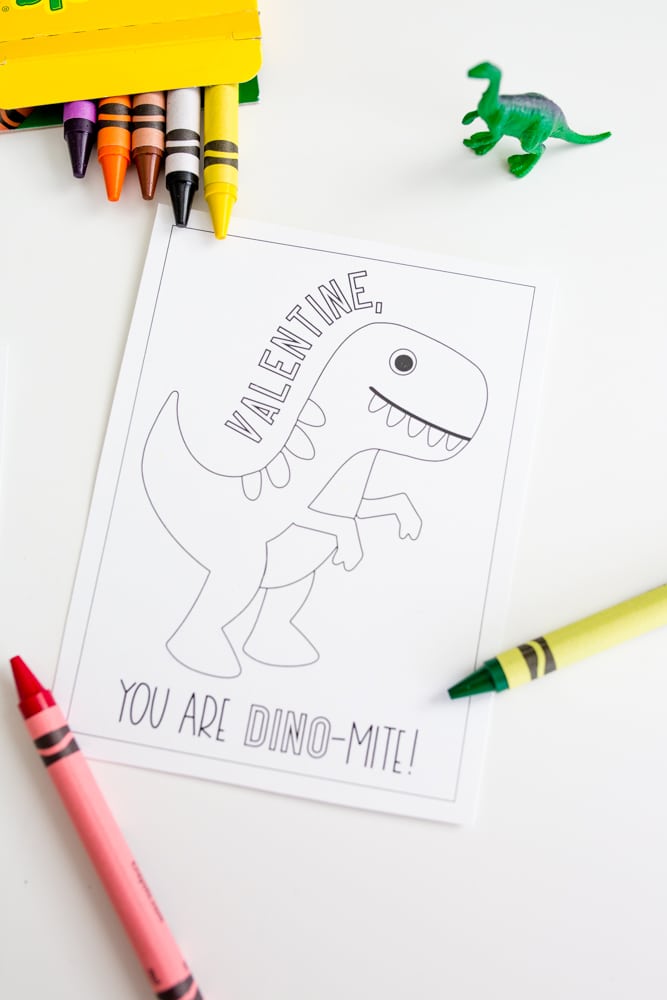 I'm happy to share these printables totally free so you can be set with an easy and cute Valentine's Day card for kids with such little effort. And feel free to smile about how little time you spent making your kid look like a dino-loving rockstar with these free printable dinosaur Valentine's cards.
Also, if you print these off and use them, I would love to see your Valentine's cards! Tag me @fridaywereinlove on Instagram so I can help applaud your Valentines cards that took you hardly any time at all!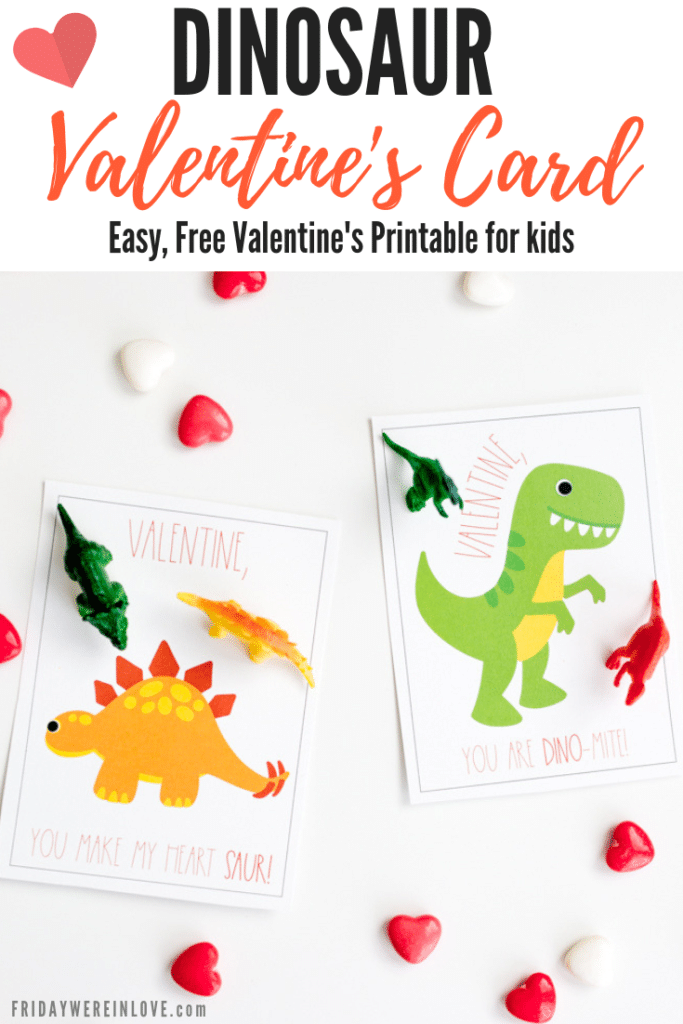 Matching Dinosaur Valentine Box
Instructions:
Get a large box and cut a mouth opening with sharp teeth. This will make it look like a t-rex head. Wrap it in green or orange wrapping paper, cutting out the mouth and leaving the open slot for the cards.
From here you can get creative with the DIY dinosaur Valentine box. Add some large googly eyes, create a dinosaur name tag with gift tags, and include your child's name. You can add glitter, spots, or even tin foil on the teeth as a fun way to make the dinosaur valentine's box really pop. I'd encourage unique designs and let kids get creative make their own mini dinosaurs ready to hold all the cards from classmates.
May these dinosaur-themed valentine cards be the perfect freebies to help you look like a rockstar and help your dinosaur lover roar with excitement!
Happy Valentine's Day!
Like these easy printable Valentine's Day cards? You may like these posts too:
What to Get a Guy for Valentine's Day
100 Couple Games for Your Next Game Night Date Night In
Slap Bracelet Valentines with Free Printable
Get 365 Date Ideas!
We want to help you have the best date nights ever! Grab this FREE printable with 365 date ideas, a date for every day of the year so you never run out of ideas!