A zoo lights date night is a fantastic way to get in the holiday spirit, and enjoy the holiday season with a great Christmas date night! Here's everything you need to know and some tips and tricks you'll only see here for an excellent zoo lights date!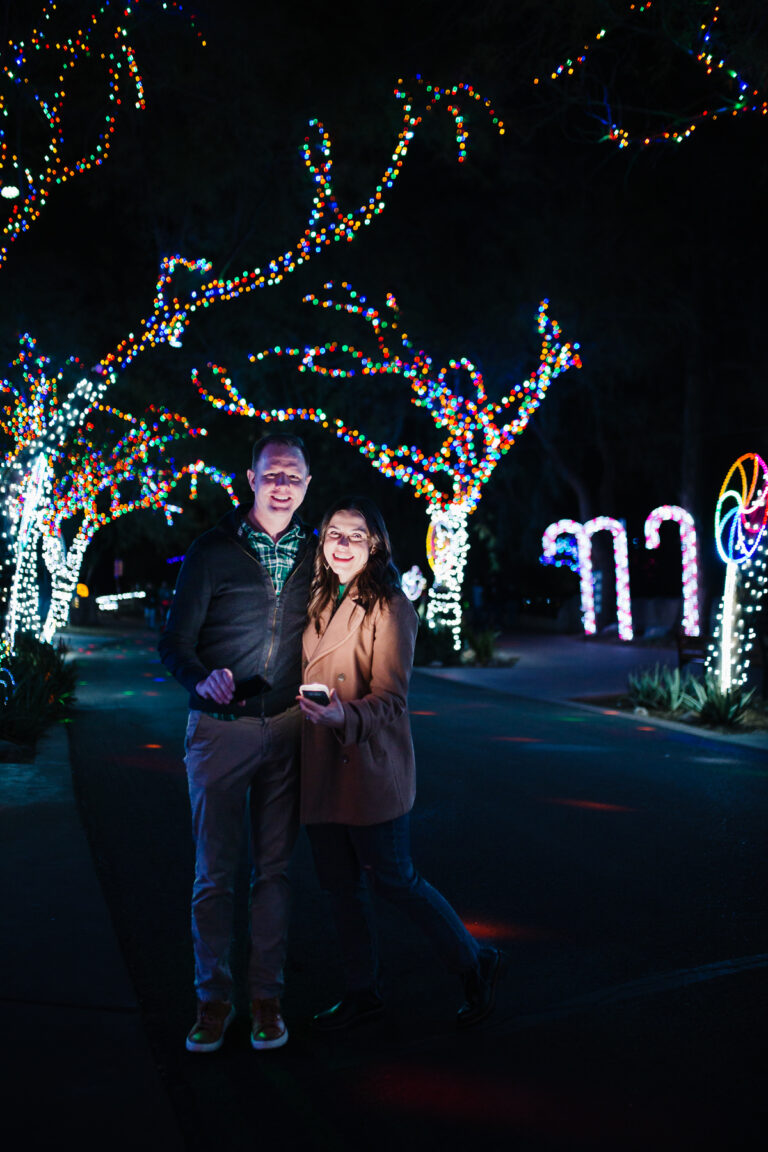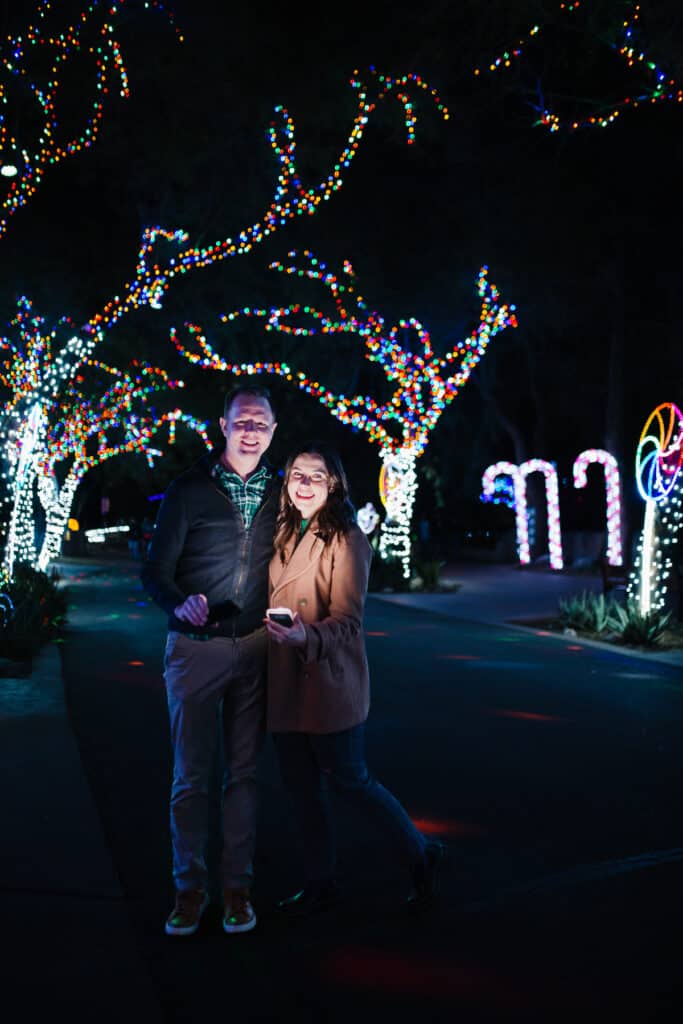 If you're looking for a great date to do during the holiday season, a zoo lights date night is an excellent choice! It's been one of our favorite Christmas date ideas for decades. Of course, it's one of those classic festive family activities, but let me tell you why it makes for fantastic Christmas dates too!
There's something extra romantic about twinkling lights: that's why they appear at so many weddings, romantic restaurants, and your favorite romantic classic Christmas movie kiss scene. And when the zoo makes a magical winter wonderland of twinkling lights, it makes for one of those holiday date nights you are sure to have a great time while you cuddle up and enjoy one dazzling lights display after another!
Events and Entertainment
There are often a lot of fun things to do that make the event a fantastic date night or a way to enjoy some holiday family fun!
Each zoo tends to have unique offerings and events on select dates. So check with yours for these special activities.
Walk-through lights / drive-through light shows
Light shows set to music
Christmas music to add to the holiday vibes
Animal sightings for animals who aren't already asleep
Live entertainment with holiday performances
Live Music
Hot chocolate booths to get that cup of hot cocoa on a chilly night
Festive food stands with tons of seasonal treats
Picture spots for your perfect photo op
Outdoor ice rink for ice skating
Santa Claus visits select zoos
It may sound as easy as getting zoo lights tickets and heading out for a zoo lights date night, but there are a few tips and tricks I'd highly recommend to help you have a perfect time and save some money while you enjoy the holiday magic. Check out our FAQ Section with tons of tips and details to help you make the most of a zoo lights experience!
FAQ
If you've never been, or you need a little more info to help you plan, check out these zoo lights frequently asked questions.
What are zoo lights?
It's a special event with holiday lights and immersive light displays throughout the zoo. It's a fun way to see the zoo in a whole new light! You'll experience a walk-through experience with the animal exhibits and the paths between all lit up for an immersive holiday experience after the sun sets.
How much are zoo lights?
Most will run you $15-$75 per person- so be sure to check with your local zoo!
In Phoenix, you'll pay $30 per person without discounts or deals.
What zoos participate in Zoo Lights?
This is in no way an extensive list, be sure to check in your area! But some known fantastic zoo light displays happen at the following zoos:
The Phoenix Zoo: Wild Lights Display (pictured, that's where our date took place)
The San Diego Zoo: called Jungle Bells
Bronx Zoo (with a fun walk-through light tunnel and special shows)
ZooTampa in Downtown Tampa, Florida
The Houston Zoo
Dallas Zoo Lights at the Dallas Zoo
Wild Lanterns at the Seattle Zoo (featuring custom-designed animal lanterns)
PNC Festival of Lights at the Cincinnati Zoo
Palm Desert Zoo and Gardens: WildLights
Philadelphia Zoo LumiNature in Philadelphia, Pennsylvania
Lights Before Christmas at the Toledo Zoo in Toledo
…Just to name a few.
Do Zoo Members Get in Free?
Typically they don't. But if you hold a valid membership card you'll typically have discounts and first dips at tickets. Double-check with your local zoo for prices and discounts. Check with your local zoo, some offer free events for members.
Hot Tip: I've seen our local zoo offer free tickets with new memberships as an incentive. It may be worth looking into purchasing a membership and wanting to save on ticket prices.
How to Get Zoo Lights Discounts (Hot Tips!)
Many zoo lights are listed among the best holiday events / in your local holiday events guide, and that means there are usually crowds and a price that comes with this fun experience. If you want to get discounts here are a few ways to find discounts:
Be a zoo member. They typically get first dips and a percentage off ticket prices. And occasionally, they have free access to a special members' night.
Go on weeknights. Our Phoenix zoo lights are put on by SRP (our local power company) and they offer discount BYGO free on select nights during the holiday season.
The week or two before Christmas are usually excluded, but early in the season and after Christmas are included in promo deals. Plan your fun date night around promotional ticket sales.
Check Groupon for deals and promos.
Buy tickets early. Earlybird deals can start in the summer, and if you watch for them and purchase early, you can save a lot of cash!
Call the zoo and ask! Sometimes there are special rates, guest passes, or group deals.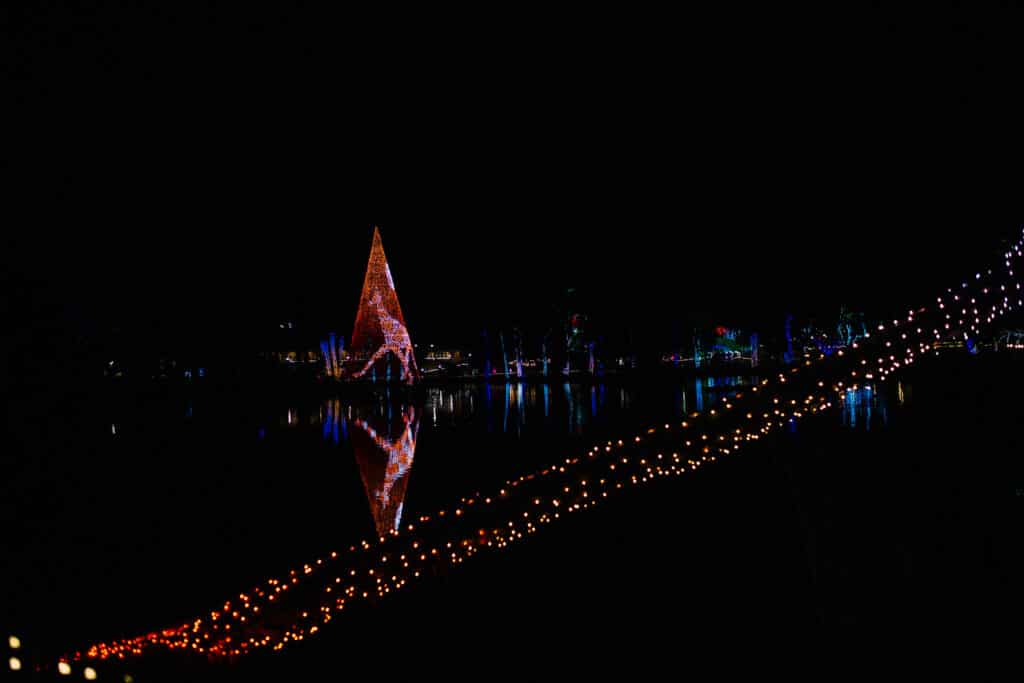 My Best Tips for a Zoo Lights Date
Go after Christmas!
This is my top tip! The crowds die down significantly after Christmas Day, and you can enjoy some of the best Christmas lights with a lot more wiggle room. Most are open through the first few weeks of January, and it's a great way to extend some holiday cheer during the darkest months of the year.
Weeknights are Where it's At
If you still really want to make this holiday tradition happen before Christmas, opt for a weeknight. Weekend nights are extra busy, and weeknights are a good time to avoid crowds.
Get in Line Early
Get there early and be ready to enter at entry time. You'll avoid burning a lot of time waiting in lines.
Stay Late with Your Date!
Stay until late for date night! So many little kids can't hang the full-time of operating hours, and families leave. If you want to enjoy a more romantic vibe, plan to stay until later and catch mostly couples walking the zoo.
There's a reason so many families include zoo lights on their Christmas events bucket list (us included)! And we've learned it's so fun and so magical it's typically on our bucket list of must-do experiences each holiday season. But just a reminder, it's a fantastic Christmas date idea for two, so don't forget to make sure you make it happen as a date night without the kids at least once!
Like this zoo lights date night idea? Be sure to check out these posts too:
Get 365 Date Ideas!
We want to help you have the best date nights ever! Grab this FREE printable with 365 date ideas, a date for every day of the year so you never run out of ideas!