Anniversary Inn: Swiss Family Robinson Room
A full review and information on staying on at The Anniversary Inn. This is the perfect way to spend an anniversary and one of those romantic getaways in Utah at a themed hotel you'll remember forever!

The Anniversary Inn
When I was in college one of my best friends from high school had an interesting job- she worked at a themed hotel called the
Anniversary Inn
in Utah. Each room is decorated with a unique theme. It's quite the hot spot for wedding nights, stay-cations, and of course, anniversaries. She was never shy on hilarious stories and awkward requests from guests.
Shortly after Jacob and I got married we had a conversation about the most interesting places our friends had worked, and naturally this came up. I told him how I'd always actually thought it may be fun to go to this place on a quirky getaway if we were ever in Utah or Idaho near one of the locations.
Anniversary Inn Salt Lake / The Anniversary Inn SLC
We were saving all our vacation time for Italy, but thought we'd still love to escape for a romantic weekend getaway somewhere for our anniversary this year. That is when Jacob asked my thoughts on heading to Salt Lake City and booking a room a the Anniversary Inn. And thus it was, a quirky and fun anniversary experience was set for the Anniversary Inn SLC!
He let me choose the Anniversary Inn room, so I went for the most
over-the-top themed
cheesy room I could find!
The Swiss Family Robinson room it was! It was one of those themed hotels in Utah I will not easily forget! There was a tree house to sleep in.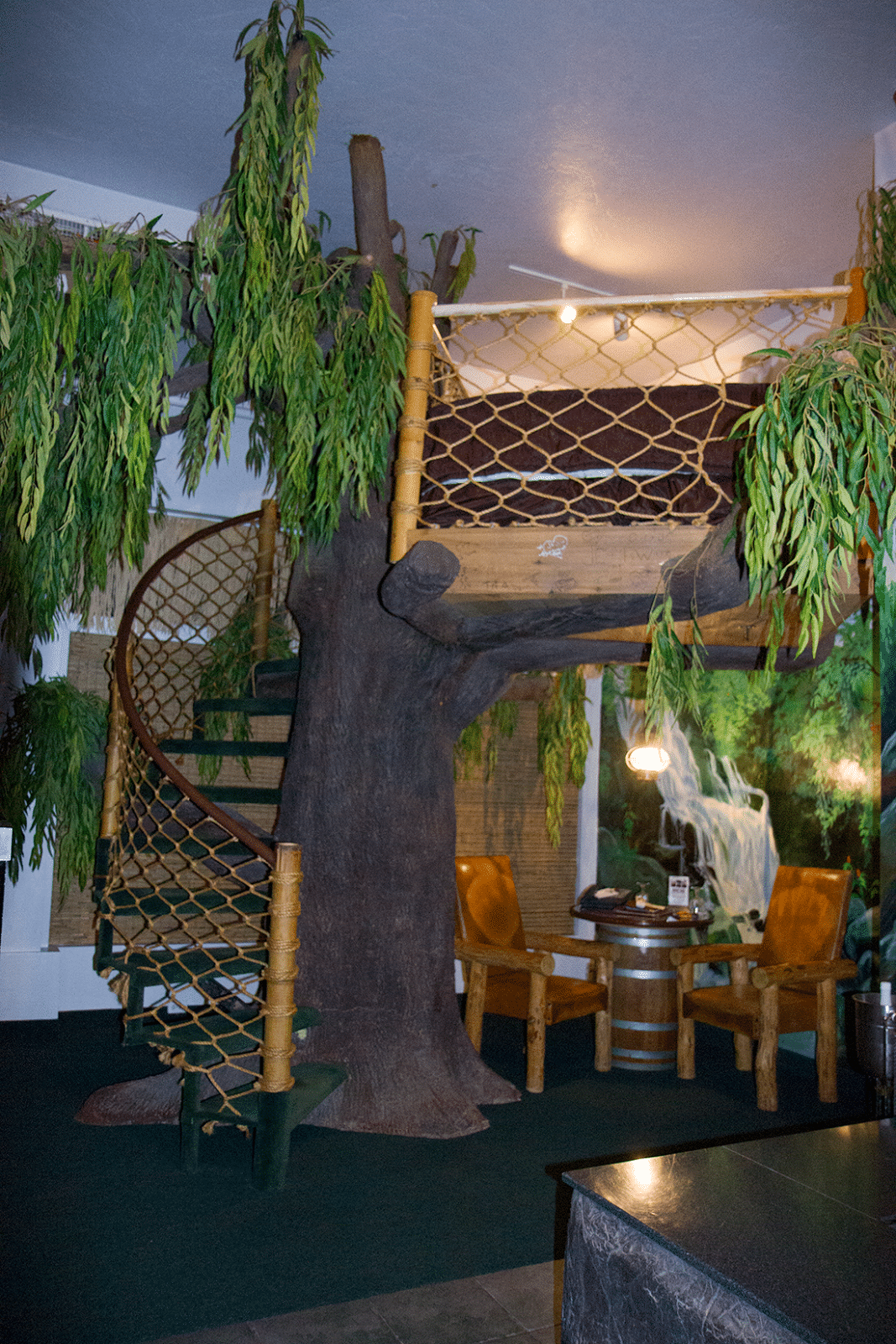 And also hang out and watch movies in.
The shower was a waterfall, which was a pretty fun experience in itself!
And our breakfast nook felt very exotic. The graffiti names kept things extra classy.
I do have to say that the jetted tub felt excellent on my pregnant muscles! I may have had a rough night getting down the steps to use the bathroom. After one night I felt very lucky there were no spills and baby Whiting is still intact. However, that tub made up for any scare and stair rail clinging in the night!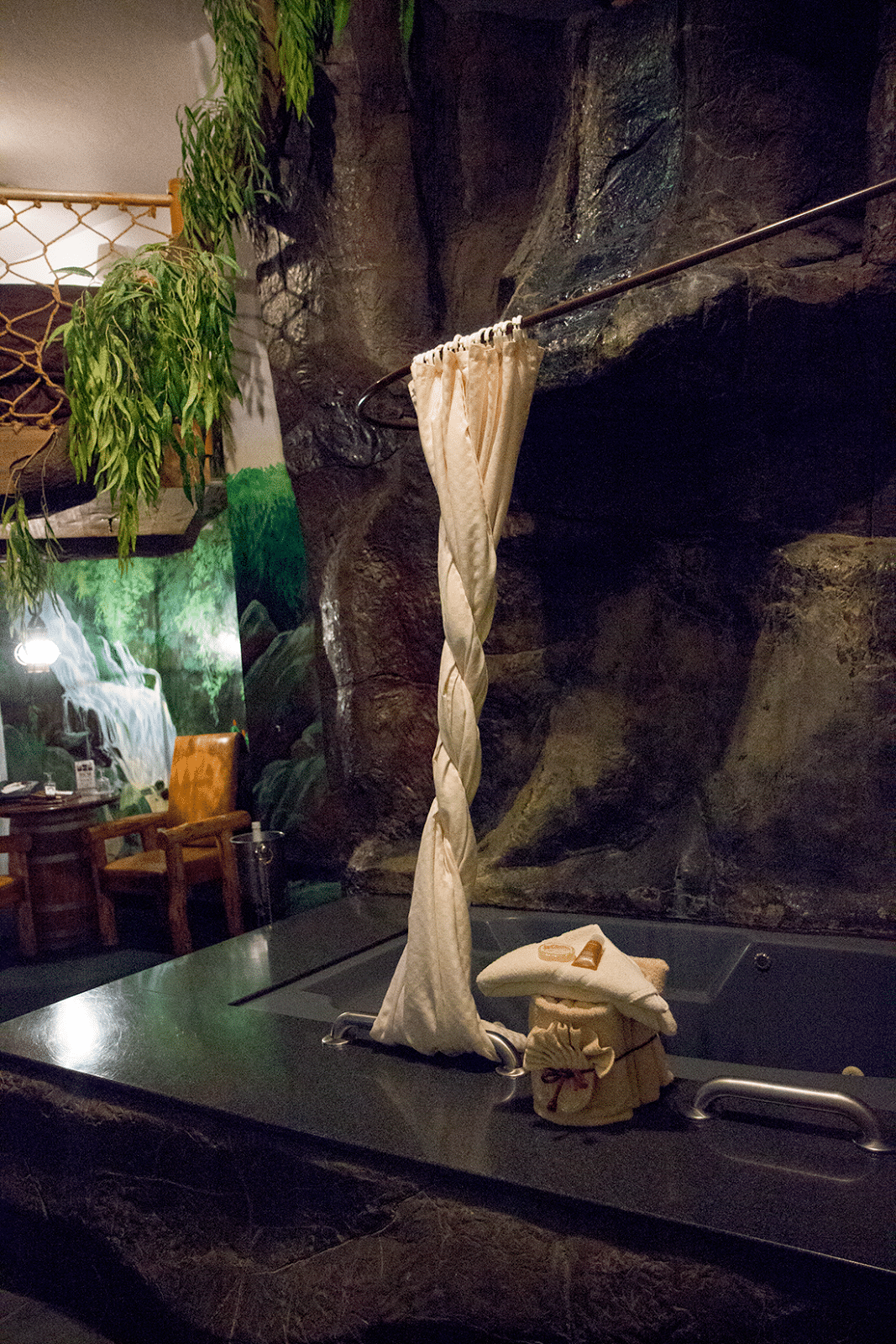 The breakfast was even pretty good, and we really enjoyed staying in such a quirky place! I'm pretty sure we'll go back, only if I'm pregnant, we'll find a bed with fewer stairs and hazard potential!
There are several Anniversary Inns to choose from including Anniversary Inn Utah and Anniversary Inn Boise! You can hit up Anniversary Inn Salt Lake City (which has two different locations), Anniversary Inn Boise, and one in Logan Utah too- each with unique themed rooms to check out and try!
Has anyone else stayed here or another themed hotel? I'd love to hear all about where and your experiences since this was such a unique experience for us!
Like this Anniversary Inn anniversary idea? You may like these dates too:
12 Perfect Anniversary Date Ideas
Creative Date Ideas in Provo Utah
Sedona Getaway: Day 1
J.W. Marriott Camelback Wedding Night Suite
Get 365 Date Ideas!
We want to help you have the best date nights ever! Grab this FREE printable with 365 date ideas, a date for every day of the year so you never run out of ideas!