Creative Date Ideas in Provo Utah
Provo Utah is one of the best places for date night with so many unique, amazing, affordable dates! Here's a full roundup fo the best Provo Utah Date Ideas
I was recently featured in an article in the newspaper for my alma mater, BYU. It happens to be in Provo, Utah.
I was asked some of my BYU date ideas I would go on if I was still a student. Seriously, I had to limit myself to only 12! There are so many creative date ideas in Provo, Utah! I wish I would have been more with it in the creative date ideas while at BYU and in my time teaching there.

If you live in Provo/Orem or are a BYU student (or UVU student), do me a favor and please hit up one of these date ideas in Provo Utah for me!

Creative Date Ideas in Provo, Utah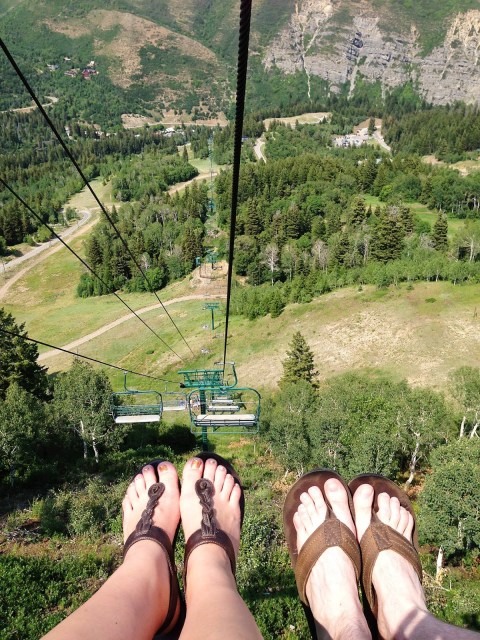 This offers a romantic way to see the breathtaking mountains in a new way, and it's only about $11 per person! You can definitely ski or snowbird in the winter months, but it's a much more affordable Provo date night in the offseason.
Play arcade games at Nickelcade
Can $5-$10 provide more fun? Trust us, even girls enjoy the old school arcade games. This is one of the cheapest places you'll find to do this- do it while you're in Provo!
Pack a picnic dinner and go hiking
You may not always have the mountains, and trust us, you'll miss them. Plan a romantic dinner hiking Y Mountain, Timpanogos, AF Canyon, etc. It's a free date, and food and a flashlight can create one amazing memory in a gorgeous location.
Improv comedy will always yield a unique experience full of laughs. It can be hard to find clean, legitimately fun humor in many cities, take advantage of this great date! If you're on campus, Divine Comedy is a must-do date as well!
Visit the BYU Museum of Art
General admission is free, which is impossible to beat! There are some amazing special exhibits that come and change often, and the cafe is sure to please any foodie. Even the non-art lovers will find some truly unique conversations inspired by art and thoughts on art.
Provo Utah Date Ideas
This unique theater offers a 360 style stage which makes all seats great! Christmas Carol is amazing, but we've never seen a bad play any time of the year. There's a lot of theater talent in Utah, and it's far more affordable in Provo than most places in the world.
There's nothing like borrowing a cowboy hat, learning some moves, burning some calories, and laughing at awkward moments of line dancing. I love that there's a culture and a routine weekly event often on campus but definitely off campus too. This can get pricey in other places, Provo is ideal for this activity!
Visit the Hare Krishna Temple in Spanish Fork
You can visit anytime, and you'll learn a lot and experience what a great guy Caru Das is. They constantly have festivals with great food and cultural experiences. Tours are free with a couple of dollar donation being the norm. This is a must before anyone leaves Provo!
Sitting on a cart and going down 3,000 feet of slide leads to one adventure date that isn't duplicated anywhere else! People often come to Utah for this activity. Make a date out of it during the warm months of the year.
2002 was a magical time, I was lucky to be a student then! Viewing how and where athletes train for the Olympics is pretty special, and one pretty amazing date! It may cost a little more, but you can even
ride a bobsled on an Olympic track
– definitely a memorable date!
BYU Date Ideas
Attend a College Sporting Event
All sporting events can make great dates, BYU and UVU have great teams! I am partial to the BYU Men's Volley team who is consistently one of the top in the nation. It's one of those unknown gems of a sporting event, and a perfect BYU date idea. Grab a date, go to this inexpensive experience, and enjoy cheering on the Cougars!
I should also note the BYU and UVU dance teams are often national champions. Don't discount their dance showcaes as a once-in-a-lifetime date experience.
Attend any theater or musical production on BYU campus
You'll miss how talented musically almost everyone is on campus when you graduate. The plays are the best of the best (trust me, I have been to some big names in big cities) and the music programs are phenomenal! Culturally enlighten yourself and your date with these experiences.
Related date post: Vocal Point Concert
Whether you're a student, a resident, or living in Utah, Provo is such an excellent place for a date! Make sure to add some Provo date ideas to your plans while you live in such a beautiful place!
Like these fun Provo date ideas? You may like these posts too:
Get 365 Date Ideas!
We want to help you have the best date nights ever! Grab this FREE printable with 365 date ideas, a date for every day of the year so you never run out of ideas!