Ellen Eccles Theater: Mary Poppins Date Night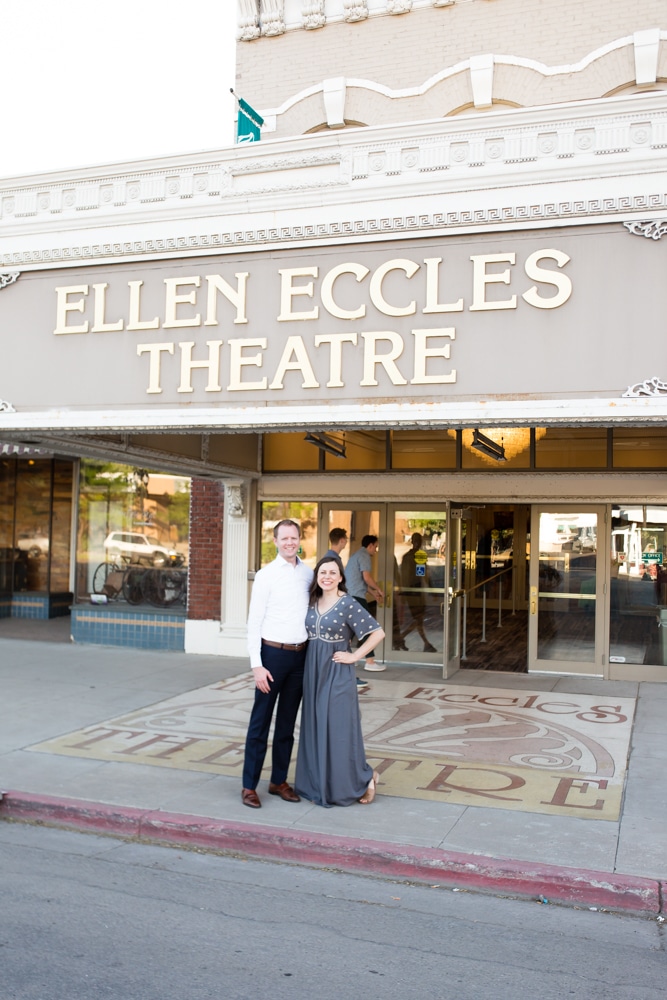 I learned a valuable lesson recently while visiting my brother and his family in Utah. It involves the Ellen Eccles Theater in Logan, Utah, and date night.
We typically plan our dates well in advance. There's a date night calendar in our family and we both know when we're booked and when we're free. We also try to have a standing babysitter, so the night is predictable and set. These date night routines have worked well for us!
If someone would have told me that while in Utah you'll have the chance to fit in four dates in a four-day trip, I would have laughed! My family is big and a bit chaotic. We're usually booked and busy the whole time we're together.
But after a few days of chaos, everyone left my brother's new home and we had two days to just be with them. Boy am I lucky to have a brother and sister-in-law I'd choose as best friends even if we weren't related! I am loving this season of life enjoying all my siblings are their spouses. Good work parents, you raised a lot of cool built-in-friends for me.
I have a niece who is a teenager inform me she would love to babysit for us any time over the days we were in town. She needed some service project hours. We were really excited to plan two dates with our kids in great care!
The Unexpected Formal Date Night
And then something unexpected happened. My brother owns his own company, and one of his vendors called to offer him really great tickets to see the Broadway Mary Poppins at the historic Ellen Eccles Theater in Logan, Utah. He asked if they could make two tickets become four, and we got lucky with a yes!
When he told me they had our date night planned and covered, I was in shock! The Utah Opera puts on these shows, and some really big VIP type people attend! My next thought was, do I even have a dress nice enough to wear in my suitcase? Does our niece have plans? And about a million other things that a planner may think with a big date night opportunity suddenly falling in their lap.
My sister-in-law pulled out all her semi-formal dress options, and we decided to go with the closet thing that would fit me! My niece was game, even last minute. I pulled together a formal date night with little time or notice.
Also, let's give a moment of silence for the elderly lady we tried to have take our picture for 10 minutes. At least the shutter finally was released, and at that point, who cares about being in focus?
Ellen Eccles Theater
Let me tell you the show was fantastic! If I lived in Utah, season tickets at the Ellen Eccles Theater would be on my radar. It's so historic and well preserved. Best of all, the arts are done fantastically well there! Touring the Ellen Eccles Theater would be a great date in itself. It's one those places that make you really appreciate the arts and the historic opera houses.
Also, Mary Poppins live is a really magical experience! I loved the stage effects to bring the magic to life! The acting, singing, and set was so impressive. Jacob and I both commented on how blown away we were with this traveling cast.
If you are looking for a touring show for a date night or family date, Mary Poppins is a great bet!
I will now remind my over-planning self that sometimes the best things just happen. You just need to be willing to roll with impromptu plans and experience things. Often, they make the best kind of dates out there!
Like this date idea? You may like these posts too:
Bombay House: Provo, Utah Date Idea
Date Night for Parents: Date Ideas for Date Night With a Baby
Get 365 Date Ideas!
We want to help you have the best date nights ever! Grab this FREE printable with 365 date ideas, a date for every day of the year so you never run out of ideas!