How to create a Halloween Boo Basket with tons of Boo Basket Ideas to create some Halloween fun all season!

What is a Boo Basket?
A Book Basket (also known as a Halloween Box) is a fun way to celebrate the Halloween season! If you were planning on doing an activity or craft, gifting seasonal pajamas, or have a fun game or toy, it's a way to give these items in a fun and exciting way.
When do you gift a boo basket?
There's no wrong time! We like to do it at the start of October or the week before. That gives my kids a few weeks to enjoy some activities and wear their Halloween shirt and pajamas to events throughout the season.
What to Put in a Boo Basket
Here's a list of Boo Basket ideas and a roundup of what to put in a Book Basket.
A Trick-or-Treat Pail
This is what many parents do to gift a fun trick-or-treat pail. And while you're al it, add a few fun surprises and pratical items you'll use this Halloween season.
Something Fun to Wear
Is there anything more fun for a child than Halloween pajamas?! They are a really easy way to be festive without spending a lot of money. Plus there's nothing like glow-in-the-dark pajamas kids can wear all season. They are a great base for so many costumes. Plus, I think it's one truly perfect item for a Boo Box kids can enjoy on repeat! I shared a huge roundup of Halloween pajamas for kids in this post, and so many of them ship super quickly!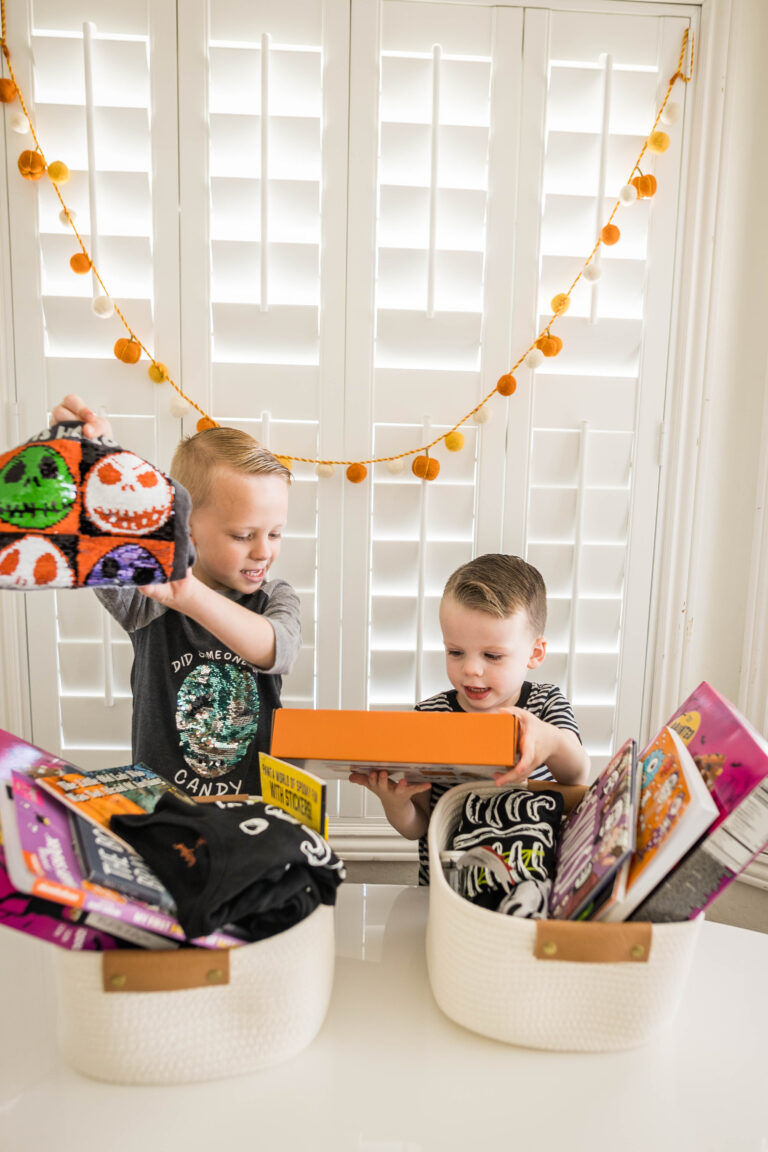 Halloween Shirt/Festive Shirt
I didn't know this was a thing until a Target run two years ago. My mom found a cute skeleton shirt my son loved and wore all season. Target often has a line of great Halloween shirts for kids and adults too! It's something fun to enjoy all season and wear and enjoy during festive Halloween activities.
Halloween Books We have a full list of the best Halloween books for kids you can find in this post. For this year I included some we've loved and checked out from the library regularly.
Halloween Activity Books
I love keeping my kids occupied with fun learning, art, and activity books. When you can find a great Halloween themed activity book that provides some screen-free fun, Here are some of our favorites:
Halloween Crafts I start looking for these easy items at the Target Spot in September. It's a great place to grab several items for about $3 a piece. We've had tons of luck finding Halloween craft kits at Michael's. Be sure to try their buy online and pick up in-store options! Also, Target has some of the coolest Halloween crafts we've seen! You could also include our Q-tip Skeleton printable with supplies. It was a huge hit with hundreds of families last year!

Halloween Activity
Halloween Treat We love baking a spooky treat! It's easy to include the monster eyeballs or Halloween M&Ms we add to cookies with a note that we'll have a special baking day together. This is actually a cheap and really fun thing!
Halloween Game There's about a hundred ideas on Pinterest, but I like going easy and buying a kit. Target kind of killed it this year and made a handful of games that are all about $10. I'd highly recommend one of those!
Halloween Outing Were you planning to take your family to the pumpkin patch or corn maze? Is there a fun Halloween light display in your area? Go ahead and add "tickets" or a card sharing the fun outing.
Halloween Movie Night
Feel free to gift an actual DVD your recipient will love. However, there are so many great Halloween movies for kids on Disney+, Amazon, etc. You could also do an Amazon gift card or Fandango gift card to cover the cost of a rental.
That bonding time together is something kids just cherish, and it's so easy to give some popcorn or a movie to enjoy!
Haunted Gingerbread House
Trader Joe's sells these for $7.99 and has everything you need to create your own spooky house.
Boo Basket Printable (Free!)
If you need a free Halloween Boo Box Printable, we have you covered! Download your copy here!
We hope this helped spark some fun ideas to celebrate Halloween! You can go all out or go really cheap and these are still a fun way to make Halloween time a little more fun and exciting!
Photos: Chrissy Blake
Like this Boo Box Idea? You may like these posts too:
50 Halloween Activities with Free Printable Download
Christmas Activities for Kids and Families
Halloween Activity Book Roundup