Halloween Activity Book Roundup
Halloween activity book roundup: fun Halloween-themed books that keep kids occupied without screens!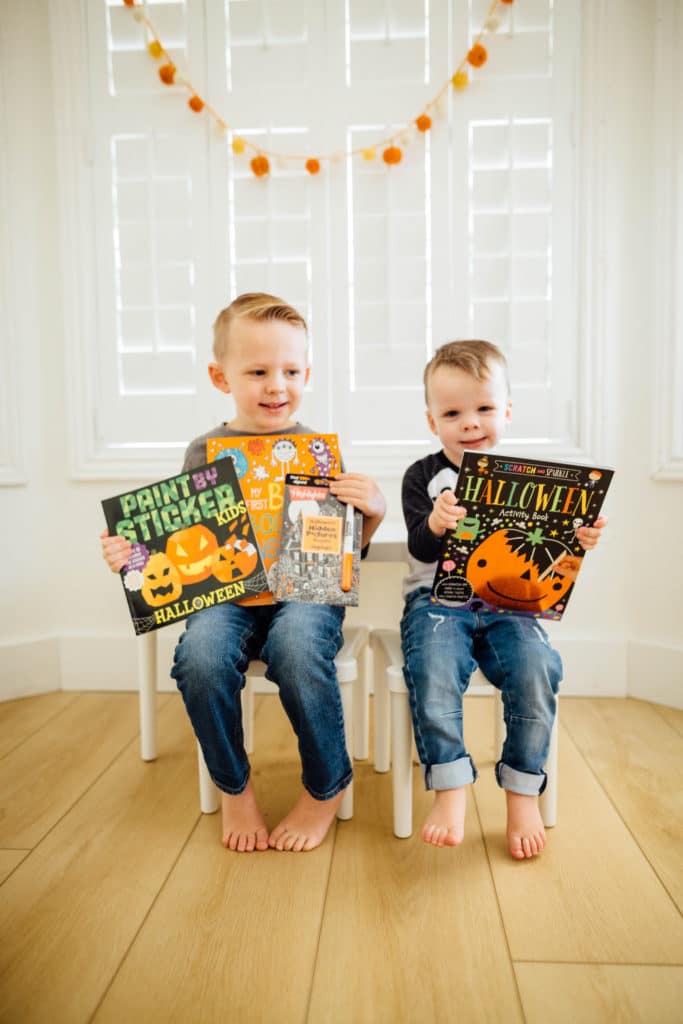 We've loved sharing fun ideas for creating your own Halloween Box to help kids enjoy the season and celebrate all month! I've been sharing ideas for fun festive things for kids to wear all week like Halloween shirts and Halloween pajamas.
However, the true joy of kids celebrating all month is having fun things to do and experiences they'll remember. Sometimes fun family outings are in order, but often busy October evenings call for a Halloween activity book for some easy at-home holiday fun!
Here are some of the best books to keep kids busy with some festive Halloween fun!
Halloween Activity Books for Kids Roundup
We've found several A+ tried and true Halloween activity books kids love that are perfect for extra Halloween fun during the festive season!
Halloween Activity Books
A roundup of fun Halloween activity books kids will enjoy doing and keep them busy with some festive fun!
Kids (and parents) love these mess-free paint-by sticker books for kids! It's hours of fun creating matching puzzles you create with stickers! There are easy step-by-step instructions to figure out how to match the stickers with numbers and create fun images.
The Halloween version is extra fun with slightly creepy pictures that glow in the dark. 
These cute monsters with jokes on each page are perfect for younger kids and those starting out with sticker books.
This monster sticker book is easier with a few stickers per monster, and fun bright images that are easy to follow! It's a fantastic activity book for preschoolers and kids in kindergarten learning their letters! 
These mosaic sugar skull stickers are so bright and fun, and a great challenge for kids that will keep them busy for hours!
This is great for older elementary kids: I'd say kids ages 7 and up can do this book! 
This Halloween activity book for kids is a fun seek-and-find meets coloring activity pad kids of all ages will enjoy!
There are pages of activities that will send kids searching for hidden pictures. It comes with a highlighter pen, and there is a key in the back in case kids have a hard time finding each of the hidden objects. 
If your kids need some letter practice this I SPY Halloween book is perfect! It brings letter/sound matching together with a little spooky fun!
Plus the square shape is a fun width to make it feel like the perfect Halloween gift instead of a school worksheet! 
A fun way to encourage art and learning skills is with this Scratch and Sparkle Halloween Activity Book. It's inexpensive, so cute, and the scratch art pages are so fun!
This is one of my favorite things to give as Halloween party favors for small parties or a classroom Halloween party. It's just novel enough to feel really exciting, and kids just love that glittery pumpkin! 
This is part of the best coloring books series ever made! They are clear images with thick, crisp white back with deep black print. The contrast makes it so easy for smaller coloring fans to enjoy!
This book goes much deeper than just monsters. There are a ton of classic Halloween elements in cute pictures for kids to color! 
We also love ripping out an individual coloring page and using these books for watercolor painting, which works great for older kids and younger alike!
This Halloween Coloring Book for Kids is full of the cutest classic Halloween character images (like witches, vampires, and ghosts) that both skilled and beginning coloring enthusiasts will love! 
Grab your colored pencils and prepare for an advanced coloring book that Disney fans will adore!
This Disney Villains Coloring Book will keep older kids (and adults) busy for hours! It's one that will make you feel like you've picked up a special souvenir from Disneyland, even though you ordered it with free shipping!
Like this post? You may like these fun ideas too:
Activities for Kids at Home (Quiet Time Activities so You Can Get Some Work Done!)
50 Halloween Activities for Kids with a Free Printable!