Halloween Movie Night Group Date

This Halloween movie night group date is sponsored by and inspired by Punchbowl, who makes hosting a party and keeping it organized (for free!) a breeze! Sharing how to put together a Halloween group date you'll all love!
Halloween Movie Night Group Date
It never ceases to amaze me how much people love being invited to events and parties! I typically love throwing them, but because I often over-do it, I have to limit these events. Since we've become parents we've hosted very few events, and this year was the year I wanted to change that. Even with a newborn in our lives, it's just time to create more fun and host more parties! We're re-entering having a social life post-baby baby and decided to start it off with a Halloween movie night group date.
Here's why a Halloween movie night is so perfect for a party.
Why a Halloween Movie Night Make a Perfect Halloween Party
It's easy! There isn't a ton of planning that goes into this one. Find a movie, figure out food, and invite friends!
It's a fun take on typical Halloween parties. I love our costume parties with extravagant themes as much as the next person, but those can take a lot of work! It's a fun mix up to know it's just a movie night gathering with little effort.
There are so many Halloween movie options. I'm kind of a wimp when it comes to horror movies, and I love that a creepy or thriller movie works just as well. Not to mention it's easy to make this a family party with family-friendly Halloween movies.
For this party, we opted to go with more creepy and less scary. I'm such a fan of classic horror movies, particularly Alfred Hitchcock. They are timeless and everyone still finds them majorly entertaining. It's a win-win for those who love horror and those who hate horror. Essentially, it pleases the masses.
Easy Halloween Party Invitations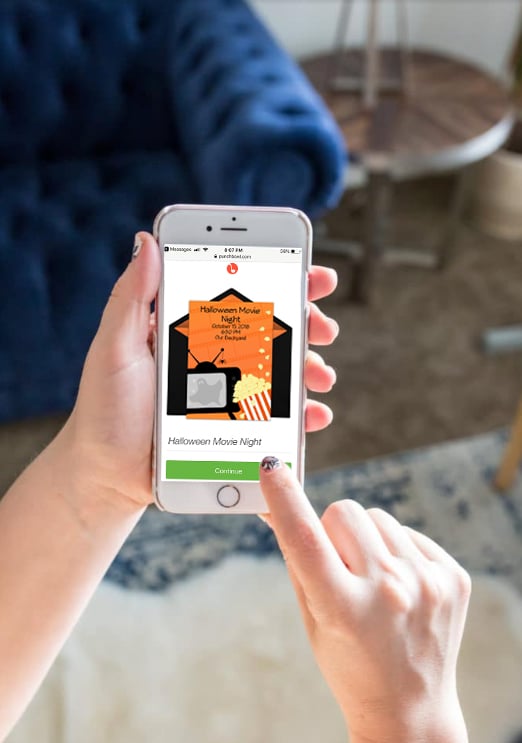 Whenever we host a party I like to send out a formal invitation so people know all the details in one place. It also really helps it feel like a party, even if it's a last-minute or low-key kind of party like a Halloween movie night.
Online invitations make it about the easiest thing to invite friends, spread the word, and let people RSVP so you know who is coming. Punchbowl® is the gold standard in online invitations and makes it easy to send beautiful, free online invitations on the go.
Punchbowl® invitations combine the look and feel of paper with the convenience of digital. Plus, the free Punchbowl app made this even easier and has so many cool features! I love how many beautiful designs they have to choose from, and even several for specific party themes. Hello Halloween movie night design, you just made my life even easier!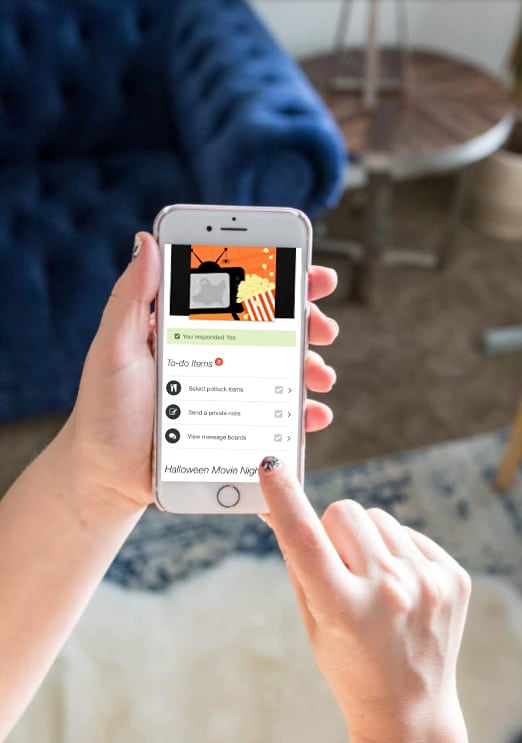 From there it was easy to invite through email, text, or social media. If you want to find a friend and get them the party invite on the platform they use the most, Punchbowl has made this super easy!
Not to mention all the bonus features. You can include a potluck sign up, allow define how many +1's each guest can bring, add another host to the invitation, and so much more! Everything you need to manage your party is in one place.
And if you're hosting a Halloween specific party there are features to make it easier too! Once your Halloween invites are out, you can nail the rest of the details with other on-demand services selected by Punchbowl® — buy costumes from Party City, order pizza from Slice, then cue up Punchbowl®'s Halloween Spotify playlist to put the polish on your party.
Hosting a Halloween Movie Night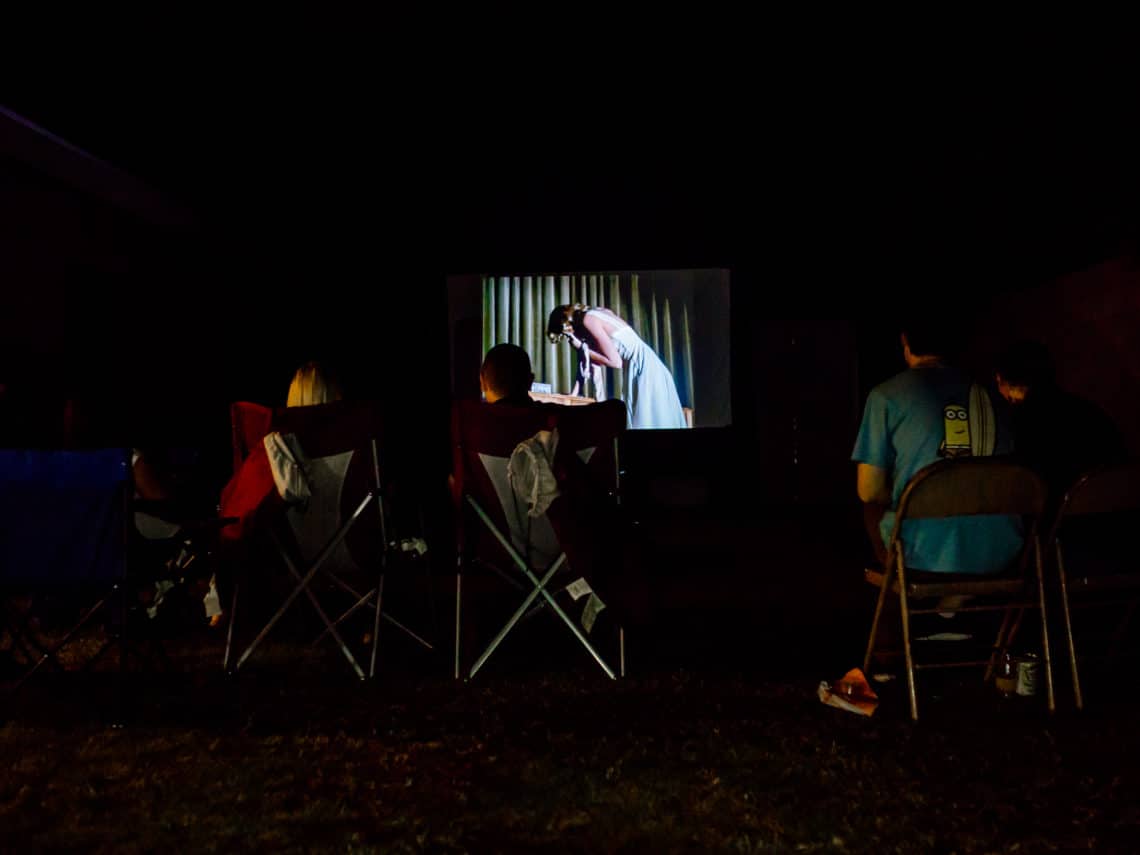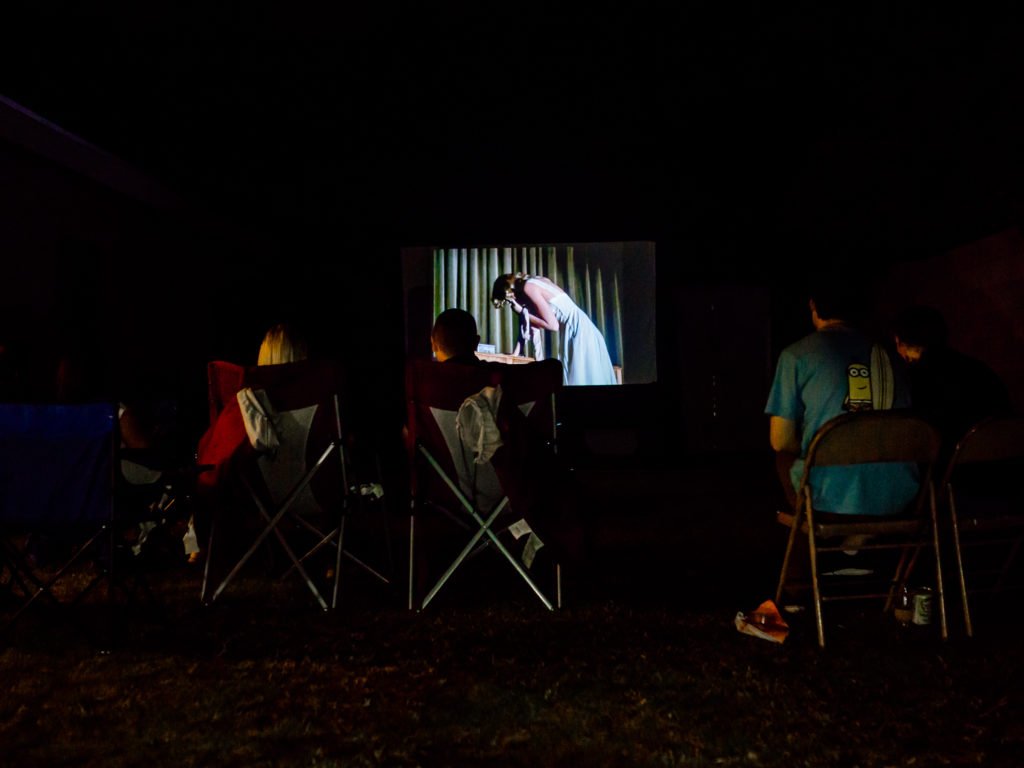 We kind of put this party together last minute, and I'm so thrilled to announce it was a huge success, thanks to easy invites from Punchbowl! I instantly saw RSVPs come in! It had me really excited to see we were going to have a great party so quickly! I could not believe it, everyone we invited said yes within 24 hours, and I loved having a place that kept track of all the guests for me! Everyone was so happy to celebrate the holiday festivities early, and it's fun to stretch out a holiday all month long.
Since the weather is lovely in Arizona, we thought it would be fun to host an outdoor Halloween movie night. It's been too hot all summer to do this, and we've been dying to start outdoor movie night parties since we moved into this house a few years ago! This Haloween movie party felt like the perfect time to start this tradition and this easy group date idea!
We asked guests to bring their favorite Halloween treat or appetizer. It's always fun to have an excuse to make those creepy items more than once a year, and it's even more fun to enjoy them!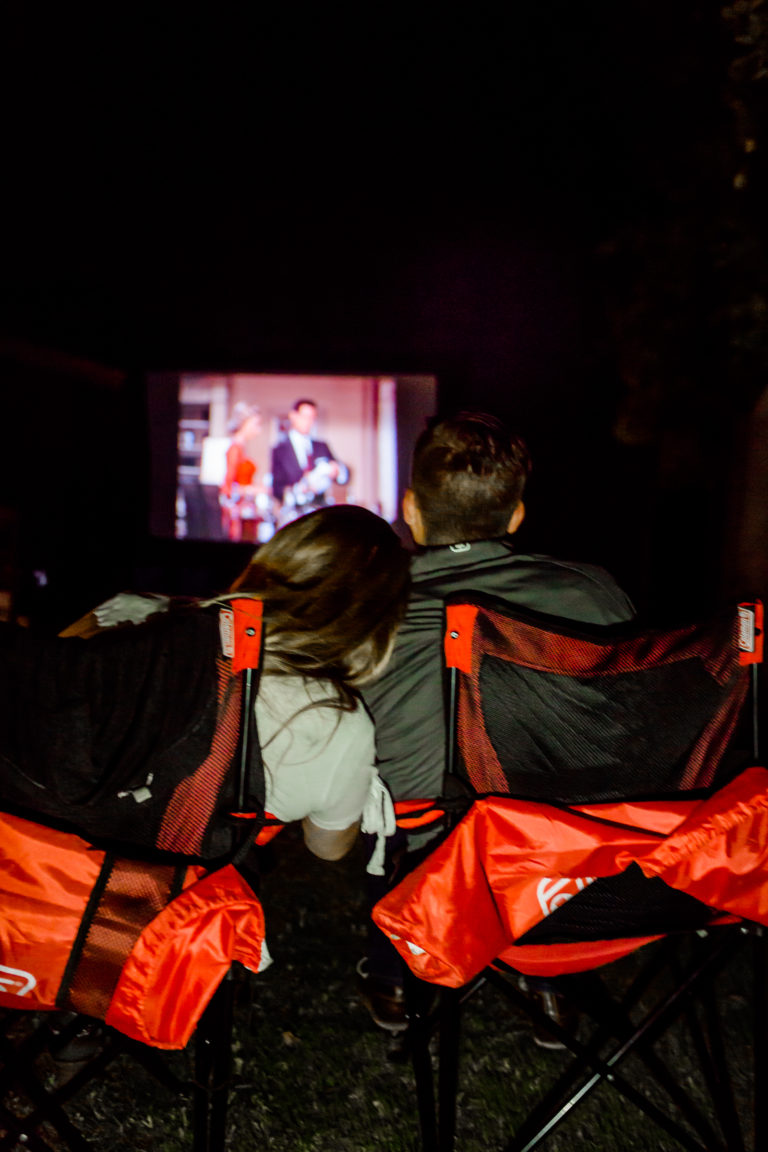 A few lawn chairs, a small outdoor screen, a projector, and a Halloween movie later, and we were set!
It once again reminded us no matter how formal or how informal, people just love being invited to parties and get-togethers. And with easy invites and a great backyard setup, we plan to host several more of these group dates in our future!
Thank you perfect fall weather for an amazing group date. And thank you Punchbowl for making party planning so easy that even these new parents can put together a party and keep it organized effortlessly!