The Best Halloween Movies for Younger Kids 
A roundup of 40 favorite Halloween movies for families with the best Halloween movies for younger kids.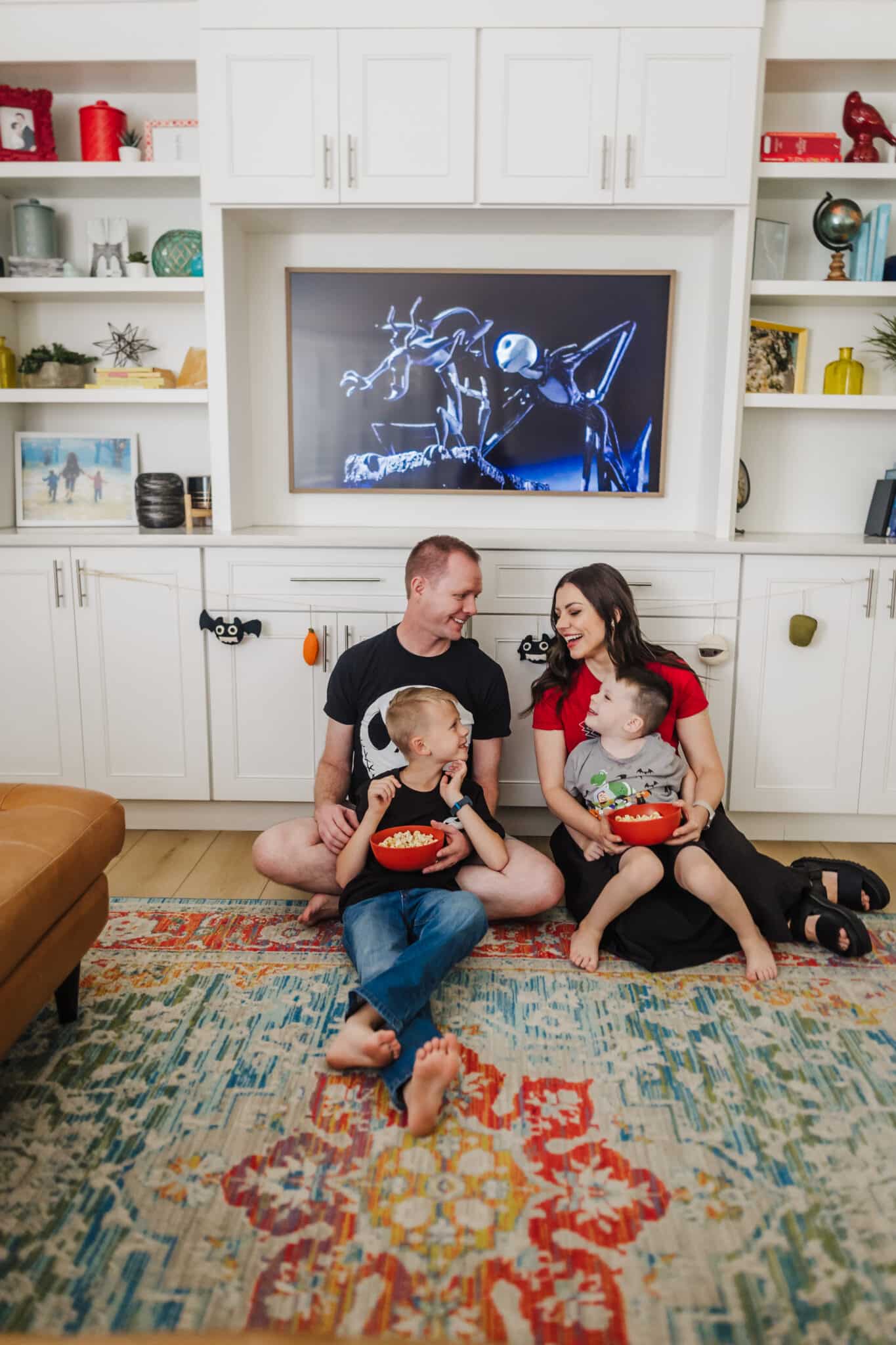 There's nothing like a good Halloween movie night! But sometimes when you pull in younger kids, scary stories and little people don't mix if anyone wants to sleep! When you have young kids and it's Halloween season, it can be tough to find a good Halloween movie the entire family can enjoy. But spooky movies with a little Halloween vibe are perfect for little kids and families to enjoy together.
 We're here to help your next Halloween family movie night happen with some not-so-scary Halloween movies the whole family can enjoy! And we hope you'll enjoy some spooky fun Halloween pizza too! 
These are family-friendly Halloween movies families love, but we'll always encourage you to look at Common Sense Media for specific information and ratings to help you plan the best movie for your family. 
The 40 Best Halloween Movies for Younger Kids
1. "It's the Great Pumpkin, Charlie Brown" (1966)
This beloved classic follows the Peanuts gang as they celebrate Halloween. Charlie Brown hopes to finally meet the Great Pumpkin while his friends go trick-or-treating. A charming and timeless animated special that captures the essence of Halloween for young viewers.
2. "Room on the Broom" (2012)
Based on the popular children's book, which happens to be my favorite Halloween children's book, this animated short film follows a friendly witch who invites various animals to join her on her broomstick. When a dragon threatens them, they must work together to overcome the danger. "Room on the Broom" offers a sweet and enchanting Halloween adventure.
3. "Curious George: A Halloween Boo Fest" (2013)
Curious George and the Man in the Yellow Hat celebrate Halloween by attending the town's Boo Festival. They embark on a spooky adventure involving a mysterious scarecrow and a hunt for the legendary No Noggin. This gentle and educational Halloween special is perfect for preschoolers.
4. "Monsters, Inc." (2001)
In the world of monsters, where they generate power from children's screams, two lovable monsters, Sulley and Mike, accidentally let a human child into their world. They must protect her and find a way to get her home safely. While not strictly a Halloween movie, it features a world of colorful monsters and is suitable for kids of all ages.
5. "Super Monsters Save Halloween" (2018)
Join the Super Monsters, a group of young monsters with special powers, as they embark on an adventure to save Halloween when it's threatened by a villainous monster. This animated special combines fun, friendship, and Halloween excitement, making it a perfect choice for a family-friendly Halloween viewing.
6. "The Little Vampire" (2000)
A young boy named Tony befriends a family of friendly vampires who are searching for a way to become human again. Together, they go on adventures and face vampire hunters in this heartwarming and slightly spooky tale.
7. "Hotel Transylvania" (2012)
Count Dracula (played by Adam Sandler) operates a hotel for monsters and hopes to keep his daughter, Mavis (play by Selena Gomez), safe from humans. When a human stumbles upon the hotel and the monster world, chaos ensues in this lighthearted and colorful animated comedy suitable for the whole family. It's a great way to introduce this classic monster during spooky season without it being scary.
8. "Hotel Transylvania 2" (2015)
Dracula returns in this sequel, where he's concerned that his half-human, half-vampire grandson might not inherit his vampire side. The film combines humor and family dynamics in a fun and kid-friendly Halloween setting.
9. "Hotel Transylvania 3: Summer Vacation" (2018)
In the third installment of the "Hotel Transylvania" series, Dracula and his monster family take a vacation cruise. While not focused on Halloween, it still features delightful monster characters and humorous situations that kids can enjoy during the holiday season.
10. "Toy Story of Terror!" (2013)
In this Pixar animated special, the beloved toys from "Toy Story" find themselves on a spooky detour during a road trip. When one of them goes missing, the others must overcome their fears to rescue their friend in this humorous and mildly spooky adventure you can find on Disney Plus.
11. "Mickey's House of Villains" (2001)
Join Mickey Mouse and his friends as they try to reclaim the House of Mouse from Disney villains who have taken over on Halloween night. This fun and festive special features classic Disney characters and memorable villains, making it a treat for Disney fans of all ages.
12. "Pooh's Heffalump Halloween Movie" (2005)
Join Winnie the Pooh and his friends in the Hundred Acre Wood as they prepare for Halloween and encounter a mysterious creature called a Heffalump. This gentle and heartwarming story celebrates friendship and the spirit of Halloween with the beloved characters from the Pooh franchise.
13. "The Nightmare Before Christmas" (1993)
Join Jack Skellington, the Pumpkin King of Halloween Town, as he discovers Christmas Town. He falls hard for holiday magic and tries to bring his own version of Christmas mixed with Halloween after he takes over for Santa Claus. This Tim Burton classic combines the magic of both holidays in a beautifully animated musical.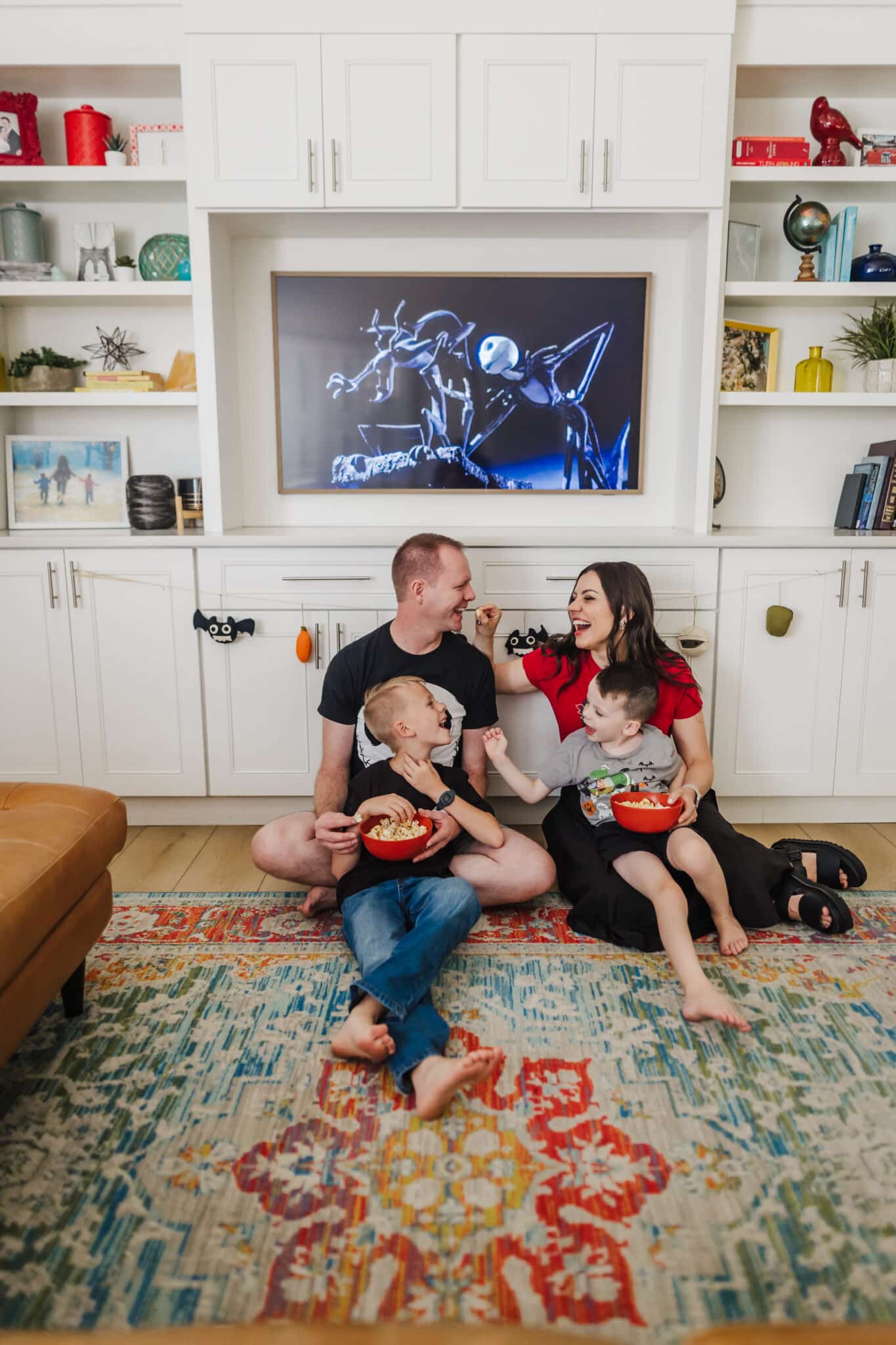 14. "Coco" (2017)
In the vibrant and colorful world of the Day of the Dead, a young boy named Miguel embarks on a musical journey to uncover family secrets and explore the afterlife. Coco" is a heartwarming and visually stunning Pixar film that celebrates Mexican culture, family, and the spirit of remembrance during Dia de los Muertos (Day of the Dead), making it a fantastic choice for a Halloween-themed movie night.
15. "Monster Family" (2017)
The Wishbone family, cursed to be monsters, embarks on a vacation to reverse their curse, but things go awry. This animated comedy offers a blend of monster mayhem and family bonding, perfect for a Halloween-themed movie night.
16. "Frankenweenie" (2012)
Tim Burton's stop-motion film tells the story of a young boy who brings his beloved pet dog back to life, but soon discovers that playing with the forces of life and death has consequences. This black-and-white homage to classic horror movies is both heartwarming and eerie.
17. "Muppets Haunted Mansion" (2021)
Join the Muppets in this spooktacular adventure as they spend a night in the eerie Haunted Mansion, encountering ghosts, ghouls, and iconic Disney characters along the way. Filled with Muppet humor and Halloween-themed fun, it's a delightful treat for Muppet fans and Halloween enthusiasts alike.
18. "Hocus Pocus" (1993)
Three witches are resurrected on Halloween night after the black flame candle is lit. It's up to three kids and a talking cat to stop their wicked plans in this family-friendly comedy. Bette Midler, Sarah Jessica Parker, and Kathy Najimy play the silly witches and have become a cult classic Halloween movie! With a mix of humor and mild spookiness, it's a classic Halloween adventure suitable for younger audiences.
19. "Hocus Pocus 2" (2022)
The Sanderson Sisters are back with a tale that shares more of their backstory and how they became witch sisters. They return to modern-day Salem in search of revenge on the descendants that lead them to their current destiny. I happen to think this one is far less scary than the first. In fact, our own kids watched this and said it wasn't scary and they loved the gentle humor and music. I'd say start with the sequel if you have easily scared kids; it's one of the best kids Halloween movies that is surprisingly heartfelt and has a very happy ending.
20. "Corpse Bride" (2005)
In this dark and whimsical stop-motion tale, a young man accidentally proposes to a deceased bride while rehearsing his vows in the woods. He is transported to the Land of the Dead and must find a way back to the world of the living. "Corpse Bride" offers a unique and visually stunning Halloween experience.
21. "Casper" (1995)
Follow the friendly ghost Casper as he befriends a young girl named Kat and her father while trying to find a way to become human again. This heartwarming tale combines the supernatural with themes of friendship and acceptance, making it perfect for kids.
22. "Monster House" (2006)
A group of kids discovers that their neighbor's creepy house is actually a living, malevolent entity. They must work together to stop it from terrorizing their neighborhood on Halloween night. "Monster House" offers a spooky and suspenseful adventure suitable for older children.
23. "ParaNorman" (2012)
Norman, a young boy who can see and speak to ghosts, must save his town from a witch's curse that brings zombies to life. This stop-motion animated film blends humor, supernatural elements, and a message of understanding and tolerance.
24. "Dear Dracula" (2012)
In this animated film, a young boy named Sam writes a letter to Dracula instead of Santa Claus, asking for a vampire action figure for Halloween. To his surprise, Dracula himself visits him on Halloween night, leading to a heartwarming adventure that celebrates the spirit of Halloween and friendship. "Dear Dracula" offers a delightful and kid-friendly take on a classic monster.
25. "Scooby-Doo on Zombie Island" (1998)
Scooby-Doo and the Mystery Inc. gang investigate a haunted island filled with real supernatural creatures. This animated feature-length film is a fan favorite and offers a mix of mystery, humor, and spookiness for kids and Scooby-Doo enthusiasts.
26. "Spooky Buddies" (2011)
The lovable talking group of puppies from the Air Bud series embark on a Halloween adventure when they discover a cursed Halloween spirit named Warwick. With the help of some new friends, they must stop Warwick's wicked plans and save Halloween. This family-friendly film combines cute puppies with a Halloween-themed storyline.
27. "Spookley the Square Pumpkin" (2005)
Follow Spookley, a square-shaped pumpkin, as he learns the importance of being different and the value of friendship. This gentle, educational movie delivers a heartwarming message of acceptance and self-esteem for young viewers.
28. "The Addams Family" (2019)
The spooky and kooky Addams Family returns in this animated comedy film. Follow the eccentric Addams family as they navigate the challenges of fitting into the "normal" world while preparing for a family reunion that could spell disaster. This family-friendly movie offers humor and a playful take on the macabre Addams family for a new generation of viewers.
29. "The Adventures of Ichabod and Mr. Toad" (1949)
This Disney classic combines two stories, "The Wind in the Willows" and Washington Irving's "The Legend of Sleepy Hollow." The latter features the tale of Ichabod Crane and the Headless Horseman, offering a spooky and timeless Halloween story suitable for all ages.
30. "Harry Potter and the Sorcerer's Stone" (2001) and the entire "Harry Potter" film series
I know this isn't a Halloween movie, but it's a great one to watch, and people love it even more this time of year! The young wizard Harry Potter as he embarks on his magical world at Hogwarts School of Witchcraft and Wizardry. It's full of magic, learning, one of the best character backstories ever written, and younger children, groups of teens, and adults alike love it! The series includes various Halloween-themed moments, including the iconic Hogwarts Halloween feast. While it covers a wide range of themes, it offers a magical and enchanting experience perfect for Halloween viewing, especially for older children and teens. But the first two movies are definitely less dark and great kid-friendly Halloween movies.
31. "Pirates of the Caribbean: The Curse of the Black Pearl" (2003) and the entire "Pirates of the Caribbean" film series
Follow the swashbuckling adventures of Captain Jack Sparrow (played by Johnny Depp) as he encounters cursed pirates, mythical creatures, and treacherous waters. While not a traditional Halloween series, it offers a mix of adventure, fantasy, and supernatural elements that can provide a thrilling and entertaining viewing experience during the Halloween season, particularly for older children and teens.
32. "Scooby-Doo on Zombie Island" (1998)
Scooby-Doo and the Mystery Inc. gang investigate a haunted island filled with real supernatural creatures. This animated feature-length film is a fan favorite and offers a mix of mystery, humor, and spookiness for kids and Scooby-Doo enthusiasts.
33. "Double, Double, Toil and Trouble" (1993)
Mary-Kate and Ashley Olsen star in this family-friendly Halloween adventure as twin sisters who discover that their great aunt is trapped in a mirror and must be rescued before midnight on Halloween. It's a delightful, kid-friendly take on spooky adventures.
34. "Wallace & Gromit: The Curse of the Were-Rabbit" (2005)
Join the eccentric inventor Wallace and his loyal dog Gromit as they attempt to solve the mystery of a vegetable-devouring monster plaguing their town just before the annual giant vegetable competition. This claymation adventure combines humor, clever inventions, and mild scares in a delightful Halloween-themed story.
35. "Z-O-M-B-I-E-S" (2018)
In this Disney movie series, follow the story of a group of zombie students who integrate into a human high school, resulting in humorous and heartwarming adventures. The films combine elements of romance, music, and friendship with a playful twist on the classic zombie genre, making them suitable for older kids and tweens during the Halloween season.
36. "Z-O-M-B-I-E-S 2" (2020)
In this sequel to the "Z-O-M-B-I-E-S" series, the story continues as zombie and human students navigate the challenges of coexistence while facing new threats. With catchy songs and an engaging storyline, "Z-O-M-B-I-E-S 2" offers more fun and music-filled adventures that are perfect for a Halloween-themed movie night.
37. "Z-O-M-B-I-E-S 3" (2022)
The third movie in the "Z-O-M-B-I-E-S" series may just be its best! Aliens have come to Seabrook, and the group of teens who have already learned to live with Zombies, werewolves, and humans must piece together these visitors from an alternate world. The music is fantastic, and the entire series is great for a Halloween movie marathon!
38. "Descendants" (2015)
In the "Descendants" film series, the teenage children of Disney villains are given a chance to attend the prestigious Auradon Prep school. These movies feature a mix of adventure, musical numbers, and fantasy as the young heroes and villains navigate friendships, romance, and the challenges of their unique backgrounds. While not strictly Halloween-themed, the films offer a playful and enchanting experience suitable for tweens and teens during the Halloween season.
39. "Descendants 2" (2017)
In "Descendants 2," the teenage children of Disney villains continue their adventures in Auradon. When Mal, the daughter of Maleficent, begins to doubt her identity, she returns to the Isle of the Lost, where she encounters new foes and old friends. This musical fantasy film explores themes of self-discovery and belonging while delivering catchy songs and exciting adventures, making it an engaging choice for tweens and teens during the Halloween season.
40. "Descendants 3" (2019)
In "Descendants 3," the teenage children of Disney villains return for their final chapter. When a new villain emerges, the descendants must rally together to save both Auradon and the Isle of the Lost. This musical fantasy film continues to explore themes of identity and unity while providing catchy songs and exciting adventures, making it a compelling choice for tweens and teens during the Halloween season.
Halloween Family Movie Night
We hope this list of Halloween movies encourages a spooky Halloween night and your next family movie night this season! Grab the Halloween popcorn and your Halloween PJs for your next Halloween family movie night! They are a truly fun thing to include in your fun Halloween activities this season!
Like this family-friendly Halloween idea? Be sure to check out these posts too:
50 Halloween Activities for Families (with Free Printable)
The Best Non-Animated Family Movies