Get ready for a Halloween pizza night with crowd-pleasing Easy Halloween Pizza!
Pizza is always a great choice for a Halloween party, a pre-trick-or-treating meal, or just a fun festive meal! But did you know there are so many fun Halloween pizza ideas you can combine with our easiest fool-proof pizza crust recipe to make a spooky season delight?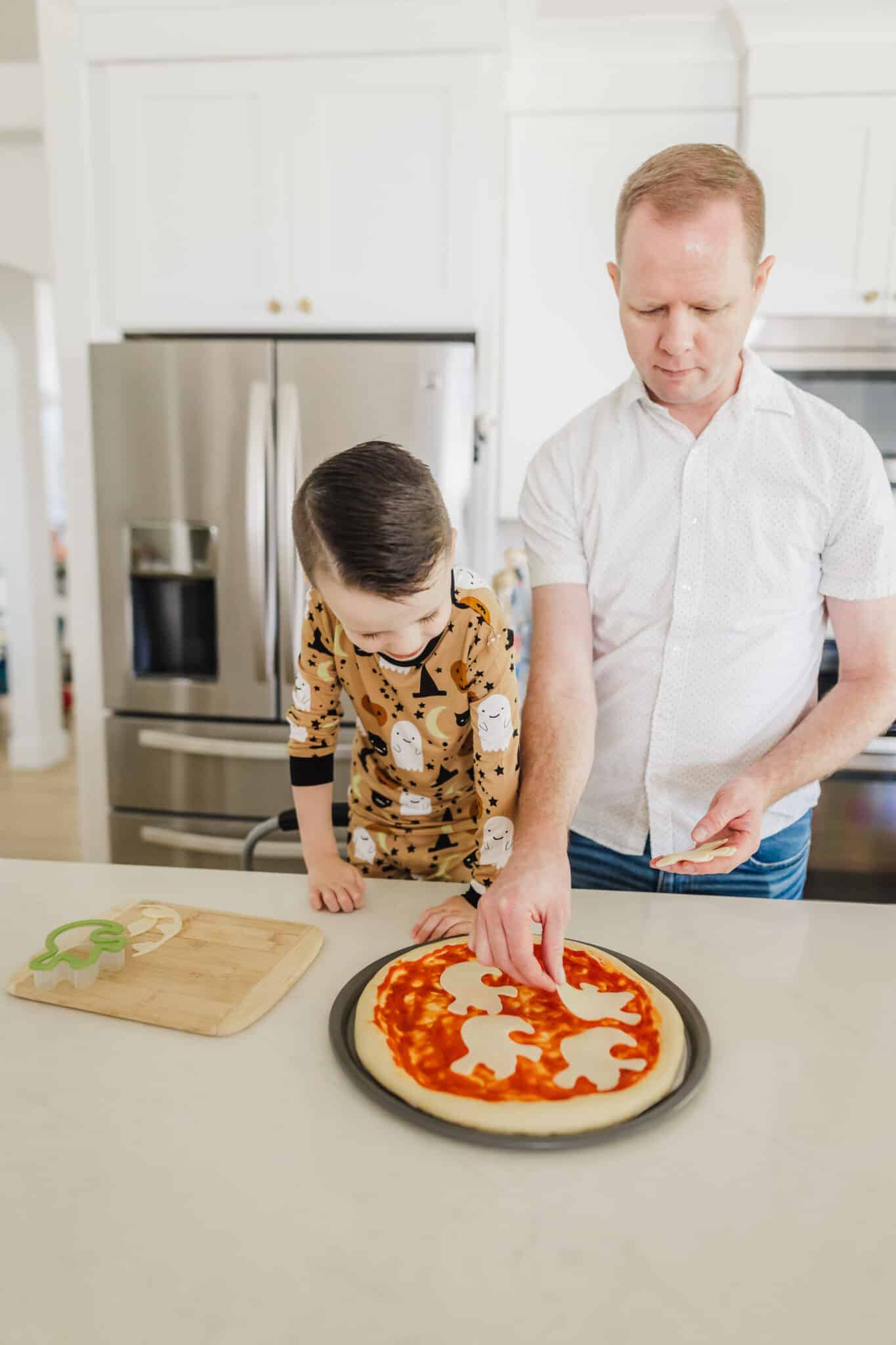 Get ready to feed your family (or the masses) with one of our most popular Halloween recipes: easy Halloween pizza.
Yield: 2 Pizza Crusts
Halloween Pizza Recipe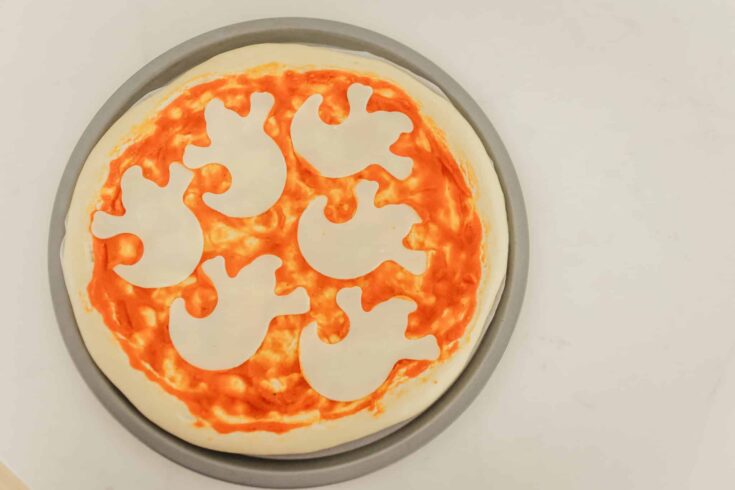 Create delicious Halloween pizza perfect for a Halloween party or family dinner! Try this easy quicky-rise homemade pizza dough recipe that's practically fool-proof!
Total Time
1 hour
27 minutes
Ingredients
1 TBSP. yeast
1 3/4 cups warm water
2 tsp. sugar
1 tsp. salt
1/4 cup oil
4 cups flour
Instructions
Pizza Dough Instructions
Dissolve yeast in 1 3/4 c. warm water, add sugar, salt, oil and enough flour to make the homemade pizza dough soft but not sticky. If it is sticky, add in your all-purpose flour one or two tablespoons at a time and check the texture after each addition. You can mix in a large bowl and stir and knead by hand, but if you have a standing mixer, that makes the job even easier! A few minutes of extra kneading with a dough hook makes for very solid pizza dough.
Let the dough rise for at least 1 hour. If you're looking to make the pizza dough quickly try adding a towel or some plastic wrap to the top of your mixing bowl and set in the sun. It will help it rise quickly and get you making your delicious homemade pizza even faster!
Roll out the easy pizza dough on a lightly floured surface with a rolling pin. Transfer to an oiled (use olive oil) or nonstick spray-coated baking sheet or pizza pan. Add your toppings as desired. Start with your favorite pizza sauce, and spread on dough with a wooden spoon. Next, sprinkle with cheese, and top with your favorite toppings.
Bake on the pizza pan at 350 for 15-20 minutes. For an added boost try using a pizza stone in your oven. OR you can also do grilled pizza. You'll change it up by rolling out to 1/2" personal pizza size portions and cook on the grill for about 3 minutes on medium-high, turn, add toppings and cook for 3 additional minutes. Pizza stones for the grill on top of parchment paper is also a delicious cooking option!
Both are delicious and add different flavors to pizza night.
Notes
* See Halloween pizza ideas for spooky fun variations.
Nutrition Information:
Yield:
24
Serving Size:
1 Slice
Amount Per Serving:
Calories:

99
Total Fat:

3g
Saturated Fat:

0g
Trans Fat:

0g
Unsaturated Fat:

2g
Cholesterol:

0mg
Sodium:

98mg
Carbohydrates:

16g
Fiber:

1g
Sugar:

0g
Protein:

2g
This is for the dough only. Please take toppings into consideration when calculating calories
Halloween Pizza Ideas
Cookie Cutter Halloween Shapes
Use Halloween cookie cutters to cut out Halloween shapes in sliced cheese. We like to use a thick-cut mozzarella or double-up provolone slices. Just cut the shapes and add the fun cheese slices to the pizza for an easy
This works very well on…
Halloween Mini Pizzas
One easy hack my kids love, is making mini pizzas. There's something about personal pizzas on a pizza night that is such a big hit!
We use naan bread for a shortcut. However, you can easily use our easy pizza dough recipe and roll into small personal pizza sized pizzas too!
Gather your pizza sauce and pizza toppings in bowls with teaspoons ready to use. We keep Halloween cookie cutters and sliced cheese nearby so kids can easily add their own spooky shapes to the pizza.
Jack-o-Lantern Pizza
A pumpkin shaped pizza is a classic Halloween pizza! Many pizza shops offer pumpkin shaped pizzas (Like Papa Johns and Papa Murphy pizza) and they're super popular. In fact, they often sell out. But it's SO easy to make your own!
Roll out your typical pizza crust in a circle and add a pumpkin stem with the dough.
Top with tomato sauce and cheese. And create a jack-o-lantern pizza face with pepperoni cut in triangle shapes.
Mummy Pizza
This works best by buying and using a block of mozzarella cheese, and cutting long, thin strips of cheese. Use these to create mummy wraps . Olive slices for eyes make for a cute final touch! And if you aren't an olive fan, you can use other veggies or even fresh basil or green bell pepper slices on round mozarella pieces to create cute mummy eyeballs.
Ghost Pizza
Roll your pizza dough into a ghost shape on a lightly floured surface. Just make sure it will still fit on a baking sheet!
You can easily make a classic pizza. But we love to do a thin crust pizza with alfredo sauce to keep the ghost shape and color. Some olive eyes are all it needs to make this cute and easy pizza pop!
Spider Pizza
Create a classic round pizza pie and sprinkle the cheese on top. Use toppings to create a spiderweb shape. Some people love to drizzle a thin line of sauce in a spiderweb shape. But pepperoni pizza with the pepperoni as a spider web outline is my favorite.
Use black olives to create a two-segment spider body. If you want to create spider legs, cut the olives lengthwise to create longer strips, and use them for legs. You can do one spider or several for a bigger impact!
Halloween Pizza FAQs
What do you call pizza for Halloween?
Halloween pizzas are super simple and can be called many things depending on the shape or decorations.
Halloween pizzas are often called:
– Ghost pizza
– Jack-o-lantern pizza
– Pumpkin pizza
– Eyeball pizza
How many pizza slices per person for a party?
The standard rule of thumb is to plan three slices of pizza per person for a party. Some will eat more, and some will eat less. But three is a good rule of thumb to make sure everyone is fed and there's enough for the crowd.
Why do people order pizza on Halloween?
Pizza is usually a popular food item and pleases a crowd! Halloween pizza is so easy to make, and so easy to serve. It makes a perfect Halloween dinner before trick-or-treating, or to serve for a party.
Like this Halloween pizza recipe? Be sure to check out these posts too:
Halloween Family Films for Halloween Movie Night