Valentines for Classmates: Valentine Cards You Can Print From Home (or Email) to Friends
Looking for Valentines for classmates? Here are some easy printable Valentine cards ready to print from home! You can also send these Valentine activity cards digitally through email to classmates.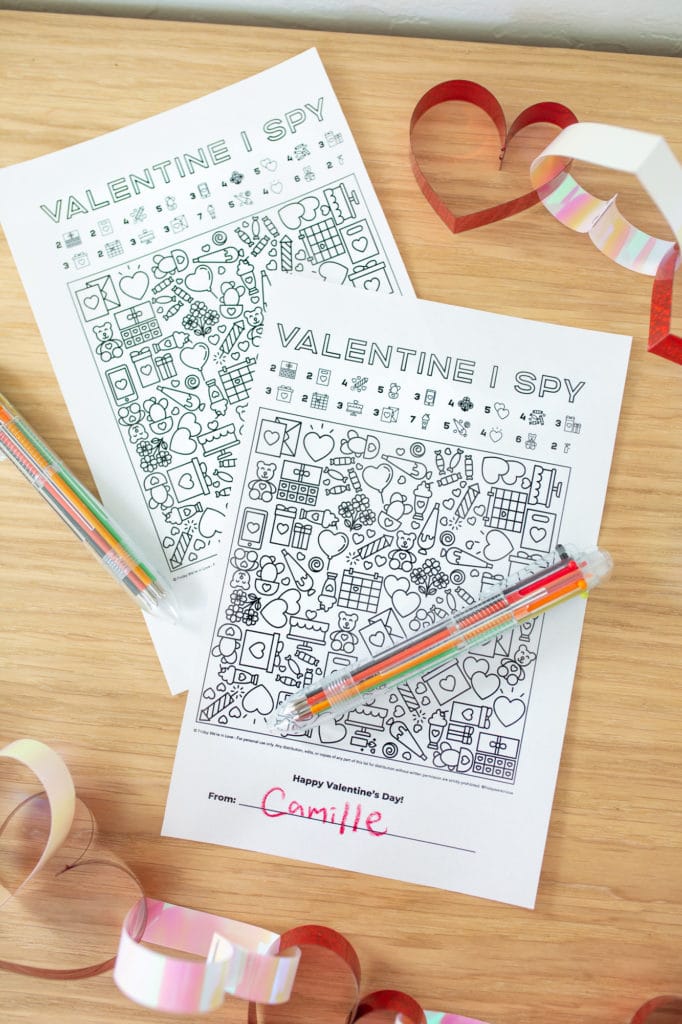 Twas the first year of preschool when all through the house, we were scrambling to come up with Valentines for classmates. I was shocked by how much time and effort classroom valentine exchanges can take! Immediately, I put myself on a mission to create easy and cute Valentine cards that wouldn't be so time-consuming. Easy, and still help you look like a Pinterest mom is my middle name!
Easy DIY Valentine Cards
We've done Dinosaur Valentine Cards, and Race Car Valentine Cards that are so easy to put together! But this year, I know many are in remote learning situations where cards won't be exchanged. Some schools are asking kids to deliver Valentine's cards a few days early in an attempt to keep germs at bay. For many, a digital option for Valentine's cards for classmates is just what the doctor ordered!
One great option is printing our free I SPY Valentine activity page and including a fun coloring utensil. We have the full-sized page here if you'd like that version. But, I thought a half sheet folded or rolled like a scroll with a clickable pen would be such an easy DIY Valentine card that kids and parents will both love!
Remote Learning Friendly Valentine Cards
If your child is participating in-person, these fun Valentine activity cards pair perfectly with a clickable multicolored pen, a small box of crayons, party favor-sized colored pencils, or any coloring tool you can think of! You can even go cheap and buy a box of crayons and just tape one or two to the Valentines for classmates.
We love doing the Valentine I Spy printable full-sized for a Valentine activity at home. That's why I knew a smaller version with a little gift would be perfect for a cute preschool Valentine card idea!

I purchase an inexpensive set of clickable multicolored pens knowing these are not only fun but quite functional. My son had one show up in a Kiwi Crate this month, and he proceeded to fall in love with it immediately. I think they're perfect for preschoolers through elementary ages kids. Plus, I'm a huge fan of non-candy Valentine cards thanks to several nieces and nephews with allergies.
Grab Your Free I Spy Valentine Activity Card Download Here
All you need to do is cut the download in half so you get two valentines for classmates out of each page. Then, have your child/student write their name on the from section, at the bottom of the page. Feel free to fold the paper as we did so the From shows up top, and the Valentine I Spy text shows below. You could also roll it into a small scroll or fold it in half. Attach the clickable pen (or other coloring items of your choice) and you're all set!

If you're sending it remotely, just email the attachment and wish them a Happy Valentine's Day!
Like these Valentines for classmates cards? You may like these posts too:
Valentine's Day Baskets for Kids
Valentine's Day Gifts for Guys
Date Ideas for Valentine's Day Roundup
Valentine's Day Date Ideas for Any Budget
Get 365 Date Ideas!
We want to help you have the best date nights ever! Grab this FREE printable with 365 date ideas, a date for every day of the year so you never run out of ideas!