How Make Family Movie Night a Tradition You'll All Love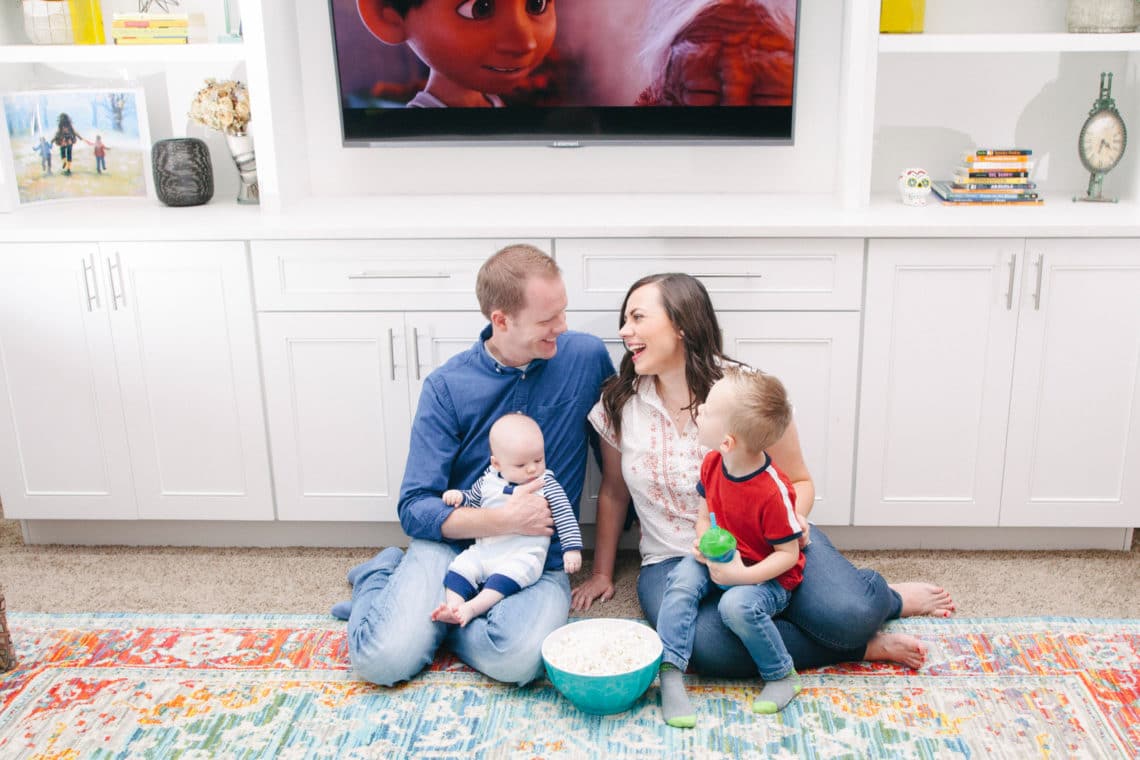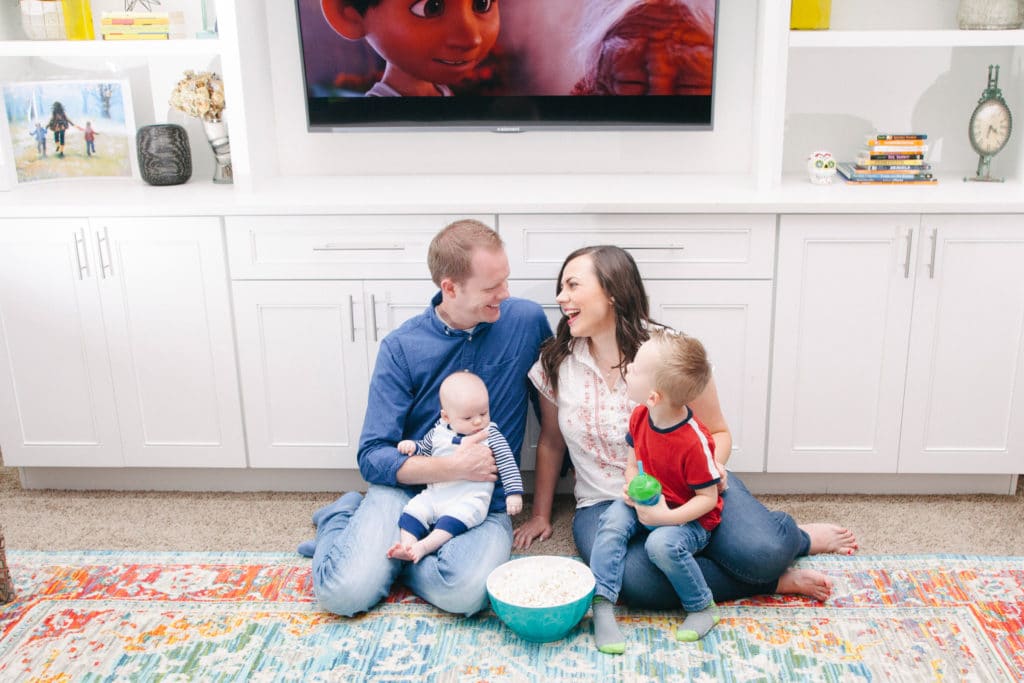 Ready to start a family tradition everyone will look forward to? We do family movie nights regularly and we've found it's something we all enjoy! We're sharing our eight ways to rock family night and make it a tradition you'll all love!
Family Movie Night
It's been really funny to grow into adulthood and parenthood and compare notes with several of my friends. I smile every time we mention family movie night, it's something we seemed to have grown up with and loved so much in our childhood that most of us have continued to implement a family movie night with our own families!
What can I say, there's just something magical and bonding about setting aside a specific time to enjoy a movie night as a family. It can be fancy or completely informal. But either way, we've made this a weekly tradition in our home that we all look forward to and love and cherish.
I know this can look very different for different family demographics. What I enjoyed watching with my parents as a kindergartner and what I enjoyed as a teenager were often two very different things. What we watch with our toddler and enjoy may not work for older families.
Movie preferences may change with your family demographics, but I've found a few key elements that never change that seem to make the night a success no matter how you do family movie night.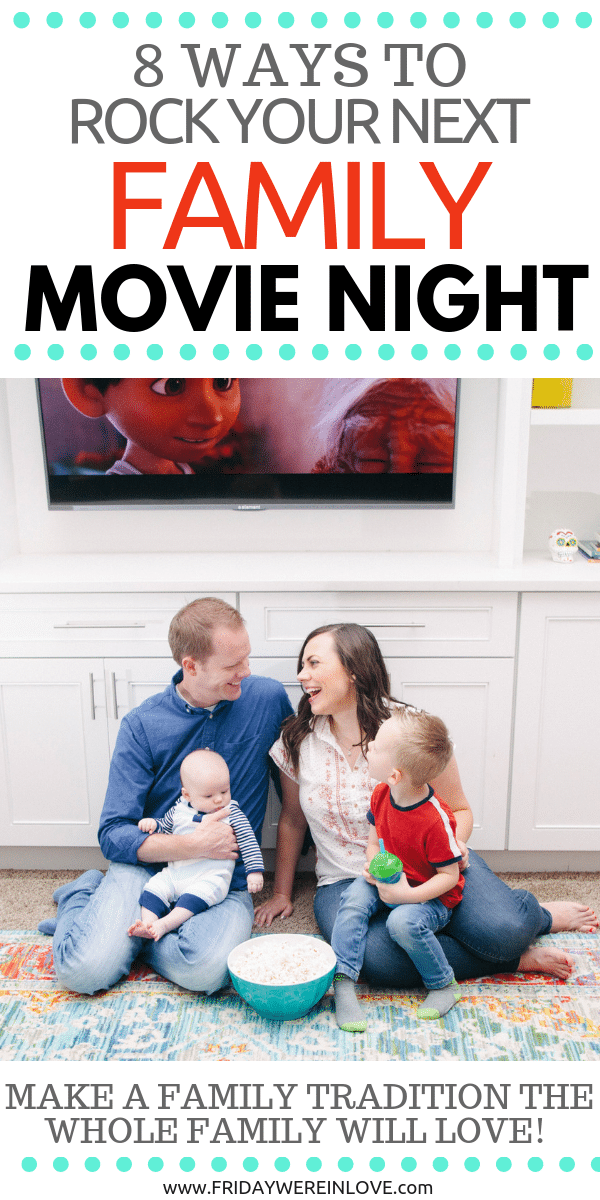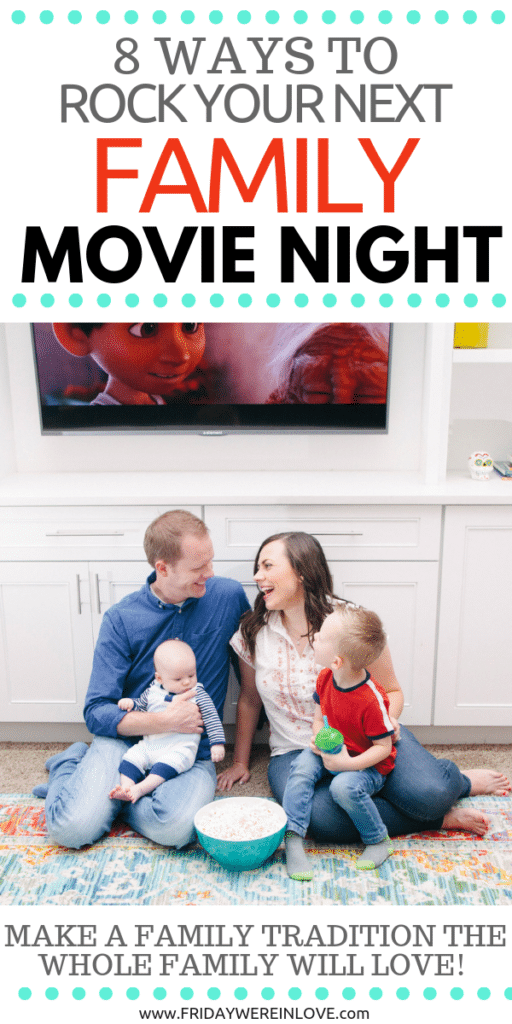 The Top 8 Ways to Rock Family Movie Night at Home
Always have pizza.
Okay, maybe you could sub that out with another food, but for my family growing up and my little family now, a good pizza is key. I love to make my mom's homemade pizza dough crust that works like a charm and freezes amazingly well so I only have to make it once a month. We vary up the kind of pizza we make each week so it's exciting and new. But kids love pizza and most adults do too. It's always a winner to have food they will look forward to!
Be consistent.This may mean the first Friday of every month for your family, this may mean every Saturday night- the schedule doesn't matter, the consistency does! Choose what works for your family and get it on the calendar so you don't forget it and make other plans and so your kids can look forward to it every week/month/etc.


Making Family Movie Night a Tradition You'll All Love

Take turns choosing the movie.
I think I could have watched The Little Mermaid every day and been thrilled as a child. My brothers would not feel the same. But, when we alternated who got to choose the movie, we all agreed to watch happily what others chose. It was easy because we knew we'd get just what we wanted on our week. As my family got bigger sometimes we'd let one person choose their top three ideas and let the family vote on their favorite of the options. It was just always nice to know that you had some say. Also, you could support your siblings or parents on their week too.
As an adult, I know I can suffer through another week of the same thing my two-year-old adores AGAIN because he will have to choose from his mom's options the following week.

Have popcorn!
My mom rocked at this. We had an air-pop popcorn machine that worked overtime on Saturday nights making two giant bowls full of popcorn. One was always sweet, one always savory. I lived for homemade caramel popcorn. I also lived for being a special helper that made the popcorn. We all pitched in and made a snack happen that made the pre-show time feel just as magical as the actual movie time.

Family Movie Night Ideas

Turn off all distractions.
I never grew up worrying about my parents on their phones, they never worried about their teens on them either. But now, that's quite the problem! If you're going to give your kids this time together, be the example and put the distractions away and focus on the quality family time.I love that my parents didn't answer the phone if it rang during family movie night. They didn't use it as a distraction for us while they cleaned the house. They may have picked up the kitchen a bit, but for the most part, they were next to us enjoying the movie.For parents who were so busy with work, church, and the time constraints of six children, I knew we had a night we'd all be together with quality time. I think our kids deserve that, and I think we deserve it too asking everyone to unplug and to be present is really important.
Make it feel special.
We don't typically eat in our living room, but on family movie night we make an exception. An old blanket goes down as our picnic blanket. We eat our pizza as a picnic food as part of the family movie night. Our toddler almost loses his mind with excitement that he's in-between mom and dad. He seems to eat even more dinner than usual!
If you can't handle the thought of eating on a blanket, sometimes just building a fort, pulling out couch cushions, bringing out special movie night blankets, using a fun movie pillow like this, or mixing up the seating arrangement can make the night feel special and exciting.

A Family Tradition the Whole Family Will Love

Add a special treat.
We love going with a theme, like finding a treat that matches the movie we're going to watch. It doesn't always work out. However, it's a little more fun to watch with a theme. Like a pirate movie with our own swashbuckler beverage (and hey fun mom actually bought a special drink)! Or maybe pull out a treat made just for the night. This can be as easy as getting a $1 movie theater style candy to share, or a box for each person to enjoy. There's a lot of ways to rock family movie night with a treat. Try something fun and make your kids night!
Spend time cleaning up together.
It's never fun to have one or both parents tackle cleanup. But when the entire family packs up the family movie night fort or straightens all the pillows back on the couch, it's an extended part of the fun. Also, it also helps your kids realize a family that plays together also works together to make play happen. Sometimes we pause the movie halfway to clean up our pizza plates and put leftovers away as a family. It all works out just fine to help everyone take a few minutes to pitch in and get the job done.
Let me share one other thing I'm asked often. "What do you watch together that you all enjoy when you have little kids at home?" Don't worry friends, I have a family movie night movie list coming your way next week. I'll share more of those ideas then!
I'd love to hear, do you do family movie night? Did you do it growing up? Any traditions your family implemented that you really loved as a child? Are there any you do as an adult? Leave a comment so others can enjoy even more family movie night ideas
Like this family movie night tradition? You may like these posts too: 
The Best Romantic Comedies for a Movie Date at Home
Simple Date Ideas with Lots of Last Minute Date Ideas!
100 Couple Games for Your Next Game Night Date Night In
Get 365 Date Ideas!
We want to help you have the best date nights ever! Grab this FREE printable with 365 date ideas, a date for every day of the year so you never run out of ideas!