Simple Date Ideas with Lots of Last Minute Date Ideas!
Sometimes the simple date ideas are the best date ideas! No need to make a huge production, but easy last-minute date ideas work wonders when you're looking for the perfect simple date night. Here are a ton of no-prep ideas for your next simple date night!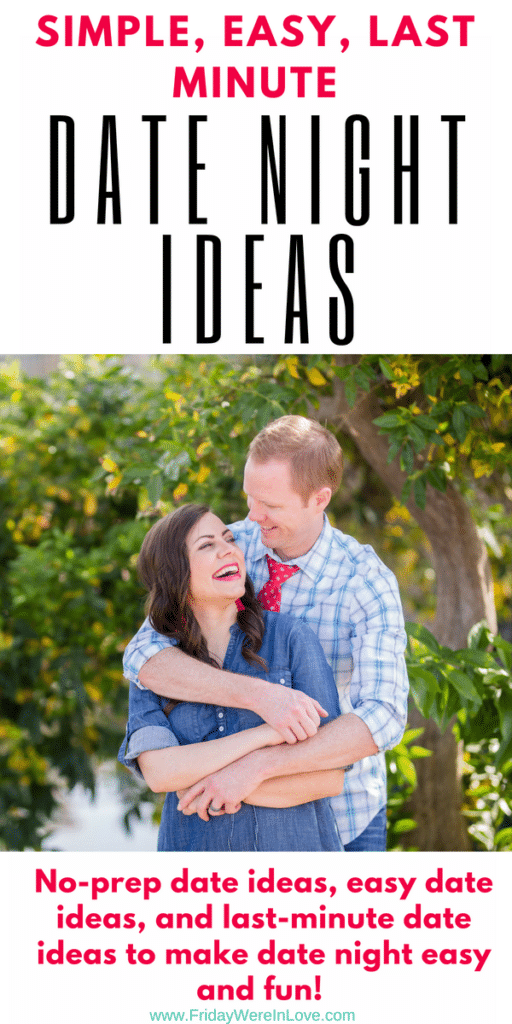 Needing a weekend where your date requires no prepping? We feel you – dating can require a lot of planning and creativity to mix it up and keep the sparks running. Often, simple date ideas turn into the best date nights! With this list of no-prep date ideas, you can just go and have a wonderful evening without worrying about the details!
No Prep Date Ideas
Just Grab Lunch! Or maybe dinner if you have time. But sometimes a classic meal together to connect is the perfect date. If you need ideas, check out our Lunch Date Ideas to help inspire your next lunch date!
Explore in Facebook for local events, pick an appealing "today" event, and go:

This is a super-easy way to find street fairs, farmers markets, yoga in the park, art walks, conventions, local free events, you name it! Just make sure tickets or entrance isn't sold out.

Act Like a Tourist in Your City:

Drive-in, park, and walk around the downtown or main street scene near you. This really gives an opportunity to

appreciate the murals

and the street art. Also, you can admire the architecture from your town's history.

Walk or Bike Around a Park:

If you have other things readily available, you could also go to a park near you and longboard, rollerblade, hammock, or picnic while you're there! But honestly, just walking around and talking is an incredibly rewarding, romantic date, so don't feel like you need to pack up your car to enjoy this activity.

Do an Adventure Challenge Date. We've loved the Adventure Challenge Couples Edition book to help us on nights we're not up to planning our own date night fun. It's a scratch-off date night book that gives you a fun activity to complete. Many only take an hour or two, and almost all you can do without any prep!
Also, Get a bonus 10% off any order with the Adventure Challenge Promo Code: INLOVE10



Easy Date Ideas

Build a Fort at Home:

Blanket forts are the best –

check out this awesome one we created

. The only thing it requires is some creativity and willingness to redecorate your living room for an evening. Pop some popcorn and throw a movie to enjoy from your cozy set up!

Visit the Thrift Store and Dress Each Other Up:

Get ready to pop some tags and channel your inner Macklemore. Whether you want to challenge each other to dress each other in things you'd actually wear, or aim for the most ridiculous things you can find, it's a blast. Take this to the next level by wearing those outfits to dessert after. Let the laughs commence.

Find a Romantic Spot and Watch the Sunset.

Have a favorite spot or a favorite park in your city? All this simple romantic night requires is double-checking what time sunset falls (by asking your phone or looking outside) and hauling yourself out there. Also, this no-prep date is a great way to share a little personal experience with your date.
Last-Minute Date Ideas
These last-minute date ideas are great if you discover that your original plans were canceled or your calendar suddenly opened up.
Peruse the Shopping Mall.

Whether you need a new pair of pants or you're just window shopping, this is a great last-minute date idea if the weather outside isn't ideal to walk in.

Go for a Long Drive.

People spend so much time in cars, rushing to work or to the next event, that sometimes it's nice to remember that driving can also provide a relaxing, comfortable setting to sit and chat.

Share Your Favorite YouTube Videos with Each Other

. Wanting a simple, stay-at-home date? We all know YouTube is an endless source for entertainment, so it's time to capitalize on it. Share some funny videos you discovered lately with your date or your all-time favorites. If you need help getting started, you can also

start with our preloaded favorites

.

Let Somebody Know You're Thinking About Them

: Bake or write something nice for somebody you think needs something nice today and doorbell ditch it at their place. Serving others is an easy, feel-good date that helps make the world a better place. For more ideas, check out our

Random Acts of Kindness date

.

Drive Out of the City and Star Gaze.

We've done this before

and absolutely love it. Consequently, it's one we'll likely repeat again and again! It's oh so simple – just grab a blanket and go!

Make Each Other Breakfast in Bed.

This is such a simple way to feel extra special right in your own home. Treat each other to breakfast in bed!

Have a Drive-in Movie Date. Roll in and catch a double feature with little time or prep! A drive-in movie date night is always a good idea!
Simple Date Ideas
Finally, if you had a busy or exhausting week but are itching to do something fun, these easy and simple date ideas are really the way to go.
Teach Yourself Couples Dance with Online Tutorials.

Waltz, ballroom, salsa, hip-hop, swing dancing, Bollywood – it's your call! If ballroom couples aren't your style – you could also learn signature dance moves like the Dougie. The best part of this easy date – you can stay home and learn for free.

Have a Backyard Picnic:

Grab some food from the fridge and a blanket and enjoy the view from your porch. Need we say more?

Pull Out the Board Games: Have some good old-fashioned board games or cards on hand? You'll be surprised how much time you can fill revisiting some favorites you played growing up. It makes a great double-date idea too!

Bring the Zen Home – Give Each Other Neck Massages or Guided Meditations:

We're going to guess the reason you're needing a no-prep, simple date is that your life is pretty stressful right now. And a couple's massage is a great option! Help each other unwind physically and mentally by giving each other a neck massage and guided meditation. Additionally, if you're not feeling capable to do this alone, you can also find how-tos on YouTube.




Simple Date Night Ideas

Go Get Ice Cream. Or maybe frozen yogurt, or another quick refreshing treat. It's always a fun date night, and it's one you can fit in between all the busy activities or even teenage schedules.
Review the Book, Articles, and Videos on the Five Love Languages and Discuss. Take advantage of this slower moment to discuss how you and your spouse can effectively communicate and demonstrate your love for each other by reviewing the Five Love Languages. If you don't have the book, you can also read articles and watch videos online that cover the basics. See our Five Love Languages Date Night with a free printable.

Order Dessert Only at Your Favorite Restaurant.

If it's a last-minute date you want to get in before the day is over, try shaking up the traditional dinner date by going just for dessert! We often skip dessert after eating a large, delicious entrée. Additionally, dessert is also a great option because you can go after the busier hours.

Binge-Watch a tv show together. Netflix and chill is a favorite of all at home date night ideas for a reason. It's easy, it's fun, and it's the perfect excuse to cuddle.
Do you have any other really simple date ideas that you've loved? We'd love to hear what you did! Share it with everyone else in search of simple ideas in the comments!
Like these simple Date Nights? You'll find even more easy date ideas in these posts too:
52 Completely Free Date Ideas to Do this Year
Fun Things to Do While Pregnant:
Get 365 Date Ideas!
We want to help you have the best date nights ever! Grab this FREE printable with 365 date ideas, a date for every day of the year so you never run out of ideas!