Grab another couple and great ready for a fun date night with these tried and true favorite 55 double-date ideas!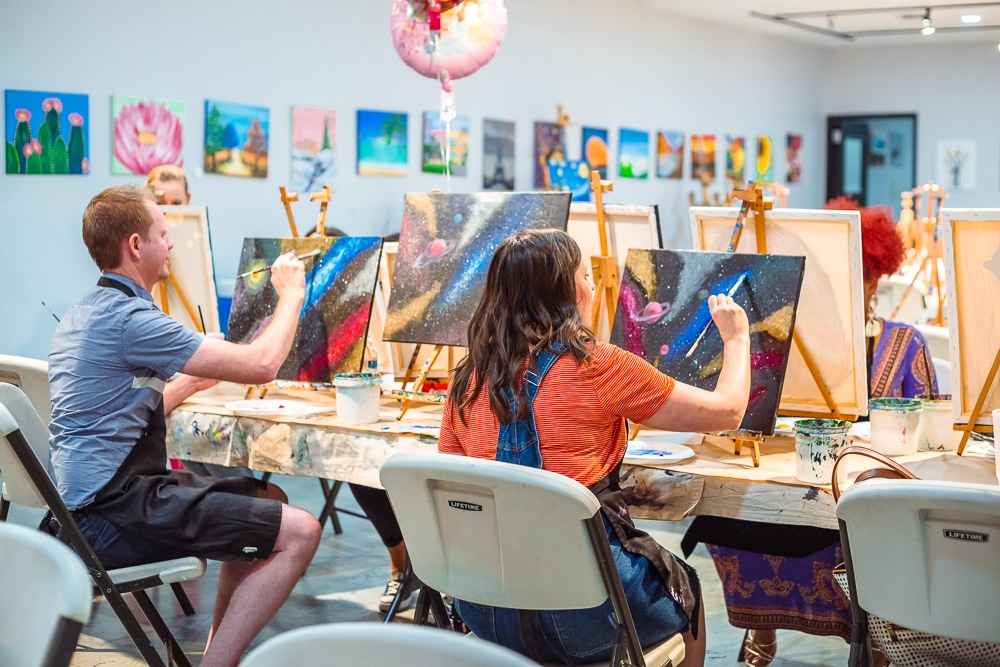 55 Double Date Ideas: Fun and Memorable Activities for Couples
Double dates offer the perfect opportunity to share unforgettable experiences with your partner and friends. Whether you're looking for adventure, romance, or simply a good time, this list of 55 double-date ideas has got you covered. From outdoor escapades to cultural explorations and cozy indoor activities, there's something for every couple to enjoy. So, get ready to spice up your social life and create lasting memories with these fantastic double date ideas!
1. Outdoor Adventures:
Hiking and Picnic:
Explore scenic trails, soak in the beauty of nature, and enjoy a delicious picnic amidst breathtaking views. And a hiking date is a fantastic free date idea too!
Beach Day:
Soak up the sun, swim in the ocean, play beach games, and end the day with a mesmerizing sunset.
Camping:
Pitch a tent, roast marshmallows over a campfire, and spend a memorable night under the stars.
Kayaking or Canoeing:
Embark on a thrilling water adventure together, paddling through tranquil lakes or rivers.
Bike Tour:
Discover new places on a leisurely bike ride, stopping for sightseeing and enjoying local treats along the way.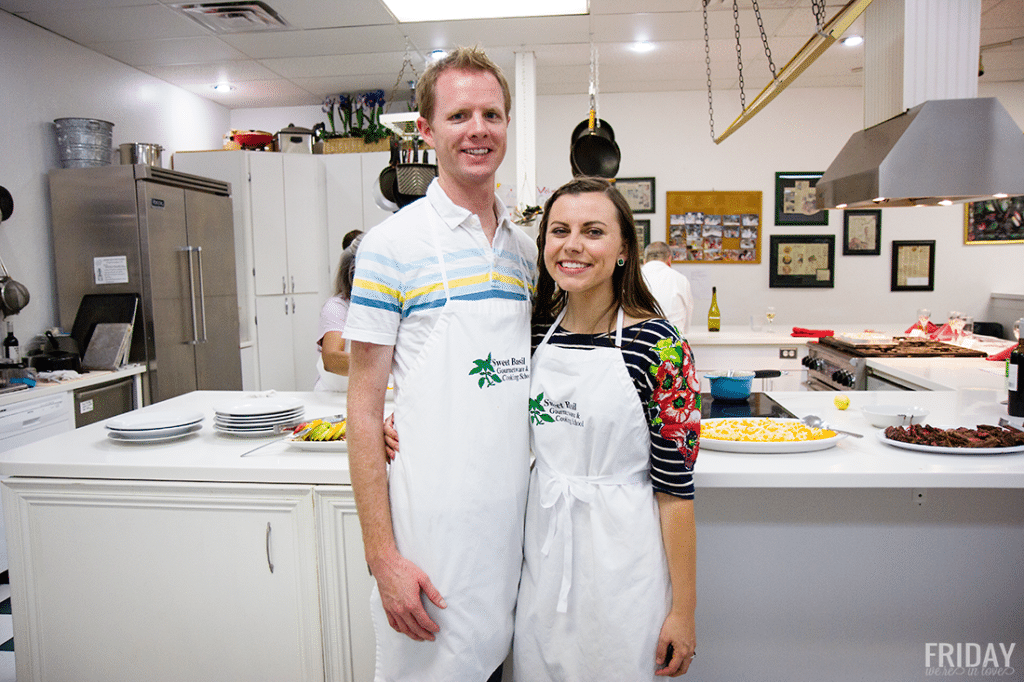 2. Culinary Experiences:
Cooking Class Date:
Take a cooking class together and learn new recipes and techniques. You'll team up to make different gourmet dishes under the direction of a professional chef. It's one of those fun dates I guarantee you'll want to repeat!
Food Tour Date:
Embark on a food tour, exploring local eateries and indulging in delicious cuisine. You can do themed cupcake tours, wine tasting, and culinary festival city tours.
Dessert Party:
Grabbing dessert makes a great double date! In fact, it's a fun group date if you want to include more. Either go out for dessert and have everyone order a different item so you can all try different desserts. You can also invite your couple friends to make their own desserts and have a potluck dessert party at home. You could easily sub in appetizers or drinks for a variation of this taste test date night.
Progressive Dinner Night:
Plan a progressive dinner where each couple hosts a different course.
Pizza Date Night:
Have a DIY pizza night and make your own personalized pizzas. Try our homemade pizza dough recipe that comes together easily with few ingredients as a delicious base!
3. Cultural Explorations:
Museum Visit: Immerse yourselves in art, history, or science by visiting a local museum or gallery.
Theater or Live Show:
Enjoy an evening of entertainment by watching a play, musical, or comedy show together.
Local Festivals:
Attend a lively festival or fair in your area, indulging in delicious food, music, and cultural performances.
Art and Craft Workshop:
Unleash your creativity by participating in an art or craft workshop, such as pottery or painting.
Historical Tour:
Discover the hidden stories of your city or town by going on a guided historical tour together.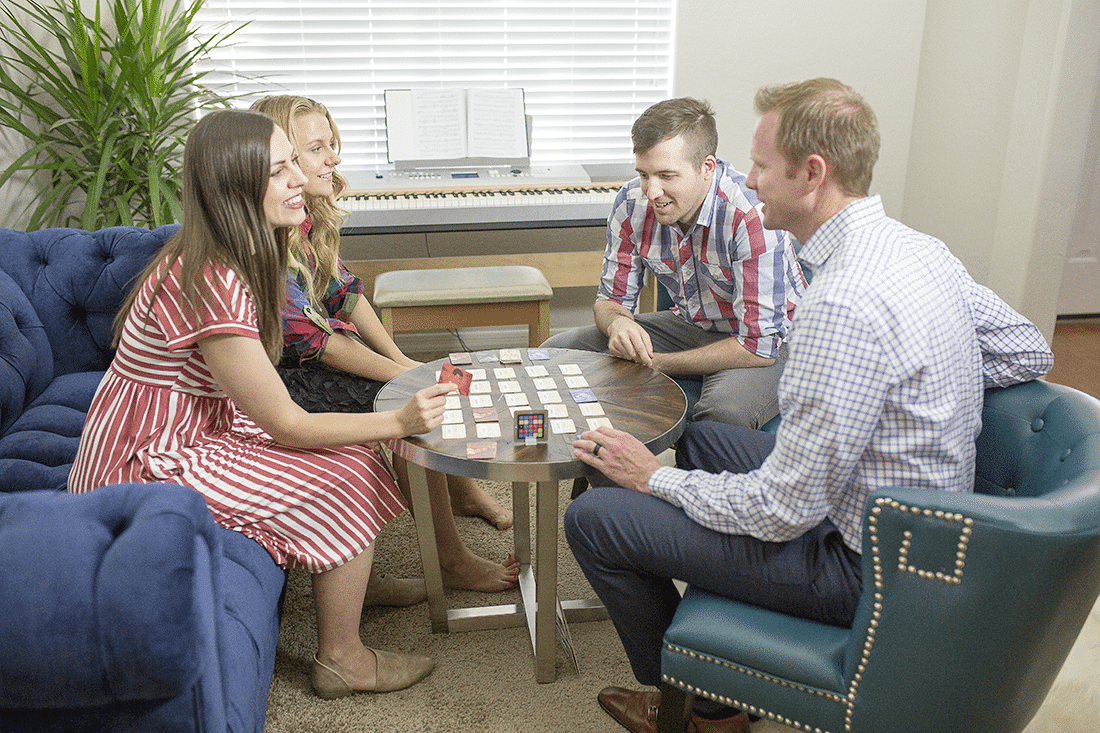 4. Fun and Games:
Escape Room:
Test your problem-solving skills and teamwork by attempting to escape from a thrilling escape room scenario, fostering collaboration.
Bowling:
Have a friendly competition with another couple at a local bowling alley, cheering for strikes and spares.
Game Night:
Host a game night at your place, with board games, card games, or video games for an evening of laughter and friendly rivalry. Check out our full list of couple games to help you find fun games to play together!
Mini Golf:
Enjoy a lighthearted game of mini golf, complete with challenging obstacles and friendly banter, creating a playful and competitive atmosphere.
Trivia Night:
Join a local trivia night at a pub or bar and put your knowledge to the test as a team, showcasing your intellect and having a great time.
5. Outdoor Fun:
Amusement Park:
Experience the thrill of roller coasters, enjoy delicious treats, and try your luck at carnival games together, creating unforgettable moments of excitement.
Outdoor Movie Night:
Set up a cozy outdoor cinema in your backyard or find a local park that hosts movie screenings under the stars, snuggling up and enjoying a romantic movie night.
Go-kart Racing:
Feel the adrenaline rush as you and your partner race against the other couple on a go-kart track, experiencing the thrill of speed and competition.
Rock Climbing:
Challenge yourselves by scaling indoor or outdoor rock walls, encouraging and supporting each other along the way, building trust and resilience.
Zip-lining:
Soar through the treetops on a thrilling zip-lining adventure, enjoying breathtaking views from above and experiencing a sense of adventure.
6. Romantic Dates:
Sunset Cruise:
Take a sunset cruise for a romantic and picturesque experience.
Picnic Date Night:
Plan a picnic in a beautiful park or garden, enjoying each other's company.
Stargazing Date:
Go stargazing on a clear night and marvel at the beauty of the night sky. It's fun to do a remote hike as a double date and enjoy plenty of stars snuggled up as couples.
Dance Class:
Turn up the heat and romance and taking a couple's dance class with your besties. You will learn a new skill, or at least have a good laugh trying. But there's something romantic about dancing together and bonus points for an intimate double date activity that pairs you up for fun duets!
Drive-In Date:
A truckbed typically fits four perfectly! Plus, you can chat a little more than you could at a movie theater, and it's an inexpensive way to see a double feature! Plus, it's a romantic place to snuggle and enjoy a low-key romantic date.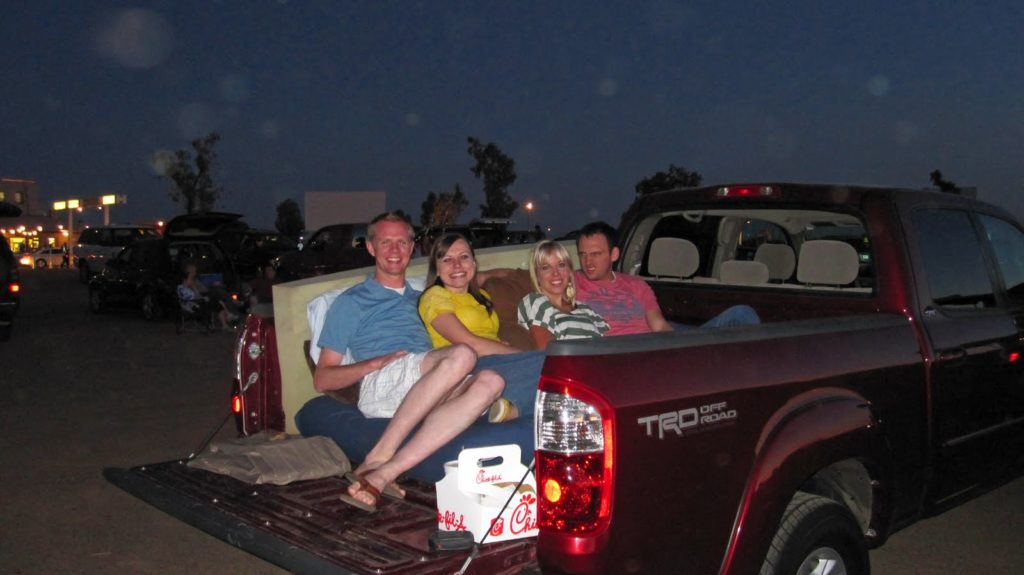 7. Active Adventures:
Tandem Bike Date:
Go on a tandem bike ride and explore scenic routes together.
Kayaking Date:
Try stand-up paddleboarding or kayaking for a fun water activity.
Roller Skating Date:
Throw it back to junior high and hit up the skating rink! You can hold hands while you skate and race the other couple. It's one of those fun double date ideas full of nostalgia and burns a few calories too!
Hiking Date:
Go on a scenic hike and reach a breathtaking viewpoint together.
Fitness Class:
Join a fitness class or go for a group workout session for a healthy and active date.
8. Unique Experiences:
U-Pick:
Visit a local farm or orchard and go fruit picking together.
Paint Night Date Night:
Attend a paint-and-sip night to unleash your inner artist. It's one of our favorite dates, and it's a hilarious and surprisingly relaxing date night!
Aerial Tour:
Take a helicopter or hot air balloon ride for a thrilling aerial adventure.
Ghost Tour:
Go on a ghost tour to explore the haunted side of your city.
Murder Mystery Party:
Plan a themed costume party or fancy dress night for a fun and memorable evening. Grab a murder mystery game and enjoy solving the who dun it game as a group.
9. Volunteer Together:
Volunteer Date:
Dedicate a day to volunteering at a local charity or organization.
Clean Up Your Community:
Participate in a beach or park cleanup for a rewarding experience.
Animal Shelter Date:
Help out at an animal shelter and spend time with adorable furry friends.
Community Service Date:
Join a community gardening project and contribute to a greener environment.
Bake Sale for Charity:
Organize a charity bake sale or fundraising event to make a positive impact.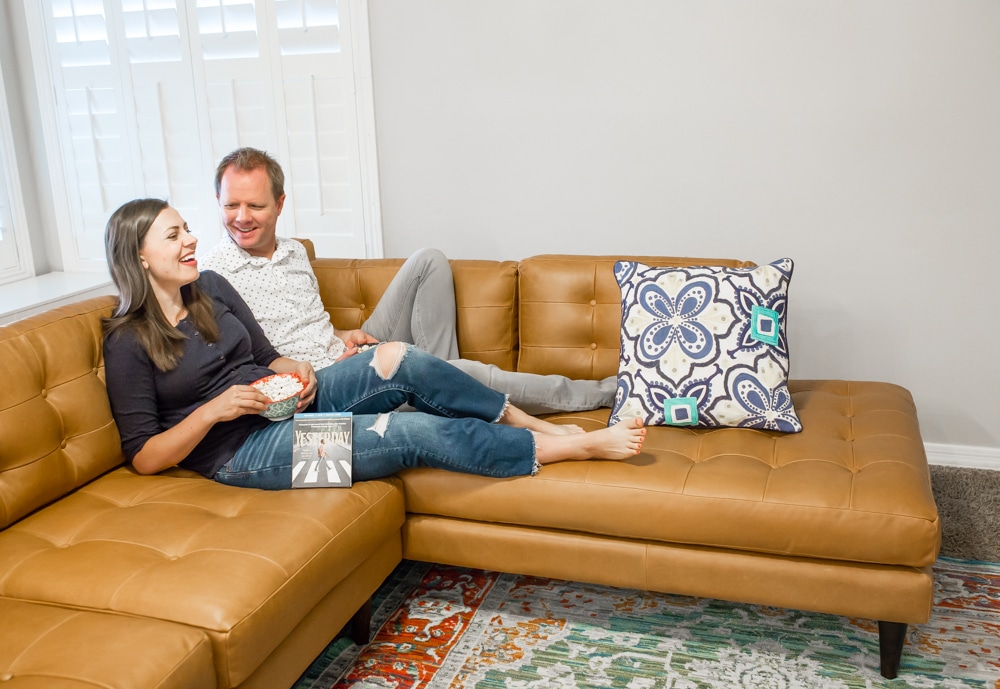 10. Relaxation and Pampering:
Yoga Class:
Take a couples' yoga or meditation class for relaxation and connection.
Movie Marathon:
Plan a movie marathon night with your favorite films and snacks. We love to do an outdoor movie night with a projector and lawn chairs. And if you need a great movie for date night, check out our list of date night movies you'll both enjoy watching together (and with friends)!
Charcuterie Night:
Enjoy a little cheese tasting, snack pairing, or themed snack boards with a charcuterie night. You can either assign each couple a type of board to create, or you can bring items and have fun assembling your own charcuterie board for date night.
Do a Jigsaw Puzzle:
If you need time to chat and catch up, tackling a puzzle together is a surprisingly fun double-date idea! Have a cozy game night by the fireplace with board games and puzzles and talk the night away.
Spa Date:
Enjoy a couples' spa day for relaxation and rejuvenation. Take turns with your partner, and have some girls' time/guys' time to chat with friends. It's a great relaxing date idea that feels both social and intimate as a couple.

11. Fun Places to Go for a Double Date

Attend a Sports Game:
We love getting tickets to support a local team and cheering them on with another couple. Even if you aren't a hardcore sports fan, it's one of the best date night ideas to combine entertainment and plenty of time to chat.
Visit a Comedy Club:
Snag tickets for your favorite comedian, or kit up a improv comedy date at your local improv club. You'll enjoy a great laugh and a lot of fun together!
Dave and Busters Date Night:
I mean if you can compete for who can win the most tickets, why wouldn't you? But really, it's so fun to play old-school arcade games and compete to win prizes for a double date night!
Visit a Karaoke Bar:
If you love to sing, a karaoke date is fantastic. And if you can't sing, karaoke is fantastic. Check our your local bar special nights for dates and times, and get ready to perform your own mini-concert to your favorite song!
Take Pottery Classes:
Channel your inner Ghost movie pottery scene, and have fun making creations together. It's even more fun with friends who can film your Ghost reenactment at the pottery wheel!
Double Date FAQs
How do you make a double date interesting?
To make a double date interesting, it's important to choose activities that appeal to all parties involved, ensuring everyone has a great time. Plan activities that encourage interaction, laughter, and shared experiences, such as trying a new adventure, engaging in friendly competitions, or exploring new places together.
Are double dates good ideas?
Double dates can be wonderful ideas as they provide an opportunity to socialize, create new friendships, and strengthen existing relationships. They offer a chance to share experiences, perspectives, and laughter, making the outing more enjoyable and memorable.
Is a double date OK for a first date?
While double dates can be a fun and lighthearted way to get to know someone, they may not be ideal for a first date. First dates are typically focused on building a connection and getting to know each other on a deeper level, which may be challenging in a group setting. It's usually best to opt for a one-on-one date initially.
And check out these first-date outfit ideas to help you feel more confident on your first date!
What is a double couple date?
A double couple date is when two couples come together to spend time and socialize. It involves two pairs of partners enjoying each other's company, engaging in activities together, and building a shared bond.
Who should pay on a double date?
When it comes to who should pay on a double date, it's common for couples to split the bill evenly or for each couple to cover their own expenses. However, it can vary depending on the arrangement and preferences of the individuals involved. It's important to communicate and discuss the payment plan beforehand to avoid any confusion or awkwardness.
Double Date Night Ideas
With these 55 double date ideas, you have a range of activities to choose from to make sure each double date is unique and memorable.
From outdoor adventures to culinary experiences, cultural explorations, and cozy indoor activities, there's something for every couple's interest and preference.
So, grab your partner and friends, get ready for some excitement, laughter, and connection, and create cherished memories that will last a lifetime. Happy double dating!
Like these fun things to do for a double date night? Be sure to check out these posts too:
Get 365 Date Ideas!
We want to help you have the best date nights ever! Grab this FREE printable with 365 date ideas, a date for every day of the year so you never run out of ideas!