Classy First Date Outfits: A Guide to Leaving a Lasting Impression
Get ready for date night with some classy first date outfits to help you put your best foot forward! A roundup of date night outfit formulas you'll look and feel your best in!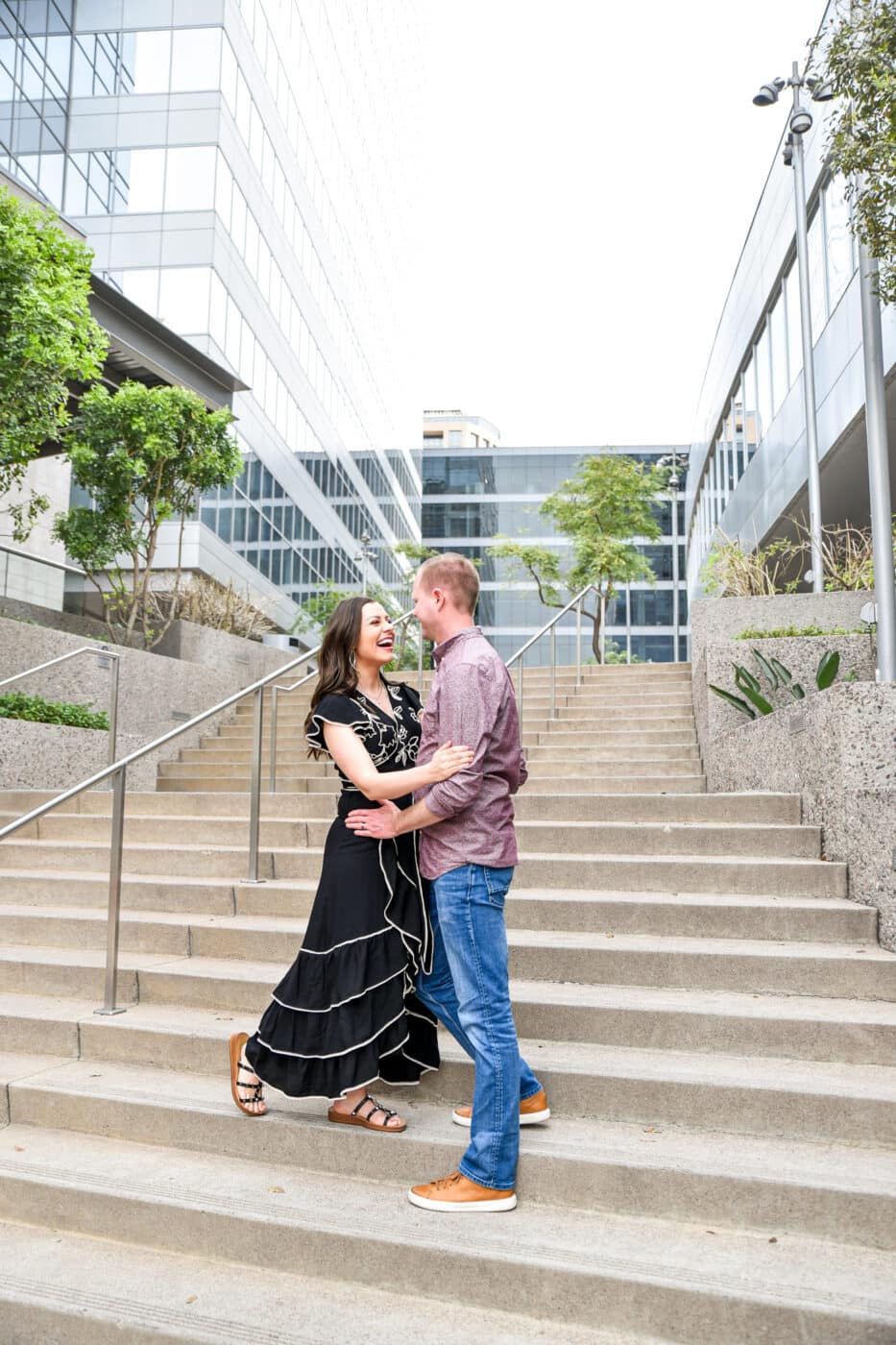 First dates can be nerve-wracking, especially when you're trying to figure out what to wear. You want to make a good first impression, but also feel comfortable and confident. Finding the perfect first date outfit can be a fun way to express your personal style, and it's an opportunity to showcase your best self. Let's explore some of the classy first date outfits that will leave a lasting impression.
Your Guide to Classy First Date Night Outfit Ideas
Let's break down some excellent cute and classy first date outfits by clothing items you can build an outfit around. They're a great place to start with what works with your body type. And from there, we'll add in an outfit formula or two to make sure you feel great and leave a good impression too!
1. A Casual Dress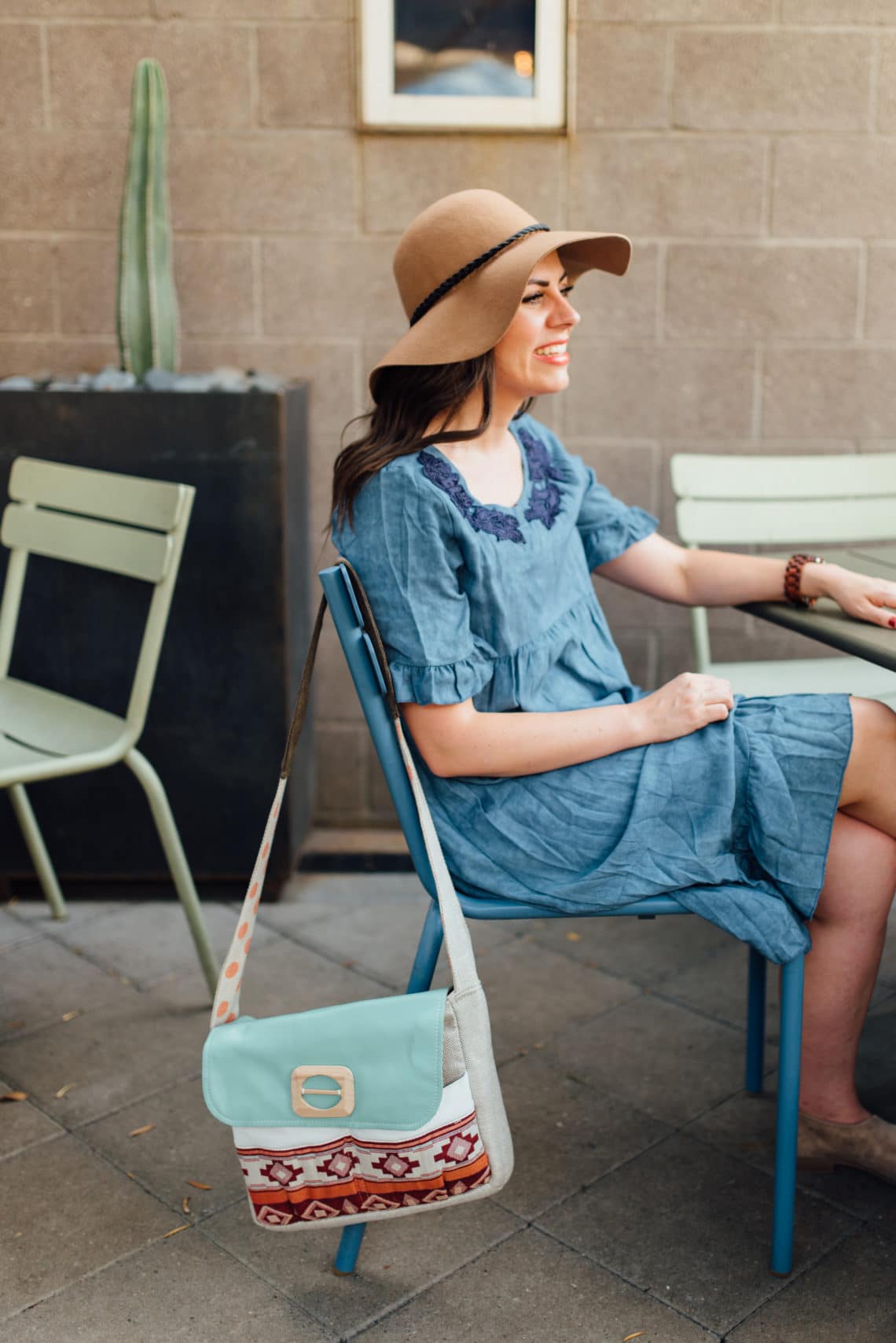 A casual dress is about the best outfit to say hey I tried, but I'm also here to be comfortable. That's why it's a go-to in first-date outfit ideas.
Find a dress you can move around in should you find yourself on a late night stroll, but also pairs well with dinner.
I love to look at Loft, Anthropologie, Amazon, and Ivy City Co for some great options!
2. A Going Out Top/Statement Top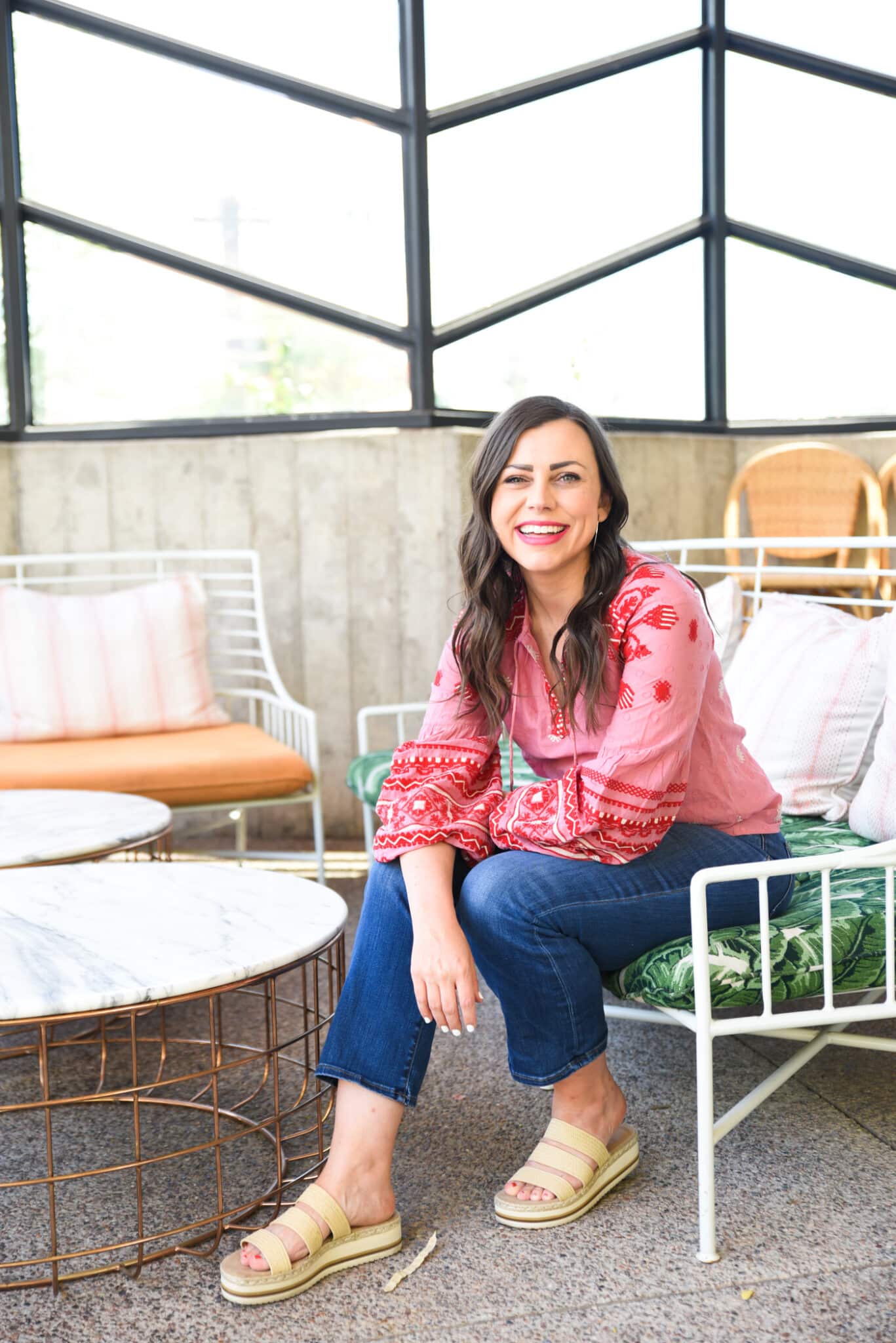 If you need casual first-date outfit ideas, you can't beat jeans and a top you feel great in! I love to a find a cute structured top I feel cute in to dress up a pair of jeans. They make a great casual dinner date outfit, and lend to most activities while still leaving a great first impression.
The best places for going out tops in my book: The Drop by Amazon, Anthropologie, Modcloth, Loft (more than half of my date night tops are from Loft!), Old Navy, and unique finds on Thredup!
3. Your Favorite Jeans
It's hard to go wrong with a pair of jeans you feel great in as the base for casual first-date outfit ideas! And with so many different styles trending right now, you can wrong what works for your body shape while you look and feel great!
I have worn my favorite AG boyfriend jeans on more dates than I can count!
Skinny jeans are just about the best way to keep things casual yet classy. They are a great way to accentuate your figure and can be paired with virtually anything. They work well in the winter tucked into boots and paired with a long coat or sweater.
​Flare jeans add some structure and fun with a more balanced silhouette. Plus, they're flattering and very trendy right now.
Wide-leg jeans pair great with a crop top for a fun updated look.
For a summer date night, I love a pair of crop jeans and a structured top.
And for a winter date night, your favorite jeans and a sweater are perfect for a cold night.
Pair your jeans with a cute top. Grab some platforms, flats, block heels, or even white sneakers. Add in statement earrings can turn your jeans into the perfect outfit for a daytime date or casual dinner date.
A leather jacket is a great option for a first date. It's versatile, stylish, and can easily dress up a casual look. Whether you're going for a casual date or an evening outing, a leather jacket paired with a cute top or a little black dress can be the perfect outfit.
5. A Crop Top
A crop top is a trendy and versatile piece that can be part of a perfect first date outfit. Pair it with a midi skirt or high-waisted jeans for a more modest look. Trust me, I'm a more modest dresser, and my first crop top I almost returned until I tried it with a pair of high waisted jeans and couldn't believe how great it was for a date night look! This is especially a good idea for a daytime date, when you want to strike the perfect balance between casual and chic.
I love finding a great top at Madewell, looking on Amazon, or finding something fun and trendy at Target.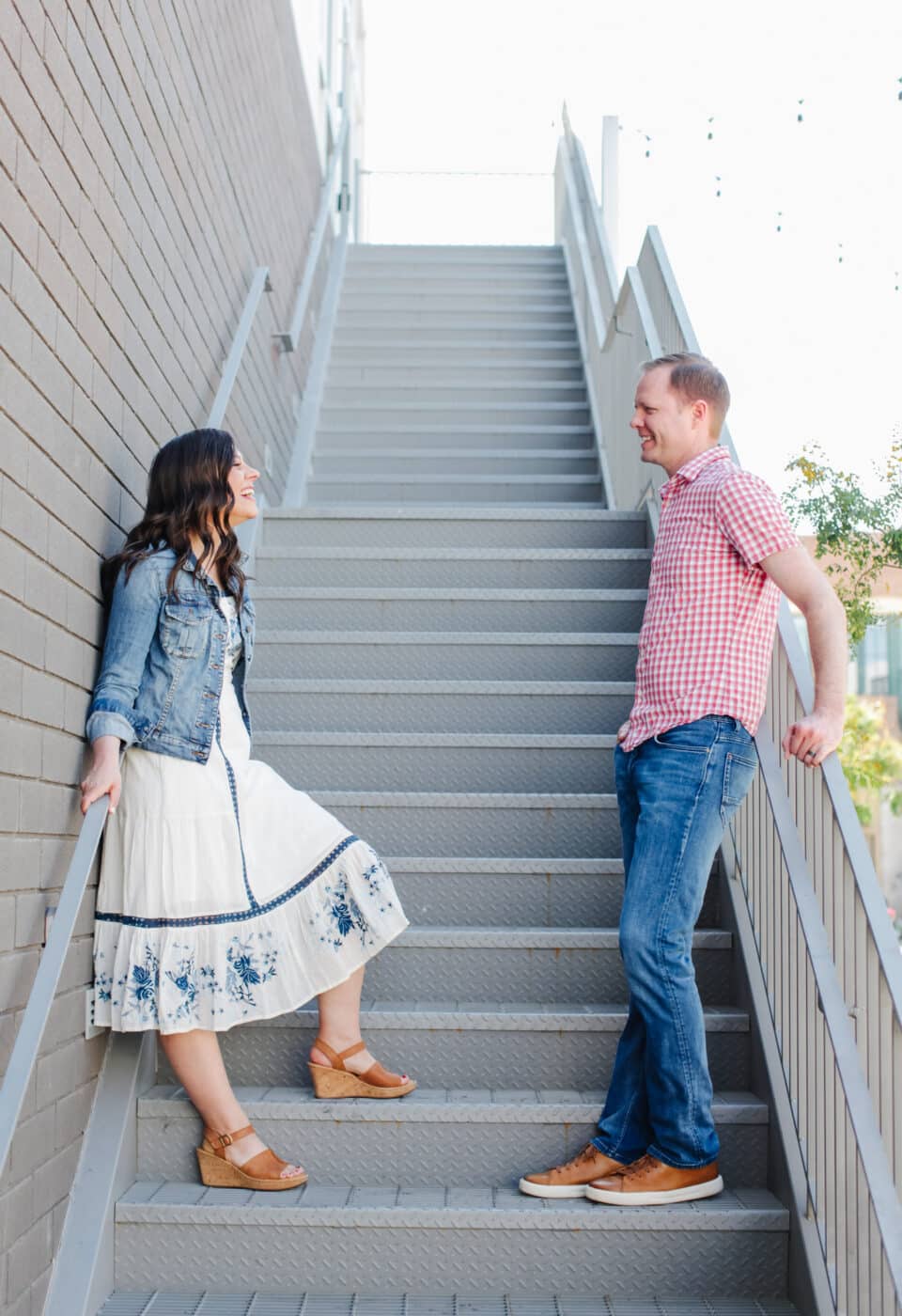 The denim jacket is a great option for a casual first date. It's a neutral color, so it can go with a variety of outfits. I love to add it to a dress to dress it down a bit. They look fantastic with knee length or mini skirt. You can go for a more dressy look for evening dates with a slip dress and a denim jacket for an effortlessly chic look.
And if you're feeling fun wearing printed pants or colored pants, and denim jacket really helps tie it all together.

And hello bonus points, it adds an extra layer of warmth for an outdoor date. Plus, it's a classic piece that never goes out of style.
7. Little Black Dress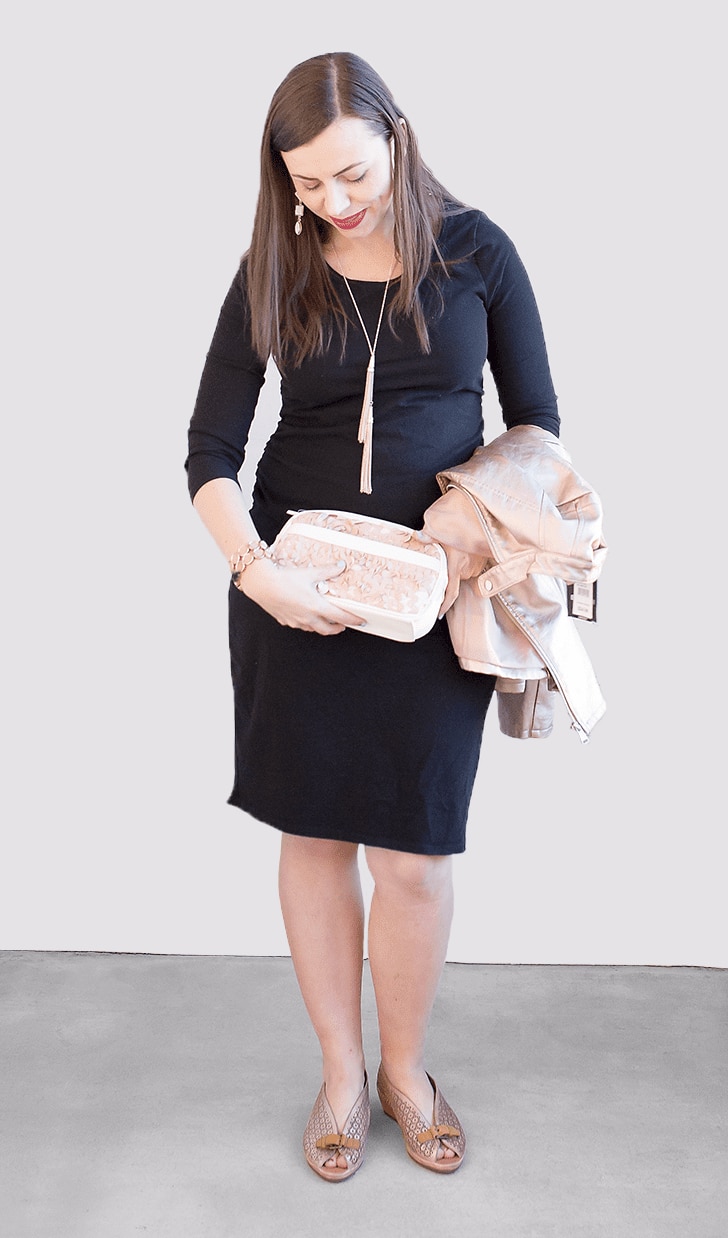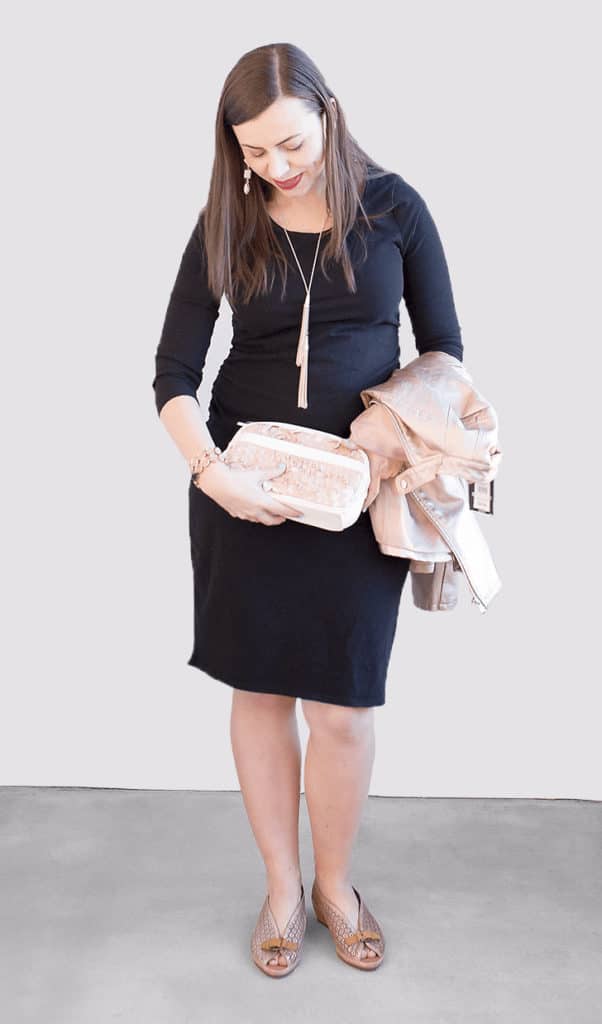 The little black dress is the quintessential date night outfit. It's versatile, flattering, and sends the right message. You can dress it up with high heels and statement earrings or dress it down with flat sandals and a denim jacket. This is a safe and classy first date outfit option.
Also, the best option is one you feel comfortable in. I love that you can always find a little black dress in just about every cut and style that fits your body type.
8. Leather Pants
Leather pants are a bold choice for a first date, but they can make a great impression if styled correctly. Pair them with a simple white shirt or a cute top, and you're ready for a fun night out. I love doing leather leggings instead of pants for a little more comfort and versatility with the tops I wear. The Spanx leather leggings have been a best-selling item for years. They suck you in in all the right places with the most flattering cut. But also, they also have plenty of stretch to keep you in the comfort zone. They truly make a fantastic date night pair of pants that keep you looking chic while you're ready for a good time!
Tip: you may want to keep your makeup and accessories simple to balance the look.
9. Midi Dress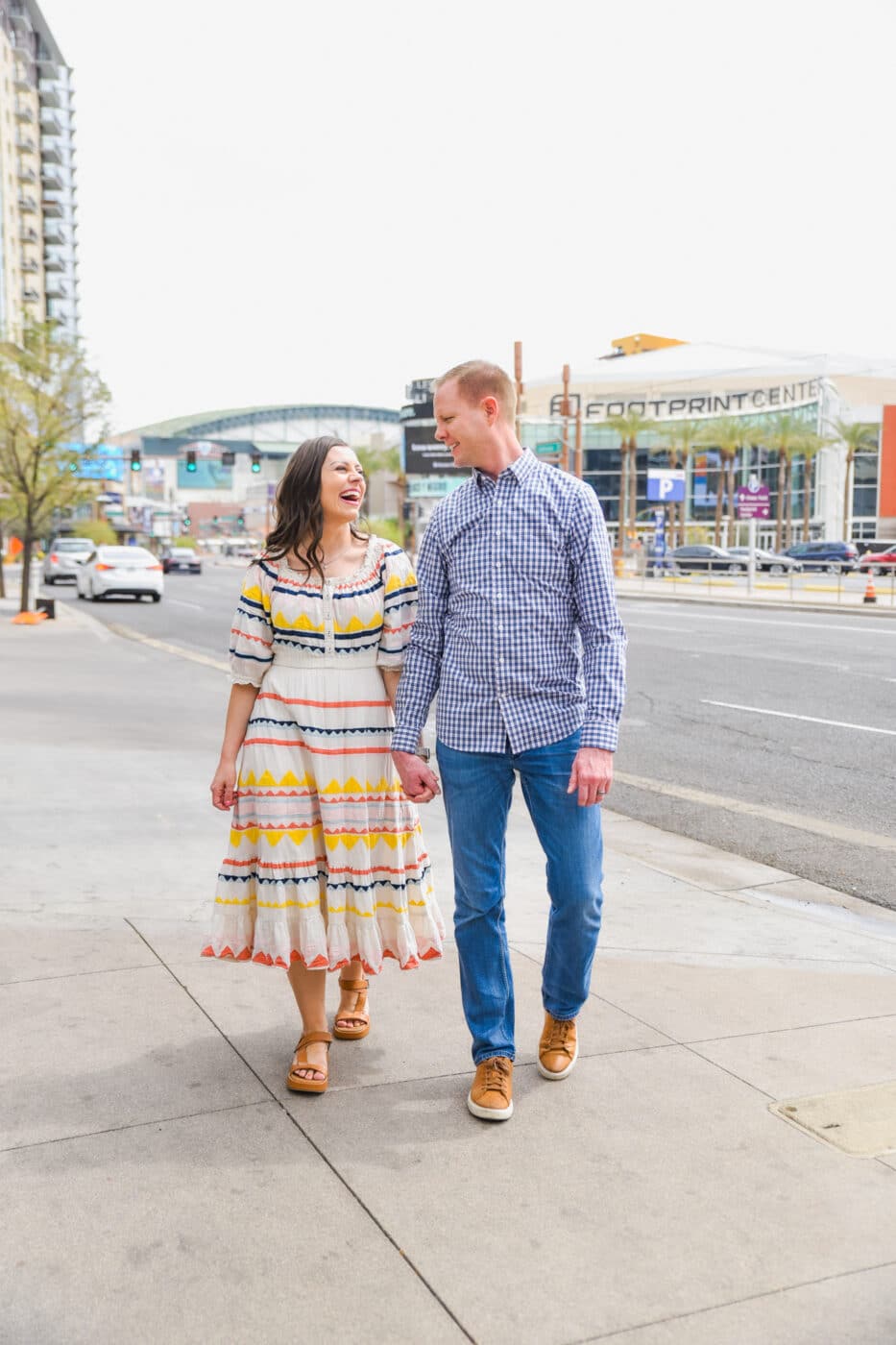 A midi dress is a good choice for a first date as it strikes a perfect balance between casual and formal. It's versatile and can be styled in different ways depending on the date and venue. I've going on dates riding a bike in a midi dress, out to dinner, and even to the arcade for date night. It's just a versatile piece that gives a little bit of a vintage nod while keeping you cute and also ready for any activity.
Plus, it's comfortable, which is the most important thing when you're meeting someone for the first time.

I borrow this fantastic midi dress from a Nuuly rental.
10. High Heels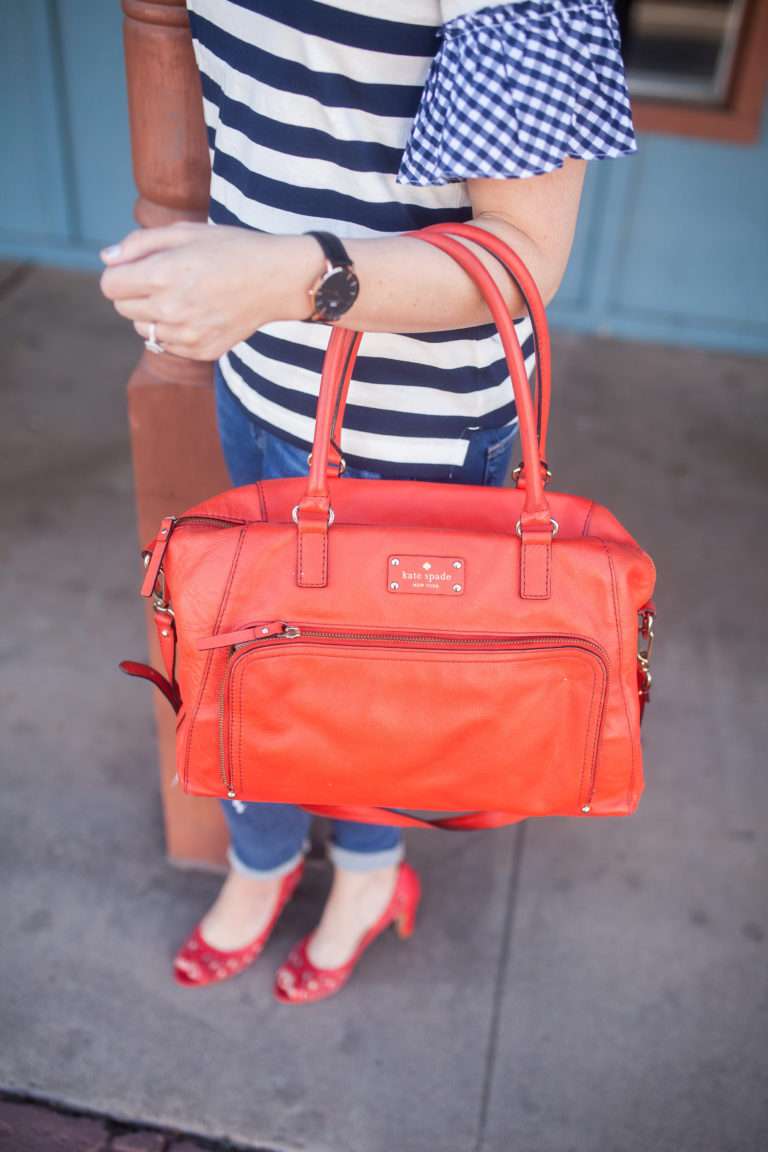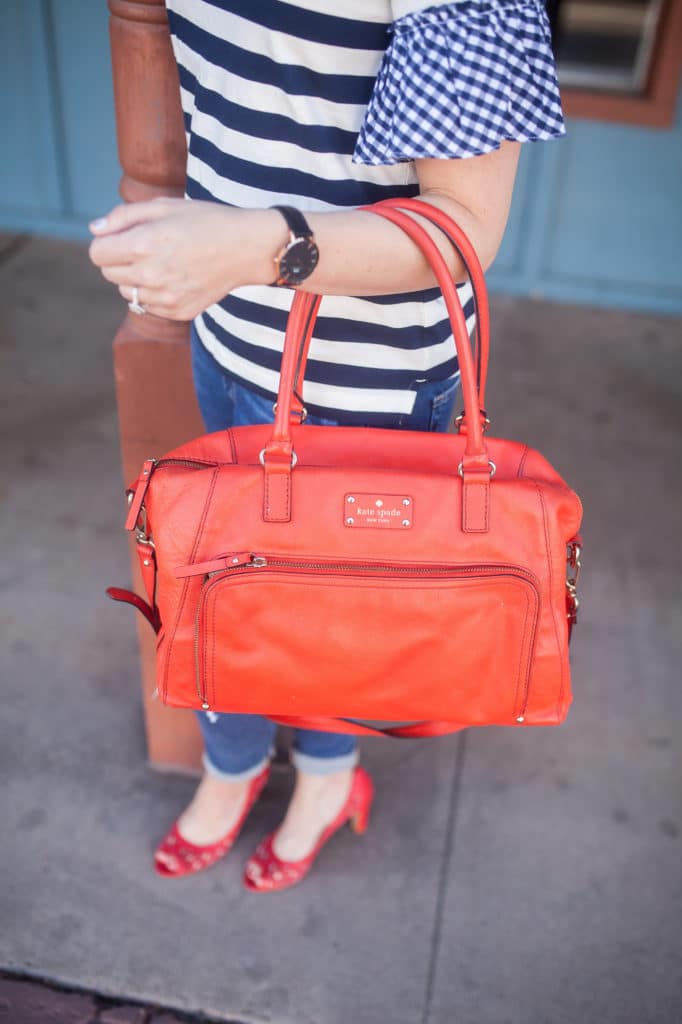 If you want that dressed-up sexy look, high heels are going to be your best friend! For those who love to make a statement, high heels are an ideal choice. They instantly dress up any outfit and give you an extra boost of confidence.
Pair them with a midi dress or even leather pants for an evening date. If you want to take your jeans to the next level, high heels have your back! Remember, the most important thing is to wear something you're comfortable in, so if you're more a flat sandals person, that's a good choice too. And of course, you can always opt for low heel or extra comfy block heels to complete your look.
11. White Sneakers

For a more casual look, white sneakers are a great choice. They are versatile, comfortable, and can be paired with different outfits. I bought an investment pair a few years ago, and I've never looked back! They look cute with everything and I can wear them walking all around a Disneyland trip without my feet hurting!
They work well with your favorite jeans. White sneakers pair fantastic to dress down a dress. They work with almost every summer look. Plus, the best part is you'll be able to walk for miles without worrying about your feet. If you end up on a long walk or a super active date night, you're set!
Whether you're going for a walk, meeting for a coffee shop date, or going to a casual dinner, white sneakers can be your best friend.
Statement earrings are a great way to add some sparkle to your outfit. They draw attention to your face and can be a great conversation starter. In fact, I'm dating myself here, but I often planned my classy first date outfits around a pair of chandelier earrings when I was in college.
They can be the best thing to add one fancy element to your evening date look. And the best part is they dress any look up and help you feel confident.
Pair them with a simple outfit like a little black dress or a shirt dress for a classy first date look. Or go big and pair them with a loud top for a lot of visual interest!
Here's one of my favorite places to find statement earrings!
A slip skirt is another versatile piece that can make a great impression on a first date. I always love them as my best bet for comfort when I'm eating a big meal for a date night. Plus, they come in all lengths so grab a maxi skirt or mini skirt or anything in between.
Pair it with a simple top, block heels or flat sandals, and a shoulder bag for a stylish and comfortable look. This fancy look with some white sneakers and a denim jacket happens to be one of my favorite date night looks.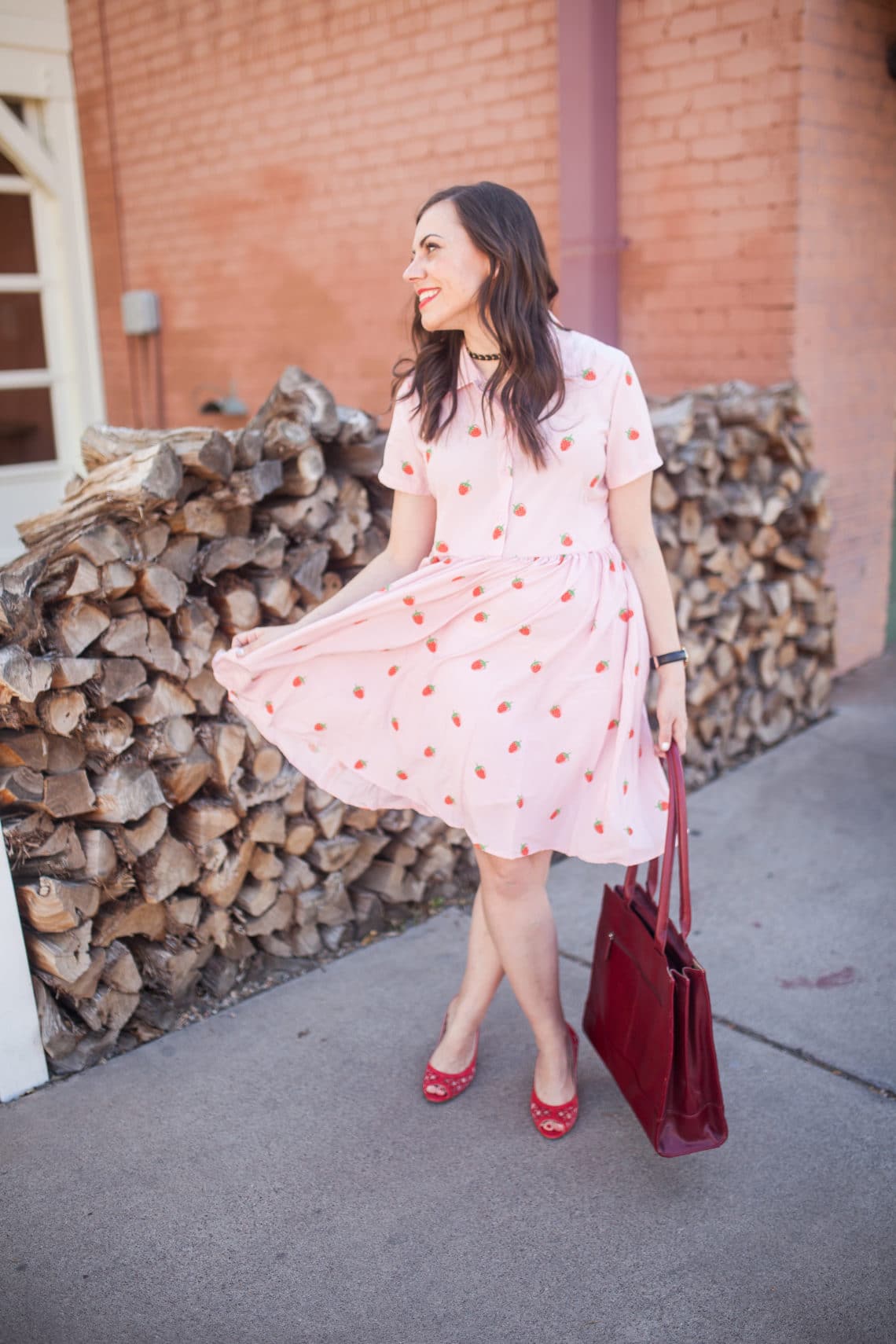 A shirt dress is a good choice for a casual first date. It's comfortable, chic, and can be dressed up or down with the right accessories. Pair it with white sneakers for a casual daytime coffee date or with high heels for an evening outing.
Plus, you can go more formal and fitted or grab a textured casual shirt dress for casual dates. Either way, it's a very classy look and helps you make great first impressions effortlessly! It's one of those classy first-date outfits that work for almost any occasion!
15. Red Lipstick
Queue Taylor Swift singing "I got that red lip classic thing that you like!" Okay, not everyone loves the red lip, but for many, it's the perfect look to exude a little confidence!
Red lipstick is a classic way to add a pop of color to your outfit. It can give a simple outfit a bold touch. I mean think of channeling your inner T. Swift and wear an oversized white button-down top with jeans or black pants. You're set with something so chic and classic that truly never goes out of style!
I know many people love to wear it for a blind date and let their date know they'll be in a red lipstick so they're easy to spot. I think that's brilliant!
Remember to keep the rest of your makeup neutral to avoid overpowering your look. And remember to go forth with confidence when you rock this look!
16. Maxi Dress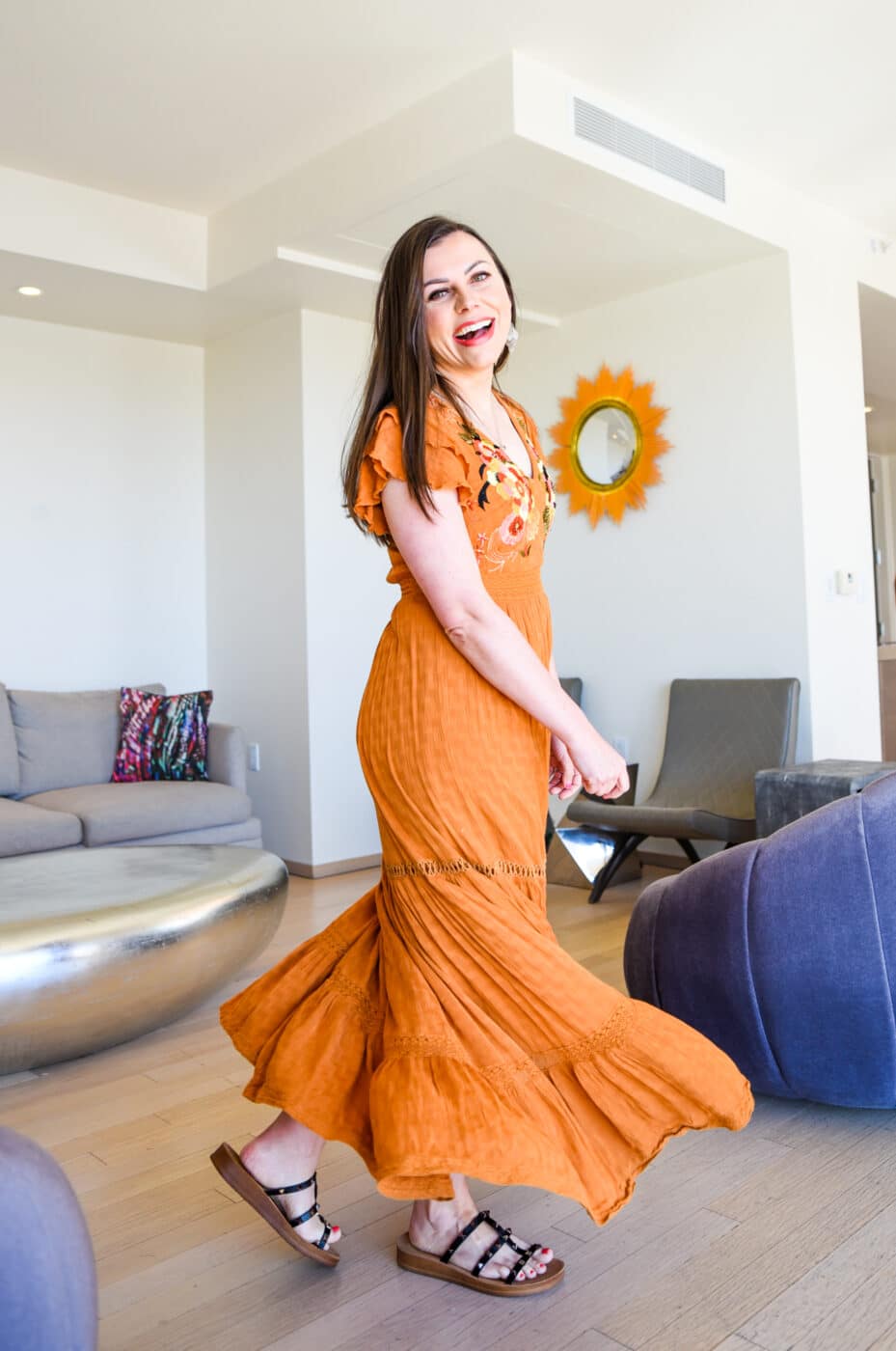 A maxi dress is a comfortable and chic option for a first date. It's perfect for an outdoor date or a casual dinner. Choose one in a solid color or a subtle print to keep the look classy.
But you can go with almost any print or design paired with a blazer for a super classy look! I love to find a fitted maxi dress or pair one with a belt to add a little shape. A long cardigan or oversized blazer looks effortlessly cool with a maxi dress!
Add a should bag and you are ready for anything with a fun look!
I borrow this fantastic maxi dress from a Nuuly rental. And you can find similar great dresses from Anthropologie, Nordstrom Rack, and at Target.
17. Black Jeans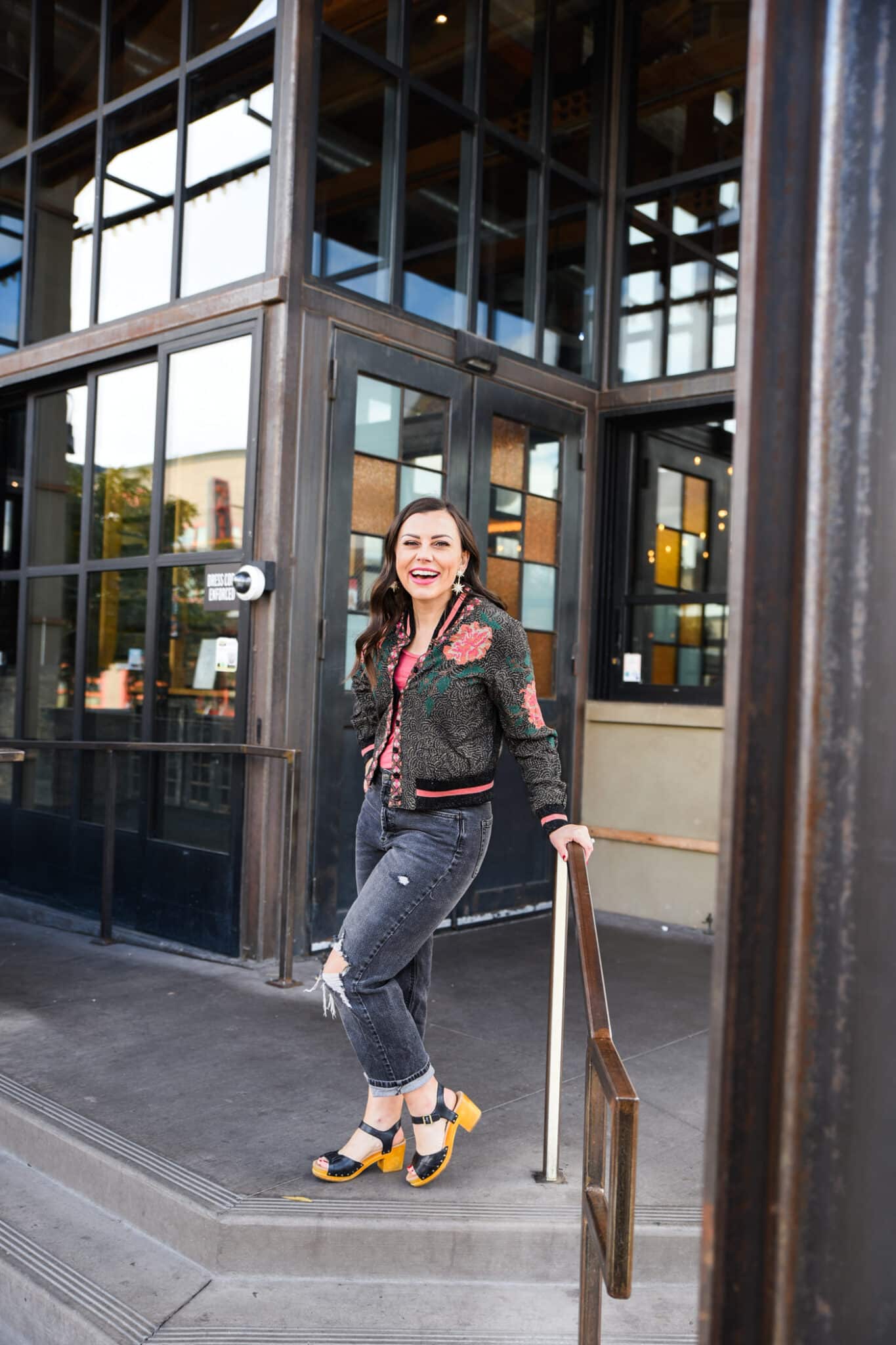 Black jeans are a great option for a casual first date. They are versatile and can be dressed up with a nice top and high heels or dressed down with a graphic t-shirt and white sneakers. Plus, they are comfortable, which is important when you're meeting someone for the first time.
Find a pair in your favorite cut and have fun playing with different looks! I can't even tell you the number of dates I've worn my black crop jeans to, or these fun and cheap distressed jeans– there are just endless outfit options!
18. Short Dress and Boots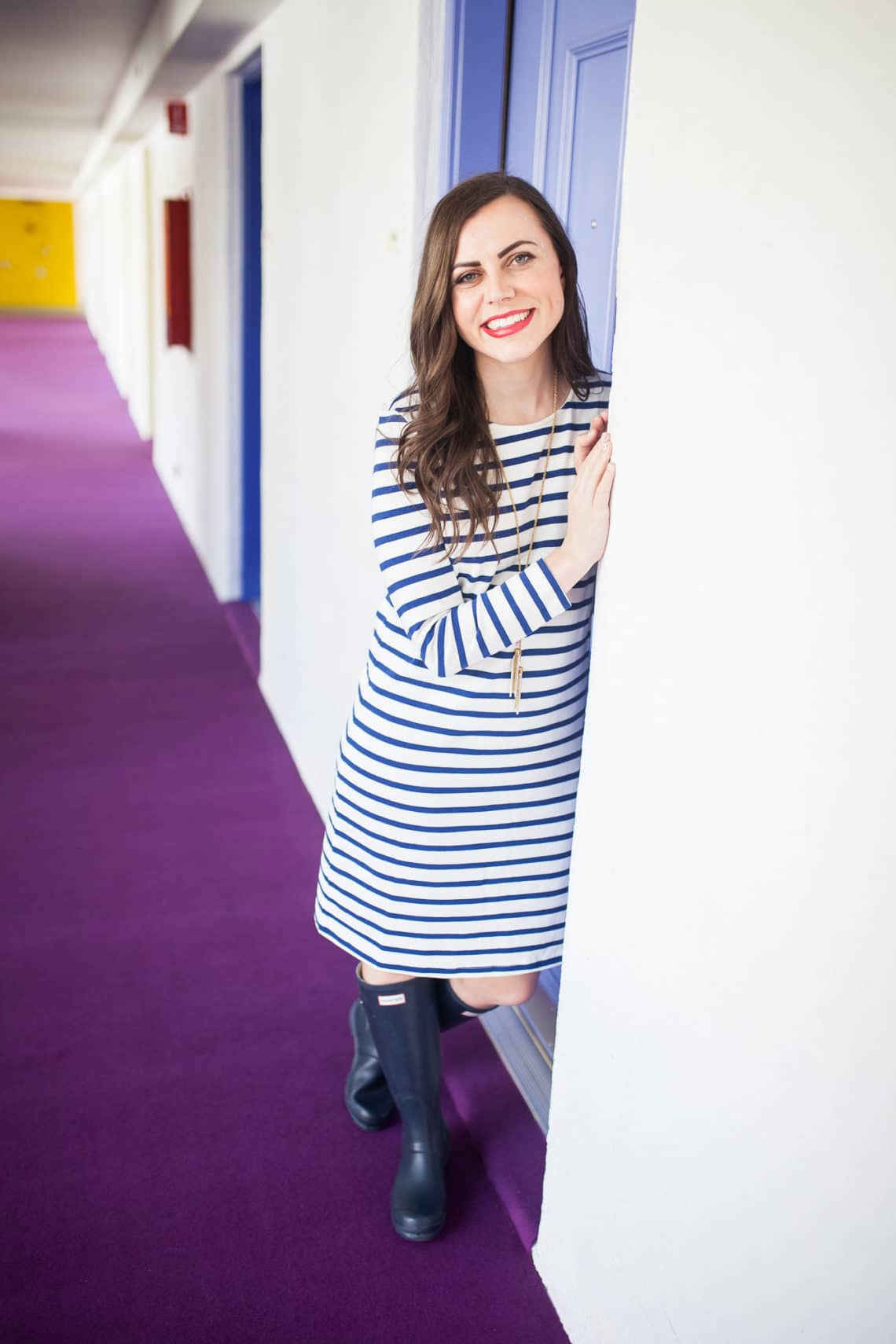 Find a great going-out dress you look and feel fantastic in! This can go to your knees with knee-length boots or a shorter dress with over-the-knee boots. Feel free to play with lengths, but it's usually a good idea to show an inch or two of skin between the skirt and boot for a more flattering look. In colder months, this look pairs fantastic with a sweater and tights, while the boots keep you warm.
It's such a classic silhouette with so many different decades and styles leaning into this look. Find one that speaks to you and helps you feel confident! It's a fantastic first-date or second-date outfit!
First Date Outfit FAQs
How do I choose a first-date outfit?
The best first date outfit depends on the location of the date and your personal style. However, a good rule of thumb is to wear something that makes you feel confident and comfortable. This could be a little black dress with high heels, a shirt dress with white sneakers, or jeans with a cute top.
How do I look classy on a first date?
To look classy on a first date, focus on simplicity and elegance. Choose outfits that are flattering to your body shape, comfortable, and reflect your personal style. Don't overdo it with accessories, and remember that sometimes less is more.
What colors should a woman wear on a first date?
When choosing the best color for your first date outfit, it's a good idea to consider your skin tone. Neutral colors like black, white, and beige are safe choices. However, don't be afraid to wear bold colors if it reflects your personality. Red, for example, is often associated with passion and can make a strong impression.
Should I dress up or go casual for a first date?
Whether you should dress up or go casual for a first date depends on the venue and what you're comfortable in. If you're meeting at a high-end restaurant, a dress or a nice top and skirt could be appropriate. However, if you're meeting for a coffee or a walk, a casual outfit like jeans and a cute top would be a great choice.
What should I avoid wearing on a first date?
The last thing you want to do is send the wrong message on a first date, so many adhere to the guideline that it's a good idea to avoid outfits that are too revealing or too casual. Also, avoid wearing new shoes or clothes for the first time on a date that may be uncomfortable.
You got this!
Choosing the perfect outfit for a first date can feel overwhelming, but remember the most important thing is to feel comfortable and confident. We want you to feel your best so you can put your best foot forward to rock your date night!
Your outfit should reflect your personal style and make you feel like your best self. Whatever you choose, we know you'll make a great first impression. We know whether your date takes you where you want to go or not, at least your outfit will! Happy dating!
Need some great date ideas to go with your first date outfit? Be sure to check out these posts:
Get 365 Date Ideas!
We want to help you have the best date nights ever! Grab this FREE printable with 365 date ideas, a date for every day of the year so you never run out of ideas!