Christmas Church Outfit Ideas
A roundup of great Christmas church outfit ideas to help you get dressed and ready for holiday services so you look and feel your best!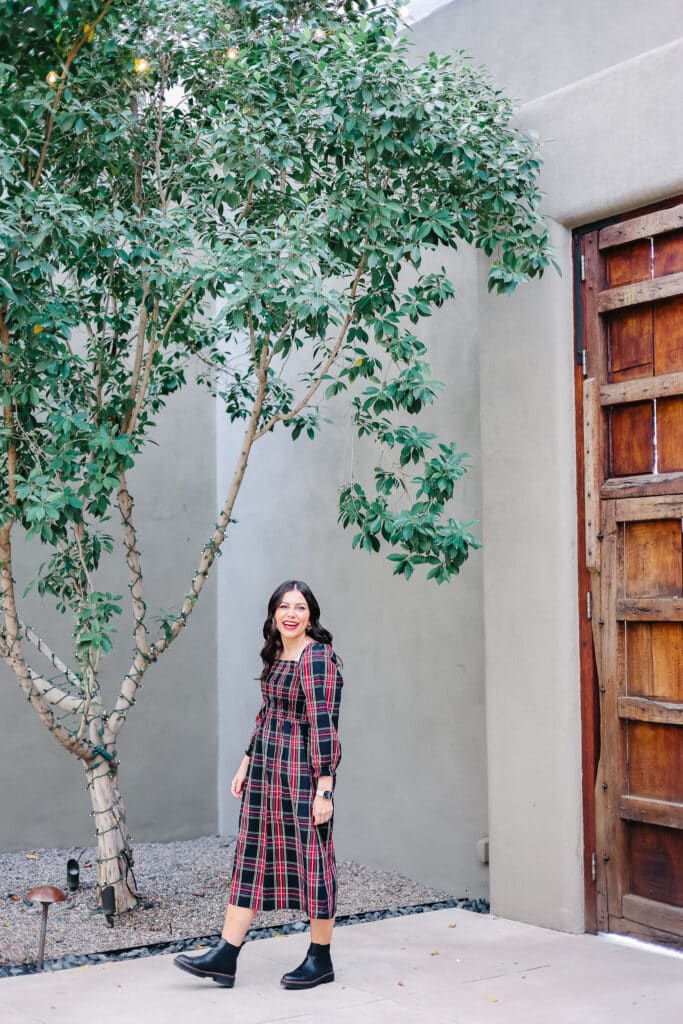 Christmas falls on a Sunday this year, and next year, Christmas Eve will fall on a Sunday. For many people, that means They'll spend part of Christmas day at a church. And for many people, some festive looks for church outfits that still feel church-appropriate and holiday-season-ready are in order! So if you're wondering what to wear to church for Christmas, we have several Christmas church outfit ideas to help you get some inspiration for Christmas church outfits to rock this holiday season!
Let me start by saying I truly believe the church, and whom you worship are happy to see you at church. So don't over-stress the Christmas church outfit too much!
Check out the church dress code
If you haven't visited in a while, or you're visiting for the first time to see a holiday service, you can always check out the church dress code. Many don't have one and will just tell you to come as you are! However, when we visited the Vatican a few years ago, I found a sleeved outfit, no shorts, and longer-length dresses to be the dress code. Even though we didn't go for a Sunday service or Christmas mass, I'm glad I had a casual outfit with a long skirt maxi dress that fit the dress code and was respectful. It never hurts to double-check when you consider Christmas church outfit ideas in a new situation!
Check the Weather
I'm going to bet it's more likely than not going to tell you it's cold. Even in Phoenix, most people are wearing long sleeves, sweaters, and sports coats, and dressing warm with their holiday outfits for church. But I'd check to see if there will be snow or rain. Also, if you have any part of a service outside, you may want to prep for cold weather accordingly!
Festive Christmas Sunday Outfit Ideas
Tartan Plaid Dress
This is what I'm wearing this Christmas season! And J. Crew and J. Crew Factory always nail this plaid print with several dresses, skirts, and a tops with a festive flair. I've been rocking this dress with some festive heels or ankle boots for Christmas date nights that are a bit dressy. But I think it's one of the best church outfit ideas too!
My 90s kid is about to show really strong, but a red velvet dress was something my mom bought every year when I was a little girl for a cute outfit to wear to church in December. It's forever a classic option for not only kids but adults too!
Velvet has made a huge comeback with 90s fashion, and you can typically find it in different colors and even textures. It's a great choice and one you can dress up for a more formal look, or add a denim jacket and dress down. I've owned a classic textured print velvet dress for years, and it has worked so well for a fancy Christmas party outfit, made an appearance in a Christmas photo shoot, gone on many dates, and I've worn it for a New Year party too! You may be surprised how much wear a velvet dress can get with your Christmas plans! And of course, it's a great church outfit!
Once again a more formal choice is a lace dress, or a lacey skirt. This classic piece is usually easy to find around the holiday season and it pair well with so many cute Christmas outfits. I bought my red lacy dress years ago, and it still gets a lot of wear every year! This dress was surprisingly affordable, comes in a flattering A-line cut, and makes me feel festive in a bright color that pairs well with a classic fabric. Add some nude heels, simple ankle boots, knee boots, or booties. It's always a good option as a Christmas church outfit for those with business casual or more formal holiday service dress codes.
This is my go-to perfect outfit for Christmas services. When it's such a festive day, my favorite color feels extra appropriate! You can do a little red dress, but it's also easy to find classic red sweater dresses, a red shirtdress, warmer maxi dresses, or winter floral prints. And if you have a more formal service or you're a musical performer, red gowns are completely merited a great thing to wear while you participate in the program.
If you want a dress that will work all winter but still feels like you're joining in on the holiday spirit, opt for a green dress. This color is flattering on nearly everyone, and you can go deep evergreen to a lighter shade and still look great! If you want to be super festive, grab some red heels, or opt for a nude heel or more neutral shoe. But I think a green dress is a perfect way to get in the Christmas spirit and still have a classic colored dress you can wear long after the holiday season.
This classic outfit is actually one of the most perfect Christmas church outfit ideas! Black looks chic always, and little black dresses range from casual looks made out of knit or sweater, to fancy more formal attire. And you can honestly make either work as a base canvas to look great for church or a Christmas party!
I'd make it feel more festive with red accessories to add some color and contrast. Statement earrings or other pieces of jewelry that are sparkly, or scream Merry Christmas are also in order! I pull out my shiny Christmas Tree earrings with a classic dress and it just feels like a great time and look to include them!
If you want to dress it up to the next level, grab those formal accessories and wear heels. But if you want to dress it down, add a denim jacket or a faux fur vest for a more casual look.
You can also add a red belt for some color, or you can buy some velvet ribbon and tie it around your waist as a festive belt. It's a cheap hack to take a closet staple and add a little color or festive flair.
The ornaments don't need to be the only thing that shines! A little metallic shimmer in gold or silver is one of my favorite Christmas outfit ideas! Sure there are formal ball gowns, but you may be surprised how many business casual or classic pieces you can find that work great for some Christmas and New Year's cheer! I love to wear one when we go out on a nicer Christmas dinner date. But I've found some sequins or sparkly fabric is great for church too! And once again, if you're a performer in a program, I think this is a great time to add a little glam and go with some holiday sparkle!
And you can also do it minimally with a foil skirt!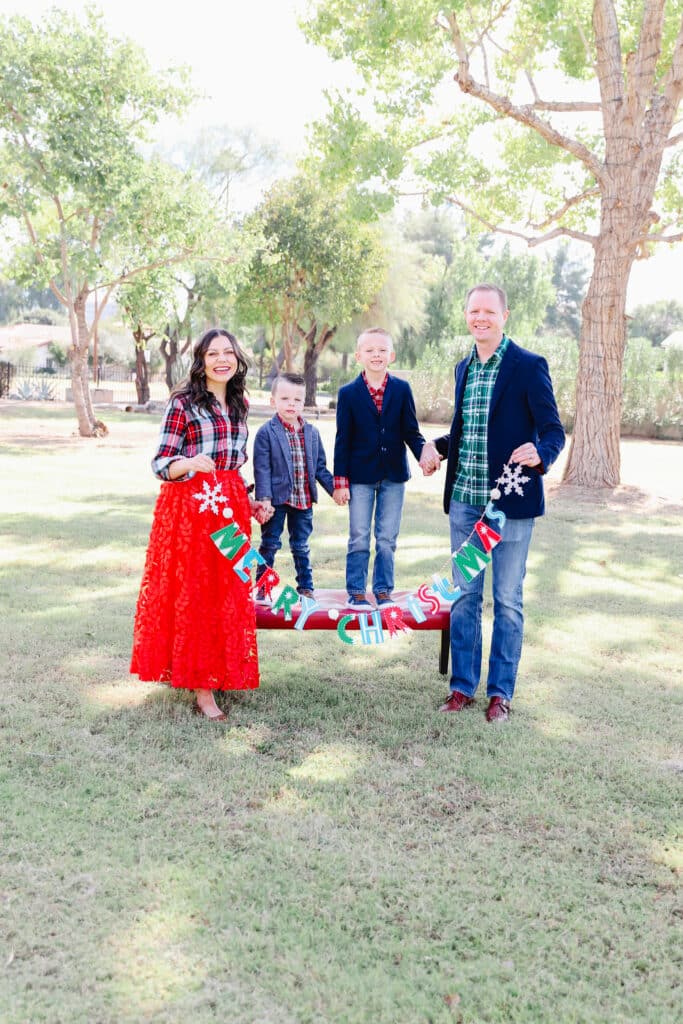 Two Piece Church Outfits for Christmas
Velvet Pants and a Dress Shirt or Sweater
Velvet pants are so fun, and if you want to go a little more formal without wearing a dress, I think velvet pants are such a good idea! Plus, how many excuses do you have to wear something so fun? And they're charting the latest trends watch this season and are easy to find!
Classic Skirt and Holiday sweater.
How cute is a pencil skirt or a midi skirt with a bow sweater? You can go with all the cozy vibes and still feel a little fancy for church with a fun festive sweater or top paired with a skirt you already own.
Vintage Skirt and Top
While we're pulling out all the vintage recipes and classic Christmas movies, look to some of the past decades for some style inspiration! I absolutely love Ralphie's mom's wardrobe in A Christmas Story! The classic skirt and blouse with a bow tie will forever make me think of Christmas! Plus, you can come up with some great outfit recipe ideas perfect for church attendance that still feel festive and like a fun nod to Christmas in a unique way!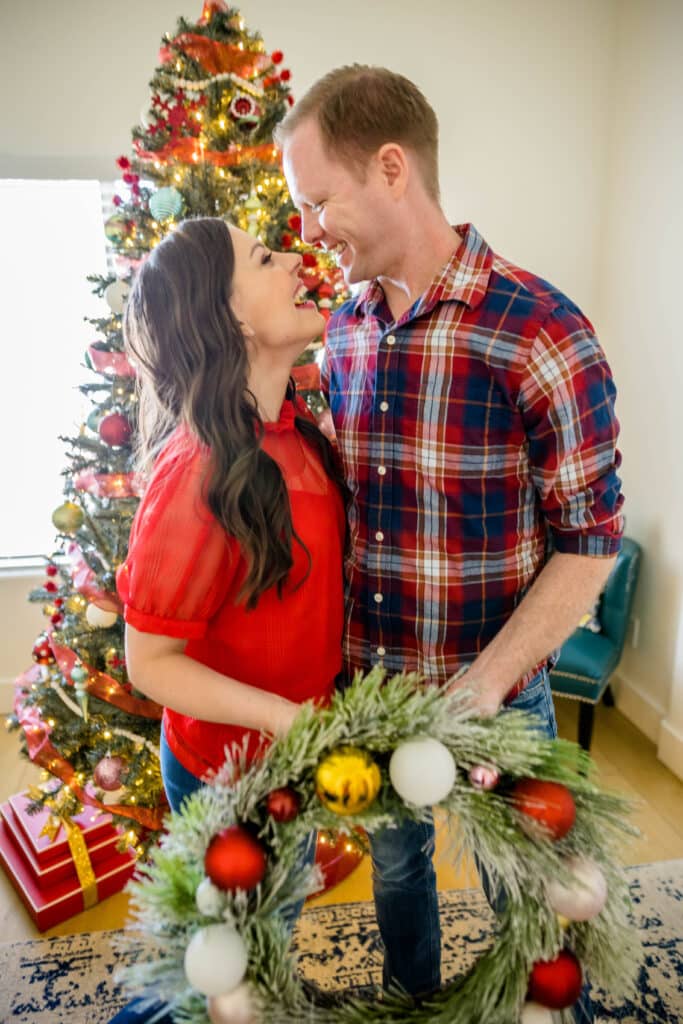 Casual Christmas Church Outfit Ideas
I'm a sucker for dressing up a little for church, but I know so many churches are more casual and blue jeans fit the dress code just fine! The good news is churches are usually happy to welcome you just as you are, and if you're looking for a great Christmas outfit for a casual dress code, here are some outfit recipes that work really well.
Jeans and a Nice Sweater
You can never go wrong with a sweater you love and feel great in! Bonus points if it's red, green, or white or cream. But any sweater you love and feel great in works well!
Jeans and a Festive Blouse or Top
I love grabbing a great date night shirt to pair with jeans year-round. They always make me feel my best when we're out enjoying one of our favorite cute date ideas! The same applies to Christmas church outfits: find a great shirt and let it do the talking! LOFT is one of my favorite places to find them! I love to search for a great red blouse, something with fun details, or a sparkly shirt that just feels perfect for the holidays. It's a great way to dress up just a little while still staying casual.
(P)leather Leggings with an Oversized Blouse
I invested in a pair of Spanx pleather leggings years ago for my Gamora costume, and I could not believe how much I wore them for holiday looks right after the Halloween costume season! They look just dressy enough while still feeling like pajamas. They go great with an oversized blouse or sweater. Plus, they keep you warm on a chilly day or night!
Flannel Shirt and Vest with Skinny Jeans and Knee Boots
This is known as the classic Millennial winter look, but it's still one that works so well for the holidays! Tuck those leggings or skinny jeans into boots, and add a fun flannel with a vest to dress it up. It's easy to find one fun top or vest or a little inspiration, and build this cozy look around it.
Christmas Jumpers / Overalls with a White Blouse
I've fallen in love with Cider clothing recently, and they make the cutest overalls for women! They call them jumpers, as many do, so we'll use them interchangeably. They make a fun corduroy in various colors that feel festive and fun. But I love their plaid tweed-looking overalls that just feel a little bit dressy while still being casual and cute. I'd wear a cream turtleneck or a white blouse to dress these up and feel a little more grown-up.
Grab a pair of red or green colored denim pants and let them shine! A classic blouse, pretty black top, or solid sweater pair so well with this fun style.
Good Reminders
The good news with a casual look is you're ready for a house party, most family members can easily get on board, and they're typically the dress code for Christmas Eve Outfits at Christmas Eve mass or other December 24th services. Our congregation also does a Christmas party at the church sometime during December, and it's always casual dress.
Whatever you choose to wear, don't forget to snap a few Christmas photos of you and your significant other or family to document the outfits! People may roll their eyes, but there's no better way to document getting a little festive, and it's something you'll cherish! If you need a few ideas, check out our Christmas couple picture ideas for a little inspiration!
Like this post? Be sure to check out these too:
Couples Ugly Christmas Sweaters
Couple Matching Christmas Pajamas
Christmas Activities for Families with Free Printable
Christmas Pictionary Game with Free Printable
Get 365 Date Ideas!
We want to help you have the best date nights ever! Grab this FREE printable with 365 date ideas, a date for every day of the year so you never run out of ideas!