Couple's Ugly Christmas Sweaters: Ideas + Roundup
A roundup of fun Couple's ugly Christmas sweaters plus fun ideas to enjoy this modern Christmas tradition!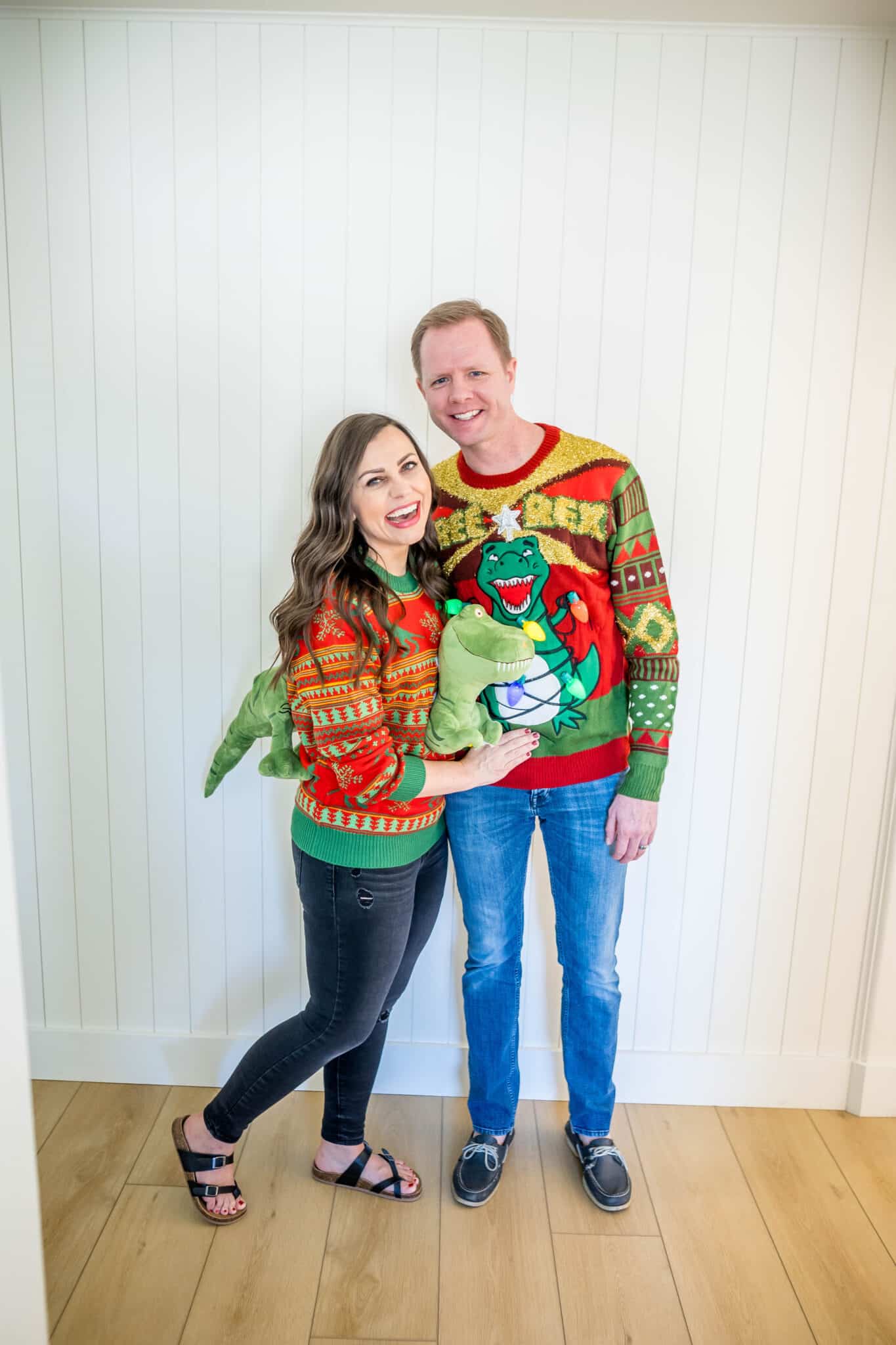 When we were newlyweds, parties themed around couples' ugly Christmas sweaters were all the rage! In fact, we hosted an ugly sweater party with a bunch of newlywed friends who had lived in our neighborhood. It was such a blast, but such a new concept, we had to create our own ugly Christmas sweaters and invent our own games and decor.
I'm pleased to say a decade later, ugly Christmas sweaters are here to stay and a modern Christmas tradition that just puts a smile on everyone's face! During the holiday season, these are so fun to wear! They're great the entire month of December, fun for Christmas day, work great for gatherings or a family Christmas dinner, and of course are excellent for an ugly Christmas sweater party.
So whether you're looking to host your own Christmas sweater party, or you're lucky to have an event to rock one to, we have a roundup of Couple's ugly Christmas sweaters to help you win the ugly Christmas sweater contests and look your (best?) ugliest!
Oh and if you need some Christmas sweater ideas for kids, be sure to check out our Ugly Christmas Sweaters for Kids post too!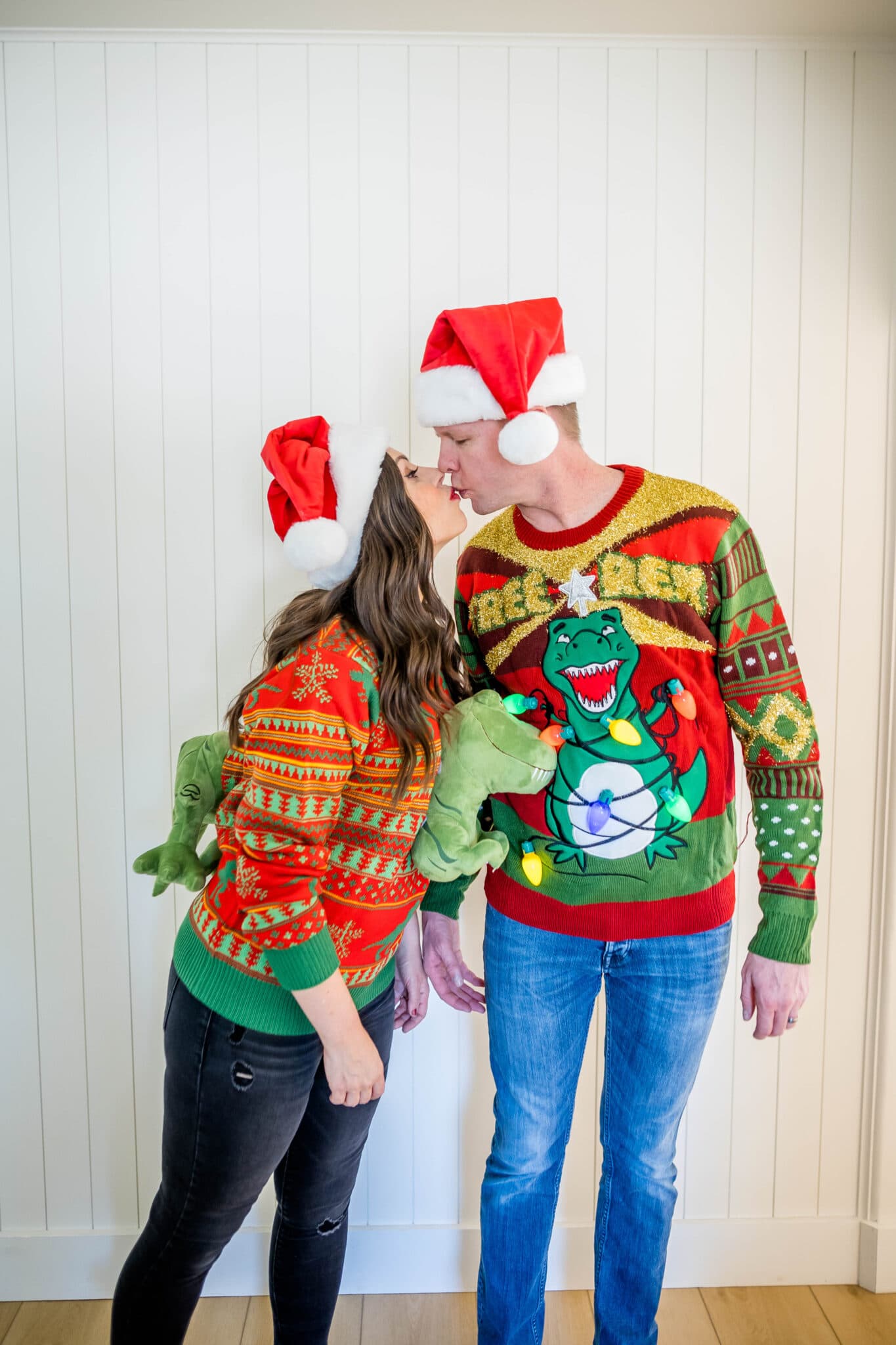 Funny Couples Christmas Sweaters
We're team come up with a theme and coordinate. You can certainly buy the same sweater and rock it! But sometimes the best Couple's ugly Christmas sweaters are those that complement or coordinate.
I will first share our favorite coordination! I love my 3D T-rex ugly Christmas sweater that has helped me win a prize in a contest at every ugly Christmas sweater party. The moment I saw this, I couldn't stop laughing! My husband was such a sweetheart and encouraged me to splurge a little on this ultimate funny Christmas sweater. If you're competitive about winning contests, it's a must-have!
He complimented me with a Tree Rex sweater that lights up. We found them both on Amazon, and you can grab links here:
T-Rex Light Up Holiday Sweater
As a bonus, we even added our children to our dinosaur ugly Christmas sweater theme.
If dinos aren't your jam, here are a few other funny Christmas sweaters perfect to wear with your husband, wife, boyfriend, or girlfriend to a holiday gathering!
Christmas Character Sweaters
Santa Themed Ugly Christmas sweaters
Snowman and Snow-woman sweaters
Reindeer
I mean who doesn't want a giant reindeer head plastered across their chest? This women's lights up, and the men's has "moving eyes" or a lit fireplace- that work with an app on your smartphone for the coolest effect!
Elves
Tacky Christmas Sweaters
I admit these aren't really my jam, but I know they are for many couples who have a better sense of humor. If you want a tacky Christmas sweater for an adult party, these should get you festive spirits quickly.
Naughty List Sweaters
Deer in the Headlights Sweatshirts
Adult humor for couple's parties (like the use of the word ho creatively)
Christmas Movie Ugly Sweater Idea
Character shirts aren't just for Disneyland! There are so many fun ugly holiday sweaters with a Christmas movie theme. They're an easy way to connect to another guest you may not know at a party, and they usually merit a good laugh!
How funny are these sweaters?
The Leg lamp from A Christmas Story
National Lampoon's Christmas Vacation quotes

The Claymation Classic Characters
DIY Ugly Christmas Sweater Ideas
Our first year we decided to rock the ugliest Christmas sweater with all kind of random craft supplies and dollar-store items included! Even if you aren't too crafty, you can do this!
Start with a thrifted sweater (I'd machine wash it first). You can also do sweatshirts if cotton or a flat surface is more your jam!
Get that glue gun fired up! Here are some fun ideas to get those creative DIY juices flowing.
Pom Poms
Battery powered lights
Tinsel
Garland
Small ornaments
Felt cut out Christmas Tree
Felt cut out as Santa
Cotton balls to glue onto a beard or tree
Jingle bells
From there just have fun! It's meant to be ugly, so attach them any place you'd like.
Enjoy the ugly Christmas sweater season! And we hope this helps you find some great couple's ugly Christmas sweaters to celebrate the season!
Like this Post? Be sure to check out these posts too!
Best Family Christmas Movies + Christmas Movie List Printable
Date Night Stocking Stuffer Ideas
Get 365 Date Ideas!
We want to help you have the best date nights ever! Grab this FREE printable with 365 date ideas, a date for every day of the year so you never run out of ideas!