How to create a spooky basket for her with tons of ideas, tips, and trips to create a spooky basket for a girlfriend or wife (or maybe even yourself)!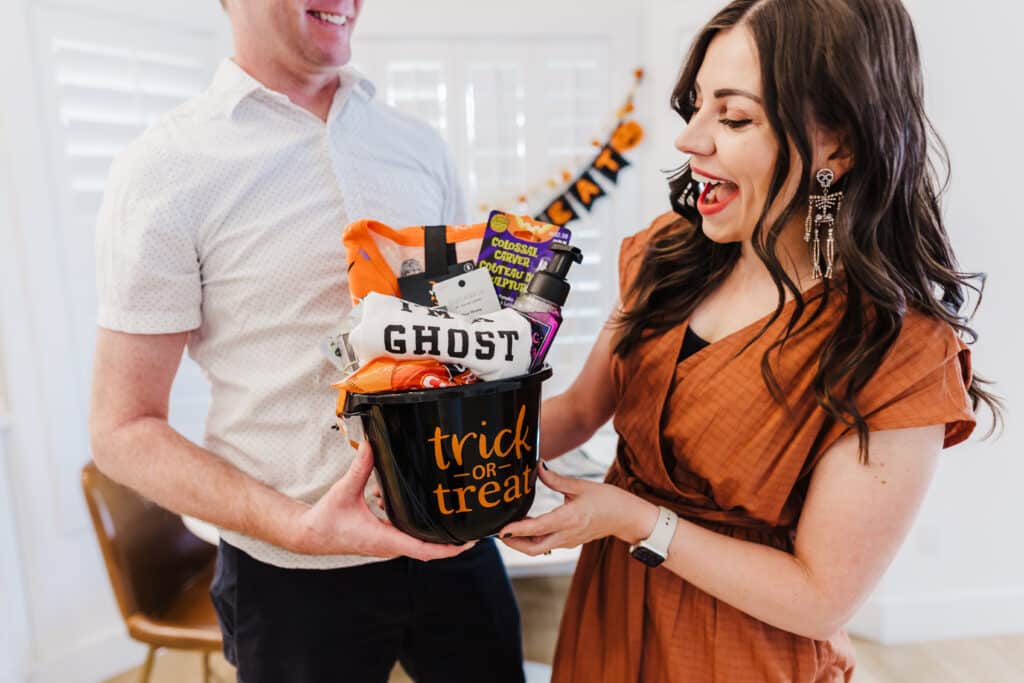 I've spent the last few days talking about what a spooky basket is, sharing a boo basket for kids, and sharing fun spooky basket for him ideas. But do you know who I really think deserves a spooky basket? Women who love Halloween!
So here's your sign to ask your significant other or be proactive and make a spooky basket for girlfriend/wife/the women in your life!
Or hey, go ahead and make your own spooky basket for her! You deserve some Halloween fun too!
What is a spooky basket? What can I put in a spooky basket?
A spooky basket is a fun mini gift basket with a few items to celebrate Halloween. It borrows the Easter basket concept and turns it into all things spooky and seasonal for October.
How do you make a cute spooky basket?
Start with a basket to place a few cute spooky gift basket items in. I think a trick-or-treat bucket or a candy pass-out bucket or pail is a great base! You can also use this as a great excuse to give a practical organizer like this woven basket.
Grab a few seasonal treats, fun items, and things she'll love with a Halloween theme and put it together in an easy DIY spooky basket for women!
Need some fun Halloween basket ideas? Here are a bunch of the best spooky basket ideas to pull off a boo-basket for her!
What to put in a spooky basket for her
Grab just a few of the following items for a great Halloween basket! Here are a bunch of items I think she'd love!
Seasonal Things to Wear

Fun Fall Items
A Halloween Date Night
I mean I may be biased as a date night blogger, but I think the best spooky basket ideas include gifting a date night! I mean most ladies would gladly skip all the Halloween parties and opt for a great Halloween date night planned for them! Get a ton of Halloween Date Ideas in this post. But here are a few fun items to include in a spooky basket for girlfriends/wives.
Pumpkin Carving Tools

The quintessential Halloween date night is a pumpkin carving date night. Set yourselves up for success with some pumpkin carving tools and pumpkin carving templates for a fun date night!



Movie Night

October is the perfect season for a Halloween movie night date! Whether you choose to watch the Nightmare on Elm Street or the Nightmare Before Christmas is completely up to you!
Grab some scary movies (or spooky movies) and candy. You're set to gift a Halloween theme movie night date. These are perfect for a girlfriend or boyfriend's spooky basket.



Blanket

You're going to need to snuggle up during those scary movies, so you might as well include a great snuggling blanket! It's even better if it's Halloween-themed or an orange blanket.



Popcorn Popper

We adore this silicone popcorn popper for easy, quick popcorn at home. It's inexpensive, and you'll love the fresh taste and ability to add butter without the extra cost at a movie theater! You may even want to gift the ingredients to our Halloween popcorn recipe to make before a movie night.


Check out this set that is so much fun to have for movie nights. Plus, Halloween movie night gets an upgrade with all the flavor varieties. It makes movie night feel even more special!



Haunted Fine Arts Performance

Snag tickets to a Halloween arts performance. We've enjoyed seeing a Halloween play together, costume party balls, and Halloween concerts- and those are just scratching the surface of great Halloween date offerings you could easily buy tickets to. And if you're a single lady reading this, or one who know you're making your own basket, go treat yourself to your own ticket!



Halloween Waffle Iron

Schedule a brunch date night and make some festive-shaped waffle irons. Look for a Halloween-themed waffle iron in the shape of a pumpkin, skulls, or spider webs! Gifting one sets you up for a great brunch date together.


If you have a loved one who loves pumpkin, I'd include the ability to create a pumpkin waffle brunch date in the future.



Halloween Cookie Mix

Buy a quick mix from the grocery store and enjoy a simple baking and/or decorating date night. We loved our zombie sugar cookies date!



A Starbucks Gift Card

Warning, it's about to get really basic up in here! But a pumpkin spice latte or vanilla bean frappuccino with pumpkin (for the non-coffee drinkers) are seasonal favorites with a cultic following for a reason. Plan a seasonal coffee shop date before the Christmas treats make an appearance!
Halloween Treats
Why leave all the buckets of trick-or-treat goodies to the kids? Find out the favorite Halloween candy of your significant other, and make a few purchases fit for a spooky basket for her.



Peanut Butter Cups Shaped Like Pumpkins

If you know, you know. Grab those extra peanut buttery goodness favorites! She will thank you later!



Candy Corn

I know this is controversial, but there are a lot of people who love candy corn. It makes a great filler for a basket!



Gourmet Seasonal Chocolate Bars

I love to look for salted caramel chocolate bars or gourmet Halloween-shaped chocolates. Tis' the season, and there are a lot of delicious flavors perfect for grown-up taste buds.
These are just a few fun ideas, there's really no wrong way to do it! Also, it only takes a few items to make a big impact! Choose what she'll like best and make it thoughtful for her.
How do you make a cute spooky basket?
Start by choosing a base. A trick-or-treat pail is always a good option. We also love using these soft baskets if we're gifting bigger items.
Gather your Halloween gift basket items.
Begin by arranging the taller items in the back. Grab the medium items to put in the middle, and the smaller for the front. Start adding each piece of your items to put in a spooky basket one at a time. Arrange them so you can see everything.
And even if you're making one for yourself, feel free to go all out and make it cute! Why not present yourself with a fun gift to enjoy all season?!
Photos: Chrissy Blake
Like this fun Halloween idea? Be sure to check out these posts too!
50 Fun Halloween Activities with FREE Printable!
Gifts Your Wife Really Wants: A Gift Guide for Her
Halloween Puppy Chow/Halloween Chex Mix Recipe