A roundup of Halloween Movie Night movies for family movie night or a not-too-scary Halloween movie date night.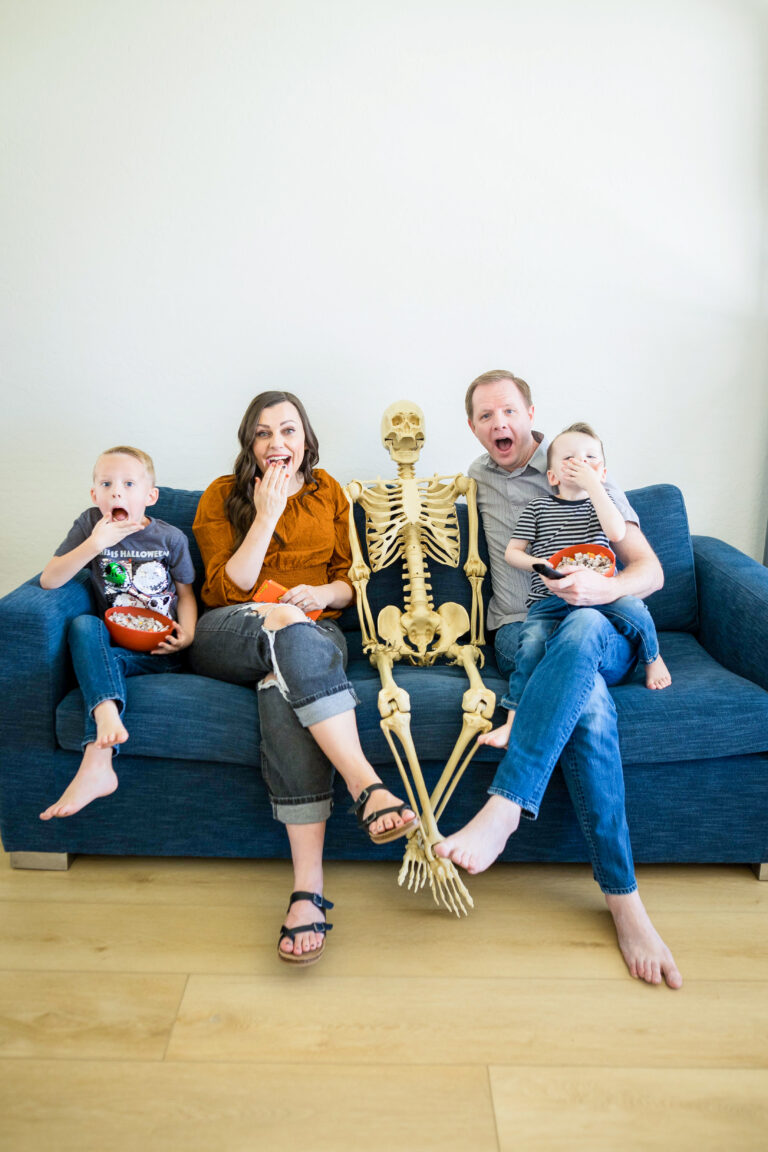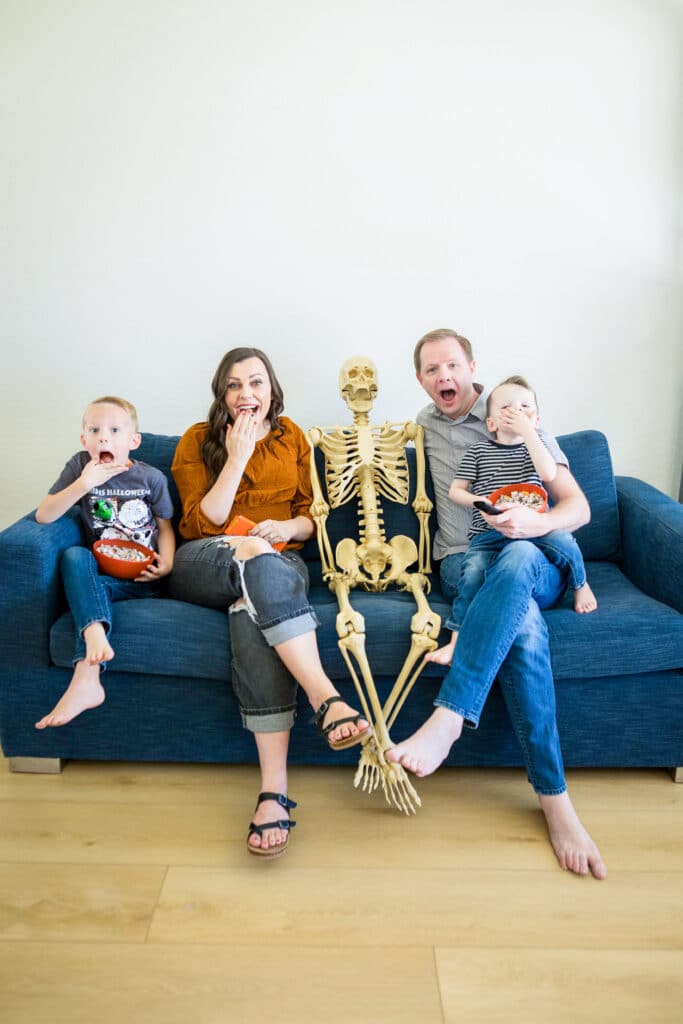 Halloween Movie Night
We love a good family movie night! We also love a good date night movie night. When you pair this with a Halloween obsession, it's inevitable a Halloween movie night (or several) is in the cards!
And let me also recommend, pairing this with some easy Halloween pizza too!
I'm not a huge fan of gory or overly graphic movies even for a date night. We've found so many fantastic movies we can enjoy as a family, and movies we love for a date night that bring on the creepy and thriller vibes without the gore. And they're movies you can find on Disney+ or rent on Prime video.
Here's a roundup of family-friendly Halloween movies plus some great not-too-scary date night movies to watch this Halloween season.
Disney Halloween Movies
Looking for Disney Halloween movies you can enjoy on Disney+? Here are some of the best Halloween Disney movies!
Hocus Pocus
This is a classic that people of all ages love for a good reason! The plot takes way in Salem where the Sanderson Sister Witches are released on Halloween night and must suck the youth from children to maintain their own and stay alive.
It sounds spooky, but it's equal parts silly, funny, and clever. It's a Disney movie too, but still PG with content you'll want to preview before young children watch it.
The Nightmare Before Christmas
Jack Skellington is the Pumpkin King in Halloween Town, but has grown weary of the same thing every year longing for more. He finds his way to Christmas Town, and is completely enchanted! He decides to kidnap Santa and take over Christmas, implementing his creepy Halloween scares and ways.
This is a great family movie, and kids of all ages love it!
Halloweentown
When a young girl reunites with her good-witch grandmother learns she is also a witch, she must help her grandmother save Halloweentown from evil forces.
The Muppet Haunted Mansion 
This new nod to The Haunted Mansion is so well done! It's a shorter movie with all your favorite Muppet characters and a lot of star cameos. It's cute and funny with a tiny spooky factor even little family members will love.
The Haunted Mansion 
Based on the Disney Parks ride, The Haunted Mansion movie is a spooky comedy following a real estate agent Jim Evers (Eddie Murphy) workaholic. On the way to a family vacation, they stop off at a sinister mansion that Jim has been asked to sell. They discovered it's haunted and servants need help breaking a curse.
Frankenweenie
When Victor loses his dog Sparky unexpectedly, he uses the powers of science and electricity to bring Sparky back to life. It's equal part cute and creepy, and very kid-friendly.
Coco
Miguel dreams of becoming a musician and ends up on a magical adventure on El Dia De Los Muertos to reunite his family and gain their blessing to follow his dreams.
Although not technically Halloween, it's perfect for The Day of Dead celebrations, and it's about the most heart-warming movie featuring skeletons the world will ever see.
Zombies
The very classic and traditional Seabrook High gets shaken up when students from Zombietown are integrated. This is a musical movie series younger kids adore!
Twitches
On their 21st birthday, twin sisters are reunited and discover their unusual powers are stronger together.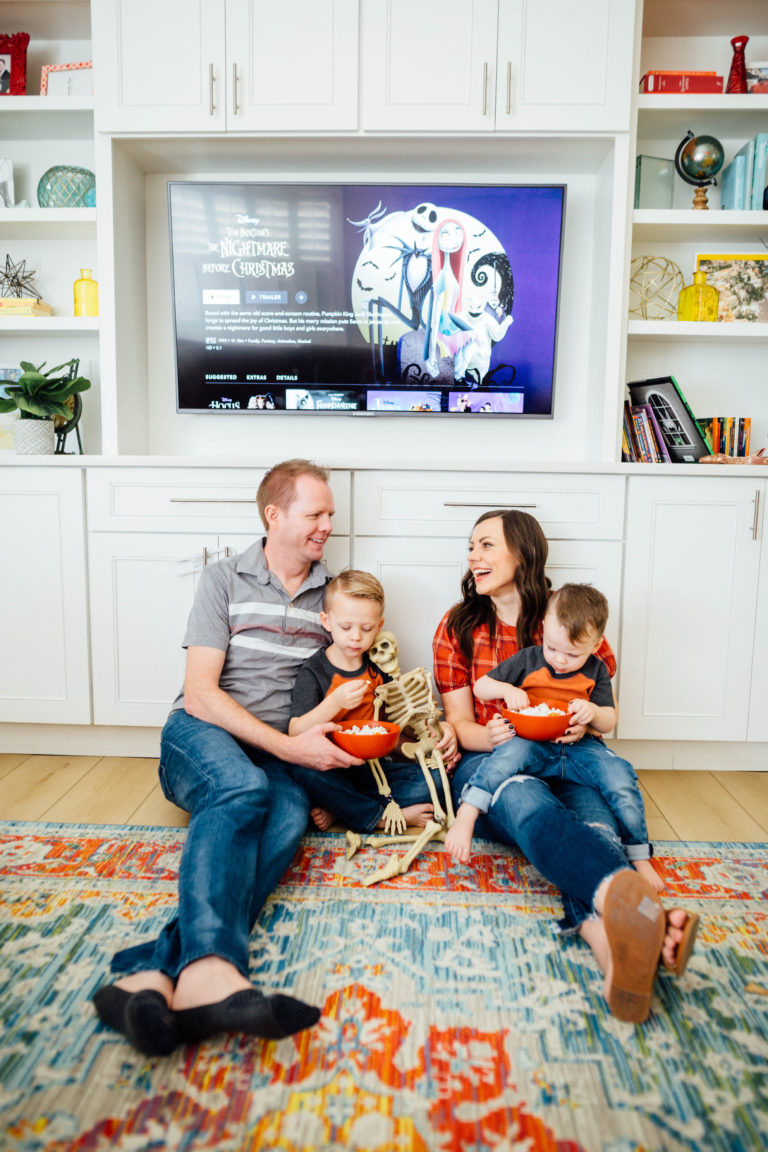 Halloween Movie List
For those who love a themed movie, but don't want anything too scary or gory, here's our Halloween movie list of movies that make a great Halloween date night!
Knives Out
This modern murder mystery thriller has about 10 seconds of gore and an entire thriller plot that will keep you on the edge of your seat! It's one of the best movies we've seen this year, and perfect for a little adrenaline rush!
Ghostbusters
As ghosts start to infiltrate New York City, a team of scientists decides to fight supernatural powers for money. This is a laugh-out-loud movie with enough ghosts and scares to make it fun Halloween movie night!
The Sixth Sense
This psychological thriller shares the story of a young boy who can communicate with the dead, and the psychologist who tries to help him.
Stardust
A romantic comedy with a plot surrounding witches who must capture a star who has manifest in human form. Lots of witchcraft and supernatural power meets enough of a creepy adventure plot mixed with romance and a happy ending.
Dial M For Murder
It's hard to go wrong with Hitchcock! His classic horror movies are creepy, well-written, and blend the thriller/horror genre without gore and violence.
Grace Kelley plays a socialite wife whose jealous husband uncovers an affair with a writer who decides to have her killed by a criminal. Nothing goes as plan, and it's equal parts suspenseful and clever with enough horror to make it fantastic for a Halloween movie night.
Rear Window
Another classic Hitchcock, and one that makes several "best films of all time" lists. In this thriller, Jimmy Stewart plays a professional photographer who breaks his leg and is confined to his New York apartment. He spends his time looking out his rear window and begins to suspect that a man across the courtyard may have murdered his wife.
Hubie's Halloween
This is classic Adam Sandler and his breed of humor. But it's original, delivers some 90's nostalgia, and made for a fun date night at home movie that wasn't too scary.
Harry Potter Series
Although it's fantastic any time, the Harry Potter series has enough mystery and thrill factors (plus dementors) to be fantastic for a little Halloween themed scare.
Pictures: Chrissy Blake
Like these Halloween movies for families? You may like these posts too
50 Halloween Activities for Families
150+ Halloween Costumes for Couples and Families
How to Make Family Movie Night a Tradition You'll All Love