Christmas Traditions for Couples
A huge list of hundreds of Christmas traditions for couples. Plan the best holiday season with these fun Christmas tradition ideas for couples!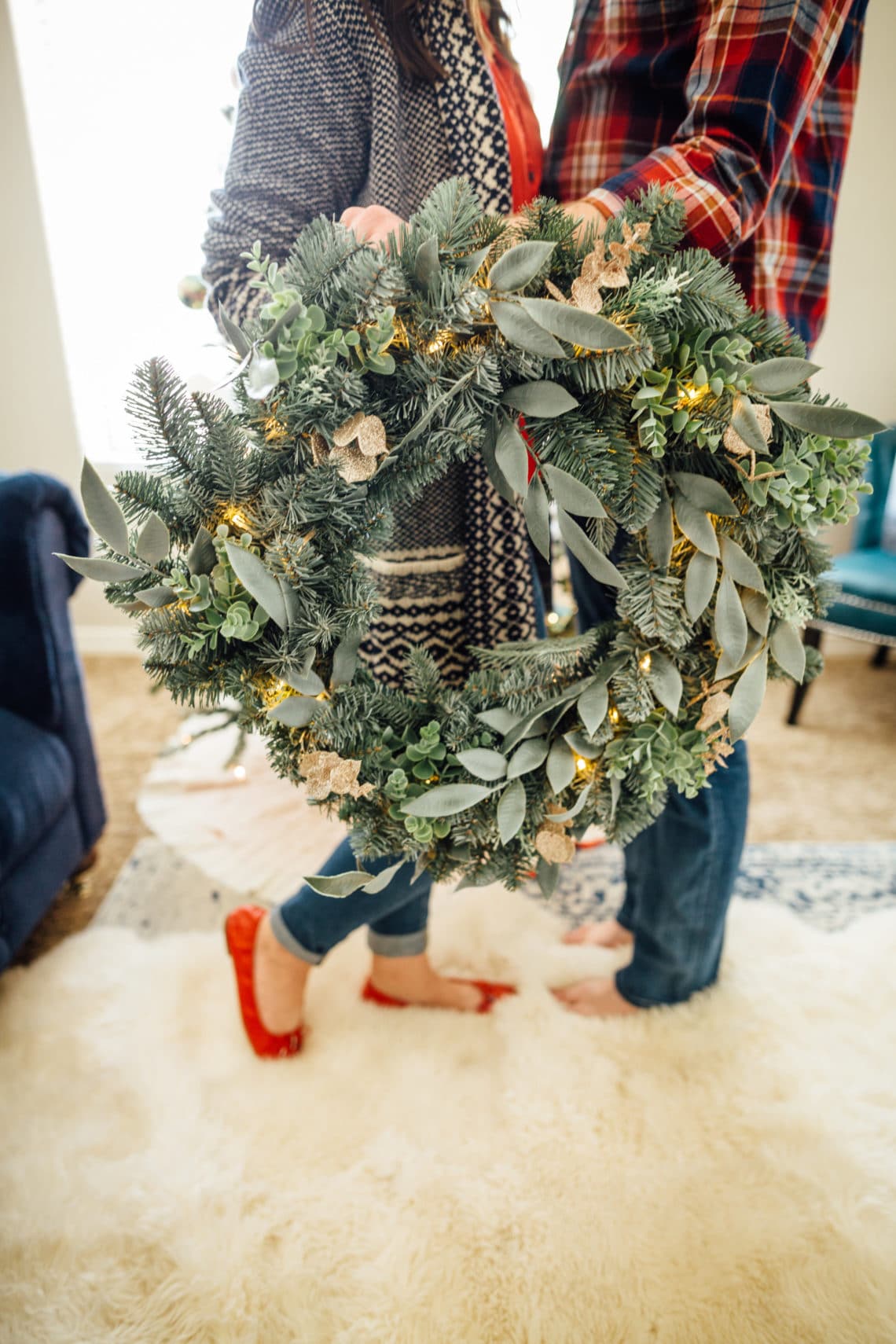 We've had an usual holiday season this year. My husband is consultant who travels often for work, but typically only for a day or two here and there. This Christmas, he's been gone almost the entire month traveling to finish up a deadline. While we've seen him on the weekends, it's felt like we've missed out on a lot of our time to celebrate Christmas together. It's left us spending every weekend focusing on our favorite holiday traditions.
I'm pleased to report he will be around this last week before Christmas, and there's even some PTO to catch up on all the holiday fun! We're setting on sights on our favorite Christmas traditions for couples. And while we're selecting our favorites, I figured we should share out list to help any other couples looking for some fun ways to spend time together or create their own Christmas traditions.

Christmas Tradition Ideas for Couples
We've rounded up hundreds of ideas to help you create your own Christmas traditions for couples!
Date Night Christmas Traditions

Plan a Christmas Date Night:
You know we have your back with 50 Christmas date ideas to choose from. Make sure to pick at least one. But truly, you could fit in several and have lots of magical holiday date nights together.
12 Dates of Christmas:
We've paired the classic 12 Days of Christmas song with date ideas to create the 12 Dates of Christmas you can do for 12 days (or less). There's a free printable and all the ideas to create the Couple's Christmas tradition.
Enjoy the Mistletoe:
I remember hating mistletoe while single. Now, it's something I adore for the excuse to kiss my husband. I love scheduling a few minutes or an evening excuse to enjoy the mistle together.
Have a Sleepover Under Your Tree
I love that so many families do this! But a sleepover next to or under the tree is completely appropriate for couples too!

Fun Christmas Ideas for Couples

Couple's Christmas Ornament:
Find an ornament that represents your year together. It can be somewhere you traveled, a fun experience, a new milestone, etc. Find one that fits your life and add it to your tree!
Matching Christmas Pajamas for Couples:
In our second year of marriage, Jacob thought it would be hilarious to buy matching Christmas union suits. It was hilarious, and I still cherish the pictures of those goofy couples onesie pajamas.
We've grown up a bit, and we love having a classic pair of Christmas pajamas for couples to wear. They can match or coordinate, but they make for a really fun tradition!
We have an entire post about matching Christmas pajamas with plenty of great options for couples!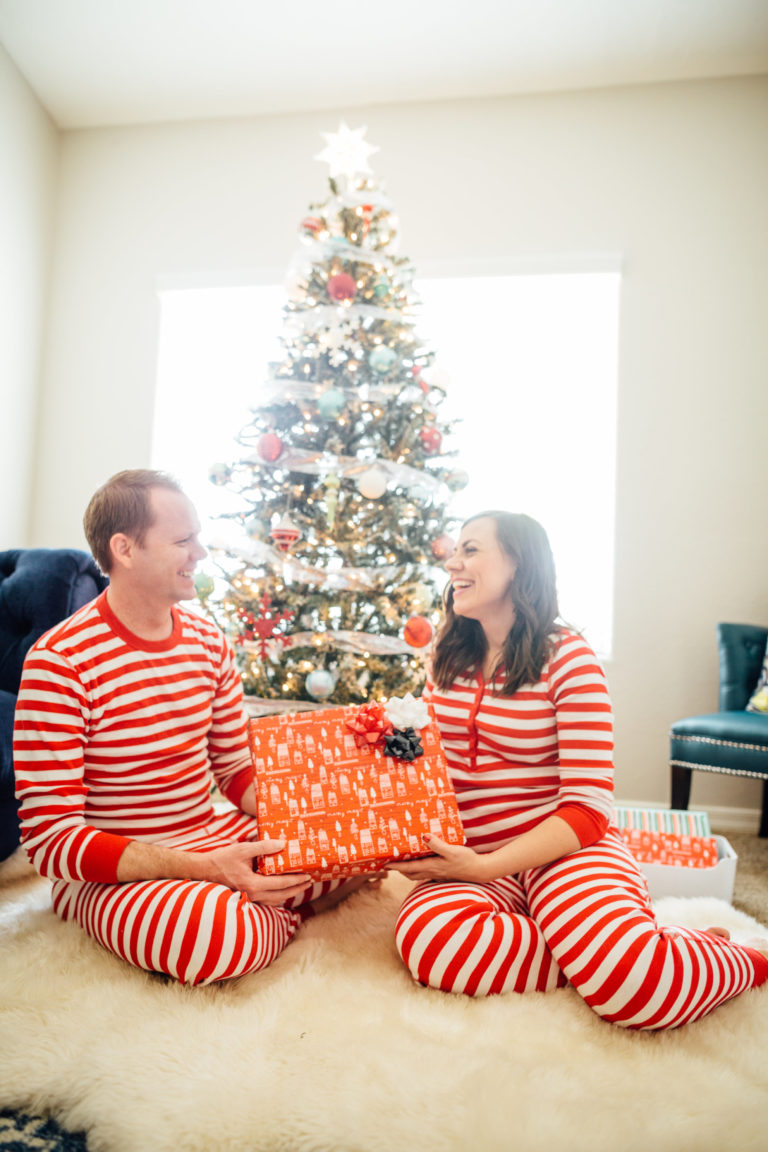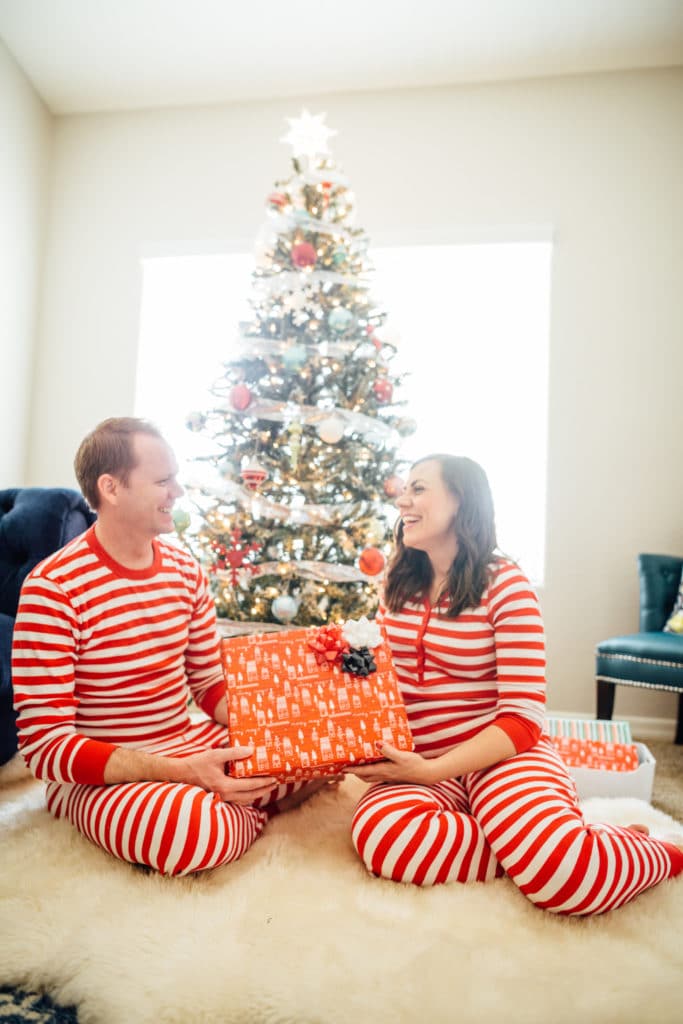 Couples Christmas Activities
Watch Your Favorite Christmas Movie:
There's always one or two that's even more fun to watch as a couple. We love The Holiday, and It's a Wonderful Life is a movie our kids aren't quite old enough for. Christmas movie nights are an easy and fun tradition!
See a Christmas Concert:
So many schools, churches, and community Christmas concerts happen this time of year. We may not be Catholic, but that doesn't mean a Christmas mass isn't a great tradition to enjoy! It's a great tradition to choose your favorite and make it happen every year.
Attend The Christmas Carol:
We make this happen about every-other-year, and it's just one of our favorite traditions! It always reminds us to cherish the now, be kind, and puts us in the Christmas spirit.
Social Christmas Traditions for Couples
Host a Christmas Party:
I love a house party with some holiday flair. No matter how busy our schedule is, we always make Christmas parties with near friends part of our tradition! Plus, so much is done with our children, these are lovely excuses for some adult time.
Have an Ugly Sweater Party:
We hosted an ugly sweater party for couples years ago, and these photos are still all over Pinterest! It's funny, it's easy, and everyone loves a good ugly sweater.
Plan a Gingerbread House Party:
We do this every year with our extended family, and it's so fun to see the adults enjoy their time! I have all the tips to plan an easy graham cracker gingerbread house party so it's one less thing to worry about!
Plan a New Year's Eve Mocktail Night
We've found December is so busy, until the night of the 26th! The week after Christmas is such a great time to host a party. Our New Year's Eve Mocktail Party was one of our favorites. Everyone who came raved how much they appreciated the invite! I'm glad we made it a couple's tradition for Christmas to include fun New Year's Eve plans.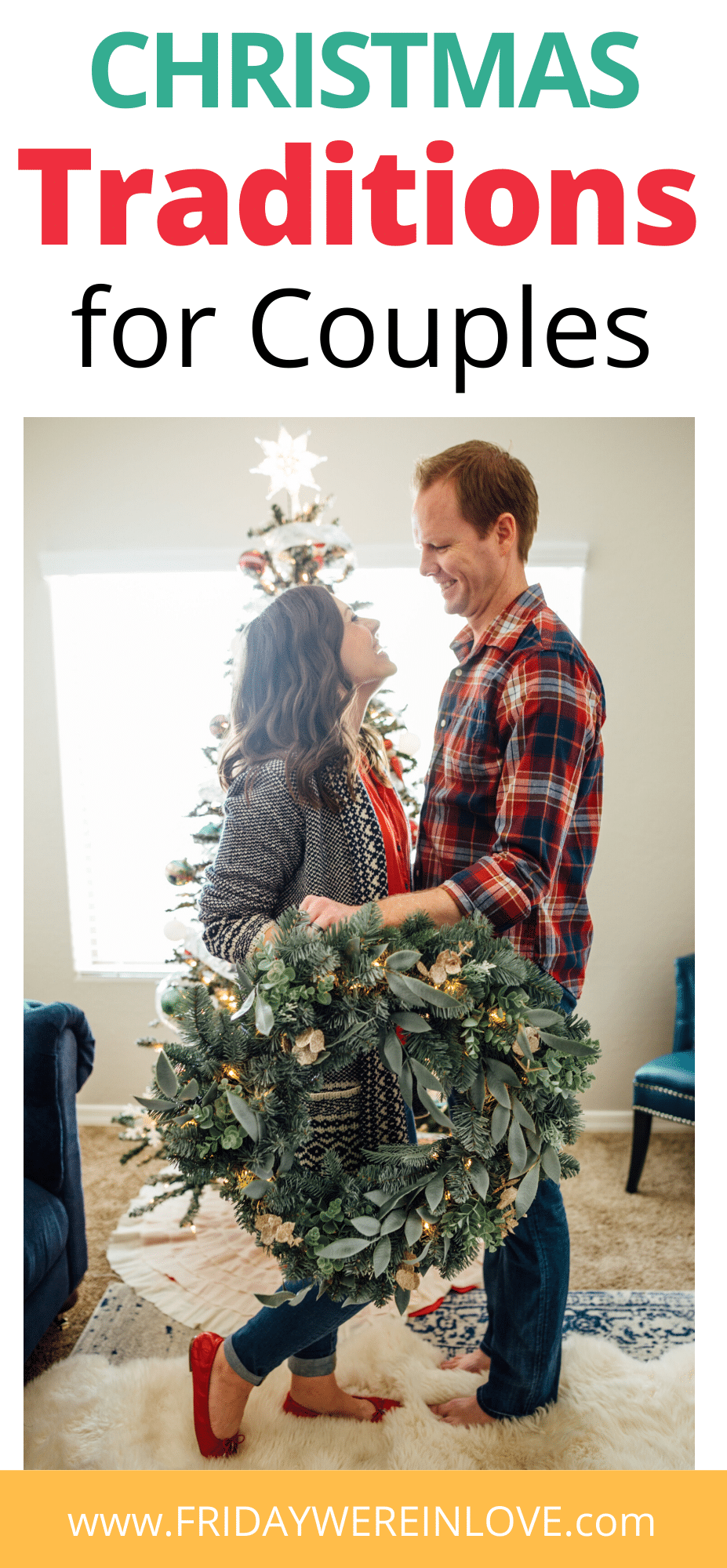 Christmas Traditions in the Kitchen
Grab a Cup of Hot Chocolate
It's a simple tradition that's easy to fit in on even the busiest of days! Plan a time to either go out and get a cup, or schedule a night in to make a some hot chocolate and enjoy it together.
Bake Sugar Cookies Together
We love the process of rolling out dough, baking cookies, and spending some time decorating. Check out our Christmas cookie post for our favorite sugar cookie recipe.
Plan a Christmas Menu
Even if you're spending the holidays with family, there's a good chance you'll be involved with a holiday dinner. Plan a Christmas menu for one of the meals of the day, and get organized and excited together.
Try a New Culinary Adventure to Serve on Christmas
I recently heard a celebrity chef recommend four classics at a holiday dinner and one new wildcard recipe. Plan to be the wildcard recipe and find something fun to make together!
Make Treats for Neighbors or Coworkers
We love assembling treats even on busy years. Sometimes it our favorite hand soap, and sometimes we spend all day baking goodies. Whatever your time and budget may be, it's a fun tradition to do together!
Make Your List, And Check Things Off Twice
Go Christmas Shopping Together
What can feel overwhelming is way more fun when you do it together! Brave the mall, search through Amazon, and divide and conquer to finish it together.
Let me add we've loved this Christmas tradition for couples even more since becoming parents! Choosing toys for our kids has been one of the most fun things we've done together!
Wrap Presents
It's a big task, and it never hurts to turn into a fun tradition to tackle together. We love including a Christmas movie or our favorite holiday playlist.
Divide and Conquer
One year, Jacob build a wall made out of a sheet to divide our room. It let us be close together while wrapping gifts for each other. It was hilarious, clever, and functional! Make present wrapping for each other a fun experience with a room divider and a time to share some conversation.


Christmas Service Traditions
Visit a Giving Machine and Make a Donation
Have you heard of giving machines? It can be as little as $5 or you can give hundreds. But these directly profit charities both local and abroad. 100% of the proceeds go to the charity!
Volunteer
Soup kitchens need extra help, nursing homes could use extra hands, and most churches organize drives for the needy. We've even turned it into a service group date for other couples to enjoy! Do some good together for a heart-warming Christmas tradition for couples.
Do a Random Act of Kindness
We have tons of Random Acts of Kindness Ideas in this post, but there are so many holiday RAOK to do too! Look for a neighbor in need and help them out. But someone's meal. Finish a deadline for an overwhelmed coworker. Small and simple spread a lot of holiday cheer!
photos: Chrissy Blake
Like these Christmas Traditions for Couples? Be sure to check out these posts too: