Random Acts of Kindness Date Night
Looking for random acts of kindness ideas? This random acts of kindness list includes lots of great ideas to help you spread some kindness in the world!
This shop has been compensated by Collective Bias, Inc. and its advertiser. But as always, all opinions are mine!

Date Info:
Random Acts of Kindness Date
Price: We spent about $30, but you could do this for only about $5!
Location: Anywhere! Get creative where you live!

I really love October-December because I feel like it's so easy to find holiday-themed dates. We never seem to fit in all the fun things we want to do together around this time! When it turns Thanksgiving season I find most our dates are cooking based or race-based, since running season hits full swing in Arizona.
This year we wanted to do something a little more thankful, and a little more service-oriented.
Random Acts of Kindness Ideas
I have always been inspired by my dear friend Chrissy from Let Me See You Sparkle, who does service and random acts of kindness (RAOK) as a way of life. Every couple of months something sweet and unexpected shows up in my mailbox from Chrissy. She is truly the most gracious, giving human alive and the world is a better place because of her! So, I decided one day I wanted to copy her and turn a RAOK event into a date night, and that's just what we did!
We came up with 10 things to do, and planned to take about 2-3 hours to do them.
But if you're looking for tons of RAK ideas, we have another post sharing 60 Random Acts of Kindness ideas you won't want to miss!
Random Acts of Kindness Ideas List
1. Leave a nice message on random cars- Have an "Extra" great day was left for the owner to find. Extra Gum we found to be a perfect item to leave for a few of our RAOK, so we decided to give Extra for a few items.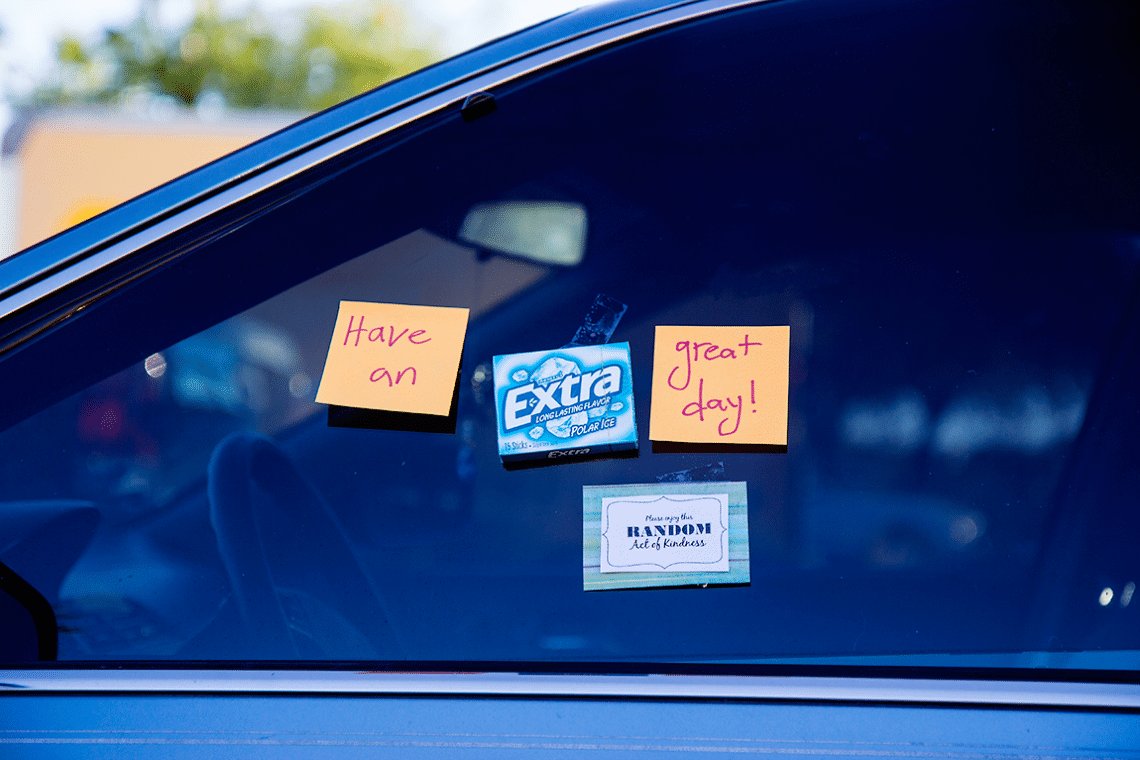 2. Pay for someone behind you at a drive-in.
3. Candy at the movie/Redbox "Here's some treats to enjoy with your movie!"
I got to watch the finder of this one, the lady looked around puzzled. Then, she smiled big, and put the candy in her purse. Mission accomplished!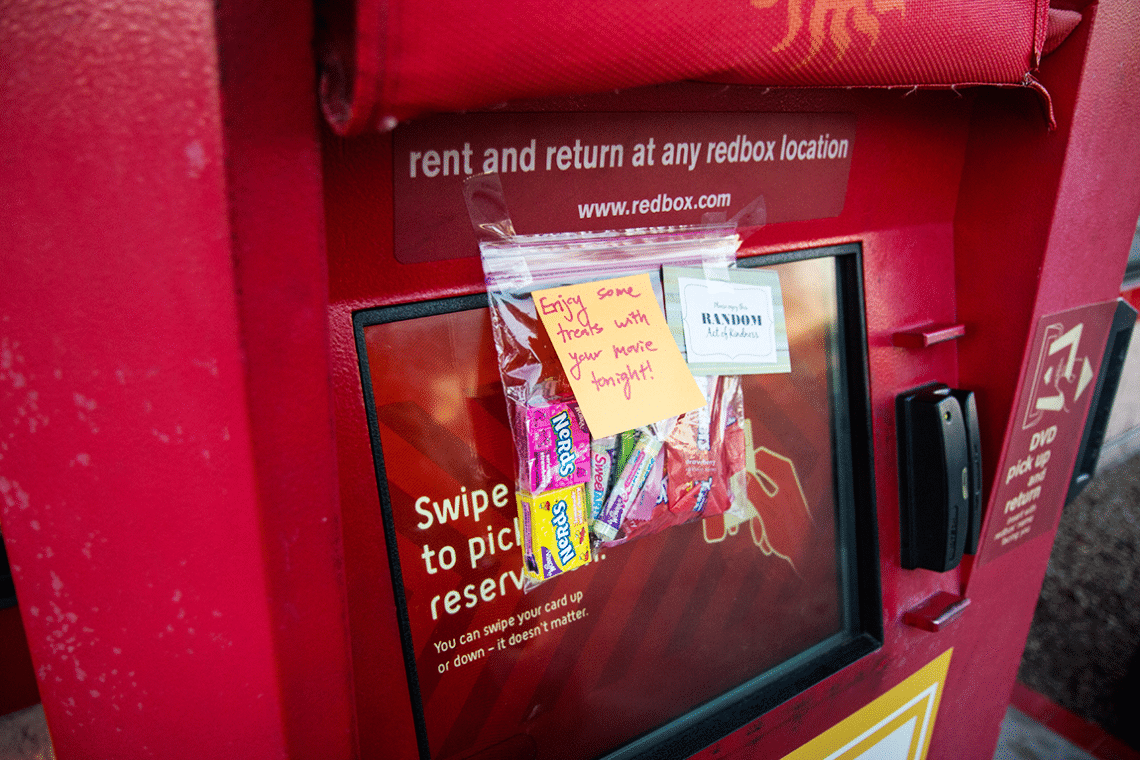 Acts of Kindness Ideas
4. A personal favorite. Start by finding a book you love at a bookstore. Then, leave a note with the cash to purchase the book for someone to find.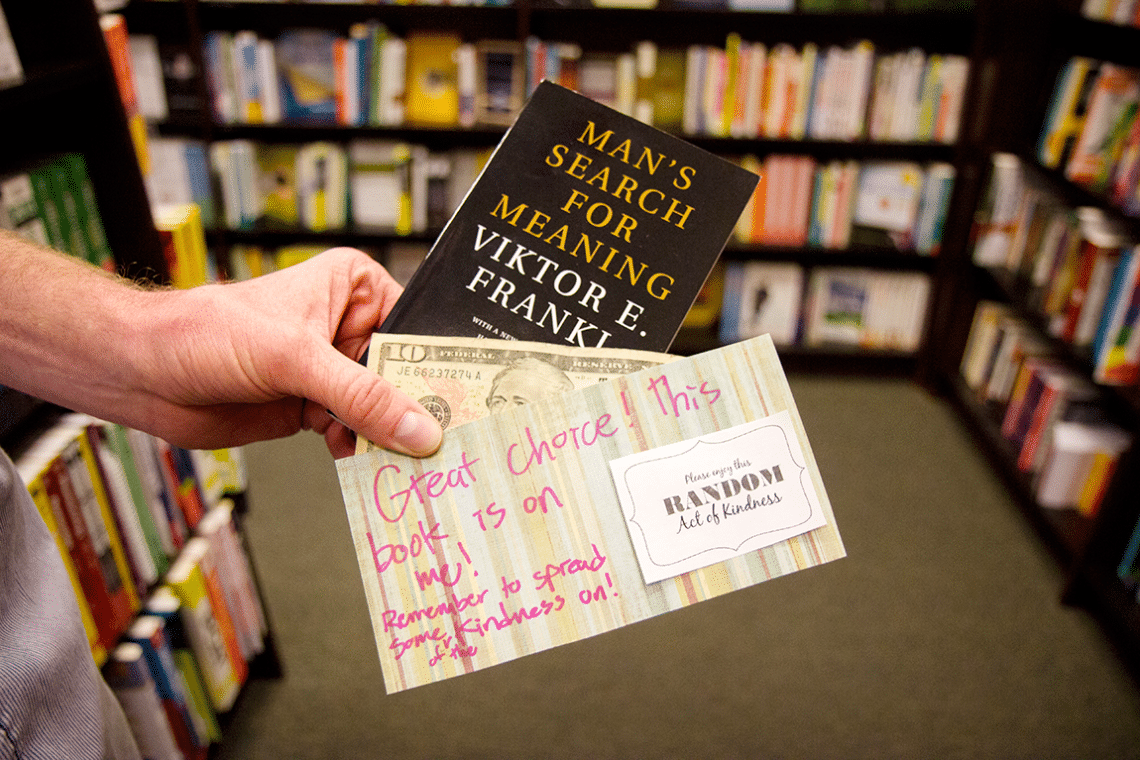 5. Find a fire truck parked at a restaurant or head to a fire station and leave a thank you note for the firefighters- "Thanks for the "Extra" long hours you put in- particularly on holidays!"
6. Head to a favorite dessert place and leave a gift card or cash and let someone know dessert is on you for the night. We adore the Sweet Tooth Fairy and stopped to get some cake bites to fuel our running around. We waited for the right moment to leave the note and gift card on the sign out front- "Tonight's treat is on us!"
Easy Random Acts of Kindness Ideas
7. Leave a dollar in the dollar bins at Target. I went to go look at nail polish and came back to find it gone. This one goes fast and I'm sure made that person smile! Also, you know there is always someone happy to buy one of the cute Target items.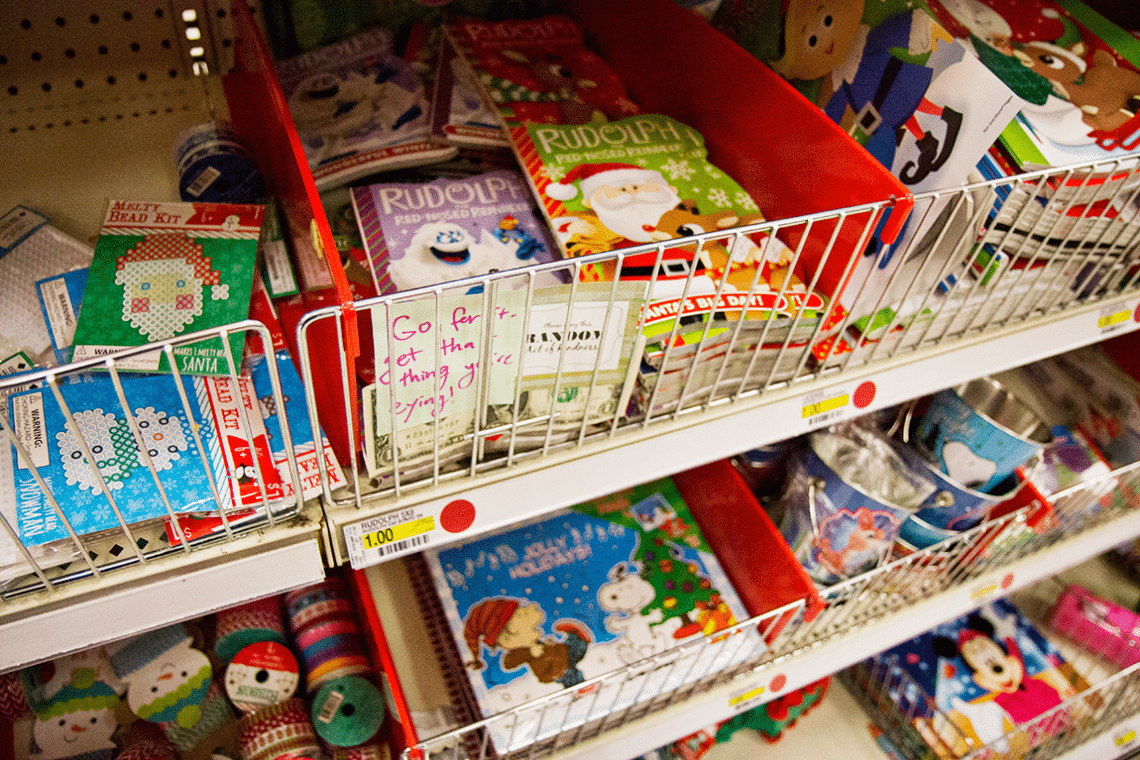 Giving Thanks Random Acts of Kindness Idea
8. Thank a Police Officer! They sure put in a lot of long hours and are mistreated by most of the public. We wanted to find some on duty to leave a note "Thanks for making our city "Extra" safe!"
This proved a little difficult! The first we found we were about to park by the car only to watch them come out of a building with a person in handcuffs. Can you imagine "Hey once you get that poor shoplifting teen in the back, can I give you something?" Yeah, just not a good idea.
Not Giving Up on RAOK
The next was a hospital, thinking there's always a car there. It took us a very long time to get to it due to a terrible rollover on the freeway. When we got there we realized- rollover- duh, this isn't a good time! They were all so busy and we didn't want to stop them.
We then found some parked eating dinner, only to head up to the car and notice the "K9 Unit" sign, with dogs barking at us. That wasn't going to work.
We gave one last attempt and headed to the movie theaters. We were thrilled to find a parked Sheriff's car with two deputies! Score! Notice the car in the picture below, I was seriously gearing up my bravery to approach them.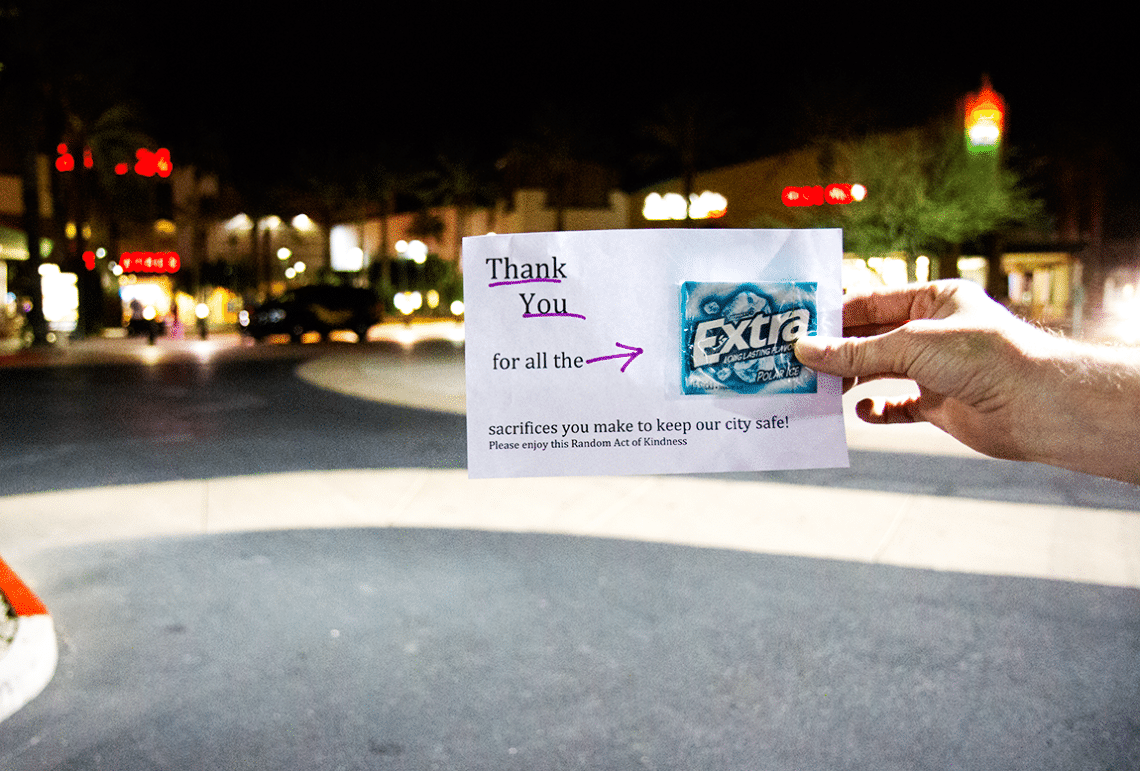 I was ready to walk up and hand them the note when they walked away to do a lap around the building. My heart raced and I hurried fast to set two notes on the car. So fast Jacob couldn't even get a non-blurry pic of my terrified self. The people around us looked at me like I was dropping something harmful and boy, the adrenaline rush!
But mission accomplished! I hope it made their night when they returned.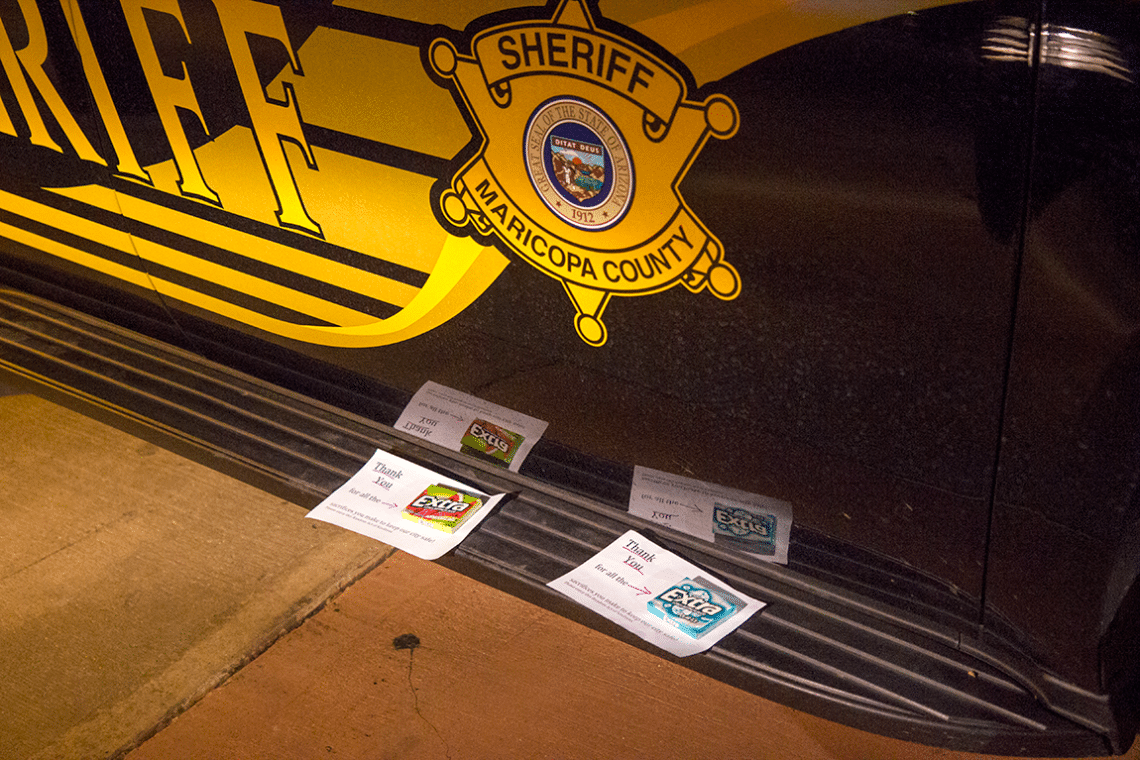 RAOK Ideas
9. Coins taped to candy machine are always a fun way to surprise kids!
As we walked away we caught a preteen finding these. At first I was like- no we went to a child's play place on purpose! Then I thought about it, what a rough time of life to be a preteen girl. You take that $1.25 and treat yourself to whatever!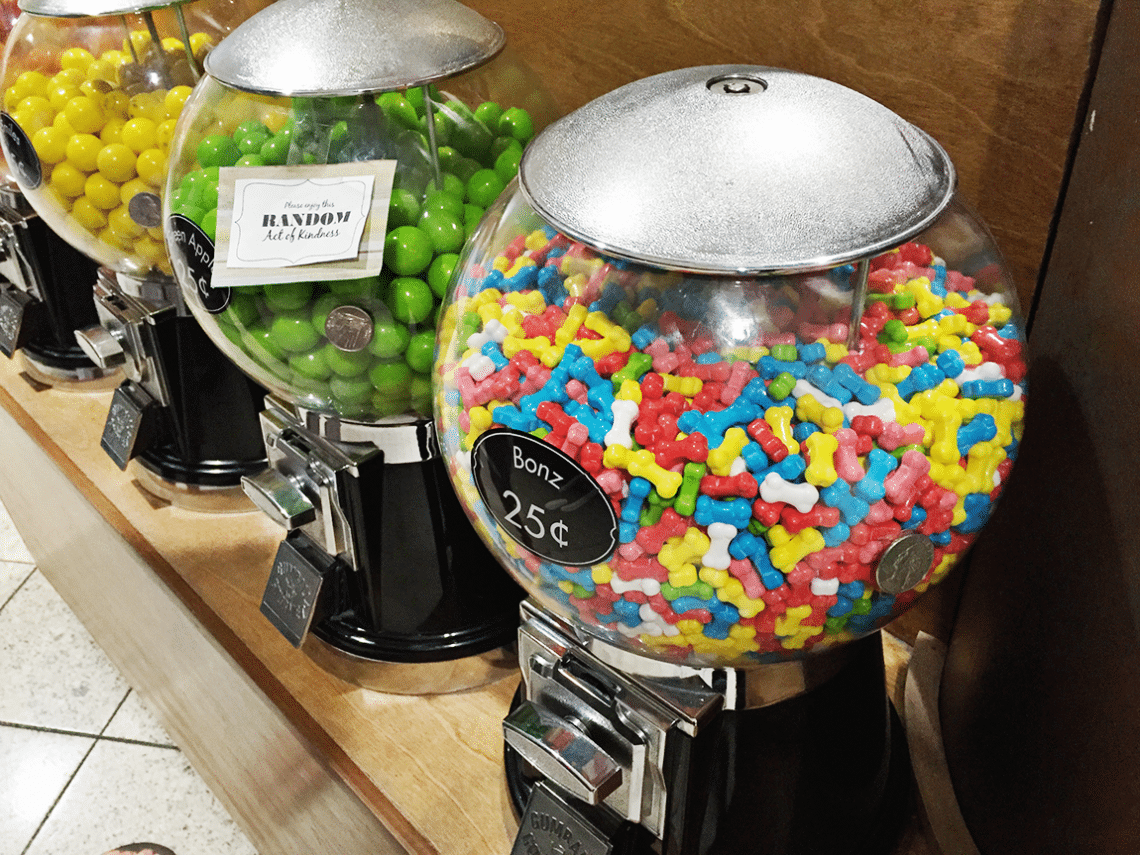 She had the biggest smile on her face and could hardly believe her luck! I watched her get giddy when she noticed there was more than one. Basically, it made my night!
10. Leave coins at the Laundromat.
We went to two before we found one that was coin operated. If you haven't been to one outside of a college town they can actually be kind of tough places to visit. There are often a lot of people who look really down on their luck.
We decided it wasn't appropriate to bring the DSLR in, so sly phone shots it was! I wish we had done more of this. I was thinking how it would have made my day as a college student always in need of quarters!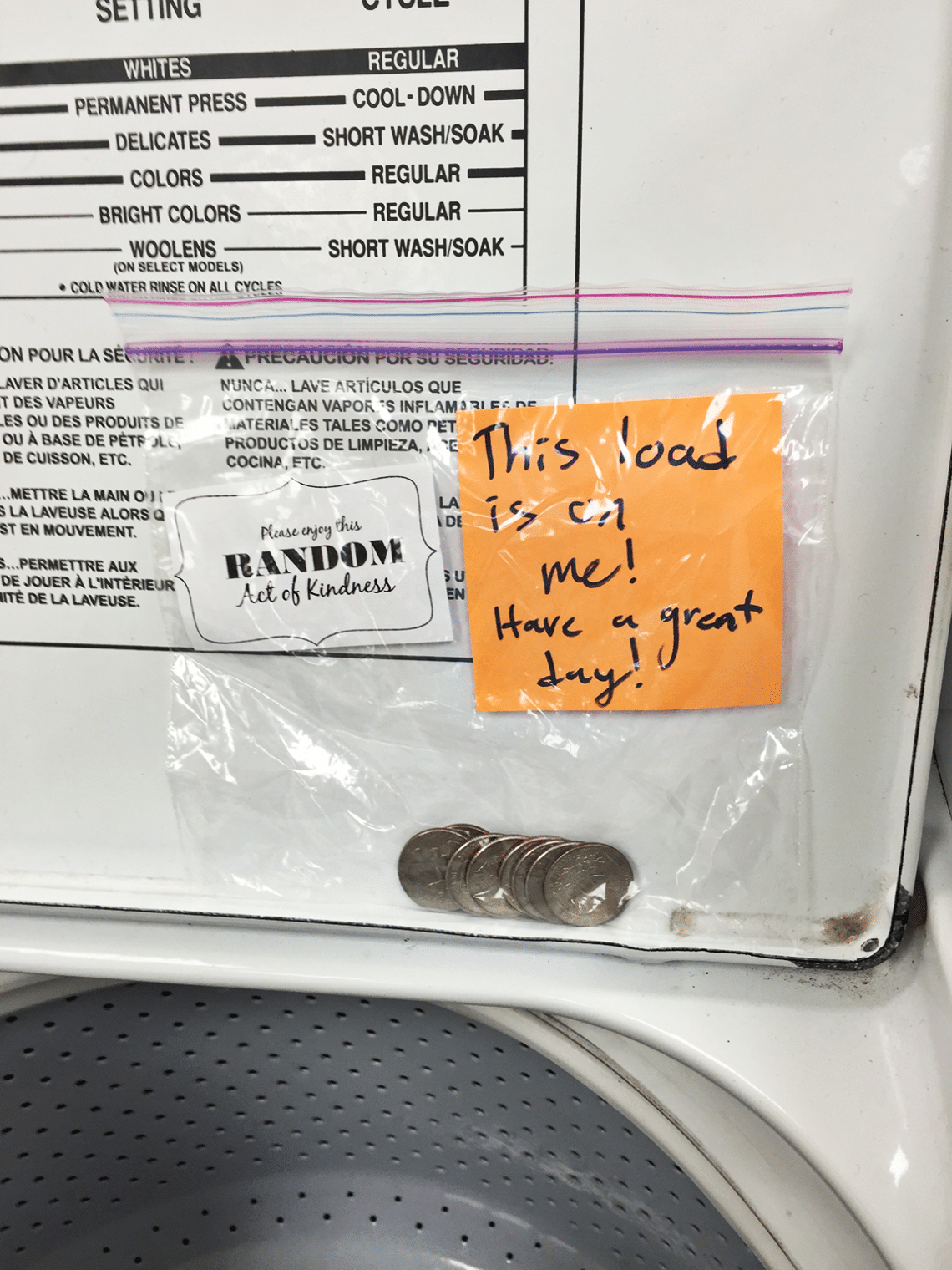 This may be one of my favorite dates we've ever done! It had been a really hard week for us emotionally with some more infertility problems. Additionally, it's amazing how service always snaps you right back into place to realize how good you have it and that there really is more to life than just you and your problems.
Also, for only about $20 or less, you can seriously spread a lot of happiness in the world with these easy random acts of kindness ideas!
Like these random acts of kindness ideas? You may like these feel-good date ideas too:
Ways to Show Your Family Love for Random Acts of Kindness Day
Get 365 Date Ideas!
We want to help you have the best date nights ever! Grab this FREE printable with 365 date ideas, a date for every day of the year so you never run out of ideas!