Improv Comedy Show Date Night
Looking for an easy date idea that you know will be a hit? An improv comedy show is a perfect activity to make you laugh, entertain, feel creative, and score major points with your date!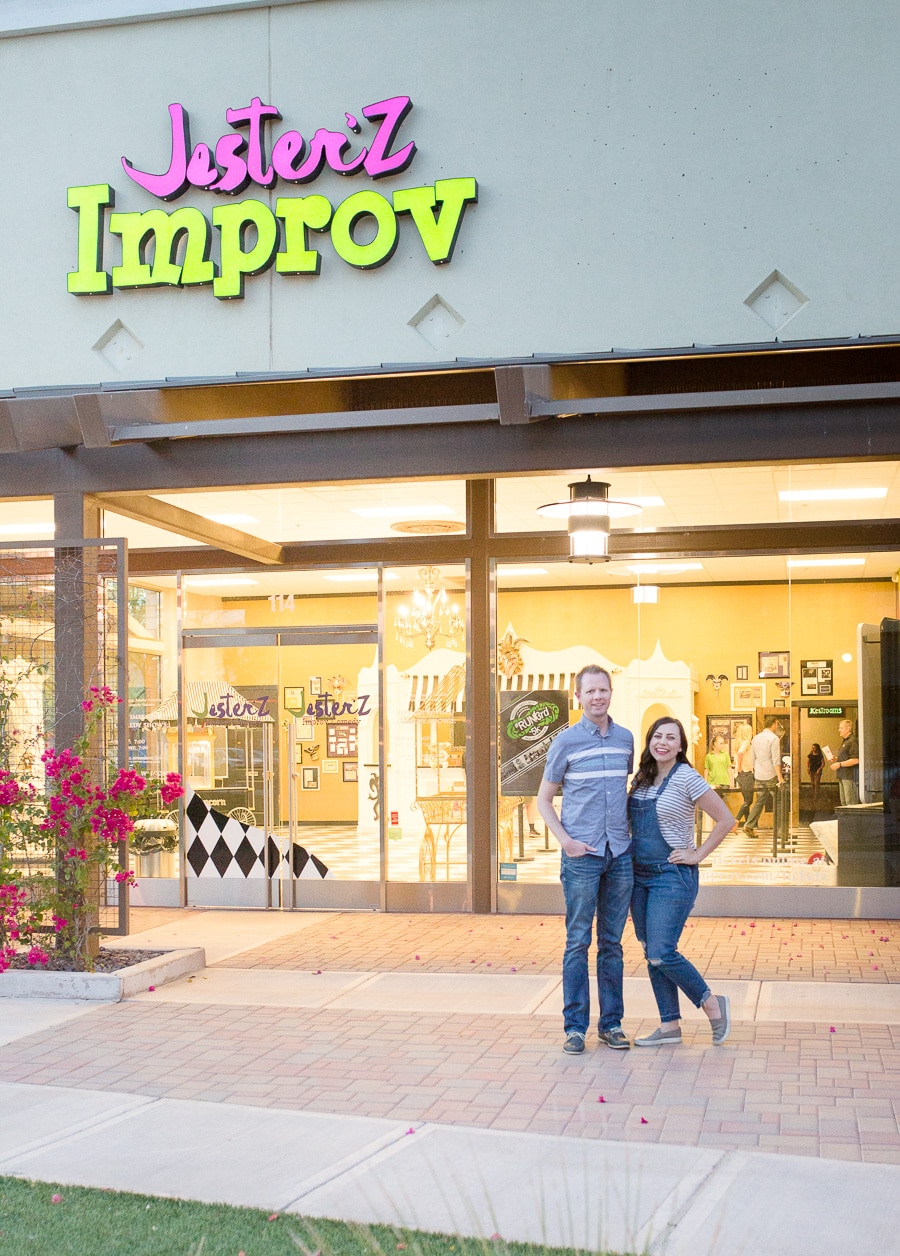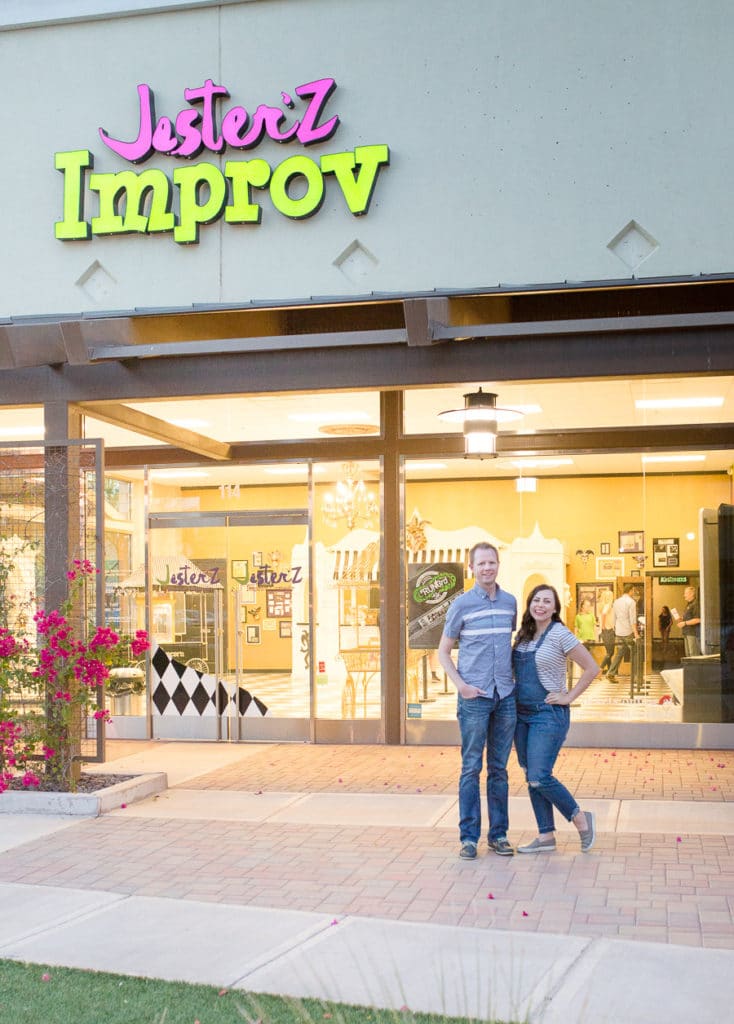 Improv Comedy Show Date Info
Date: Jesterz Improv Comedy Show
Price: $14 per person, and free on your birthday
Location: Mesa, Arizona
I consider myself a pretty adventurous person, but there's nothing that forces me to slow down and sit down like pregnancy. We're jumping into the 3rd trimester and also seeing the Arizona heat come back. That means time to find some relaxing date ideas, and indoor date ideas I can do sitting down. An improv comedy show fits the bill perfectly!
If you've never been to an improv comedy show before, you're missing out and need to change that! It's essentially a group of comedians who don't have anything rehearsed. The audience offers ideas and suggestions and they are given improv games to play in front of the audience. Most of these people are so clever, so smart, so witty, and truly hilarious!
If you need one of those low-key dates that you can just kick back and enjoy this is the perfect one! It's truly an hour and a half of entertainment that will make you laugh! We extra appreciate that most improv comedy shows are family friendly and keep humor clean. It's something families enjoy together and couples can enjoy together too. Even if it's a first date idea you're after, this is one that won't leave you both blushing.
Comedy Improv Shows
Some of our favorite moments included how witty one player was talking about politics. We're not political people, but there's something about 2017 that just deserves to be made into a joke. And with how crazy things can be, it's good for people from all political parties to just laugh at things. They did such a good job being hilarious and still appropriate or swayed towards a party.
It's also great when they bring a birthday celebrator up on stage and try to incorporate them into a skit. You can get in free on your birthday, and if you book tickets online in advance you can submit the birthday person's name to get called up on stage. Fitting in the awkward unsure person with trained comedians is always entertaining!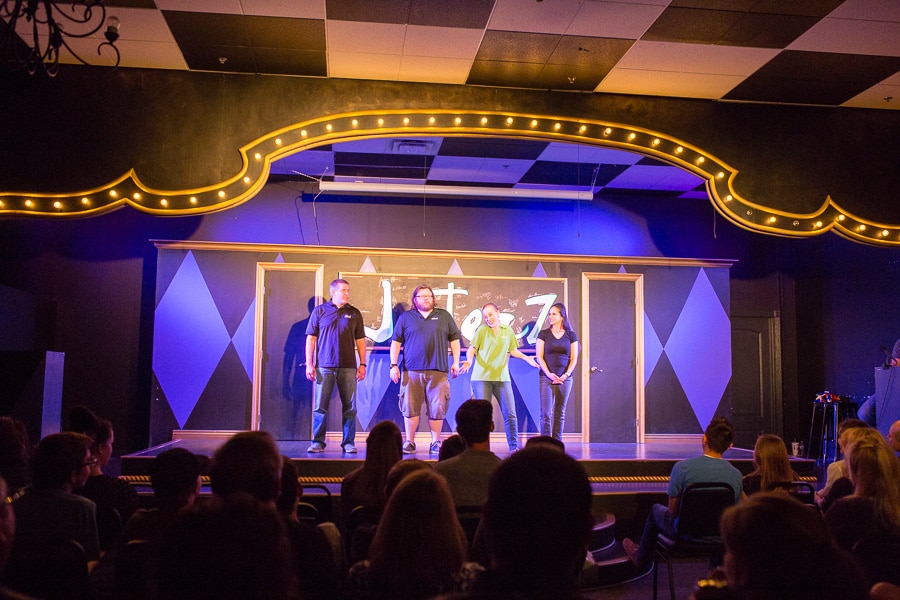 I'm just so glad that after a few very stressful weeks we could easily kick our feet up and enjoy a comedy show. Improv shows are always a great idea, and always a great date!
Like this easy date idea? You may like these too:
365 Fun Date Ideas: Dates Every Day of the Year
10 Binge-Worthy Shows You'll Both Enjoy Watching Together (And 10 Honorable Mentions!)
Date Ideas Phoenix: The Best Phoenix Arizona Date Night Ideas
Get 365 Date Ideas!
We want to help you have the best date nights ever! Grab this FREE printable with 365 date ideas, a date for every day of the year so you never run out of ideas!