Watching Airplanes Family Date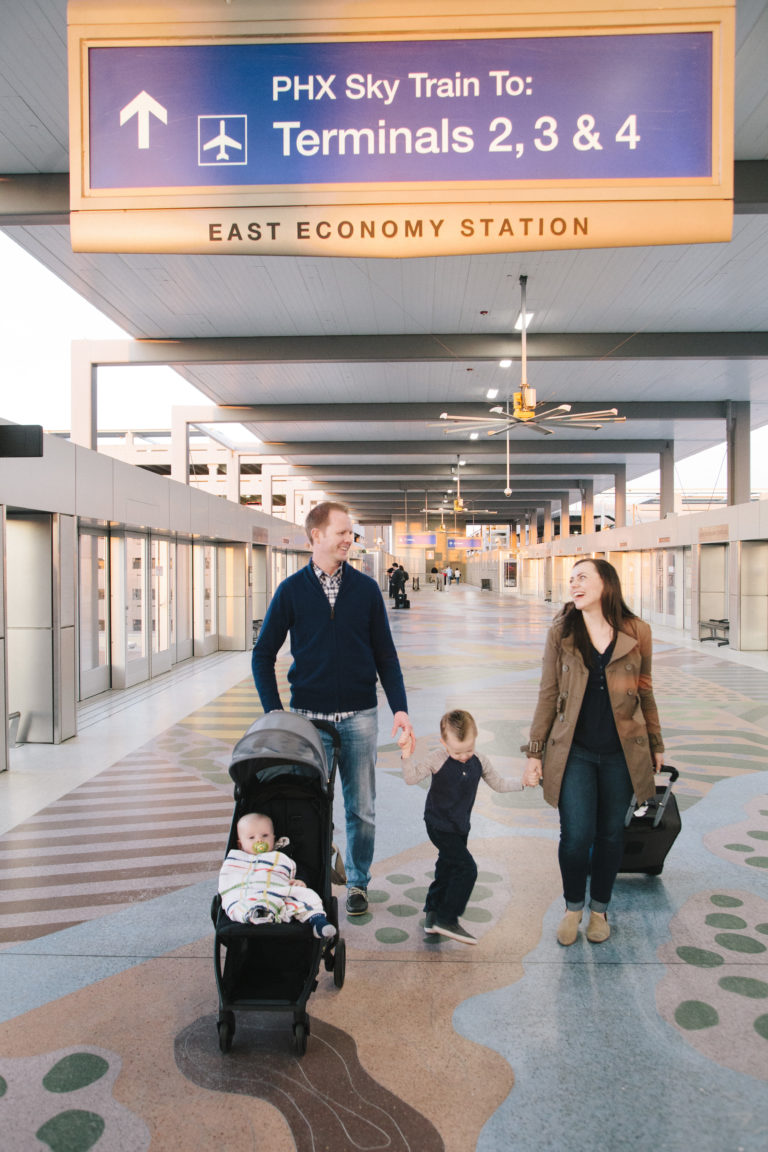 This family adventure is sponsored by Boulder Canyon
Watching Airplanes Family Adventure 
Date Info:
Watching airplanes land and take off at the airport
Price: The cost of parking at your local airport + food or snacks (We paid about $14 for 2 hours)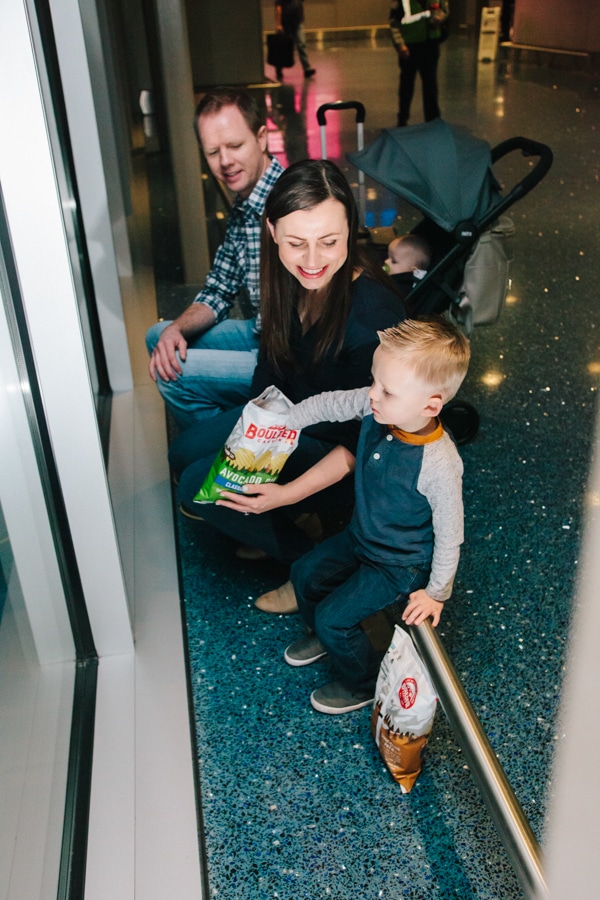 Last week we spent time getting passport photos, applications, and submissions all done for our infant. Our next big family trip is officially booked. We can't wait to experience a new adventure as a family!
Every time we mention how much we like traveling with kids I get a few bewildered looks. As much as I love those romantic getaways with my husband, I really love that we blaze our own path and head to epic places with babies in tow.
It's worked so well that when we told our 3-year-old about our upcoming plans he started asking if we could go to the airport. Note to self, maybe only tell him a few days in advance instead of months in advance next time.
To help satiate his curiosity and love of airplanes, we thought a family date to the airport might be a fun family adventure. We were right! This inexpensive family outing was so much fun and it only took paying for parking to enjoy. Who knew a little adventure watching others go on an adventure would be such a hit?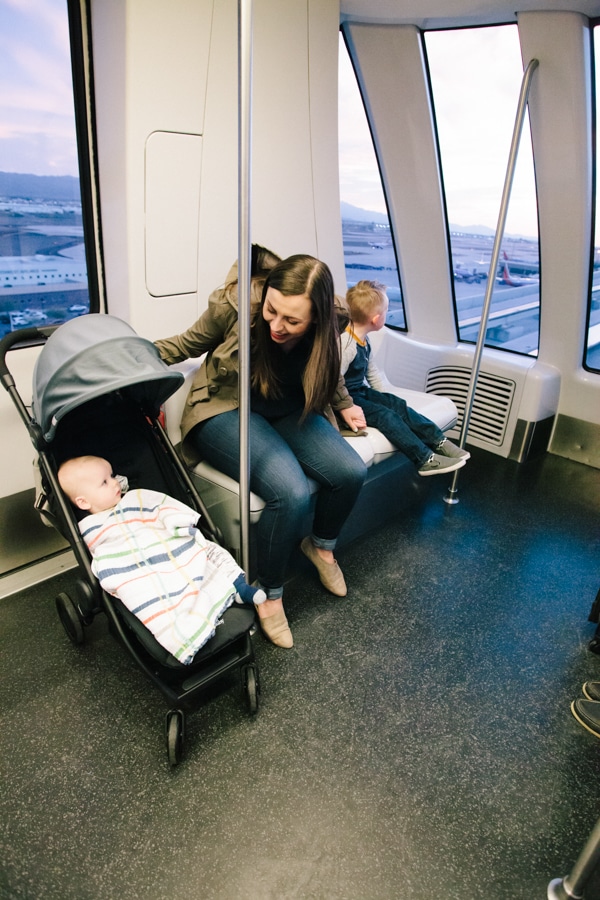 Airport Family Adventure
In addition to airplane landing and takeoff, we sat and watched the busy cars, buses, and taxis drop off and pick up passengers. We had so much fun people watching! Oh, the different paths each person can take! It really is such a fun thing to talk about, particularly with an inquisitive child. Our vehicle loving toddler was in heaven! It just took vehicles and the right snacks to make this a really fun outing!
We brought a few varieties of Boulder Canyon, thick kettle-cooked potato chips. Their brand mantra is: "Our path took us to the great outdoors. Our thick cut, kettle-cooked potato chips have a lot in common with nature – crisp, crunchy, bold, real. Wherever your path takes you, bring Boulder Canyon with you." It just felt like the perfect fit to go talk about adventures and paths on our airplane watching family date.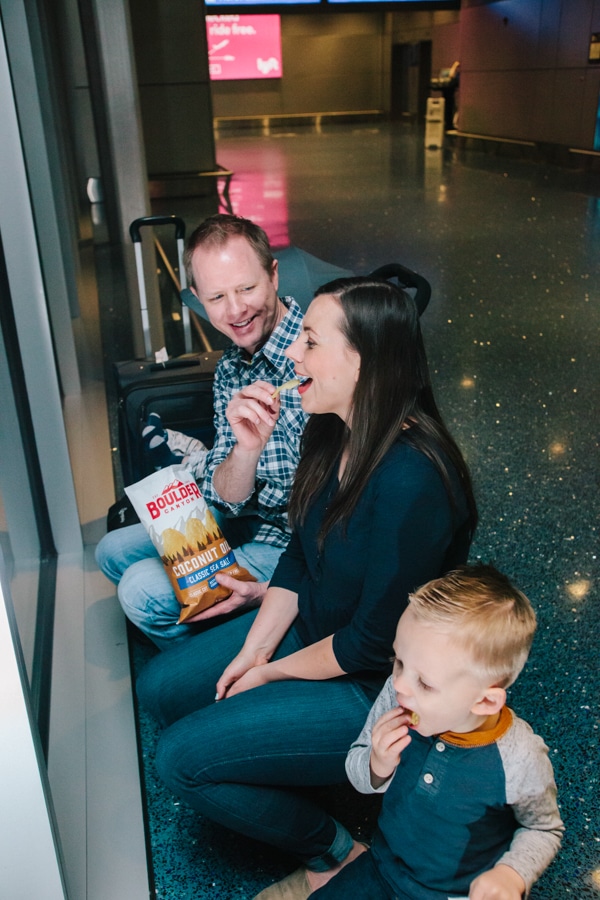 Plus I'm a sucker for good packaging, and Boulder Canyons new look celebrating their 25th anniversary just draws you instantly in! But aside from great looks, I love the thick, hearty, crunchy chips and there are so many flavor options.
Not to mention many Boulder Canyon products are allergen friendly with simple ingredients. They are cooked in unique oils and most are gluten-free (double check packaging). I love that no matter what your diet path may be, you can find a chip that works for you!
While many Boulder Canyon products are allergen friendly, vegan, etc. – it's important to note close attention to ingredients and dietary labels because not all products fall under these categories.
As we prepare for our upcoming trips this summer, we had such a great time helping our boys feel a little more comfortable in an airport setting. It's surprisingly fun to watch the excitement of small children enjoying the marvels of airplanes. And best of all, a quality snack and a family outing made for the perfect family date night.
Get 365 Date Ideas!
We want to help you have the best date nights ever! Grab this FREE printable with 365 date ideas, a date for every day of the year so you never run out of ideas!