Disneyland Sweethearts' Nite [2023]: What to Expect
Everything you need to know about Disneyland Sweethearts' Nite! A full review and all the details of the Disney After Dark Valentines Day party event.

Visiting Disneyland as a couple for a romantic Disney date night has been on our bucket list for years. When I heard about the Disney After Dark special event nights, I knew it was the perfect Disney date opportunity. But when I heard about Disneyland Sweetheart Nite my jaw dropped! We watched for tickets to open and I purchased them as a Christmas gift.
Sweetheart's Nite, aka Disney After Dark Valentines Day party, is the perfect night for couples to have a romantic Disneyland date night!
What is Sweethearts Nite at Disneyland?
Sweethearts' Nite (also known as Sweethearts' Night) is part of the Disneyland After Dark series.
These are special ticketed events Disneyland hosts from evening to midnight (or later). They have a theme, and they take place from February through May (Villians Night, Star Wars Night, and Sweethearts Nite). Although one could argue the Oogie Boogie Bash at Disney Hallowentime and the Merriest Nights at Christmastime are also part of the bunch.
Consider the Sweetheart's night Disneyland's Valentine's party. It's a night that celebrates love and centers activities around famous Disney couples, love songs, romantic scenes from Disney movies, and Valentine-themed food.
When does it start?
The party starts at 8:00 and goes on until 12:00. But party ticket holders may enter the park at 5:00 to enjoy rides and all the park has to offer early.
What do tickets cost?
They vary from night to night but this year's tickets ran $125-$149 per person (plus taxes and fees).
When Do Disney After Dark Tickets Go On Sale?
They went for sale on December 9th for events this year. I'd keep an eye out for the first week of December! They sold out by mid-January. I'm predicting they will sell out much faster in the coming years as the event gains more awareness. When they go on sale, you can get tickets here. Also, here's the landing page with details and ticket sales info.
Do you have to buy a regular park ticket too?
No, you don't! The price of the special event is all you need!
Of course, you may buy a ticket for the day and enjoy the park all day. Disney will always gladly take your money! But you will have to pay the full price for each. If you need Disneyland Discount Tickets be sure to check out our favorite hack to buy them!
What's a Great Hotel Near Disneyland to Stay At?
Because the events goes extra late, I'd recommend getting a hotel close to the parks! Check out our list of Hotels Within Walking Distance to Disneyland for a lot of great options!
Do people who visit the park that day get to attend the event?
No, they don't unless they purchased a special event ticket. In fact, at 7:00 they kick everyone out who doesn't have the special event wristband.
If you're visiting the parks I'd double-check for special events before you make reservations. It's a bit of a bummer to have to leave the park early when you paid for a ticket.
You can park hop over to the other park if you bought a park hopper ticket when you're kicked out for the event. But fair warning, it gets crowded those nights.
What is there to do during a Disney After Dark Event?
There's a lot! You'll find the normal park operations (or at least most) up during an event! So ride any rides, get food, and enjoy the park. But the main reason to attend a Disney After Dark Event like Sweetheart's Nite at Disneyland is to enjoy the special attractions, entertainment, and food!
Sweethearts' Night Attractions
Special Character Interactions

Enjoy seeing some of Disney's most famous and beloved couples during this celebration of love! There were so many we didn't have to visit them all. But each couple we visited was darling and so fun to see!
Here's a list of Disneyland characters at Sweetheart's night, and where they are located.
Disney Characters at Sweetheart's Nite

Mainstreet U.S.A.
Mickey and Minnie
Donald and Daisy
Clarabelle Cow and Horace Horsecollar
Mary Poppins and Bert
Fantasyland
Belle and the Beast and Gaston
Snow White and the Prince
Rapunzel and Flynn Rider
Princess Aurora and Prince Philip
Anna and Kristoff just East of the castles

Meg and Hercules are just East of the castles
Fantasyland (At The Royals Ball)
Ariel and Eric by Small World
Aladdin and Jasmine by Small World
Cinderella and Prince Charming by Small World
New Orleans Square
Princess Tiana and Prince Laveen from The Princess and the Frog in New Orleans Square

Bianca and Bernard from The Rescuers in Frontierland
Critter Country
Nick Wilde and Judy Hopps
Tomorrowland
Photo Opps at Disney After Dark Valentines Day Party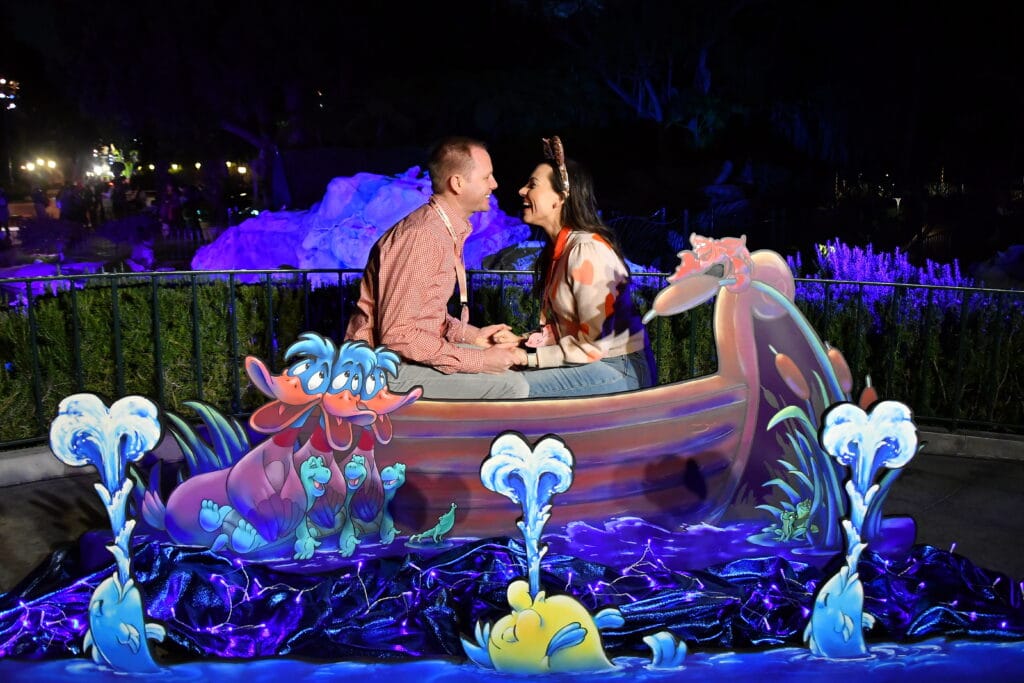 Kiss the Girl scene from The Little Mermaid by the Astro Orbiters
Luca Step into the Scene in Fantasyland
Tangled Floating Lantern Scene in Toontown
Cinderella Step Into the Scene in front of the Castle
Lady and the Tramp Step Into the Scene by Plaza Inn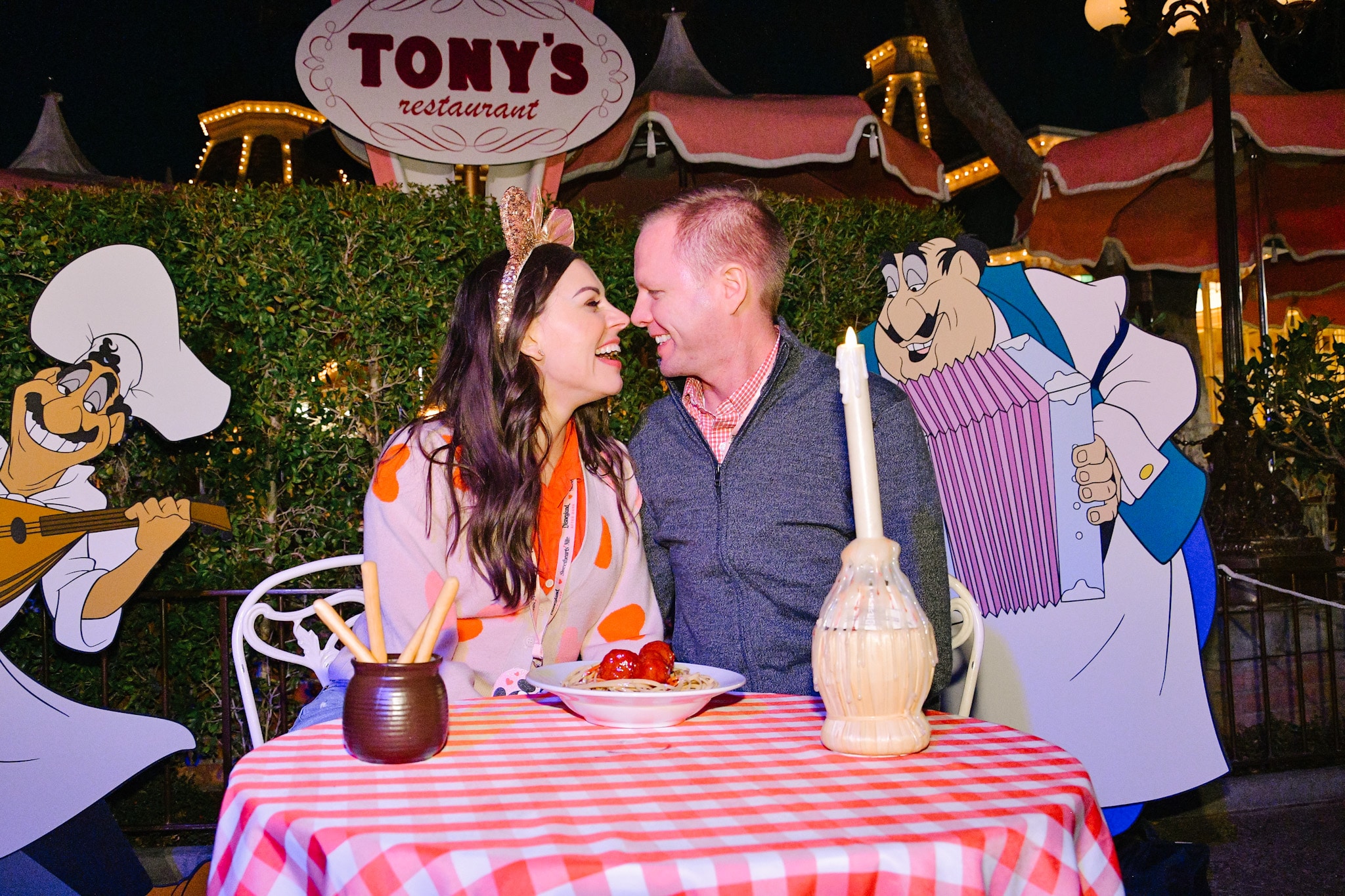 Romantic Castle Photo Opportunity
Alladin Step into the scene in front of Small World
Together Forever Tombstones at The Haunted Mansion
Winne the Pooh Step into the Scene by The Many Adventures of Winnie the Pooh
Sweetheart's Night Entertainment

Sweethearts' Nite Fireworks

Expect all the joy of a Disneyland Fireworks show, but set to love songs! The castle is lit up with projections of love. There were so many "Ews-and-Ahs" during the show. Also, we joined 10 minutes before the show and still had a great view! Hooray for lower capacity so you can enjoy the best part of the night easily!

Royal Ball

Location: by It's a Small World in Fantasyland.
What to Expect: An amazing band plays Disney songs fit for a ball! You'll see at least three royal couples dancing the night away in front of the band. This included Cinderella and the Prince, Aladdin and Jasmine, and Ariel and Prince Eric. You can jump right in and dance along side the Disney characters. Some may even ask to cut in and dance with you.
The band was PHENOMENAL! We could have watched and danced along all night. I'd say this is a don't-miss part of Disney's Valentine's Party! It was the surprise favorite for Disneyland Sweethearts' Nite!

Moonlit River Cruise

The Mark Twain boat is converted into a romantic moonlit cruise for the party. It's about a 20-minute ride and they run every 30 minutes. We loved the romantic vibes and views of Disneyland lights at night.

DJ in Tomorrowland

If you're ready to dance and party this is your spot!

Piano Player in Frontierland

Jazzy tunes and love melodies ala one of the most talented piano performers

Polynesian Trio in Adventureland

Hello, music from the islands with all the romantic vibes!

Dapper Dans

The Dapper Dans are always fun with seasonal Disney tunes. Expect some romance barbershop quartet style during Sweetheart's Nite!
Sweetheart's Nite Food
This could certainly be its own post with an extensive list! I'm going to include a picture of offering the night we went.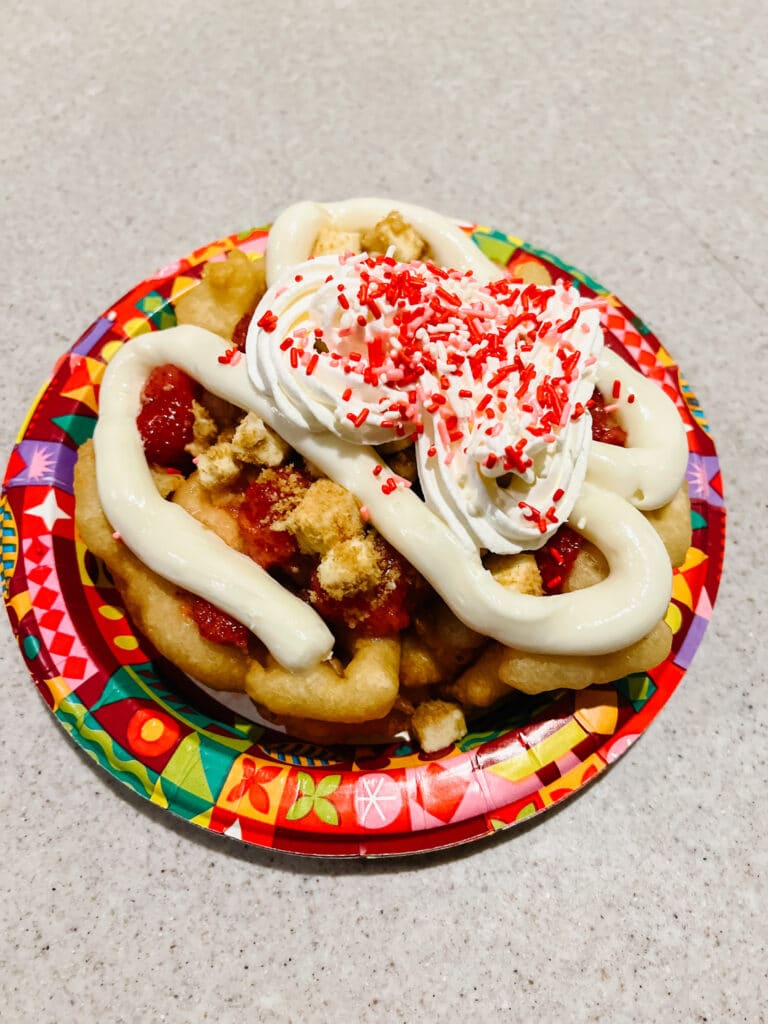 Must Eat Items:
Our favorite was the Strawberry Cheesecake Funnel Cake from Stage Coach Cafe. And oh the churro offerings! You can't go wrong with either!
People were also raving about the Heart-Shaped Beef Shortrib Ravioli at the French Market Restaurant. We ate dinner before the party started so didn't sit down for a full meal. But we can speak to the treat! Oh my, they were delicious!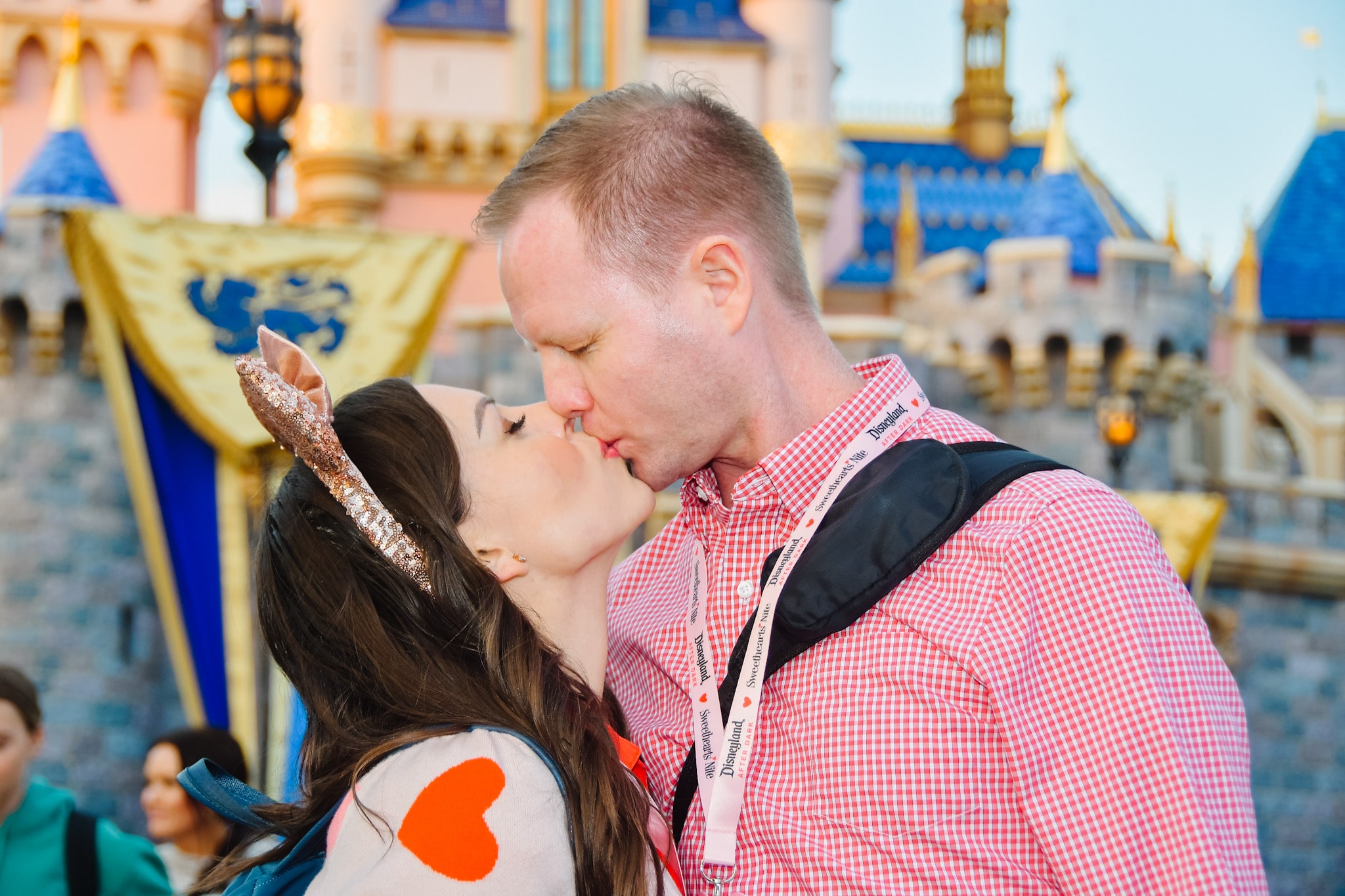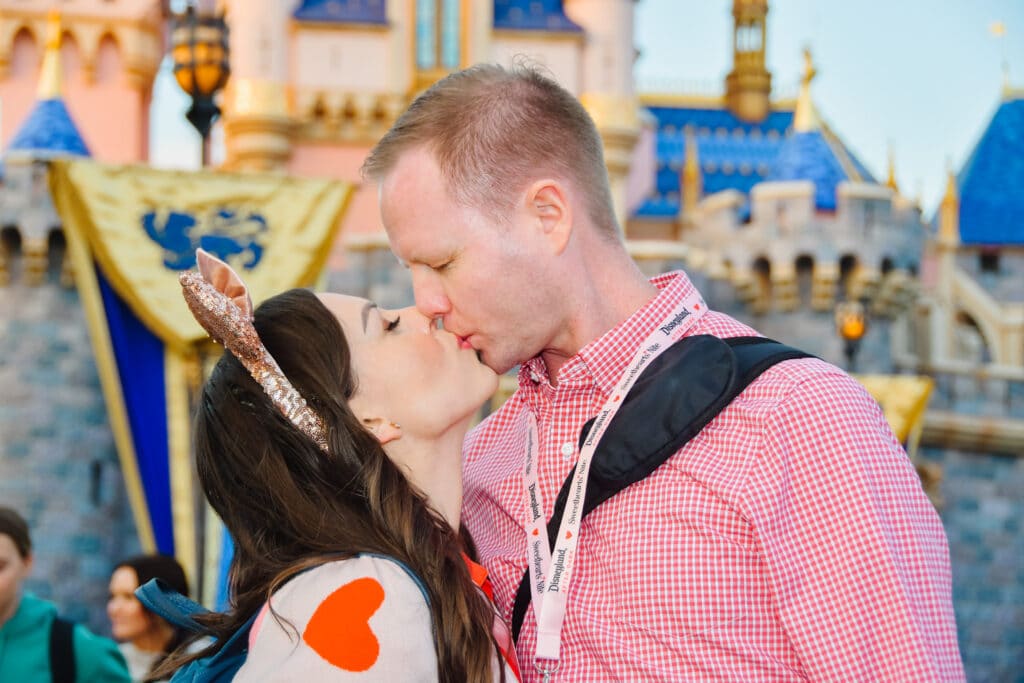 Disneyland Sweethearts Nite Review
Was it worth it?
As a date night blogger you know I'm going to tell you yes- we loved it! It checked all the boxes for me.
But let me give you the honest good and bad and let you weigh in if this will check all the boxes for you!
The theme and vibe
We were there for the romantic vibes you don't normally get at a park filled with children. Some children attended, but since the event is late, it was mostly adults. I'd even add mostly couples! There was plenty of girl's night out parties, but it truly was about 80% couples out for a dream date. That clearly spoke to us!
The Crowds
Although the crowds are lower, the themed photo ops and character encounters are long! You most likely won't be able to do them all, so you'll have to carefully select which ones. We waited for the longest for my dream photo recreating kiss the girl. If you aren't as into photos and characters it may feel less exciting.
However, the rides have shorter lines and we rode way more rides than we have at our other Disney After Dark events.
Is Rise of the Resistance Open During Disney After Dark Events?
Yes, Rise of the Resistance is open! We didn't expect it to be, HOWEVER, we were surprised that it was! They open it from about 8:00-10:00. It had some closures so we weren't able to make it. But if it's a priority, be ready and hovering around it right at 8:00.
A Dream Disney Date
As people who look for the funniest date ideas for a living, and have done thousands of dates. I have to say this may be my number one! It's a dream to get to do Disneyland together for date night. Clearly, it's even more of a dream when it's date night themed around love and couples. It's one I'm glad we made happen, and one I hope we do again next year!
Like this Disneyland post? Don't miss out on these posts!
Disneyland Discount Tickets: Disneyland Ticket Deals
Most Instagramable Disneyland Picture Ideas and Locations
Get 365 Date Ideas!
We want to help you have the best date nights ever! Grab this FREE printable with 365 date ideas, a date for every day of the year so you never run out of ideas!