Hotels Within Walking Distance to Disneyland
Find the best hotel for you with this complete guide to hotels within walking distance to Disneyland. Plus, get the best price guarantee with this money-saving hack book hotels for Disneyland trips.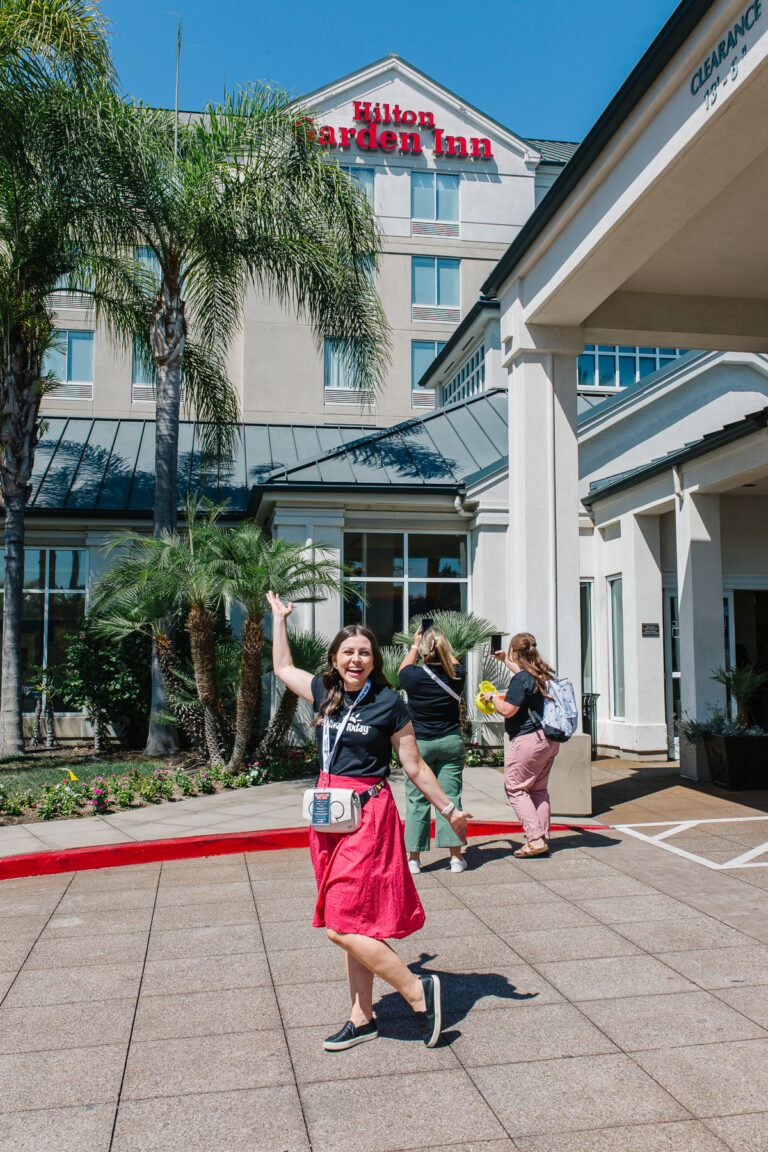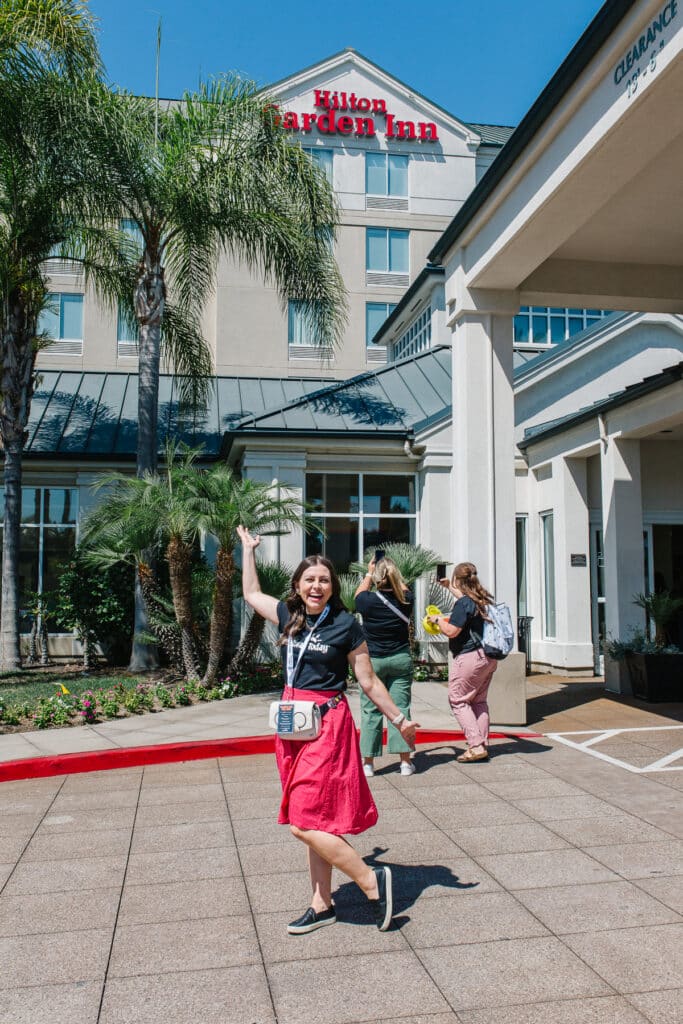 There's nothing like a magical Disneyland trip, and one of the things that makes it the most magical is finding hotels within walking distance to Disneyland that helps you sleep comfortably, and maximize your time in the parks!
I've had the unique privilege of touring dozens of hotels close to Disneyland, and we've stayed at about a dozen too! If you're looking at hotels within walking distance of Disneyland, look no further than this complete guide with tons of hotel options.
Deals on Hotels Near Disneyland
And if you love saving money on hotels and increasing your churro budget, we can't recommend enough getting the best price guarantee and booking with Getaway Today! I have an entire post with a Getaway Today review sharing all the reasons we've loved them and personally use them. But perhaps my favorite is the fact that they truly save you money and help you get the lowest price. In fact, they guarantee it! If a better promotion or deal comes along, just give them a call or email them and they'll refund the difference, no questions asked!
They are best friends with so many of Disneyland's good neighbor hotels, helping tons of families find great rooms at great prices. They also have a fantastic relationship with Disneyland Resort hotels too. If you love saving money, having a friend help you every step of the way, and making sure you're set for your trip, I can't recommend booking with Getaway Today enough! And if you book a package with discount Disneyland tickets and a hotel, we can help you save even more with PROMO CODE: FRIDAYLOVE.
Check out rates and special promos (like free nights at hotels) and I promise you'll be so glad you did!
Oh, and they can hook you up at Walt Disney World and on Disney Cruises too!
And if you need help finding fantastic hotels within walking distance to Disneyland, here is the only guide you'll ever need with tons of great hotel options!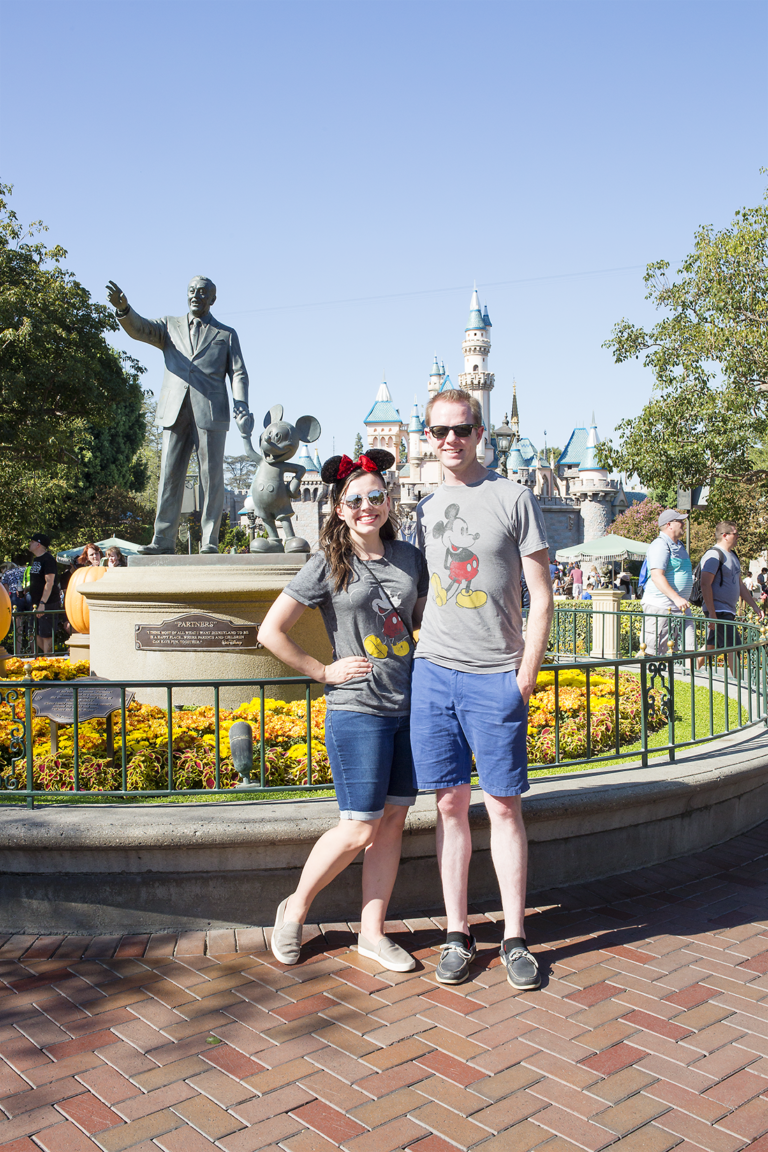 Hotels on Harbor Boulevard
This mid-century modern recently updated hotel has a fantastic view of the fireworks as well as the monorail. There's a small water park at the hotel you can reserve a time to visit. They also offer really great prices for being so close to Disneyland!
This may be the best nice-budget hotel closest to the security line. The only downside is breakfast is not included, and if you have a double stroller and need a pack-n-play it can be a bit tight (we may or may not know this from personal experience)! But there is a McDonald's and Panera right outside the hotel and a grab-and-go snack and drink shop in the hotel lobby. But I also have to give an honorable mention to their gift shop. We stayed here with a small baby, and loved how easy it was to get drinks, lotion, and a few small items right by the front desk!
You'll love the huge rooms, the double bathrooms with separated spaces, plenty of mirrors to get ready, and giant halls for strollers. It's a favorite hotel of many families! They have the best water park and splash pad for hotel guests. They even have water slides and a hot tub you can watch the Disneyland fireworks from! And, you'll have a less than 5-minute walk to security. It's one of the nicest hotels closest to the park!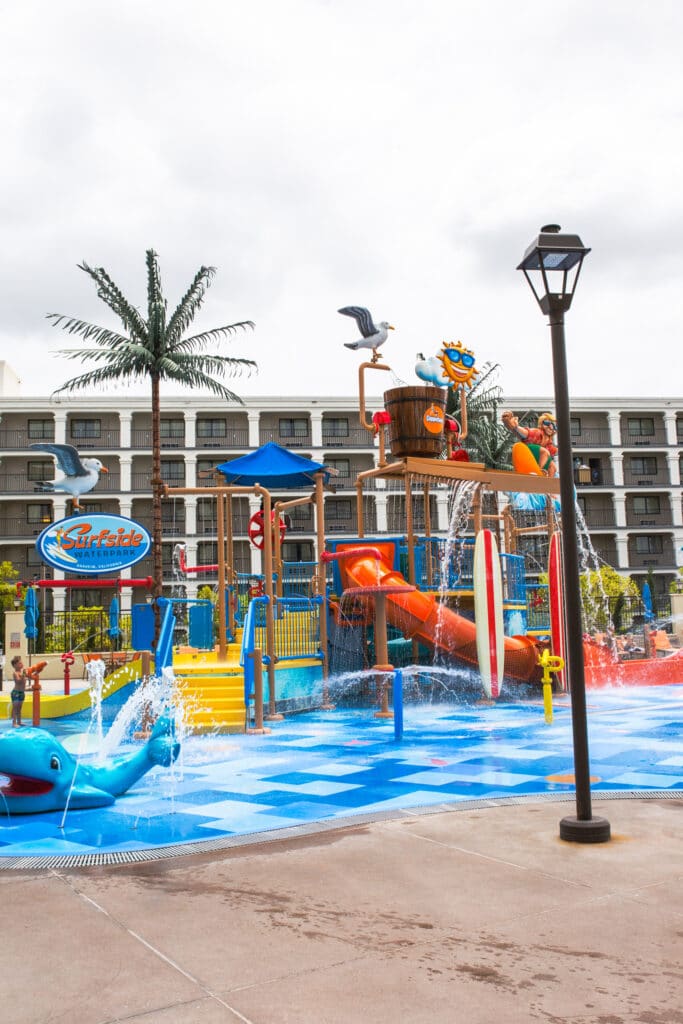 This hotel is close, clean, and a quick walk into the gates of Disneyland! They don't include breakfast, but with how early you can make it to rope drop, you likely won't mind a bit!
Candy Cane Inn
You're just a hop from California Adventure and you won't have any major streets to cross. It's so close, you'll almost feel like you've stayed in the park! It's a boutique hotel with a smaller feel, comfortable rooms, and a complimentary continental breakfast making it a great value. But sadly not one currently working with Getaway Today for deals. But it deserves a quick mention!
This hotel is an easy walk down Harbor and across the street is the Disneyland entrance. It's a nicer hotel with great guest rooms. You can book a double king bed hotel room if you're staying with adults or have older teenagers. They also offer family suites and a fantastic pool area. Many people love the Anaheim Hotel and make it their repeat hotel for every Disney trip!
They boast one of the top-rated hotels for families in the country and one of the cleanest hotels too! This is an older hotel built to look like a castle, and family-owned and operated with the cutest story. They are locally owned and operated by the nicest family and truly have the kindest staff. If you love to support small businesses, it's a great one!
It's definitely an older property, but it's hard to find a charming place for this price this close to the park.
And we love the gas station across the street for quick drinks and snacks that aren't Disney prices! We stayed here last year for a big week-long trip and really enjoy the close walk to Disneyland!
Park Vue Inn
This one is a great hotel that advertises "Steps away from Disneyland Park." They truly are one of the closest hotels with a few different hotel rooms that accommodate 2-8 people. If you have a bigger party, their two queen beds and bunk beds room is a great value. But you can also get a king-sized bed for two. If you're a family of four like us, they have a double queen room, or a queen with bunk beds room. Sometimes having those options can be the best thing for your party, and it's rare to get them at a hotel so close to the parks!
This friendly hotel has excellent reviews and consequently, fills up quickly on busy weeks. If you're planning your trip in advance, it's a great one to look into! And sadly, don't offer discounts and deals due to popularity.
People who have stayed here swear it's about the closest they've ever been to the parks! The rooms are smaller, so maybe not be a good fit for large strollers or pack-n-plays. But if these aren't a concern, this is one easy close stop that will save you a lot of steps!
This is often touted as the Disneyland good neighbor hotel that happens to be the CLOSEST hotel to the park. It's debatable, but it really is right by the drop-off area and provides about the shortest walk to the main gate.
This hotel is close proximity with easy walking distance to the security gates. We stayed here during Sweetheart's Nite and loved it as a couple! But remarked it would be a tight fit with our double stroller and kids. If you have a small stroller only, no stroller, and you can get by without a pack-n-play, it's a great option! They do have premiere rooms with bigger spaces that work for families for a little extra cost. What it lacks in big rooms and fancy hotel features, it makes up with comfortable beds and one of the shortest distances to the Disney theme parks.
But I have to mention that Magic Key discount. If you're lucky enough to be a Magic Key holder, they offer 15% off rooms with free parking. So many fans who frequent the happiest place on Earth love to utilize this discount and the short walk! Call Getaway Today and mention this plus promo code FRIDAYLOVE and you should get a ton of savings on this great hotel!
This is another super close walk with fun-themed rooms and comfy beds. They're right by a CVS and Walgreens, which makes picking up last-minute needs (or wants) very convenient!
This cute newly renovated hotel gives a mid-century modern vibe that feels like vintage Disney. It's a short walk to park, and you can typically find great rates, particularly during the non-peak season.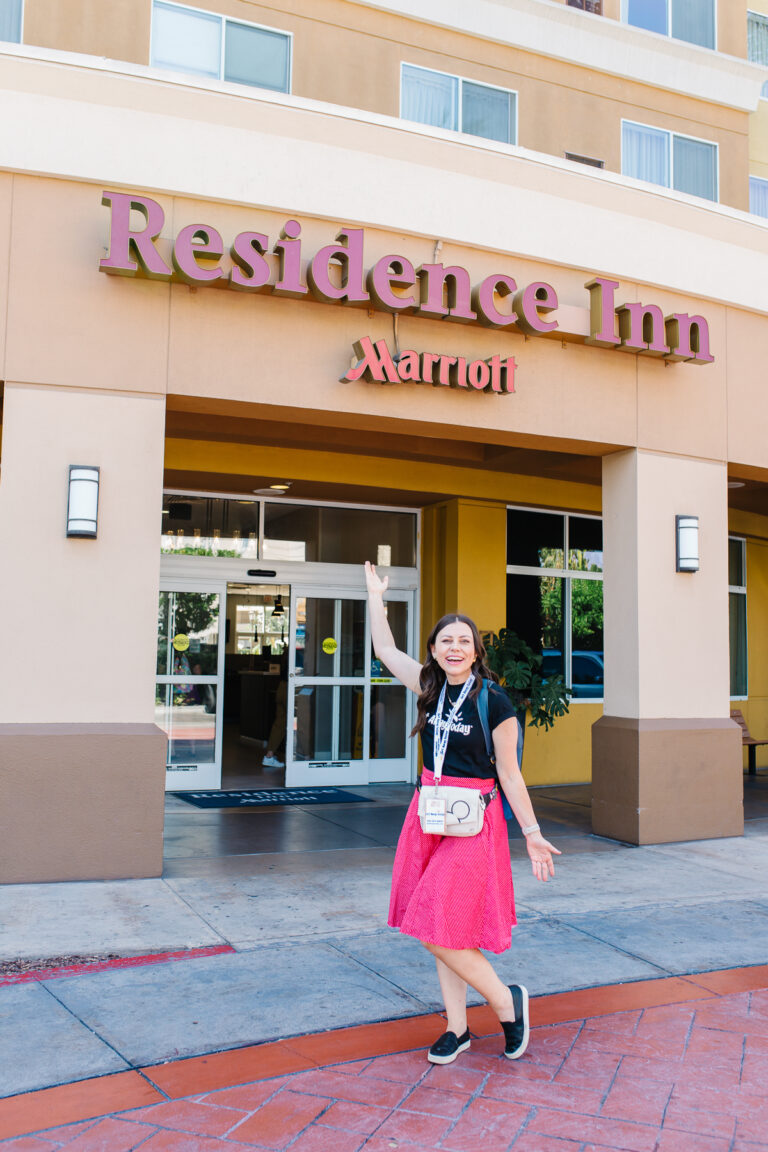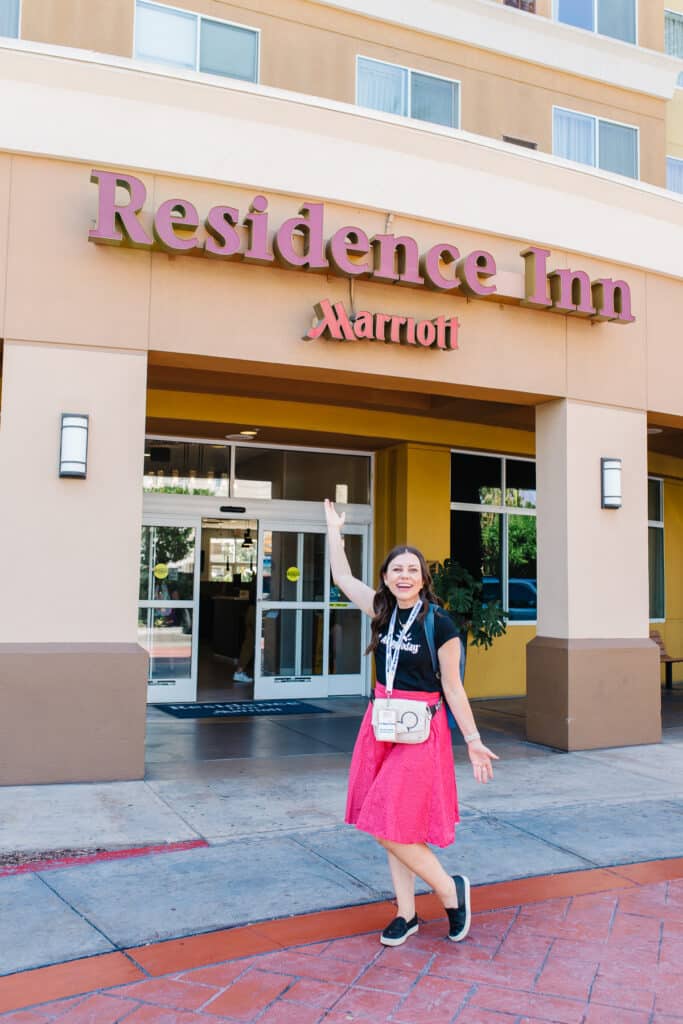 This one may feel like a tiny bit of a walk compared to some of the other Harbor Boulevard hotels, but I promise it's only a few more minutes and it's still an easy walk! It's newly renovated and SO NICE!
There are some added bonuses to staying a few more minutes out, namely free parking (with Get Away Today deals), a fitness center, an outdoor pool, free breakfast, and a few more bells and whistles.
But perhaps my favorite thing is being right by both CVS and Walgreens. We've needed more band-aids for a blister, forgot a binky for the baby, and even needed a poncho for a wet ride or rainy day. If you forget anything or need anything, you'll be so grateful to have these convenience stores right by the hotel! Plus, they offer a lot of Disney souvenirs much cheaper than you'll find at the parks.
This is another super close hotel with one of the shortest walks. You'll find pretty standard rooms without a ton of space. But at the end of a long day, if you are the type to close out the parks, it's one of the best hotels to save your feet and get to your bed quickly!
America Best Value Inn & Suites
A king bed can be hard to find at many hotels within walking distance of Disneyland, and America Best Value Inn & Suites has several room options with one! They have great ratings and are close to a lot of food options and easy convenience stores to grab snacks and drug store items you may need.
They sadly don't do deals and discounts at this time.
Another great hotel right by CVS and Walgreens that may help you save a lot of money on snacks and food. Marriott are often the favorite hotel of many travelers, and comes standard with a pull-out sofa bed and coffee shop for easy access to get gourmet coffee if that's important to you! They also have a fantastic outdoor swimming pool with a view.
This Marriott Hotel is another great option for many different room options. They offer family suites, which mean a lot more space and a little more privacy. We love the bunk bed option with a king-sized bed for max sleep for our entire family. If you have a little one who naps, or you love to skip the crowded middle day and come take a nap of your own, this is a great hotel within walking distance to Disneyland, that still feels a little more quiet and out of the downtown rush.
The Desert Palms Hotel is a contender for the hotel we've stayed at the most. It's one of our favorite hotels within walking distance to Disneyland! It's an eight-minute walk, the rooms have space for lots of luggage, strollers, and a pack-n-play. There's a 7-Eleven and CVS right by it in case you forget anything or need cheaper drinks or snacks. Our only complaint is it's loud during the day with the pool setup. If you love to come to take naps in the middle of the day as we do, it's a bit of a struggle. But it hasn't been bad enough that we've stayed away. We love this hotel, and it's always one we look into on every Disneyland trip!
But the size, location, and easy walk-in make this a personal favorite!
This was a hotel I toured and has about the friendliest management and front desk staff! Their standard rooms may be a bit tight with a double stroller and pack-n-play, but they let me know they'll gladly check a stroller at the front desk every night if you want more space in your room. I thought that was such an awesome solution to make it easier for families! (Their sister site at the Homewood Suites said they'd do the same). They offer free breakfast, and pebble ice, and are about a 12-minute walk to Disneyland.
Eden Roc Inn
They claim to be "In the Shadow of the Ferris Wheel" and only a 10-minute walk to Downtown Disney. They're also quite close to the Anaheim Convention Center, should you have a convention or other reason to visit. Lots of people love to book this Anaheim hotel for a conference and stay put for a Disneyland vacation after their big event.
They have family suite options perfect for families! But sadly aren't doing any deals at this time.
This hotel sits right behind the Fairfield and Courtyard Anaheim theme park entrance, with their main entrance facing the opposite way of Disneyland. This adds just about four minutes to your walk, but still gets you to Disneyland with such a quick walk! We've stayed in this area a few times, it's a great spot for those using Hilton reward points! But it's also a great hotel to find deals at!
We stayed at the Holiday Inn Express without our children for a Disneyland date night to Sweetheart's Nite, and had a wonderful experience! It's big enough for kids with strollers and a rollaway bed too.
It's behind the Fairfield and Courtyard Anaheim, which adds a few more minutes of walking to the parks. But it's still a 10-15 minute walk (depending on how quickly you walk or if you're trying to eat a Dole Whip while walking).
It's a nicer hotel with great amenities and really comfortable beds!
The Marriott Residence Inn is a great place for cooking at on-site hotels and spreading out with a room that feels a bit more like home. Their rooms come with a living room area and a full kitchen. They also have family suites with two queen beds and a separate room with bunk beds and a sofa sleeper. It's a great place to fit in a large group with plenty of comforts!
If you love luxury hotels, this is a Disneyland vacationer's dream! Enjoy all the luxury and comfort of a JW Marriott, and do it in the heart of Anaheim. You'll have the most comfortable beds, and top-notch service, and stay at perhaps the actual nicest hotel within walking distance of Disneyland! And they're right by the Anaheim Gardenwalk with many shops, restaurants, and a movie theater so close by.
What's even better is you can get a lot of amazing deals and it's more affordable than you'd think with our promocode: FRIDAYLOVE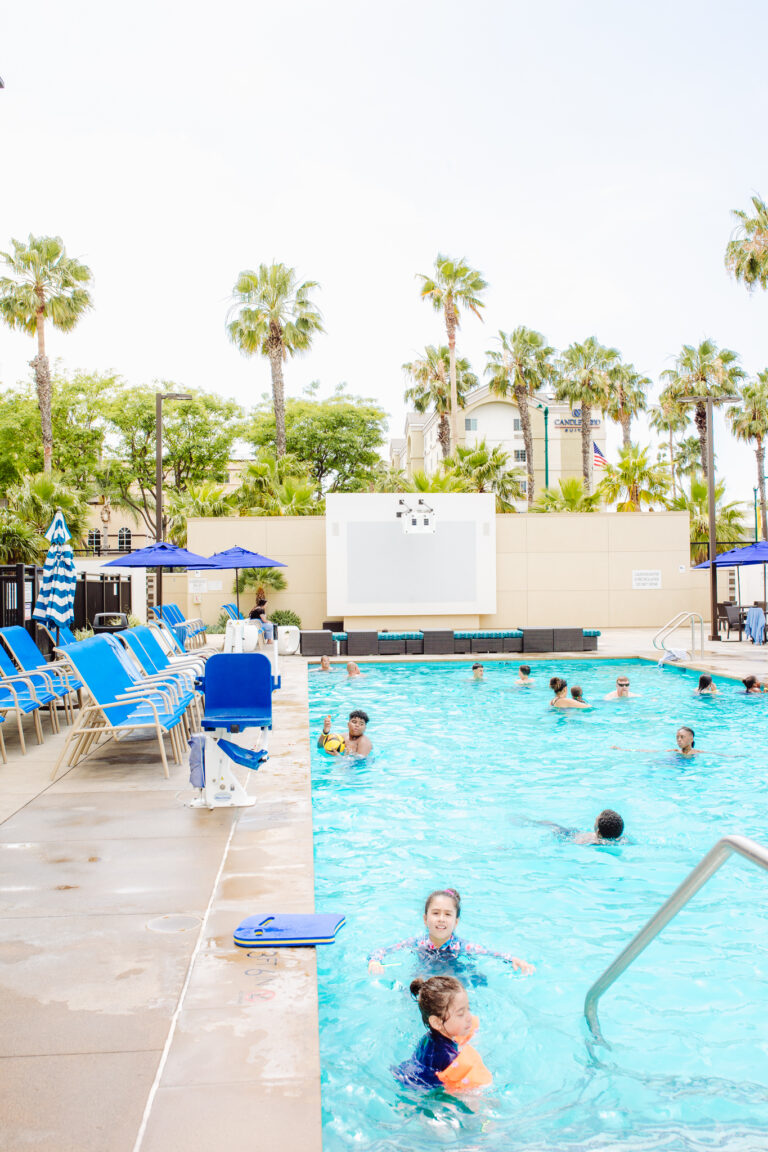 Bigger Room Options for Families (with a Little Longer Walk)
I've stayed at the Suncoast Park Hotel a few times, and I can never get over the giant rooms and modern updates!
We both agree if you are pushing a double stroller full of kids back and forth for naps, this one is just a bit too far for our taste. However, one of my best friends with older kids says it's a great easy walk there and back to the hotel late at night and doesn't feel far at all!
If you love a little extra room, space for pack-n-plays or rollaway beds, you're going to love the Suncoast Plaza!
The Element by Westin is right next to the Suncoast Plaza, and I have the same distance warning for parents who may be making multiple trips.
But this hotel is new, and nice, has the most delicious complimentary breakfast, and offers the best sleeping accommodations for large families! You can book rooms that sleep eight comfortably with enough space to not feel on top of each other. They also do a double bathroom so two people can shower at once.
Also, if you have allergies in your family, they do the best I've seen with gluten-free, nut-free, and dairy-free options to make sure everyone can enjoy something at breakfast or at least feed them in your full kitchen in your room with tons of seating and amenities.
The perks make this one a family favorite, even if you have a few more minutes to walk each morning. But the walk is so doable, and this Westin is a great choice!
I stayed at this fairly new hotel earlier this year and was blown away by the most amazing water park and breakfast buffet I've ever experienced! They do nightly Disney movies at the pool, and share a parking lot with many restaurants, including Starbucks!
They are about a 15-minute walk (maybe 20 if you're feet are dragging after a long day). But the big rooms, amazing accommodations, and excellent prices make the Cambria well worth it to many families!
Disney Property Hotels Deals and Discounts
This is as close as it gets with this hotel situated in Disney California Adventure Park. This is the nicest of the Disneyland Resort hotels, and if you really want to stay in luxury and reduce your steps, this is your hotel!
This is often referred to as the Disney hotel that feels the most magical. It's right by Downtown Disney, and you can take the monorail right into the parks!
This is currently being rethemed and renovated to become a Pixar-themed hotel. Many are taking advantage of amazing rates if you don't mind a little (pixie) dust during construction. Plus, you'll have your own private entrance into California Adventure, and can enjoy early entry into the parks!
Honorable Mention:
Some hotels that feel farther away often offer a shuttle service so you don't have to worry about walking. Many offer bigger rooms and better prices, and you get a lot more bang for your buck if you're okay with using a shuttle or getting an Uber for rope drop. Check out Getaway Today hotel deals and filter by shuttle services to find a great one!
We hope this helps you find the best hotel within walking distance to Disneyland. And that you have the most magical vacation full of memories and a good night's sleep!
Like this Disneyland post? Be sure to check out these posts too:
Anaheim Water Parks and Hotels with Water Parks
Disneyland Discount Tickets: Disneyland Ticket Deals