Surprise Disney Trip Reveal Ideas (And Free Printable!)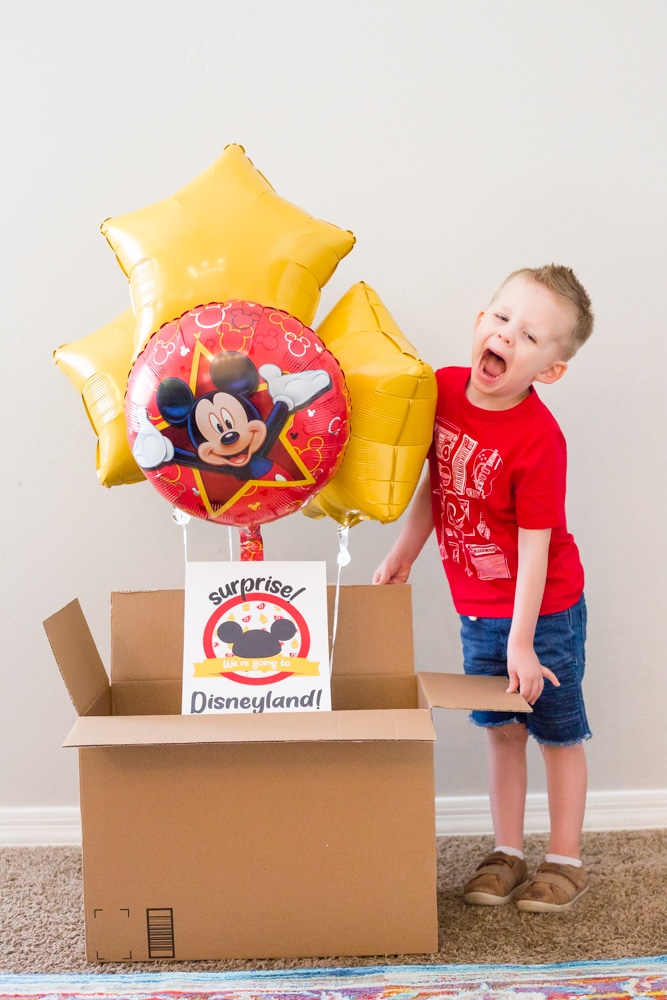 There are few things more exciting in parenting than surprising your kids with something will legitimately lose their little minds over! And a surprise Disney trip reveal is one of the most fun things to put together as a parent!
Surprise! We're Going to Disney!
We're wrapping up our own Disney trip, and we've had so much fun surprising our boys and building up anticipation!
***Also, I have to note early, we have a huge hack for Disneyland Discount tickets! They do Disneyworld discounts too!
Use the code FRIDAYLOVE to get an extra $10 off all packages! Here's our favorite place to book our Disney vacations to save major money!
And be sure to follow my Instagram M-I-C-K-E-Y highlights to follow along with our Disney magic!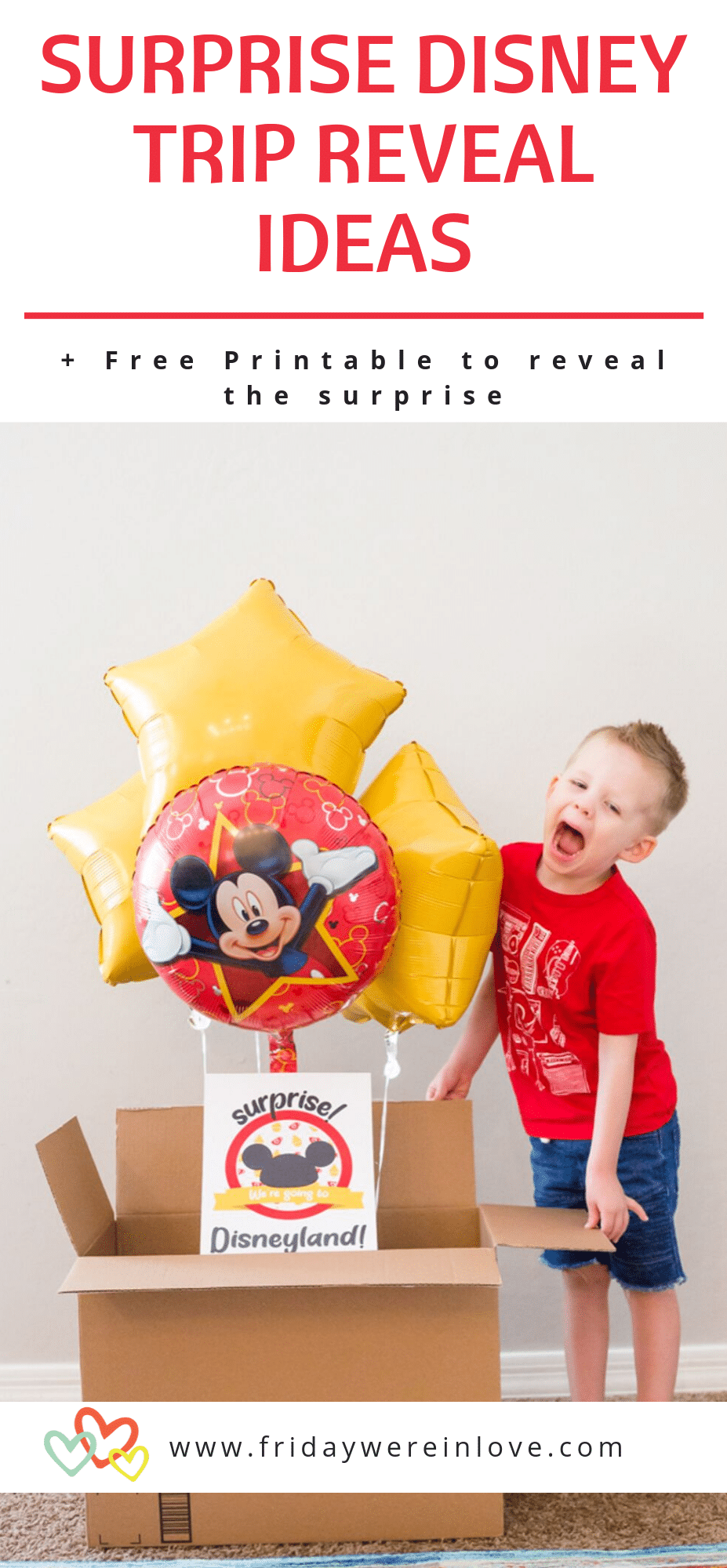 Disney Trip Reveal for Kids
It doesn't have to take a lot of work (or money, you're spending enough of that on your trip)! But a little creativity, the right free Disney trip reveal printable, and the perfect wrapping job later turns into a really fun surprise Disney trip reveal idea that you'll remember forever!
There's also a free We're Going to Disney printable at the end of the post.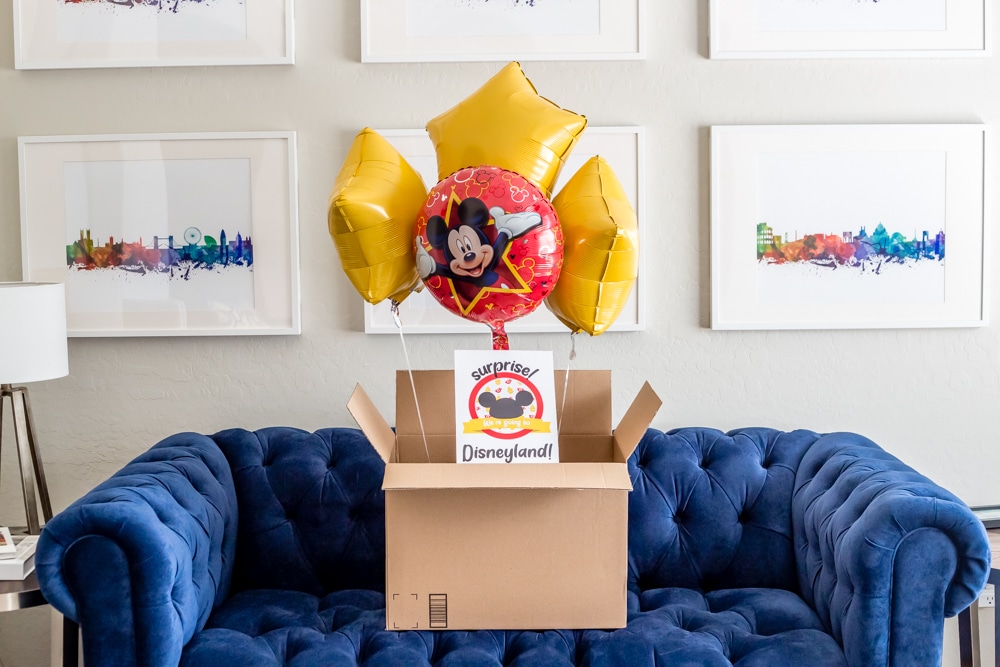 Surprise Disney Trip Reveal Ideas
Here are 10 easy and really fun way to pull off a surprise Disney trip reveal!
Disney Balloon In a Box
Add balloons to a large box, and let them float up with a sign announcing "Surprise! We're going to Disneyland!"
When they open the box the balloons float up and the surprise is revealed.
Tip: tape the sign to the side of the box and to the main balloon so it floats up too!

Disney Reveal Box

Gift Items They Will Use For the Trip
Grab a few t-shirts, or proactively buy some Mickey ears from the Disney Store. Let them unwrap their new Disney apparel or coloring books for the trip with the surprise Disney trip reveal sign right on top!
We are also huge fans of the Disney rides children's books that recently came out. You may want to include a bedtime story in their Disney reveal box!

Disney Themed Scavenger Hunt

Have a Disney Scavenger Hunt
My kids are too little for this one just yet, but I plan to do one in the future! It only takes a few clever sayings, sending them around the house to solve a few clues and a big reveal at the end. Print out the announcement, and let them find out your big surprise at the end!

My parents did this when I was a child, and it's still one of my favorite memories!

Disney Vacation Packed Bags Reveal

Pack Their Bags Reveal
Start by packing everything for the trip they will need. Send them to their room to find the suitcase all ready with a sign attached surprising them!

Mickey Mouse Pajamas for Disney Trip

Let Them Guess with some new Micky Pajamas/Shirts
I love surprising my kids with some new pajamas that have their favorite characters. We don't do a ton of character clothes in our family, so it's very exciting when not one but a few pairs of character jammies show up! Mickey Mouse pajamas for a Disney trip are always a sign to my kids.
Layout the new items with Disney clothes your kids love. Let them guess what these have in common and why they might need them.
You can put the surprise sign right on top or hide it underneath the clothes.
P.S. We included a few character shirts in our list of What to Wear to Disneyland.

A Musical Surprise
Find three Disney songs you know your family loves. I love using Disneyland Songs played in the park. Zip A Dee Do Dah, It's a Small World, and A Pirate's Life for Me always queue my son to Disneyland!
Play the songs and ask your kids what they all have in common. When they guess it let them open a surprise envelope with the big reveal.
A Disney Calendar
Gift a Disney calendar with the date circled and surprise Disney trip written boldly on the dates you're going. You can tape the printable to the top of the calendar, or place it in the month of your trip for a big surprise!

Puzzle Reveal Surprise Disney Edition

Puzzle Reveal
Print out the Surprise Disney Trip Printable on thicker cardstock paper. Next, cut out the pieces. Finally, have them put the puzzle together for the surprise of a lifetime!

Letter From Mickey Mouse Inviting to Disney World (or Disneyland!)

Send a Letter from Mickey Mouse
It doesn't take much, just grab a Disney font. Go ahead and write out a letter from Mickey Mouse inviting your family for the trip. Include the dates, a few fun things he'd love your family to do. And be sure to sign it Mickey!
Sample:

Hey Kids!
It's your ol' pal Micky Mouse!
I'd love fo you to come join me and Minnie, Goofy, Donald, Pluto, and all my friends for a magical vacation at Walt Disney World Resort! Bring your parents and join us this June for the most magical week of your lives!
I can't wait to see you!
xoxo
Mickey Mouse


We're Going to Disney Baloon Idea

We're Going to Disney Balloon Idea
Purchase several Disney balloons from the dollar store. Have your kids do a Disney surprise treasure hunt (balloon style) following the balloons. Leave the You're Going to Disneyland Surprise Printable (or Disney World version) at the end of the balloon trail.
You're Going to Disneyland Surprise Printable
Be sure to grab Disneyland and Disneyworld Discount Tickets and this printable and you're all set for the best surprise ever!
Grab the Surprise You're going to Disneyland or Surprise You're Going to Disney World free printable here!