Disneyland with Toddlers: Tips, Rides, and Making the Most of Your Vacation
Wondering how to do Disneyland with Toddlers? Is it worth the money? Are there Disneyland rides for toddlers? We're sharing all the info you need to make the most of your Disney vacation with a toddler!
Traveling to Disneyland with a Toddler
The Disneyland Resort is nicknamed "The Happiest Place on Earth" for a good reason. With enjoyable attractions, delectable food, and magic around every corner, it's no surprise that it's one of the most popular vacation destinations in the world. While taking a Disneyland vacation is incredibly fun, planning one can sometimes be stressful – especially if you're traveling with a toddler.
Doing Disneyland with toddlers is so doable, and our nerves were settled instantly as we watched the magic on his face! Our first experience doing Disneyland with a toddler was surprisingly more fun than the times we've been just as adults! Between getting them in for free before they are three, booking with Getaway Today, and our hack to get Disneyland discount tickets for us, it's such an affordable and fun time to go!
Disneyland With Toddlers: Tips and Tricks to Make the Most of Your Vacation and Their Vacation
Navigating height restrictions, planning naps, and dealing with tantrums can be overwhelming. Luckily, I've teamed up with my friends at Get Away Today to give you the ultimate guide on traveling to Disneyland with a Toddler. Our tips and tricks will ensure that your next vacation to Disneyland with a toddler is truly a fairy tale from Fantasyland, instead of a Fantasmic nightmare.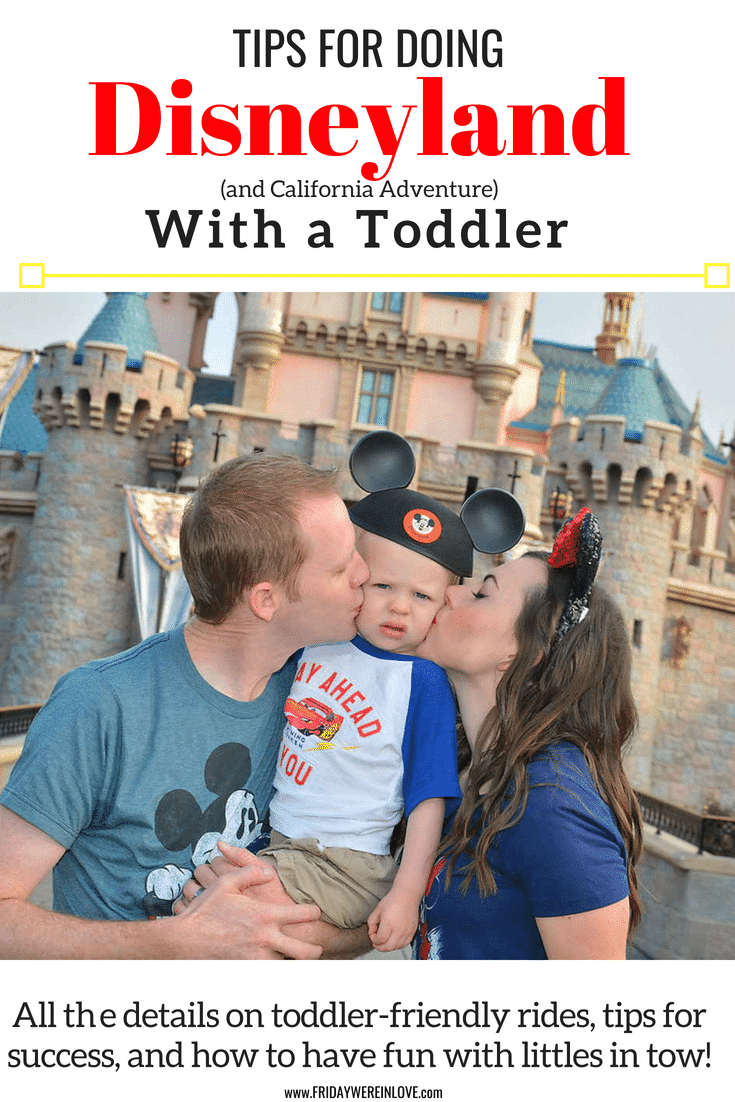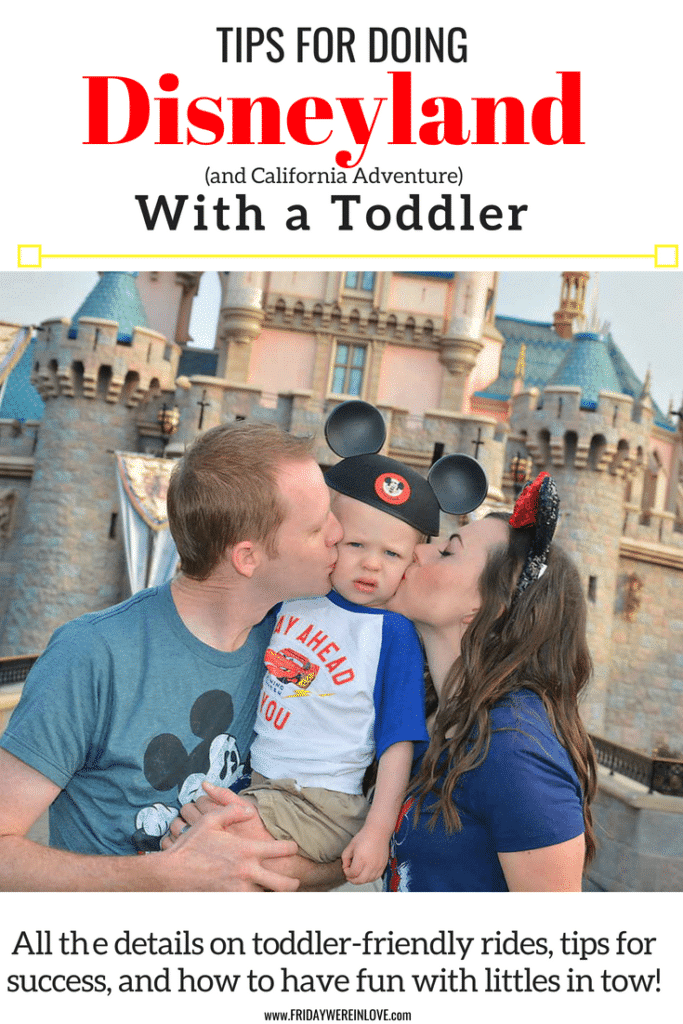 The Lowdown on Disneyland Rides for Toddlers
Research Rides
Just because attractions are geared toward preschoolers and kids, doesn't mean that they are for everyone. While most of Disneyland's attractions are fool-proof, there are some that might spook your little one. Although the rides are slow-moving, your child might be surprised by villains, dark spaces, and loud noises. Because of this, I've placed a few attractions below that might frighten your little one:
Alice in Wonderland
Haunted Mansion
Toad's Wild Ride
Pinocchio's Daring Journey
Roger Rabbit's Car Toon Spin
Snow White's Scary Adventure
The Many Adventures of Winnie The Pooh
To be safe, I would suggest that you take a "test ride" first to make sure your child can handle the attraction. Our two-year-old loved The Many Adventures of Winnie The Pooh, but we heard others crying. Disneyland rides for toddlers can vary from kid to kid. You know your little Cast Member better than anyone, so use your best judgment.
However, if you're wondering what rides your toddler is sure to love, we've got you covered too!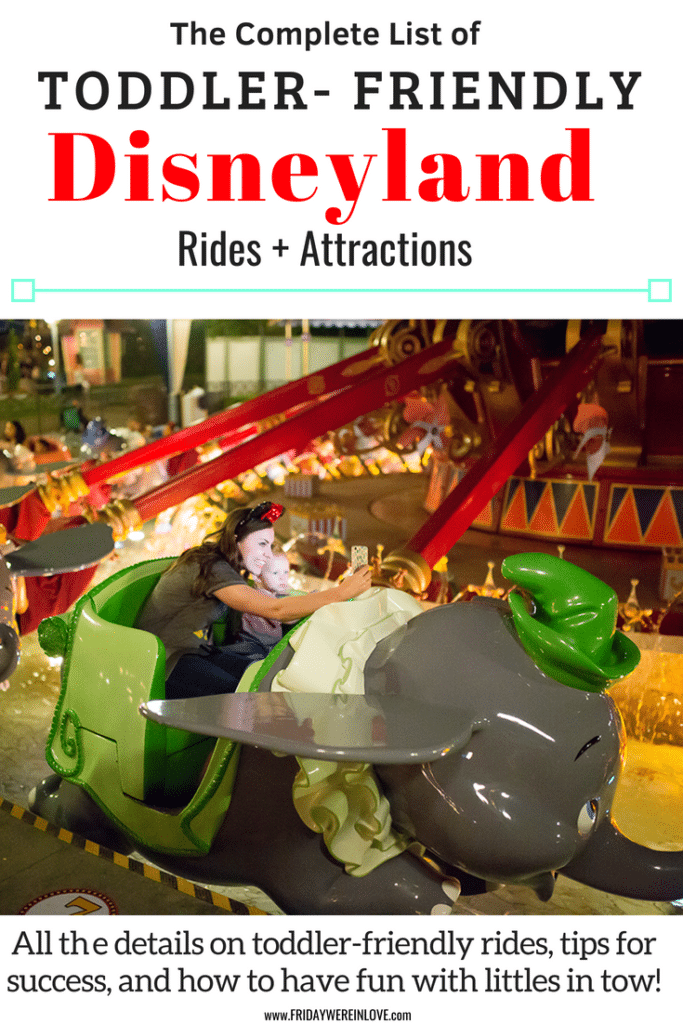 Disneyland Rides for Toddlers They Are Sure to Love
"it's a small world"
Astro Orbitor
Autopia
Buzz Lightyear Astro Blasters
Disneyland Railroad
Dumbo the Flying Elephant
Finding Nemo Submarine Voyage
Golden Zephyr
Jessie's Critter Carousel
Jungle Cruise
King Arthur Carrousel
Mad Tea Party
Mark Twain Riverboat
Minnie and Mickey's Runaway Railroad
Monsters Inc. Mike & Sulley to the Rescue!
Peter Pan's Flight
The Little Mermaid – Ariel's Undersea Adventure
Toy Story Midway Mania!
Disneyland Tips with Toddlers
2. Prep Before You Go
We're big fans of helping toddlers prepare before we do anything new. That might mean looking up some of the most popular rides and watching movies or looking at pictures. We might role-play getting in and out of a ride so toddlers know what to do when we visit the best Disneyland rides together.
But most of all, I think watching a few Disney movies before your trip will be a game-changer! Check out our Movies to Watch Before Disneyland and our Disney Plus for Preschoolers list for tons of great movies and where you'll experience them at Disneyland.
3. Utilize the Disneyland Baby Centers
We didn't know baby care centers existed on our first trip to Disneyland with a toddler. But when we added a second baby to the mix, we couldn't believe we hadn't utilized this amazing resource!
Disneyland has a Baby Center right off Main Street by Plaza Inn. Disney California Adventure Park has a Baby Center just behind Car's Land, directly behind Fillmore's Taste-In with an easy walking path. You can also access it by heading to the Ghiradelli Soda Fountain and Chocolate Shop, it's right behind it!
Guests can enjoy private areas to nurse babies, tons of diaper-changing stations to change diapers, high chairs, and a vending machine with baby and toddler items with you may have forgotten or run out of in your park pack. (And if you need a park pack, check out our roundup of Disney Fanny Packs and Park Bag Options).
It's also a great place to just have some quiet and decompress if toddlers are overstimulated and need a minute.
I think the best part of the Baby Centers for a toddler is the tiny toilets. It's a great place to go potty if you're working on potty training! They'll even give a sticker prize for using the potty.
4. Bring Snacks
It's no surprise that toddlers will inevitably get bored in long lines with long wait times and start to get hungry. However, to avoid any midday meltdowns, make sure you bring snacks. Not only does this help you avoid buying sugary treats like churros, ice cream, and cake pops, but it will keep them occupied for the time being. Food items like chips, granola bars, fruit snacks, and water will keep everyone satisfied and hydrated during the hot, Southern California days.
However, this doesn't mean that you shouldn't splurge on Disneyland's delicious treats and eats. I'd recommend planning at least one Character Dining meal while you're at the Disneyland Resort. Seeing your child's face light up as a character greets them is worth every penny. The best part? Since Character Dining allows you to enjoy delicious grub while meeting Disney characters, you don't have to worry about waiting in long Character lines in the park. It's a win-win for everyone!
Luckily, you don't have to break the bank when planning a Character Dining meal. Get Away Today offers discount Character Dining tickets that include tax and gratuity already, so you only have to worry about having fun.
5. Stay Near the Park
Toddlers (and adults) will inevitably get tired throughout their long, Disney day. Because of this, make sure you book a hotel near the park. While staying at one of the Disneyland Resort Hotels would be a dream, I know that's not a reality for most of us. Fortunately, Get Away Today offers SO many affordable properties that are within walking distance to Disneyland. Staying near the park allows you the flexibility to take naps, go swimming and head back to the park whenever you're ready.
Check out our guide with a complete roundup of Hotels Within Walking Distance to Disneyland for tons of excellent hotels near Disneyland Park.
They're all great options to leave the theme parks during nap time and easily get right back to the fun once nap time is over.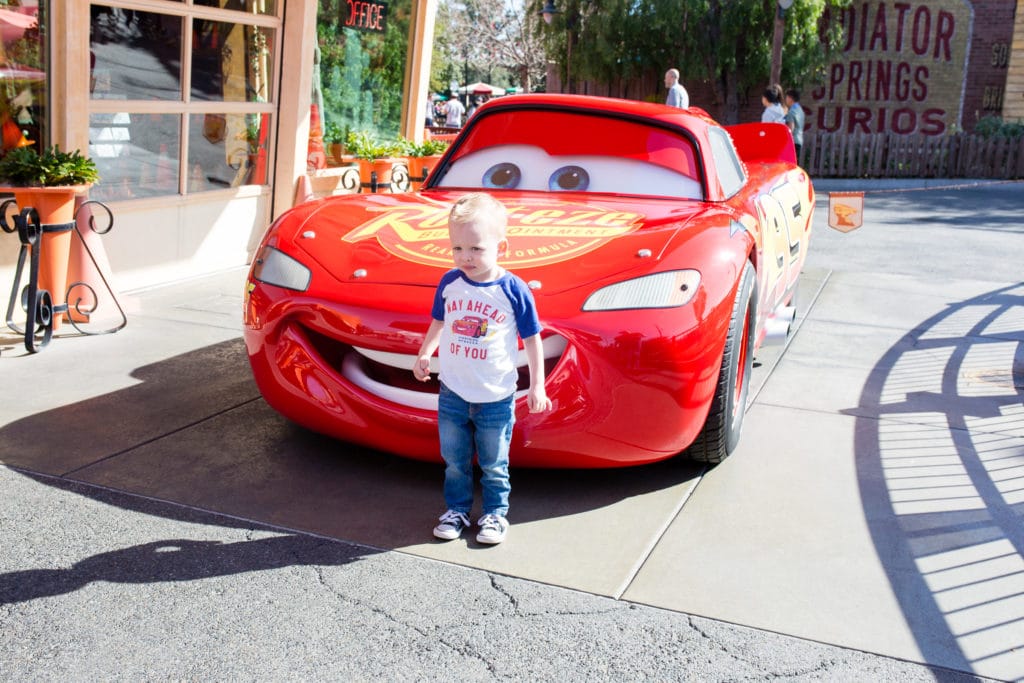 If you're worried about leaving the park and missing out on the magic, I'd suggest buying a 4 or 5-day Disneyland ticket. By doing this, you won't feel the pressure of staying in the park all day and all night, which makes your entire trip more relaxing and enjoyable.

Disneyland with a Toddler
6. Toddler Entertainment
If you don't want to leave the park, but your toddler needs a break, be sure to check out all of the incredible entertainment that the Disneyland Resort has to offer. Not only do they have various parades and nighttime fireworks, but they also have shows just for little ones to enjoy. I've placed a list of my favorite Disneyland entertainment that toddlers are sure to love below:
Frozen – Live at the Hyperion (rumored to return soon)
Disney Junior Dance Party!
Mickey and the Magical Map
Parades
As a tip, be sure to check the official Disneyland website before you travel to see what entertainment will be available while you're there. Some shows are seasonal and can be closed for refurbishment. It never hurts to double-check before you make a plan.
Mickey's Toontown recently underwent a major renovation with designs meant for toddlers to interact and play with. There are climbing areas, grassy areas, interactive elements, and kid-friendly character encounters with classic Disney characters. We think Toontown is a must-do when you take a toddler to visit Disneyland.
7. Prep The Stroller
I about fell out of my chair when someone told me they use a stroller for kids ages newborn through eight at Disneyland. But after years of Disneyland trips, I'd wholeheartedly agree!
Just because your toddler or preschooler can walk, doesn't mean they are going to be able to all day. We typically log about 15,000-20,000 steps on a Disney day, and my adult feet are tired at the end of it! Toddlers and preschoolers are going to get very tired. In fact, you'll likely have a stroller nap or a kid who falls asleep at night. It's exciting, it's fun, and there's a ton of walking even with a stroller. So make sure you plan on bringing one or renting one!
But also, I'd recommend preparing your stroller. Check the forecast, because Disneyland can get very warm, very cold, and very wet on a rainy day. Here are products we love for helping keep the stroller comfy and the elements at bay for our toddlers:
Try to make the stroller comfy for them, comfy for you, and prepped for the elements!
One more big stroller tip: tie a scarf, or ribbon, or make a sign to tie to the stroller handles. You'll be amazed at how many strollers there are, and how many people have your same model! Bring something to make it easy to spot your stroller. You'll park it during many rides, and Disney cast members often move them to better-fit crowded areas. Make it easy on yourself to spot your stroller with a marking or sign hanging from the handles.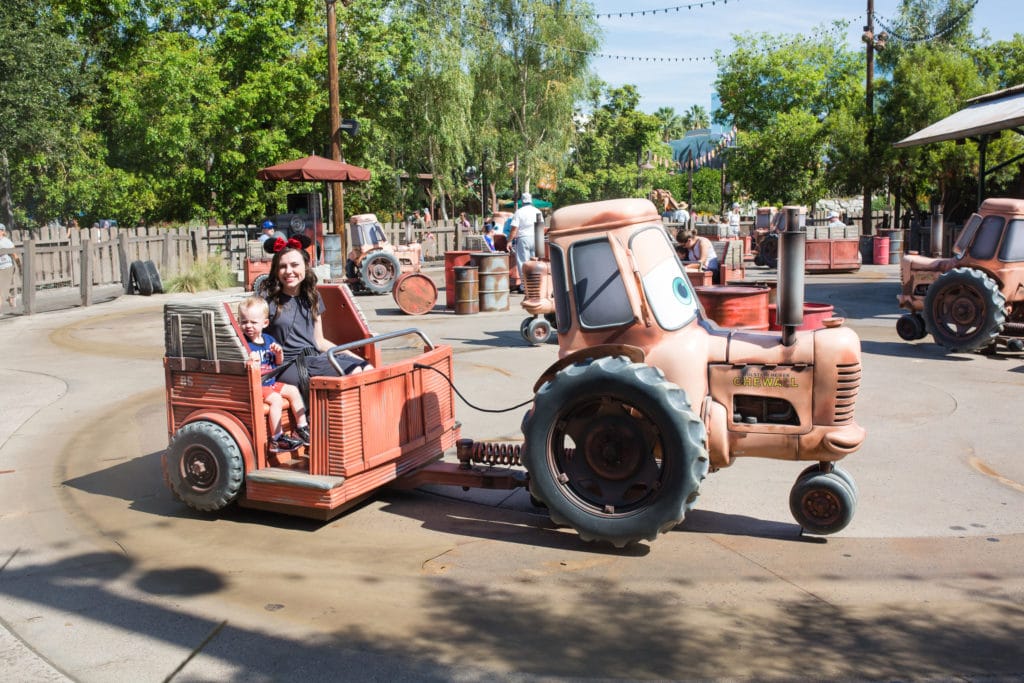 8. Rider Swap
Last, but certainly not least, make sure you take advantage of Rider Switch. If you're not familiar with this feature, it will become a lifesaver when traveling with your little one. Even though experiencing Disneyland with a toddler is wonderful, there are still more thrilling rides you'll want to enjoy.
Because of this, Rider Switch allows you and a partner to ride the attraction without waiting in line twice. While one person waits with your child, the other one can go ride the attraction like normal. Once they're done, you can switch places and go ride the same attraction without a long wait. Rider Switch makes it possible for everyone to have the ultimate Disneyland experience!
When all is said and done, taking a toddler to Disneyland truly makes it "The Happiest Place on Earth." It's worth every penny to do Disneyland with Toddlers in our book!
Now that you know how to navigate your next trip, what are you waiting for? To book, visit getawaytoday.com or call 855-GET-AWAY to speak to a travel expert directly. Don't forget to mention promo code FridayLove to get an additional $10 off your hotel and tickets vacation package. Let them know that Friday We're in Love sent you!
Disneyland with a Toddler FAQs
Is Disneyland worth it with a toddler?
Yes, Disneyland with a toddler is a wonderful experience! They often believe in the magic all around them, love the characters and shows, and they can ride a surprising amount of rides!
Is it a good idea to take a 2 year old to Disney?
Yes, it's absolutely a good idea! Disney doesn't charge a ticket price for a 2-year-old, but you will need to purchase one when they turn three. It's a good idea to take a 2 year old to Disney since there's so much for them to do and see, and many rides they can still enjoy.
How many days should I spend at Disneyland with my toddler?
Plan at least two, but four days or more is ideal! You can spend time in both California Adventure and Disneyland, and have plenty of time to do and see all the shows and ride all the rides. The good news is, there are many free bonus day offers when you plan a multiple day Disneyland vacation.
Like this Disneyland with Toddlers post? You may like these Disney posts too:
Must Take Disneyland Picture Ideas: The Most Instagramable Disneyland Spots
Disneyland at Halloween Time- 8 Reasons Why It's The Best Time to Go
Get Out Pass Review + Promo Code
Get 365 Date Ideas!
We want to help you have the best date nights ever! Grab this FREE printable with 365 date ideas, a date for every day of the year so you never run out of ideas!