Self Care Activities for a Healthy Pregnancy
There is nothing like pregnancy to bring out the nesting instincts and need to feel prepared and ready for baby! But there's also no time like pregnancy to think about self care activities for a healthy pregnancy and a healthy mom. This pregnancy self care checklist helps expecting moms answer "How to take of myself during pregnancy" with some easy ideas!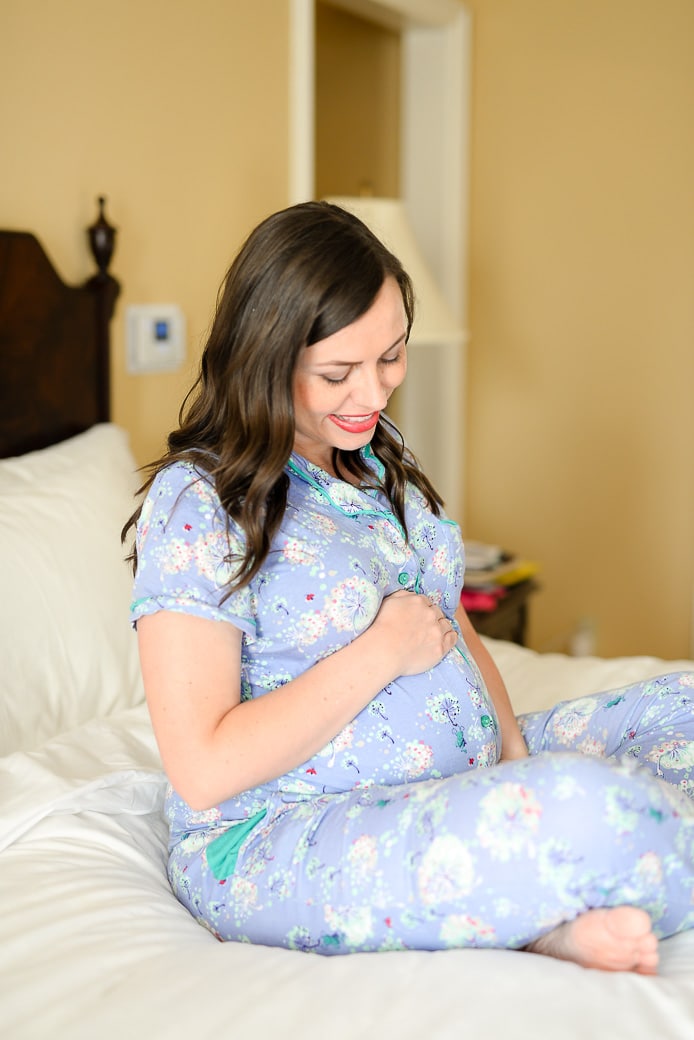 How to Take Care of Myself During Pregnancy
There are so many different theories on birth, delivery, parenting methods, and prenatal care. But one thing I've heard universally agreed on is that mom needs to take care of herself during pregnancy. This means eating well and exercising (if you can and a doctor clear you). This means prenatal vitamins and getting the nutrients you and baby need. But I've learned through two pregnancies and a few bedrest scares, that self-care during pregnancy is equally important. And there are a few things that make a difference for pregnant mom's healthy while pregnant.
Self Care Activities for a Healthy Pregnancy
I know it can be the hardest thing to put yourself first, particularly if this isn't your first pregnancy. But a little time to rest and relax and to prep goes a long way. Here are the self-care activities I swear by!
Get pedicures regularly.
I like to do this when I'm not pregnant, but I really stretch out the time and don't go all that often when I'm not expecting. This changes during pregnancy! Not only do I look better and trust my toes and feet are in order when I can't see them, I actually feel better. The massage time helps significantly with swelling. The sitting down to rest goes such a long way. This time of pampering and help with circulation are the real reason I go! But toes I feel good about certainly aren't a bad perk either!
Outsource some cleaning.
Maybe it's your partner, maybe it's hiring a service, but get some help. There are products and chemicals you shouldn't be around. There are areas you'll eventually not be able to bend down and scrub. Pregnancy is about the best excuse in the world to outsource cleaning.


Pregnancy Self Care Checklist

Take some time to put your feet up.
Again with the swelling! I have a hard time sitting still, particularly when there are things to be done. But I've learned it's completely fine to say I need to sit and put my feet up for a while. I did this in the office, I do this at home, and I've even done it while traveling or out on a date night. Take care of those legs!
Preschedule your prenatal visits
With my first, we sat down and booked every appointment for the last three months when visits become more regular. It was so easy to fit my work meetings around those pre-planned visits! I had everything checked right on target. I knew I had gestational diabetes early. There was so much that benefitted my health and my stress levels just having them set and putting them all in my phone calendar.

Pregnancy Tips for a Mentally Healthy Pregnancy

Get a haircut!
When that hair is growing over time, it's always a good idea to get a regular trim. You'll look and feel much better. It's worth a few more frequent visits.
A massage- or at least a foot massage!
Yes, pedicures mentioned this, but when your body is overwhelmed and muscles aching, there's nothing like a massage to add to your self care checklist. If you can't justify a full massage or your doctor doesn't recommend it (check with them!) a reflexologist with a foot massage is definitely in order.

Give yourself time to read.
You may be shocked how little sleep you get the first few weeks with a newborn. It's hard to process reading material or really enjoy it when you're falling asleep. If there's a book you want to read for fun, for birth preparation, or with a baby or parenting philosophy, now is a good time to rest and read up.

Self Care Checklist

Go to the movies.
Seriously, this is a hard one to pull off with a newborn for several months, and one a lot of people really miss. Let yourself kick back and relax and go see the latest movie in the theater.
Schedule a nap.
Everyone will tell you to sleep when the baby sleeps after they come, but often that time is the only time you can shower or pay the bills. Particularly when sleep is harder to come by in the third trimester, it's a great time to schedule some naps in whenever you can. Grab an extra hour here or there and remember growing a human is work and is exhausting. You've earned a little nap time!

Indulge in some great pajamas.
This can be maternity pajamas, or this may be some great bottoms that work now and will work when you're postpartum too. Comfortable clothes and a fabric you feel fantastic in makes such a difference. Let yourself buy a pair that you can rest well in, and if you can enjoy them during the recovery period after baby that's even better! It's the best attire for self care activities out there!
Like this pregnancy self-care activities post? You may like these posts too:
Summer Pregnancy Survival Guide
15 Maternity Outfits Using the Same Maternity Dress
The Best Places to Buy Cute Maternity Clothes
Stitch Fix Maternity: Pregnancy Style You'll Love!
Get 365 Date Ideas!
We want to help you have the best date nights ever! Grab this FREE printable with 365 date ideas, a date for every day of the year so you never run out of ideas!