Gestational Diabetes: 5 Snacks That Are Getting Me Through
These Gestational Diabetes Snacks help to keep blood sugar regulated, mom feeling great, and baby happy too.
I mentioned in my last pregnancy update that I failed the glucose test and was officially diagnosed with gestational diabetes. I have to say, I half expected it. I've had insulin resistance for over a year, and I've been on diet and medication to regulate it. I knew this was highly likely during pregnancy.
The first thought it limiting carbs and sugar, which I know I'm going to be fine doing since I have a lot of practice. What I didn't expect was a doctor's lecture on how I'm eating too few carbs, my blood sugar is low, and I need to balance my meals better with protein and some carbs/sugar and not starve baby. I think he's fine, he's measuring a week ahead of schedule and clearly I'm not anorexic, just measure my thigh circumference and you'll know I'm legit! However, the balance is something that I definitely am working on and learning as I go.
I am often so busy at work during the week, and involved in church and home projects most the weekend that snacking is actually a difficult thing for me, and something I'm now supposed to do. I'm finding that snacks on-the-go, and strategic gestational diabetes snacks with some carbs and plenty of protein are getting me through! If you're trying to eat healthier, or you're a poor pregnant soul with gestational diabetes, here are five snacks to help you survive gestational diabetes and keep you sugar levels where they should be!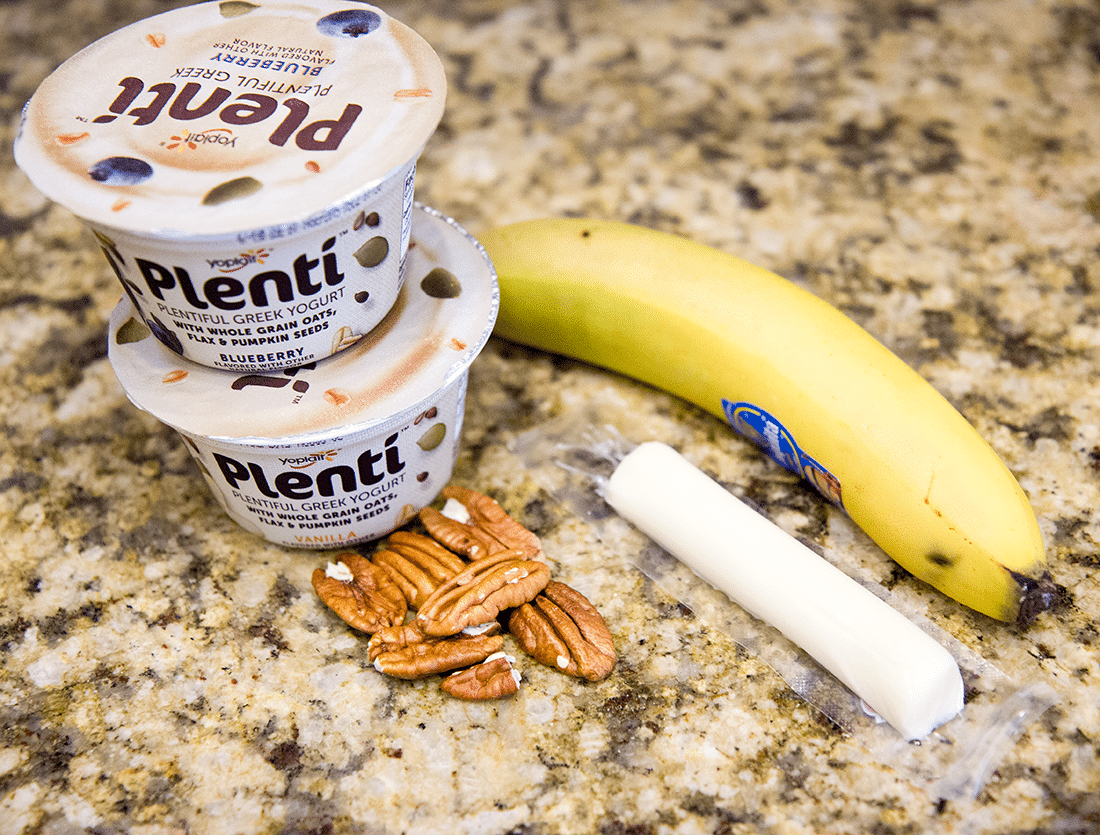 Gestational Diabetes Snacks
1. Greek Yogurt
The extra protein in Greek yogurt is such a win- it sustains blood sugar for extended periods of time, and the lower sugar content helps keep things in line too! I'm loving Plenti Greek Yogurt right now. Seriously, half a container in the mid-morning and I'm set for a later lunch feeling great with stable levels!
2. Raw Nuts
Pick your favorite, but due to the brain development phase of baby, I'm craving some of the more fatty nuts. I'm deathly allergic to walnuts, but luckily pecans and cashews have my back right now.
3. Cheese
There's little to no carbs in cheese, but plenty of protein. I'm so thankful for all the on-the-go options. I love to grab one and pair it with #4!
Snacks for Gestational Diabetes
4. Fresh Fruit
Alone it can spike blood sugar, but paired with a protein it's a great way to get blood sugar up and keep it stable.


5. Crackers and Peanut Butter
I couldn't believe it when the doctor told me to start adding some crackers into the mix. I only eat about five or six, but those with a few TBSP of nut butter and I'm set for the afternoon.
Okay friends, your turn. What are your favorite lower-carb, protein rich snacks? Aside from ants on a log, I'm pretty set on the five above. Help a sister out, what would you add to the mix?
Get 365 Date Ideas!
We want to help you have the best date nights ever! Grab this FREE printable with 365 date ideas, a date for every day of the year so you never run out of ideas!