Pregnancy Photos: Maternity Photo Shoot Picture Reveal
Expecting a baby and hoping to document it with pregnancy photos? Here are some great maternity photo shoot tips, maternity picture poses, and ideas when to take maternity pictures to get you all set for the perfect pregnancy photos!
Pregnancy Photos
I'm so excited to share our maternity photo shoot with our miracle baby #2! Pregnancy photos are something most moms-to-be may not be excited about at the time, but are something they will cherish.
We always count a fun couple's photo shoot a great date night. When we don't have to stress having a child with us and can just enjoy time together laughing and talking, it's a great night! This is one of my favorite things, and I love how much we laugh during a pregnancy photo shoot!
When to Take Maternity Photos
With my first pregnancy, I wasn't sure I wanted maternity photos. I mean documenting a time I was swollen and felt like a whale just didn't sound appealing! I almost didn't do them, until my dear friend and amazing photographer Chrissy pretty much insisted we do some. We took maternity pictures two weeks before I was due and I felt so large and just hoped I'd be glad I did them.
Guess what friends, I'm really glad we did them! I think Chrissy makes everyone look great, but there's something about looking back at pregnancy and being in awe of your body. It can grow so much, your feet can swell so, your face may not even look like you, and there's something beautiful in it.
If you're wondering when to take maternity photos, I'd recommend the end of your second trimester or early in your third. You'll get a great belly, but likely be less swollen. We've clearly done them at the very end- risking that I could have early labor and miss them. But I've loved documenting the belly just about as big as it will get. For some reason, I may feel like pretty, but I feel like the essence of pregnancy and sacrifice is shown. In a way, that's more beautiful to me than pretty would be.
Maternity Photography
I vowed we'd do maternity photos earlier in my pregnancy if I was ever lucky enough to be pregnant again. We only did them about two weeks earlier with a month to go, and I'm still just as swollen. But I'm eternally grateful that one day I will have these to remember this moment in time. The excitement of a new family member joining shortly. The anticipation of the change. Moments with my husband we shared while he supported me and helped me. I honestly feel like maternity photography is a must particularly when you don't feel like you want maternity pictures.
I hope to have my body at least resemble my pre-pregnancy body much like it eventually did last time. And I'll forever cherish this time when my body did something amazing and reached full-term pregnancy with a little human. Particularly a miracle little human
Swollen pregnancy face and all!
Maternity Poses
I love that I can trust Chrissy to pose us and nail this one! But if you're doing maternity pictures and are looking for maternity picture ideas, I'd focus on some good maternity poses.
Make sure you get at least a few profile shots with the belly. I'd also make sure you pose your hand under the belly to really emphasize it. I've taken enough of these to know when a maternity dress will hide the bump or I'll just look fat. Hands placed on top and bottom seem to work well.
I'm also a big advocate for couple maternity pictures. Get a few of you and dad together. Your child will cherish having these maternity poses with both of you incorporated.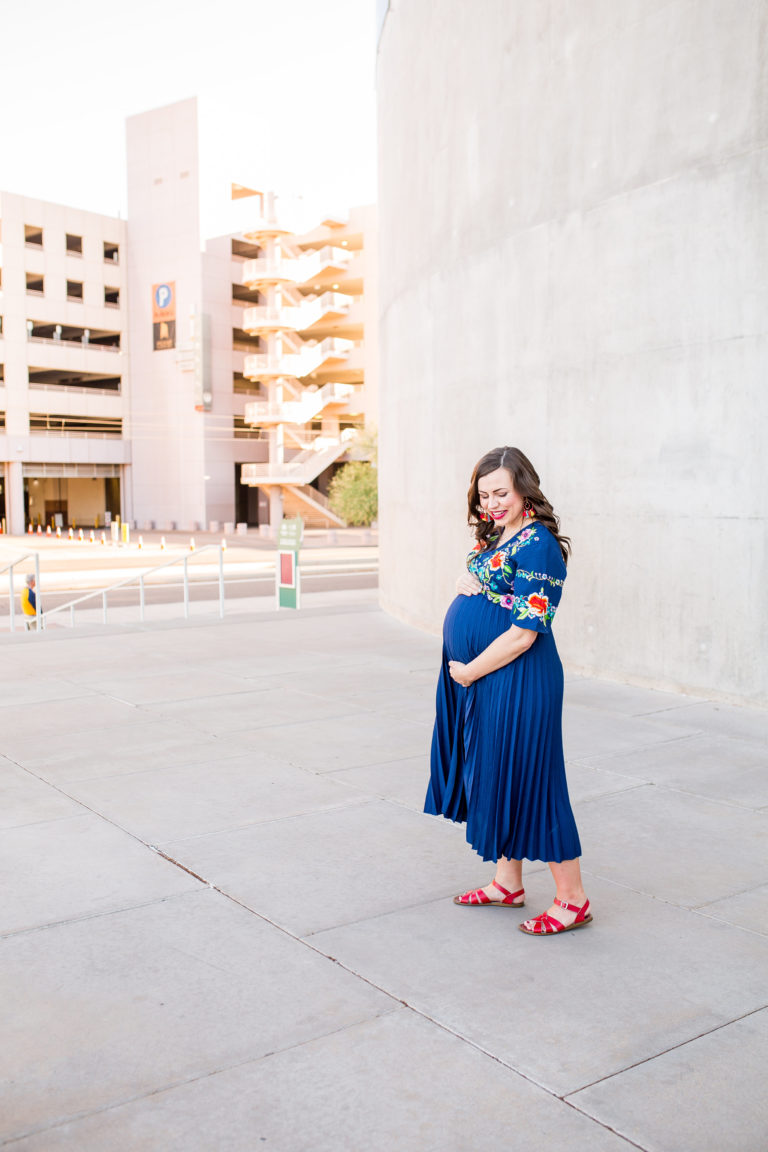 I'd also recommend adding in a few props too. It doesn't have to be anything fancy! We've done very small shoes for our pregnancy photo shoot sessions. Pregnancy and parenting books are always cute. And of course, letterboard signs are a win too. It's so fun to write baby's name, or the due date, or a funny witty saying on one.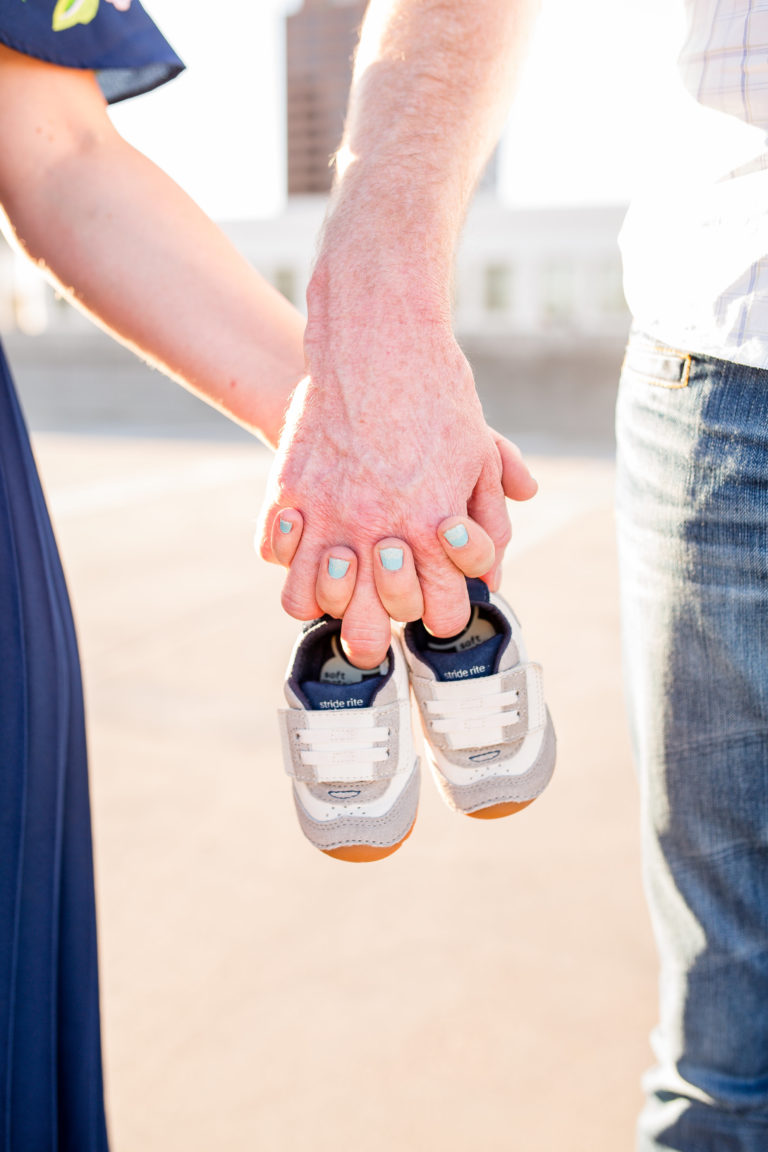 Pregnancy Photography Near Me
If you're looking for a great photographer, ask around! I'm sure you'll find someone great for pregnancy photos. If you're in Phoenix I can't recommend Chrissy at Let Me See You Sparkle Photo enough! She's amazing and she just always captures the joy of a new baby perfectly at any phase of pregnancy, birth, or baby.
Also, choose a location that really represents you and your time of life. I loved doing an urban shoot in Downtown Phoenix. Jacob often does assignments with a partner office in this area. It's fun to talk about where he spends a lot of time these days. We also do so many date nights down here, it's just really us at this phase of life and I never want to forget it!
I love that one day we can talk to baby about this location and mention how daddy worked there. And how mom and dad went on dates there. Also, we can always share that rooftops are our jam, and maternity photos just felt right in the heart of the city we love.
Like these maternity photo ideas? You may like these posts too:
Summer Pregnancy Survival Guide
Fun Things to Do While Pregnant: Date Ideas When You're Pregnant
Get 365 Date Ideas!
We want to help you have the best date nights ever! Grab this FREE printable with 365 date ideas, a date for every day of the year so you never run out of ideas!