Tips for Visiting The Phoenix Children's Museum
Everything you need to know about the Phoenix Children's Museum! Tips and information about the Children's Museum of Phoenix from a local pass holder!
This year we became pass holders at the Phoenix Children's Museum, and I can't believe how much we love it! We've lived in Phoenix for over a decade, and somehow just discovered this gem! It's frequently voted the best museum in Phoenix. If you have kids and live in Phoenix or are planning a visit to Phoenix, the Phx Children's Museum is a must-visit! 
I'd put this at the top of the list of the best activities for kids in Phoenix. It's a perfect way to wear kids out, stimulate their learning and development, and have a ton of fun! Did I mention beat the heat? They pump the air conditioning all summer long, and it's a great place to be!
But I love it most of all because my kids love it! No matter how many times we go, they never grow bored! There's always something fun to do and experience. We can actively climb and play, find open-ended toys and exhibits, read books, ride bikes, etc., etc. Their joy and learning while having fun is something that makes a visit worth every penny! 
Who is it for?
Children ages 1-pre-teens have a great time at the museum!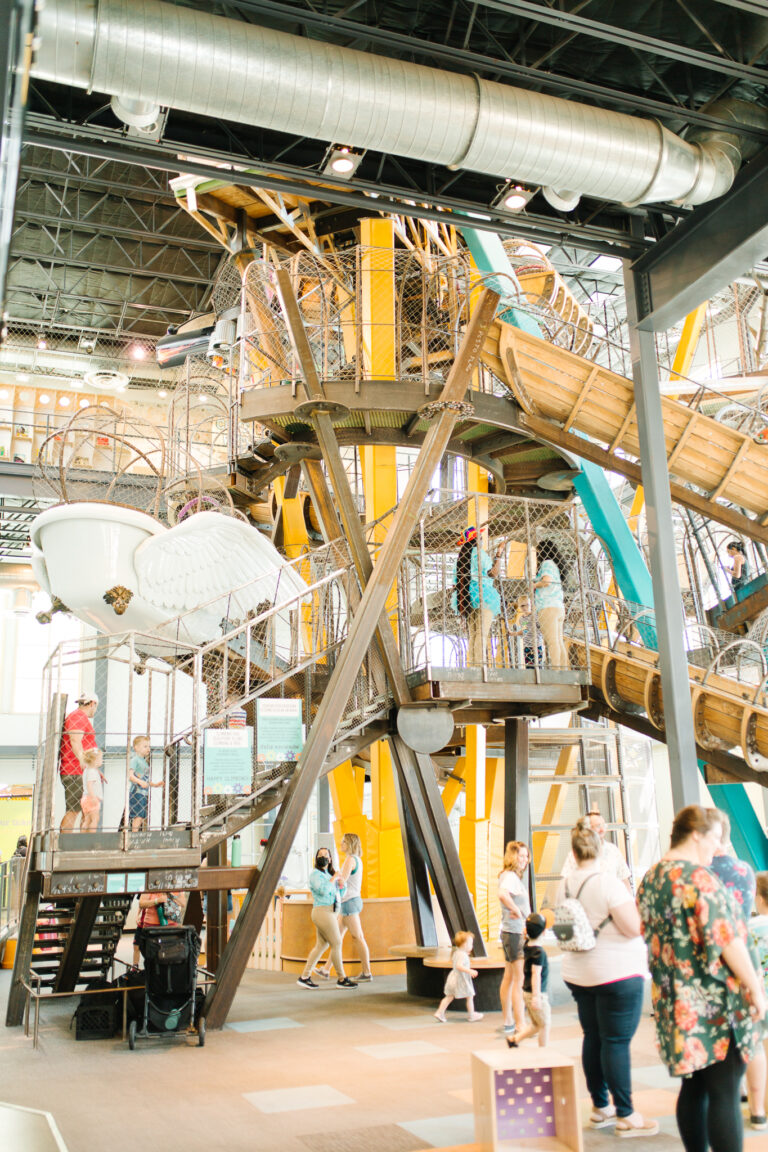 How much does admission to the Phoenix Children's Museum cost?
It's currently $16 per person ages 1 and up. Yes, even adults need to pay an admission fee.
You can also opt to purchase a museum pass. They run between $170 for a parent and child pass and go from there depending on how many people will be on your pass. Most passes pay for themself in about four visits.
What are the Phoenix Children's Museum Hours?
I'd always verify on Google/their website! Their current hours are 9 a.m. to 7:00 p.m. Occasionally they have evening events, and there are often earlier hours during the winter months.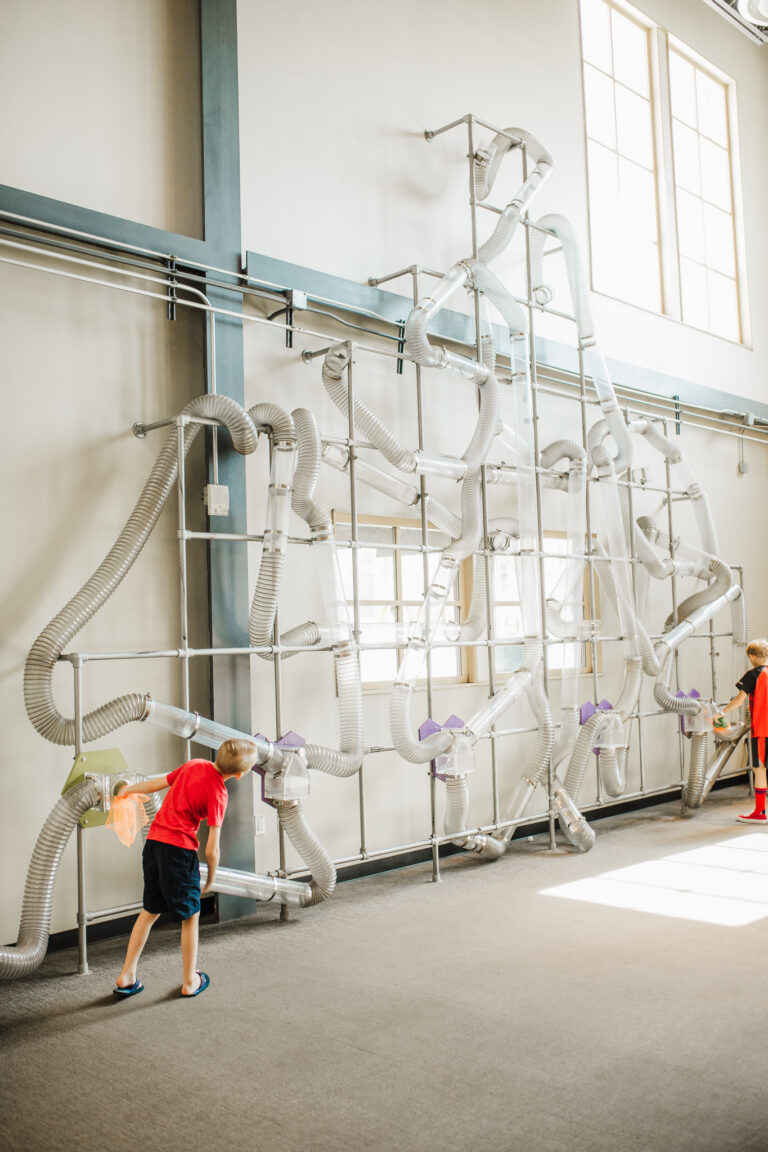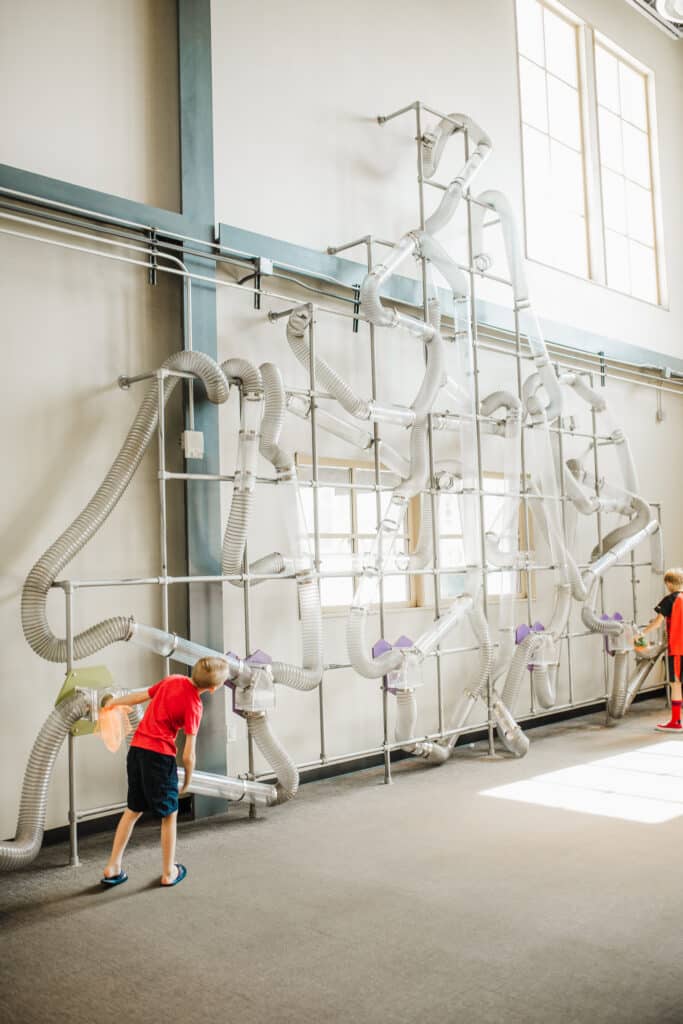 Are there any Children's Museum discount tickets, deals, or free admission days?
The Phoenix Children's Museum typically participates in First Friday free admission. From 5:00-8:00 (double check hours on their website calendar) guests are offered free admission on a first-come, first-serve basis. This happens on the first Friday of every month, and I'd recommend getting there early to get a spot online.
Occasionally, there are Groupon deals for discount children's museum tickets. 
What to expect:
There are three floors completely full of interactive exhibits for children. There are also outdoor activities, garden areas, and special activities and exhibits to explore.
How much time should I plan for a day at the museum?
This is going to depend on the age(s) of your kid(s). I have a kindergartner and a young preschooler. We typically last about four hours, when we pack a lunch!
There is plenty to do that you could easily spend an entire day there!
When is the best time to go?
We love to get there right at opening time, particularly during the hot summer months. There's very limited covered parking that typically fills up within the first hour. But also, it's nice to be there early when kids are wide awake and ready to play!
The museum is open year-round with seasonal activities. Any time is a great time to visit!
Is there a cafeteria, or place to grab food?
There are two rooms to eat lunch or snacks in. They also have a small cafe-style shop with a very limited offering of drinks and snacks.
I'd recommend packing your own lunch and bringing it with you. 
Are strollers allowed?
They absolutely are, and even welcomed! They have an elevator for strollers and accessibility needs. There are designated stroller parking areas, and plenty of room to bring one. 
What should kids wear?
I dress my children in clothes I know they can easily move, climb, and play in. Easy-to-wash, machine-washable clothes are a great idea always! If there are art/painting exhibits, I'll make sure we wear clothes that are easy to wash, and I won't be too sad if they get stained. 
Is it worth the price?
Admittedly, we didn't go for many years because of the cost and the drive time. I wondered if it was worth it. But we fell in love with our first visit and decided to become pass holders on the spot! It's one of those museums you'll be so glad you spent the time and money to visit! 
Becoming a Phoenix Children's Museum Member
The cost to become a Phoenix Children's Museum pass holder starts at $135 and gives a full year of free admission. There are a ton of special events and perks.
We've been pass holders for several months and have already been enough times to have the pass pay for itself!
Like this museum info and review? Be sure to check out these posts too!
Date Ideas Phoenix: The Best Phoenix Arizona Date Night Ideas
Splash Pads Phoenix – The Ultimate Guide 
Get Out Pass Review and Promo Code
The Best Books for Three Year Olds
Get 365 Date Ideas!
We want to help you have the best date nights ever! Grab this FREE printable with 365 date ideas, a date for every day of the year so you never run out of ideas!