The Kind of Mom I Want to Be
One summer day in my childhood I was playing a game when a mom in my neighborhood showed up ready to play with a bunch of pre-teens. I asked her why, and she said, "I want to be the mom who is remembered for having fun and not just cleaning or hiding away!" She told us she'd had it with her messy house and her annoying teenage boys, and she heard there were games going on in the neighborhood. We kind of giggled, felt awkward at first, but invited her to play with us. Her wishes we granted, boy do I remember her getting in a good workout and being the fun mom of the century, even for just one day letting loose and forgetting a stereotype of what the "perfect" mom is.
As I think about my little man getting older and more active, I keep thinking of the woman I want him to see me as. I think I want to have some slightly awkward moments where I ask if I can join the game and play too.
I did an
Instagram
/
Facebook
campaign for Target swim today, and even though this definitely isn't a sponsored blog post, I've had too many thoughts about it not to mention it here. The whole idea is getting out and enjoying the swim season confidently without worrying about your body image. And even though I worried about my 4th trimester thighs and soft middle that's still holding onto the apartment my baby occupied for 10 months, I'm glad I had the moment to reflect on what kind of mom I want to be.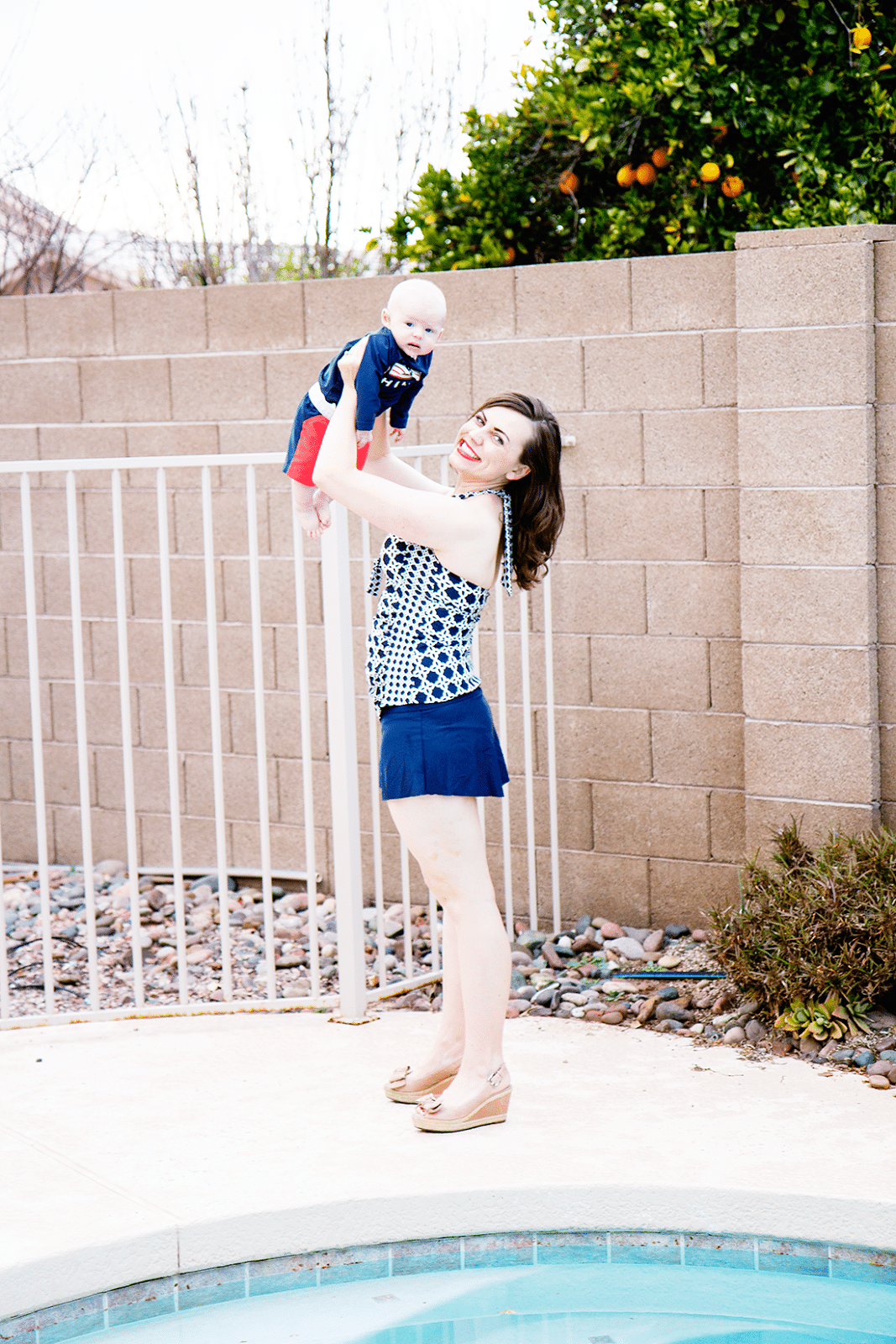 I don't want him to see the mom who refuses pictures because she's not wearing make-up, and that's sometimes hard to do with everything being on social media these days. I don't want him to see me shunning away from activities or pictures because of my body or weight either. I don't want to be in the shade wearing a cover-up, I want to be in the pool playing the game confidently even with fat deposits clearly showing. I can't remember once thinking my mom was fat or not perfect, I only remember her being present and truly cherish the experiences and pictures we have together in my youth. I look at my baby today, and he seems to find the softest, fattiest parts of my body and prefer these as a place to snuggle up to and sleep on. He doesn't care how I look, he cares that I'm present, that I'm not hiding, and that we get to be together.
So here I am, recommitting to swimming with him lots this summer, sharing more pictures in my less-than-perfect body, and making sure that my son knows that life is about a lot more than vanity- even in the social-media age. Life is about being in the moment and moving forward with confidence in your less-than-perfect state. I want him to know this, I want him to see this in me. That's the kind of mom I want to be.
Get 365 Date Ideas!
We want to help you have the best date nights ever! Grab this FREE printable with 365 date ideas, a date for every day of the year so you never run out of ideas!