Read Aloud Books Online: Raising Kids Who Love to Read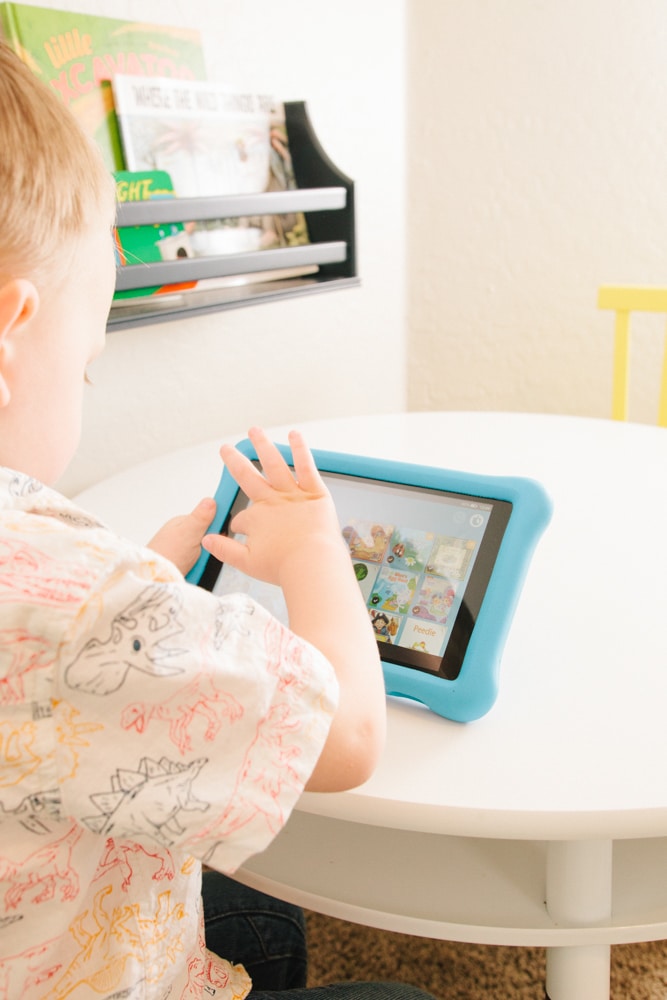 This post was sponsored by Amazon as part of an Ambassador Activation for Influence Central and all opinions expressed in my post are my own.
I couldn't let National Reading Month get away without sharing one of the best reading hacks in our house! I spend a lot of time reading with my boys. Since they are both so little, read aloud books are totally our jam. As a former English teacher, there's nothing I'd love more than to see my boys grow up learning to love reading!
Parent Read Aloud Time
We're off to a great start! They both love looking through books already, and my toddler has a near photographic memory and can recite most of his books by memory after a few reads. It makes my mama heart sing! But read aloud books that we all enjoy are the best thing. They calm both my kids down and it's truly the mother-son bonding time I always hoped I'd have as a parent.
The only problem, there's just not enough time in the day to read as much as my oldest son would like. My voice does go horse, mom has to work, and there's that whole needing to eat business that pulls us away. But this year we found something that has made all the difference in our family. It's created more reading time, more time for mom to get things done, and more toddler appropriate content.
I soon realized I couldn't keep up reading to him, and I never want to squash this desire while he's learning to read! Looking for read-aloud books online became a chore until I found the secret to listening to books even easier for all of us.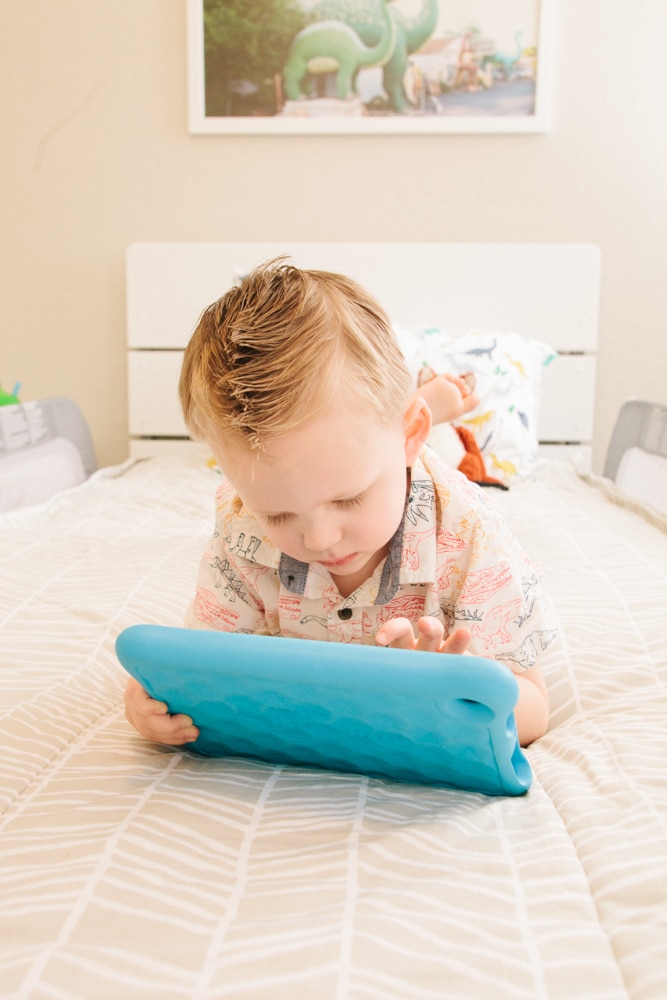 Read Aloud Books Online
My son is addicted to audiobooks. I always thought it was some magic formula for this to happen. I couldn't imagine a wiry toddler sitting through a book, let alone doing it for hours at a time during quiet time. But this year has proven it's not only possible, but it's become his favorite thing!
I've always been afraid of tablets with kids. I've seen too many find things they shouldn't, break expensive devices, and spend too much time with screen time. But a media conference where Amazon attended changed everything for me. I saw a tablet that was designed for learning, designed for reading. But also designed for parents to feel in control of what their children consume.
Read Aloud Devices
The Amazon Fire HD 8 Kids Edition tablet make listening to read aloud books online so easy! They come with a year of Amazon FreeTime Unlimited. Which gives tons of read-aloud books online for free with the subscription! Parents can filter content by age. Also, they can find the perfect books for their children to look through, read, or listen to in audiobook form.
Plus, it's really easy to add any other Audible kids content you'd like to their device. We love using this as a reward for our read-aloud books loving child!
I love that parents can use the Parent Dashboard to monitor their child's activity. This includes how much time their kids have spent reading each day. Additionally, you can set which books they can read/listen to. You can also see what they've listened to or read. Also, there are Discussion Cards to help you have a "family book club" with summaries and sample questions based on books. It's an amazing way to help with reading comprehension and listening skills!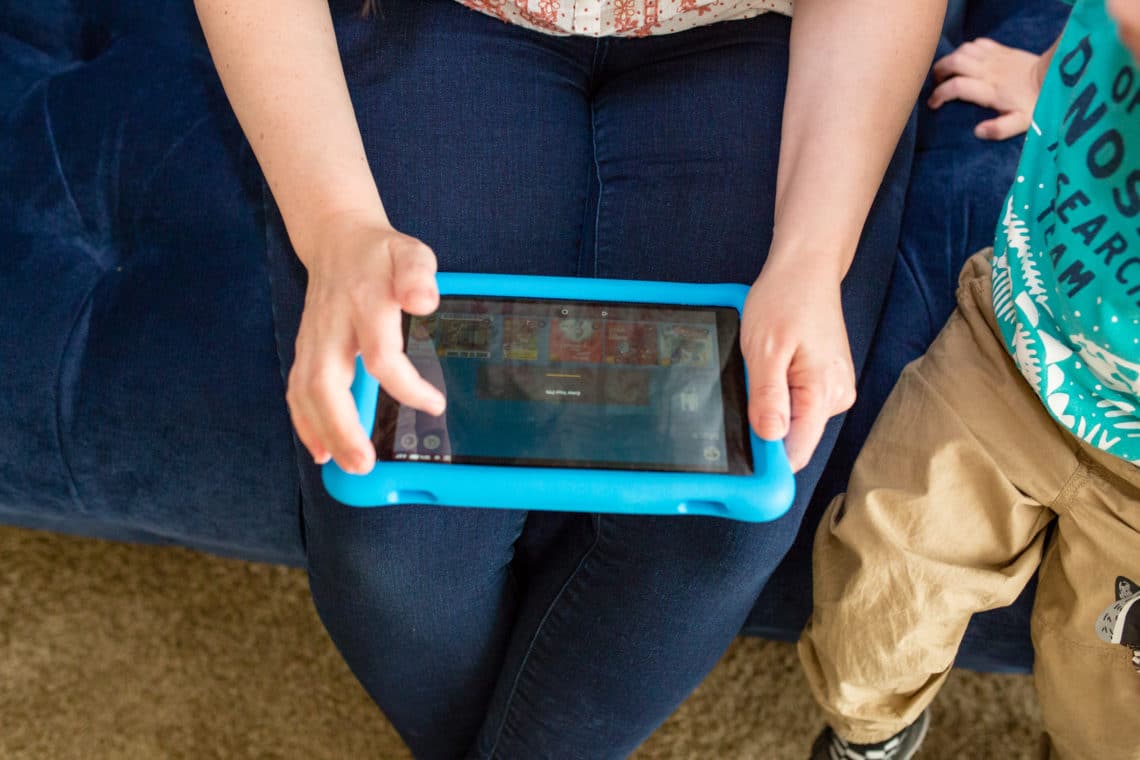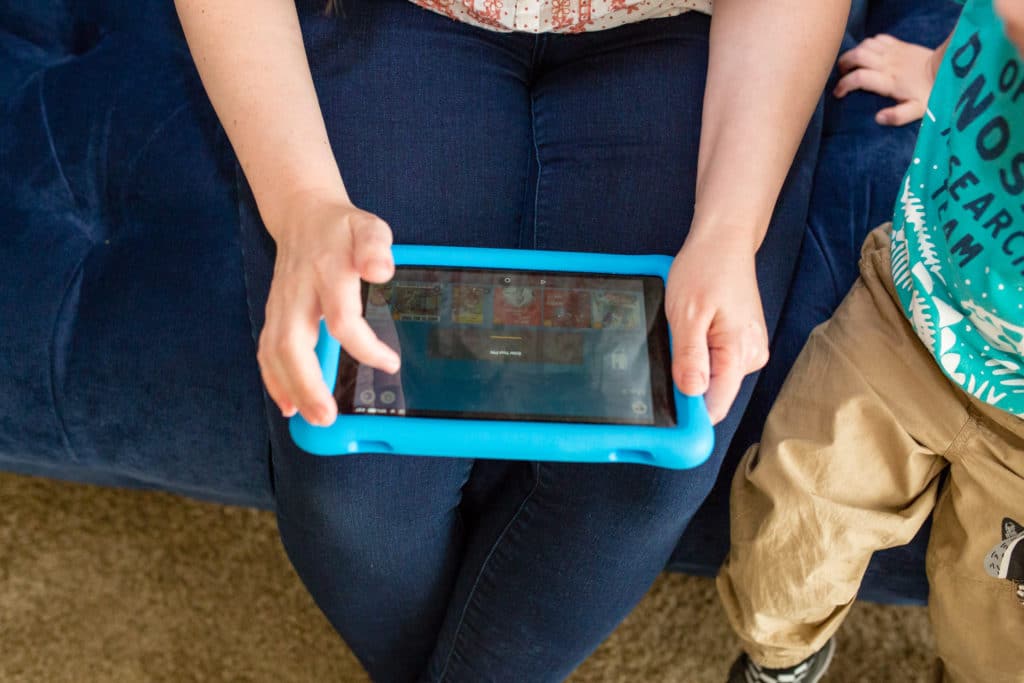 Parent Dashboard
The Parent Dashboard can be accessed through the Fire Kids Edition tablet or can be downloaded on iOS and Android devices. It's an easy way to set up limits and help know what your kids are consuming. The Learn First settings encourage learning before play. These can be set up in the FreeTime settings on your child's tablet, or remotely via Parent Dashboard. They enable you to have reading or other educational goals met before accessing games or other entertainment. Or, if you're like us, you can just set to only audiobooks and books.
It's a great time with National Reading Month to complete a social activation in the AET and pledge participation.
But all year round, having Amazon FreeTime Unlimted sets up kids to have online read aloud books at their fingertips. And parents can feel good about the extra reading time their kids fit in.
Get 365 Date Ideas!
We want to help you have the best date nights ever! Grab this FREE printable with 365 date ideas, a date for every day of the year so you never run out of ideas!