How to Limit Screen Time: Setting Up Boundaries as a Parent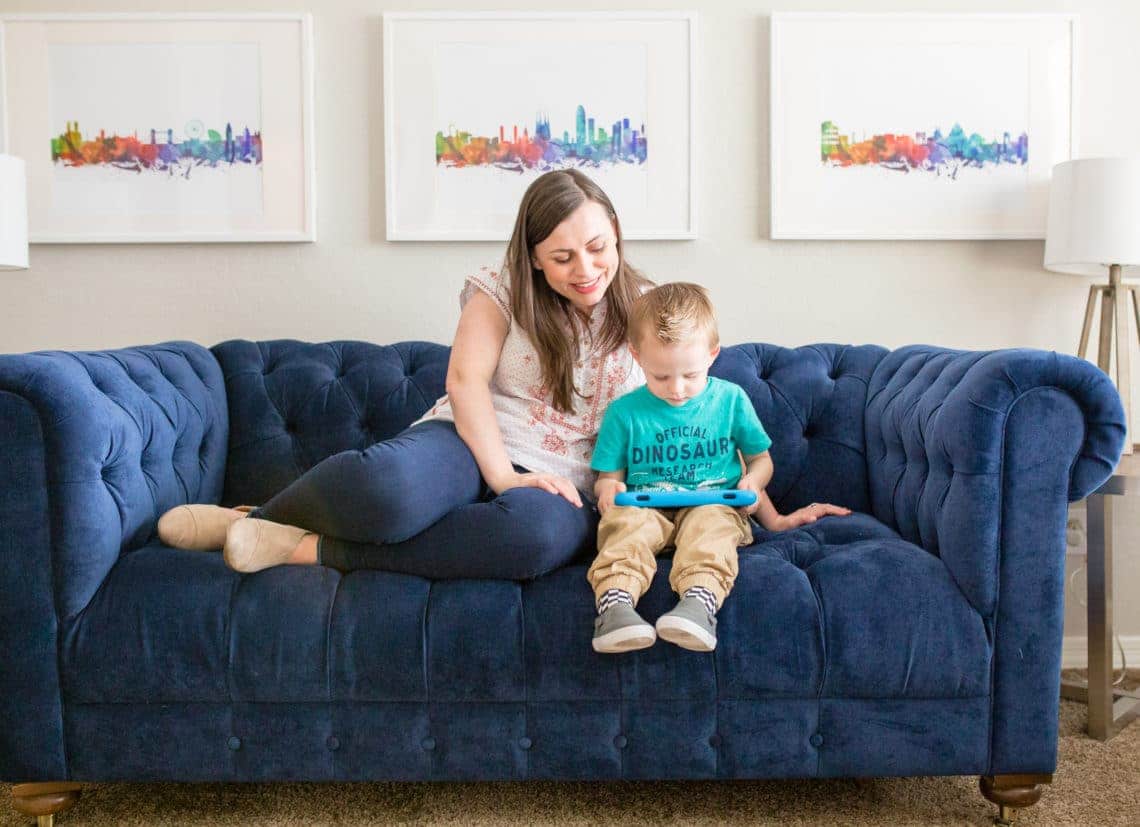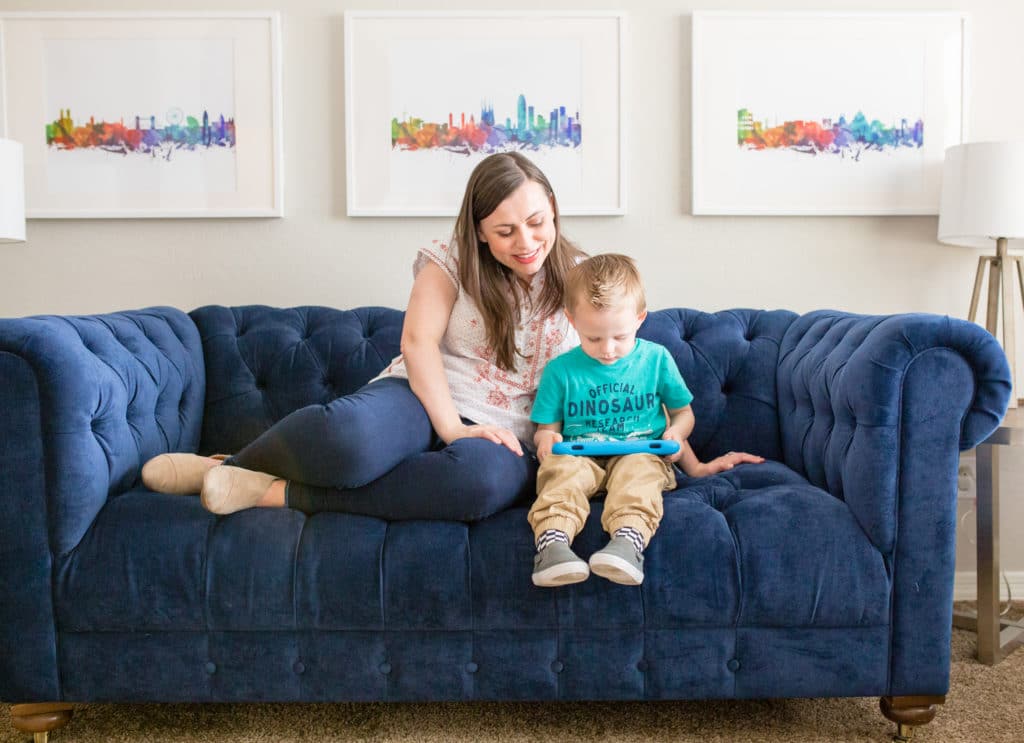 This post was sponsored by Amazon as part of an Ambassador Activation for Influence Central and all opinions expressed in my post are my own.
It's a good thing babies start small. It's mostly figuring out how to feed, clean, change and help them sleep. But any parent will tell you the second you get a hang of one thing, there's something new to navigate.
It's an amazing thing to have a three-year-old, but I swear it's a big level up stage! Preschool, playdates, understanding emotions, a billion questions, and screen time- oh my!
Toddler Screen Time Limits
As our child has been introduced to the world of screen time and we've had to figure out our own rules and boundaries, I've had to decide where we stand, what we allow, and how to limit screen time with the boundaries we set.
TV and movies were a bit terrifying for me as a new parent. I knew everyone loved Daniel Tiger, but I was pretty afraid to explore anything beyond that. Then I attended Mom 2.0 where Amazon was a sponsor, and I spent some time previewing devices and programs offered to help parents with programming, screen time, and feeling like a partner with their kid more than the police.
For the first time, I was less afraid to tackle this and felt like I could limit screentime and take more control of what my child consumes.
Tips for How to Limit Screen Time
Know your devices. There's nothing like a kid who knows how to turn on and access everything they want while the parent is fuzzy. Know what you have, what they can access, and how to control settings.

Create limits and rules and stick to them. In our house, an educational show can be watched while I shower. We watch family-friendly movies on family movie night. Other than that, shows and games aren't allowed for our toddler. He knows the limits for what he can watch. I'm not asked for it the rest of the day, boundaries are established
Set time limits. Streaming can be a scary thing, it's so easy to go from show to show and lose track of time! I love knowing exactly how long a show is and making sure that time is perfectly set.
Preview content and make sure it's age appropriate. I really like using age filters, but I'm a firm believer that you should watch something at least once with your kid to make sure it's okay. You're in more control limiting screen time when you're empowered knowing what's coming.


Easy Device to Help Parents Limit Screen Time
The easiest way I've found to do all of the above is to use the Fire HD 8 Kids Edition Tablet (the #1 kids' tablets in the U.S.)  Each one comes with a one-year subscription to Amazon FreeTime Unlimited, providing access to over 20,000 books, videos, Audible books, educational apps, and games that are age-appropriate and hand-curated by the Amazon FreeTime team. They've taken the first step of knowing the content and programming for you. You can then preview from their list and make really informed decisions. Kids also have access over 1,000 age-appropriate, Spanish language books, videos, educational apps, games, and Audible books, plus thousands of kid-friendly and hand-curated websites and web videos.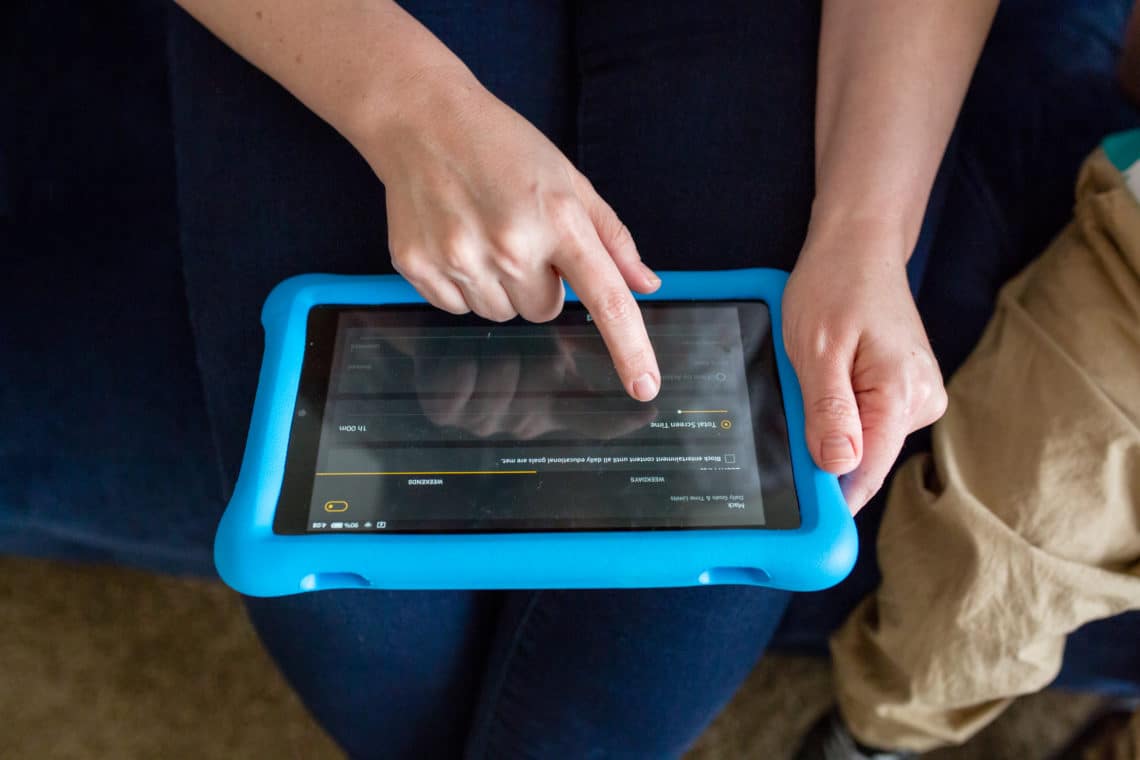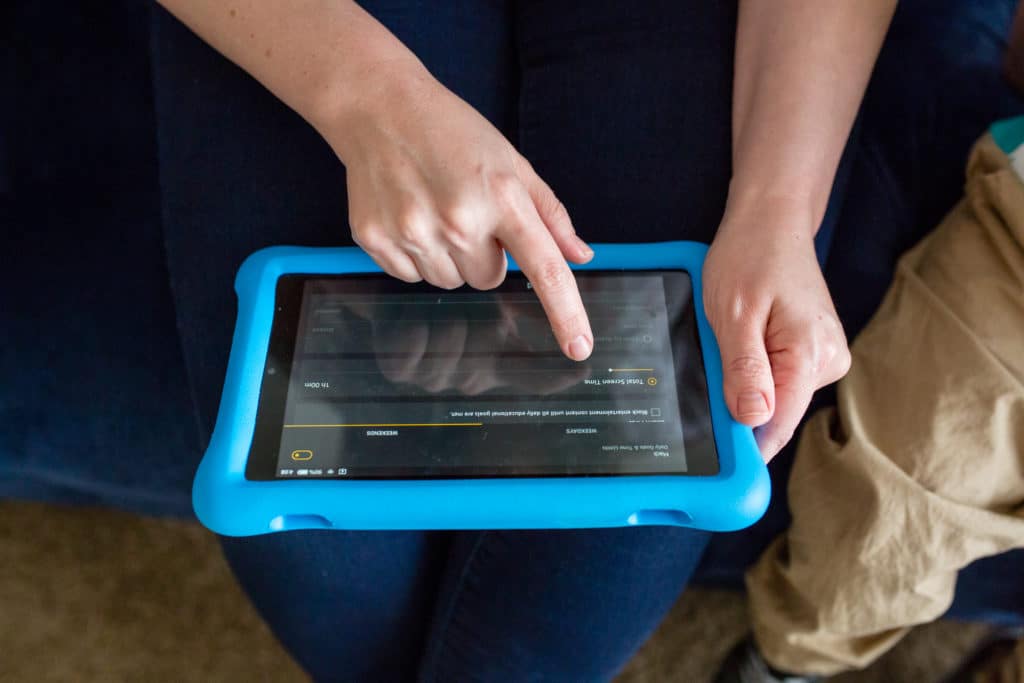 With the Fire Kids Edition Tablet, it's really easy to go into the Parent Dashboard and choose time limits. I love that I can set unlimited reading and audiobook time.
There are also controls to set educational goals and unlock the games and programs after those goals are met. For my preschooler, I have games and shows turned off altogether. I turn them on with limits when we travel or while I shower. The timing and decisions on how to limit screen time are an easy set up at my fingertips!
Easy Way to Limit Screen Time
Talk about peace of mind for parents! Age limits, enable/disable control for web browser and programming, and a review of all digital content kids are using. You can look right in the app, but parents can also adjust and review remotely in their child's FreeTime settings.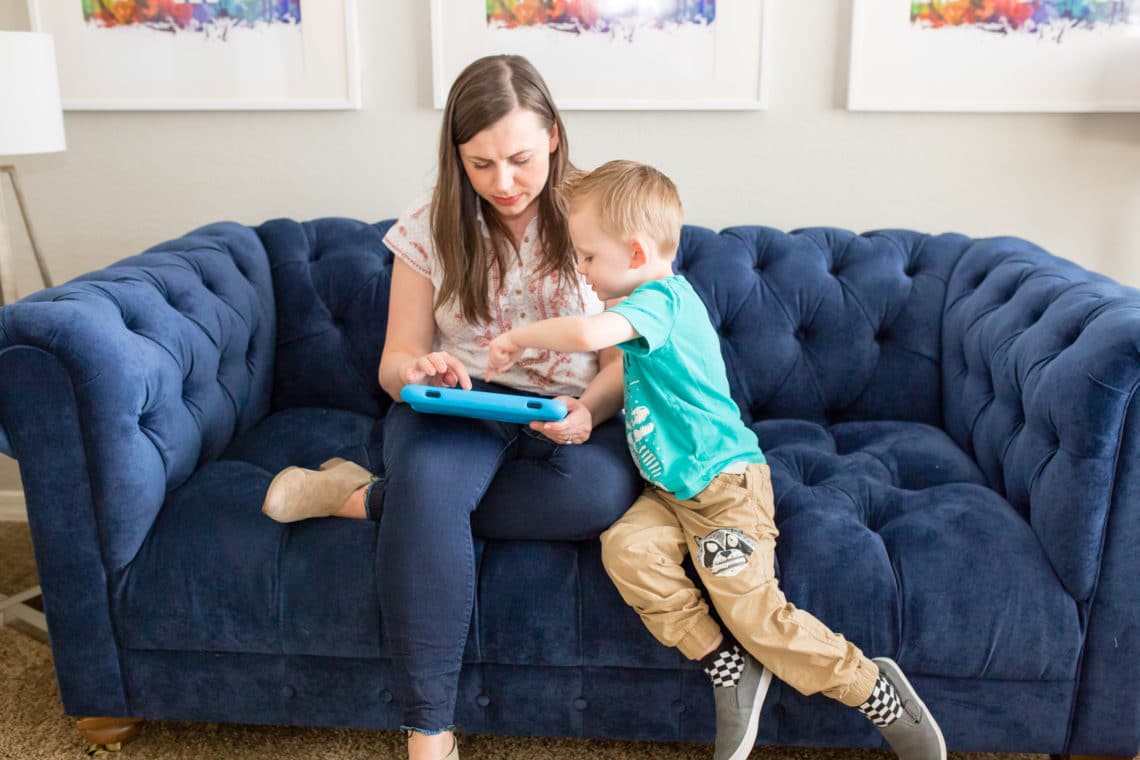 I feel like Amazon knew the problem parents are facing and the need to limit screen time. They made the perfect device that helps parents do just that! Plus it comes with a kid-proof case and a two-year worry-free guarantee—if they break it, simply return it and Amazon will send a replacement for free, no questions asked.
We know our device. There are clear rules and boundaries set. Additionally, I can review all the media he consumes. And best of all, we can do it on a user-friendly device we both love and understand how to use.
Like these tips on how to limit screen time for a preschooler? You may like these posts too:
Best Toddler Toys They'll Love and Play With
Surviving Shopping Trips With A Baby and A Toddler
Chore List for Kids: Age Appropriate Chores for a Toddler or Preschooler
Get 365 Date Ideas!
We want to help you have the best date nights ever! Grab this FREE printable with 365 date ideas, a date for every day of the year so you never run out of ideas!