Chore List for Kids: Chores for Toddler and Preschoolers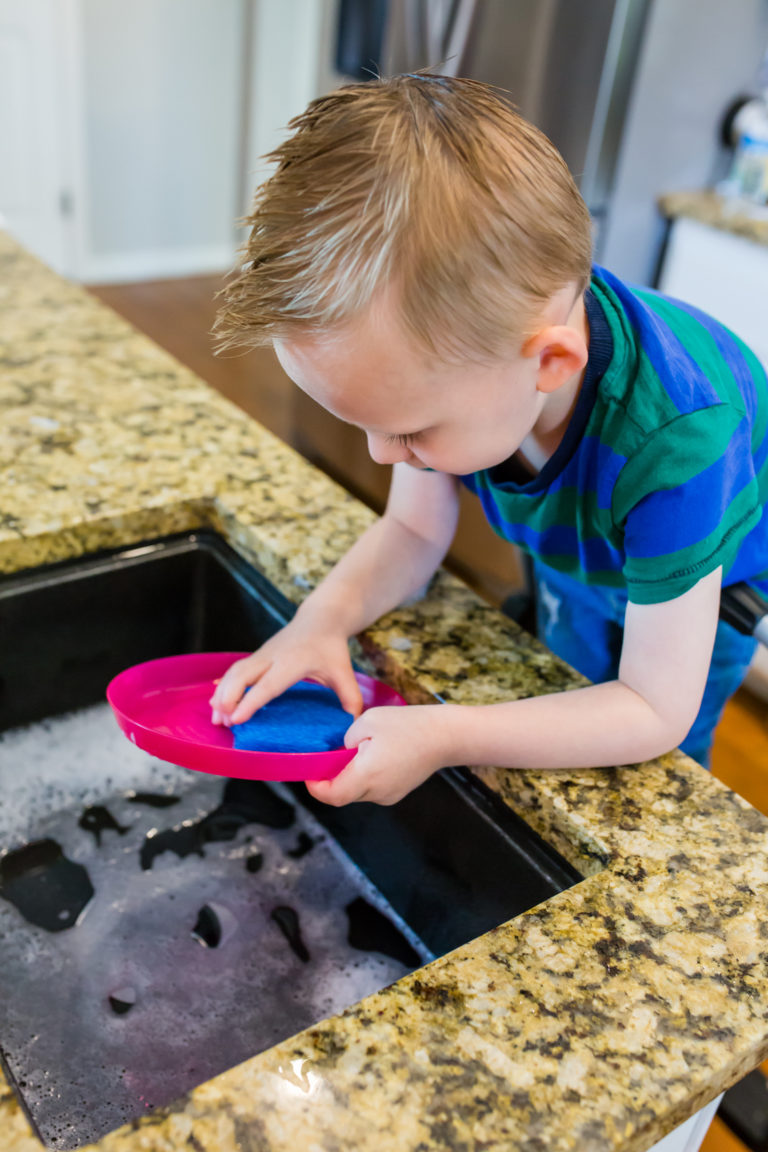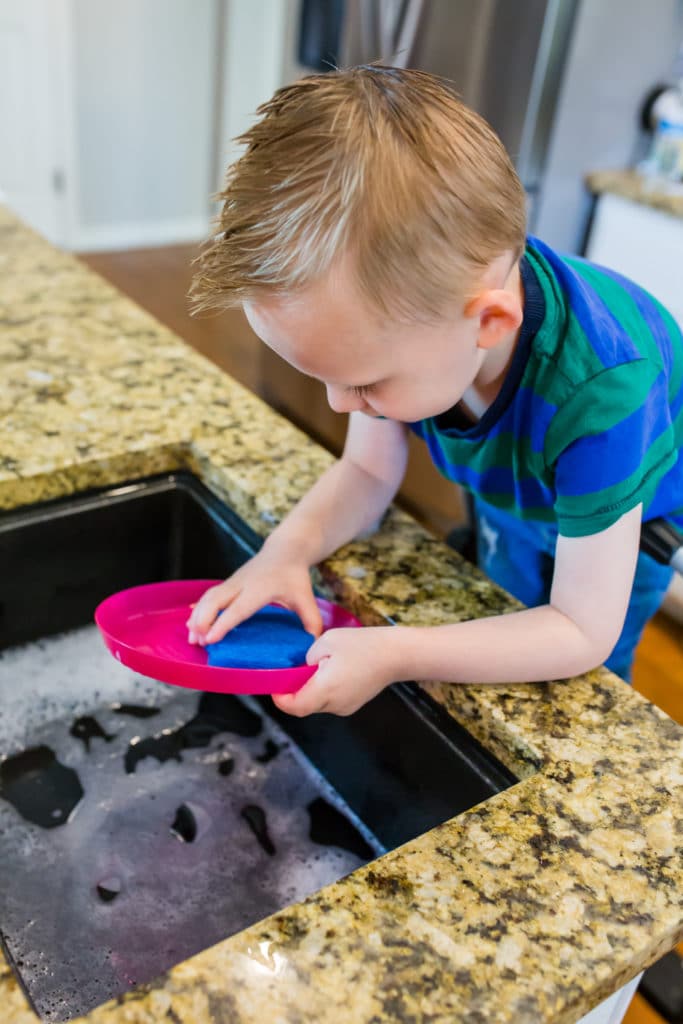 This chore list for kids is sponsored by DishFish, but all thoughts and experiences are our own!
If being the parent of a toddler/preschooler has taught me anything, it's patience. Everything that would take two minutes for me to do will likely take at least 20 minutes for him to do. But I've also learned the moment I label something as a task for mom, he shuts down and quits offering to help do it.
Red flag alert- I really want a kid who knows how to work. I want a kid by my side happy to help. Toddler chores are the perfect time to practice my patience while he practices daily chores!
That's why we started a chore list for kids. Not only are we helping him learn to work as a part of our family, when he asks to earn money, we can refer to the chore list for kids we've created and let him choose what he'd like to do to help.
For those who are looking for a list of chores for kids that are appropriate for even a toddler or a preschooler to do, here's our list to help you get started!
Little Kids Chore List
Set the table. The older they get, the easier it is to hand ceramic plates without fear! But I know preschoolers can easily set silverware, plastic, and melamine, and at the very least napkins on each plate and feel like a big helper!
Clear the dishes off the table. Even if it's a table to the counter near the sink, it's still a big help! I love that he knows where dirty dishes go, and we can have him help clean up.
Wash dishes! Yes, you heard that right. If you're like me and feel like this is the job that never ends, why not hire a little helper? We've learned there are a few ways to make this safe and easy for even little kids.First off, we set him up with a step stool or step ladder to be at a safe level. We only fill the sink a few inches full, and we triple-check the temperature. I know they may not be fully clean, but he sure can help rinse and scrub his own dishes!
We prep a little dish soap and dishes we aren't afraid to let him use safely. From there it's time to hand your kid a sponge and let them go to town!

The Right Sponge

Not all sponges are created equal. Trust me, if certifications were available to certify germ-a-phobe tendencies, I'd have a laminated card! That's why we love the DishFish. It's a sponge I feel comfortable using, and it's a fun shape that keeps my toddler happy to help scrub!

It's more than just a great shape. Unlike traditional cellulose sponges DishFish products are made with PowerCell Technology which attacks the grease and grime, but it's still gentle enough to not scratch sensitive surfaces. They are great for dishes, but soft enough for preschoolers to learn to clean with too!

Also, most sponges stay wet after cleaning, becoming a breeding ground for bacteria odors, mildew, mold, and gross smells. The DishFish stands on its tail so they dry faster and stay clean.


Chores for Toddlers

Pick up shoes, toys, clutter, etc. Bless that there are so many little songs about cleaning up, picking up, and putting things away! They may have to focus on one item at a time, but it's a great chore list for kids item since they can easily walk items to where they belong. When someone leaves shoes, a backpack, papers, etc. out, it's an easy chore to outsource to willing toddlers!
Scrub walls, cabinets, and hard surfaces. This is a fun game for our toddler, he loves to see how fast he can wipe down a surface when we time him. It's another great spot to use the DishFish too. He can make the fish "swim" over every surface and get it really clean!
These are often spaces I don't always get to, and I love having a sidekick that's happy to crouch down and clean surfaces for me!
Clean baseboards. I showed him once and he had it down! Hello easy way for my least favorite task to get done. He loves it, and it's easy for kids to understand how much you're willing to pay them per room (if you're doing it as a paid chore).
Sorting of any kind. When toy boxes need to be organized, little hands are on it! If we need to sort a project by color, size, or item type, he's got it! It's an easy way for them to learn, and a great task to put kids on!



Chores for Toddlers and Preschoolers

Take out the trash. Depending on your setup, they may need some help. But our little guy helps dad gather all the trash from wastebaskets the day before trash day. They carry out bags together. Dad helps him set them in the trash can (since he's too short to do it himself).
He's also helped hose down garbage cans. The older he gets, the more helpful he is. We can't wait for the day he's all set to do this alone.
Weeding. It's a great teaching moment to talk about plants and teach kids which types are weeds. They are great and deciphering the exact type of plant, and little hands make fast work of flowerbeds.
Sweeping and mopping. We have a small handheld broom for him to sweep beside us. But every time we hand the larger broom over he's eager and willing to help. Even when they are small and not very coordinated, they can at least help with the dustpan.


Chore List for Toddlers and Preschoolers

Make their bed. It's such good training to have them put together their bed the best they can. Practice really does make perfect, and I love that it doesn't take long for even toddlers to start getting it down.
Put clothes in the hamper.
Help rotate laundry. Particularly if you have a front-loading machine, it's an easy task for little hands to help put clothes in the washer, or move them from the washer to dryer.
Fill the pets food dish. Fish food, dog food, and cat food are all easy to help a toddler or preschooler pour and learn to help feed the pets.
Get 365 Date Ideas!
We want to help you have the best date nights ever! Grab this FREE printable with 365 date ideas, a date for every day of the year so you never run out of ideas!