10 Mess Free Fine Motor Skills Toys and Activities for Toddlers
These fine motor skills toys and activities for toddlers include zero mess that you have clean up. They are tried-and-true winners that will keep your toddler busy with little to no prep or clean up for you!


Mess-Free Toddler Activities
I'm at the phase where I'm Googling and looking on Pinterest regularly for learning and developmental activities for my eager-to-learn toddler and baby. But, each time I pull up a list I feel a bit overwhelmed. As much as I love learning through play, I'm not one who loves the mess and cleanup. Also, the amount of time preparation can scare me away quickly. No matter how amazing the fine motor skills toys and activitives may seem if the prep is more than the time to do the activity I shy away quickly.
Maybe my toddler is extra rambunctious, but I can't help but think there are other moms who feel me on the fear of a toddler with paints or arts and crafts in most forms. I am all about quality playtime that doesn't take much prep and doesn't involve scrubbing floors or walls after. So for all other moms who like to find educational toys and activities that help with fine motor skills that are mess-free, here are several we've found that work like a charm and don't give me an anxiety attack clutching a mop bucket while orchestrating: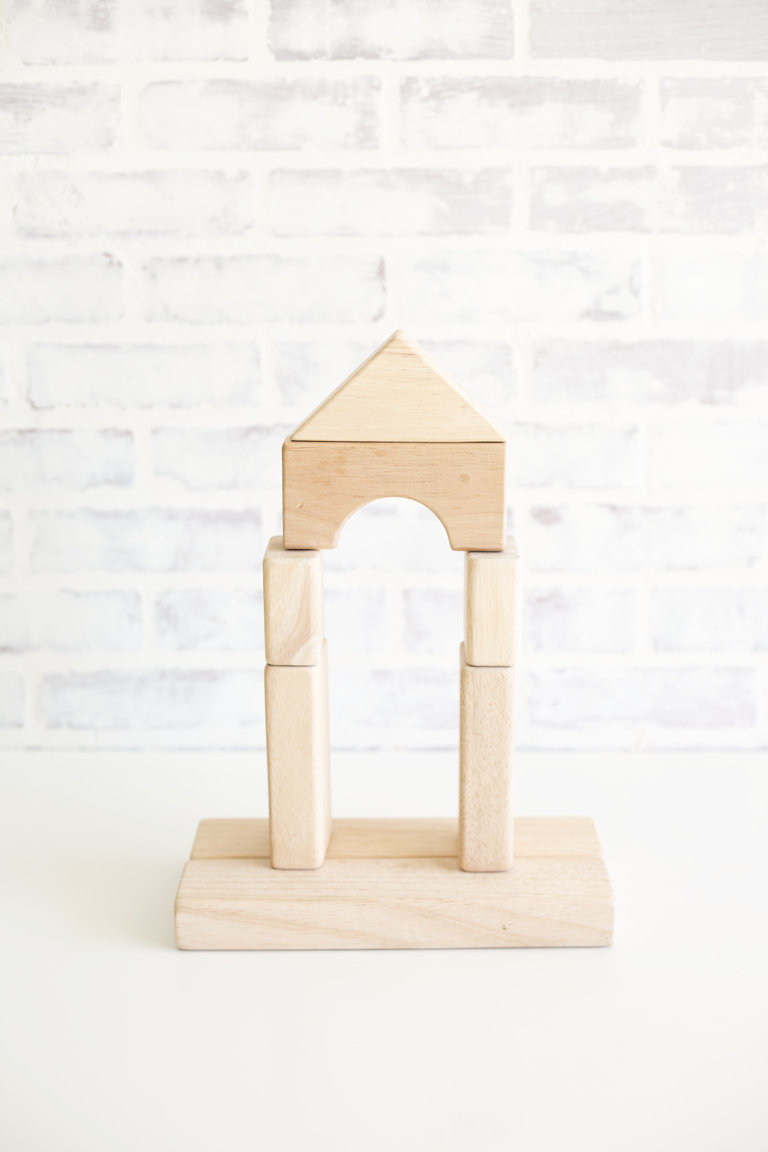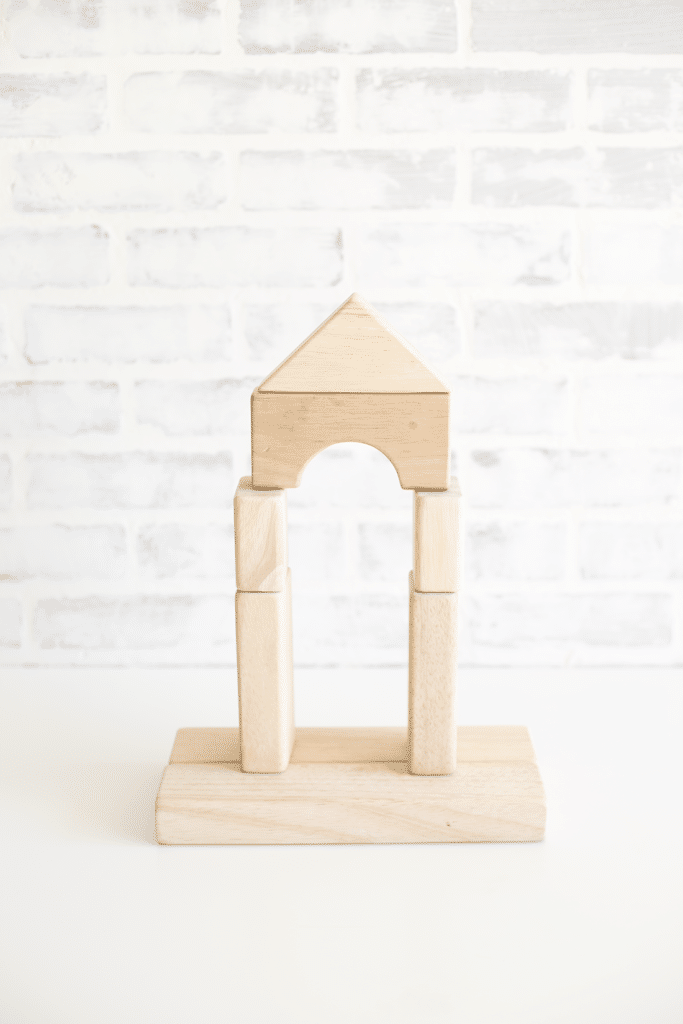 Fine Motor Skills Toys for Infants and Toddlers
1. Wooden blocks. Stacking blocks and learning relationships with shapes and sizes has been one of the best things for my toddler! I can see imagination starting, and I also see fine-motor skills as he builds towers. I also see them when he picks them up to fit them all back into their box. Hooray for play and clean-up wins!
2. Mess-Free Coloring. We love the Melissa and Doug Color Wow pads for coloring with water only. They are great on-the-go, and at home when I just can't handle the anxiety of where he'll decide to use a crayon next. He's learning to color in lines, hold the water pen, manipulate the coloring tool to do what he wants, and turn pages on his own.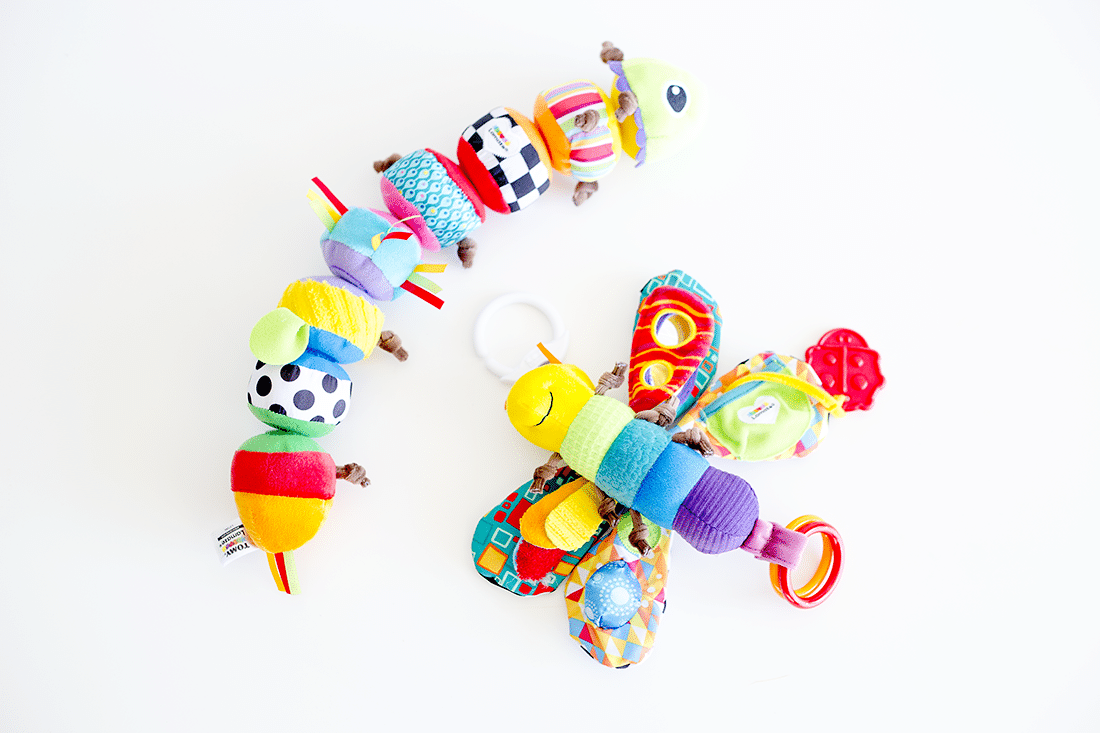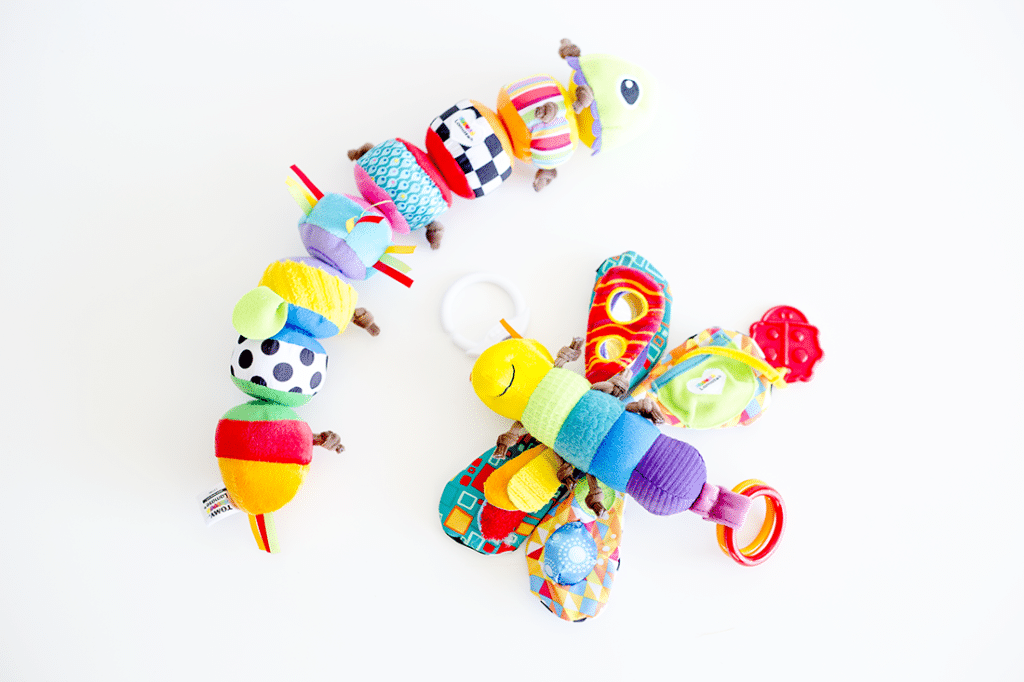 3. Mix & Match Caterpillar. I love that this toy is easy to find on Amazon and that it works for infants and toddlers. It's like the first intro to a puzzle. It's a fun way for toddlers to practice matching and color recognition, and learn to put velcro segments together while they work on fine motor skills. A baby can discover new sounds, colors, and textures with the Lamaze Mix and Match Caterpillar. The Mix and Match Caterpillar is made up of eight separate segments that easily join together. For younger babies, you can shake and squeeze and baby can discover delightful squeaks and chimes. There are multi-colored ribbons, crinkly textures, knotted legs and plenty of contrasting patterns for exploration.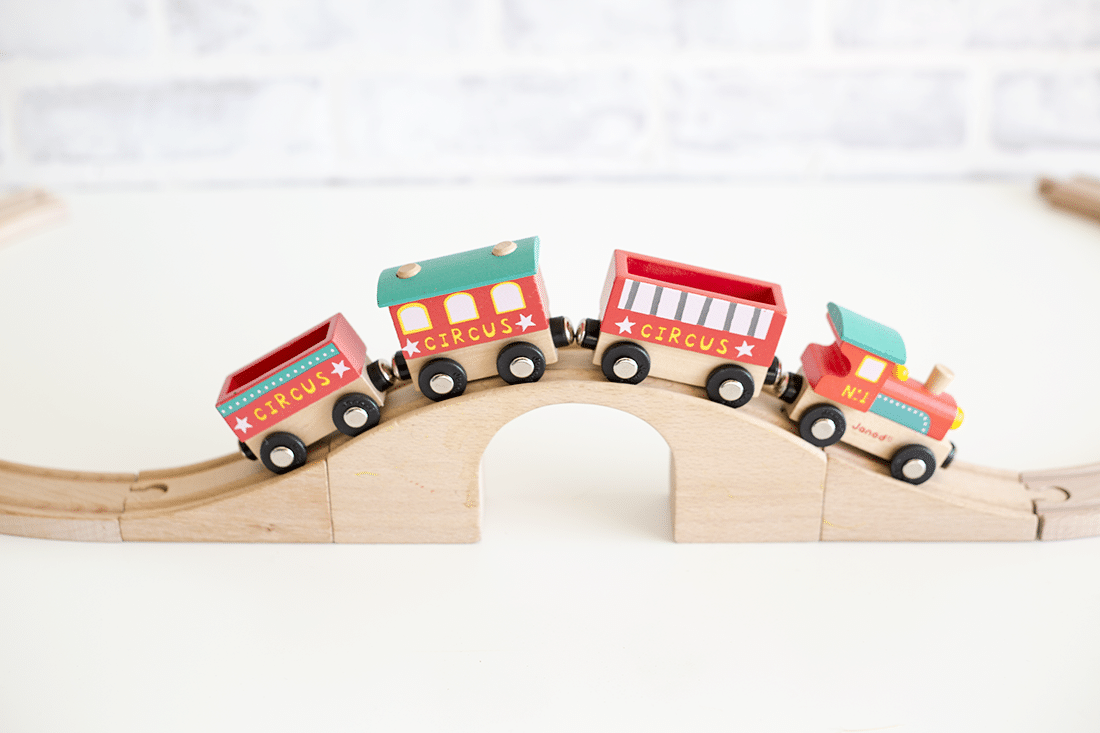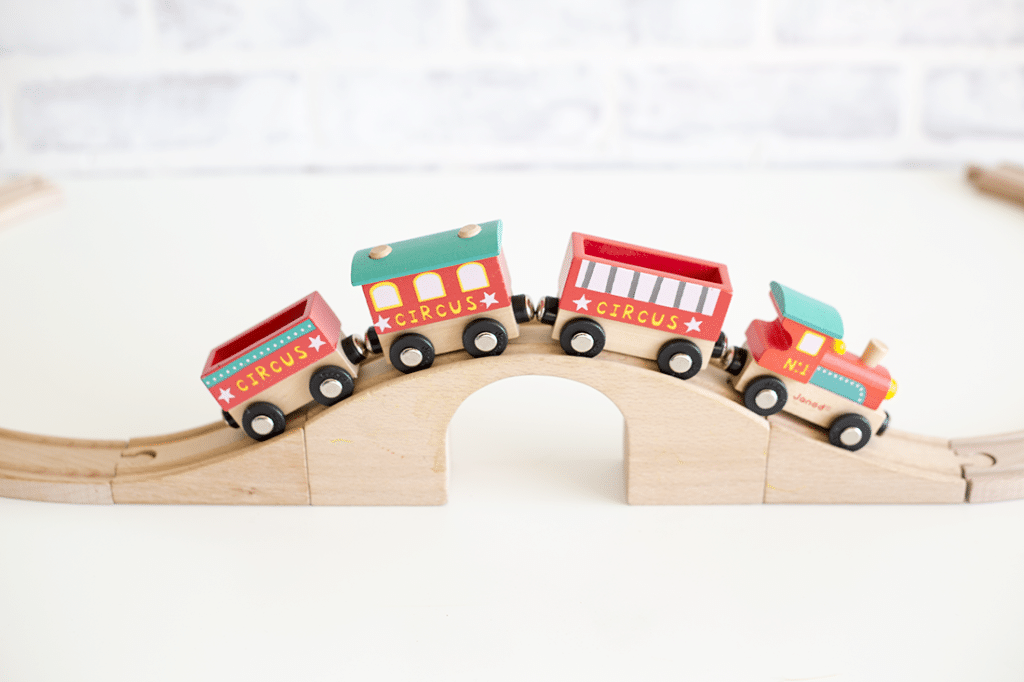 Easy Mess-Free Fun for Toddlers
4. Wooden trains. There's something about putting the track together that helps toddlers learn problem-solving and fine motor skills while they manipulate the track pieces to go together. Once that's set up, figuring out how magnets work and which areas stick and which repel is another lesson that very young toddlers can get started with, and a skill older toddler can confidently master while they try to tackle the track setup. Guiding the trains on the track is another bonus, I love that fine-motor skills are used from start to finish with this toy. We love the full set Santa brought, and can't get enough of the darling Janod set too (which works on M&D tracks for the record)!
5. Lace and Trace games. These are the games where a child weaves a shoelace through a cut-out board, much like a cardboard shoe with a few holes. Sticking the plastic part in and pulling the string through the holes helps them master more complex fine motor skills. You can find simple and complex versions, so your toddler can advance while they learn this skill. Even though it's obvious, I'd just give the watch out that you'll need to supervise this one since a long string is involved.

Mess-Free Fun for Toddlers
6. Toddler Puzzles. I love that there are so many wooden puzzles on the market in all shapes and skill levels. We have one with large knobs that worked when our little guy was smaller and some with simple pieces only that he's starting to master now. Find one that isn't frustrating to your child, and let them grow into placing objects where the belong.
7. Music makers. This one is not for the faint-of-heart parent, but allowing your child to learn how to shake maracas, play the tambourine, tap a drum, or use a baby xylophone goes a long way with their ability to control objects and develop fine motor skills.
8. Pom-poms and Tupperware. In full disclosure, you have to make this toy and it does involve saying goodbye to one leftover container. We loved using a cheaper flimsy one, cutting a small hole in the top with scissors, adding a cheap pack of pom-poms, and calling it a day. Our toddler loves to press the larger pom-poms into the hole, and try to shove several small in at once. He's learning his colors, spacial recognition, and how to pick up smaller and larger object by manipulating his hands. This one is cheap, easy, and keeps attention for longer periods of time than many activities!
Tried and True Fine Motor Skills Toys for Toddlers
9. Bowl of toys and a plastic spoon. Yes, that was a fancy marketing name that I should look into trademarking immediately if there ever was one (wink), but this is an easy game you'll make yourself. Fill a bowl with a few toys that can easily be picked up with a plastic spoon that's easy for the child to hold. Have them scoop out a toy at a time. This works really well with alphabet magnets and you can practice letter and color recognition too. As your child masters this skill you can move onto tongs and child-safe tweezers.
10. Sticker books/sticker pads. Make sure you get an appropriate size, younger children may need larger, rounder stickers. Letting them have the free rein to place stickers as they please on sticker pads helps them master their little hands, and you can easily buy a new book when they outgrow simpler books.
Those are several we're loving and using and I know we can pull out and enjoy without the mess or stain of other activities!
Do you have any to add? Any fine-motor skills your kids have learned through specific toys/play? I'd love to hear!
Like these Fine Motor toy ideas? You may love these posts too:
Toddler Gift Guide: Tried and True Toddler Gifts
25 Stocking Stuffer Ideas For Toddlers
Easy (And Affordable!) Toddler Boy Easter Basket Ideas
Ten 10-Minute Toddler Activities We're Doing Instead of Standing in Lines
Disneyland with Toddlers: Tips, Rides, and Making the Most of Your Vacation
Get 365 Date Ideas!
We want to help you have the best date nights ever! Grab this FREE printable with 365 date ideas, a date for every day of the year so you never run out of ideas!