A full review and what to expect at Disney's Aladdin Musical. This Broadway Aladdin musical takes pieces of the Disney classic film and adds some fun updates too: here's our full review!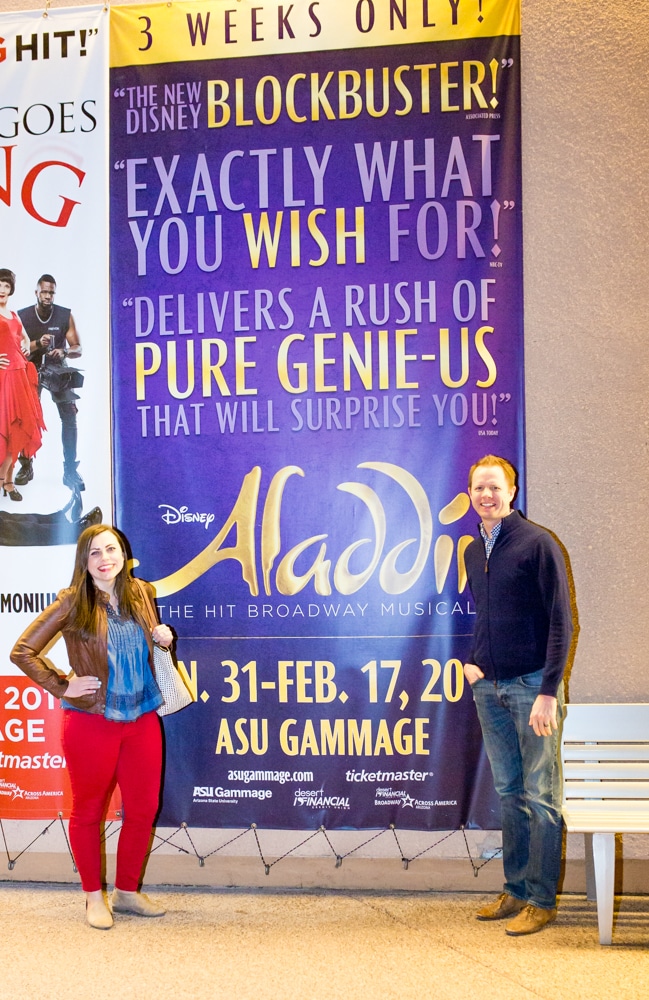 Aladdin Musical Date Info
Date Info:
Aladdin Musical (Disney Aladdin version)
Price: $54-$340 per ticket (depending on where you sit)
Location: ASU Gammage – touring the U.S., and on Broadway
If you've been around here a while you know that we love gifting a year of dates gift in one form or another to each other every Christmas. This year I pulled together about six dates, and Jacob pulled together a few too. We like to find date nights that are either super unusual, so common we often overlook or are a bit of a splurge for the normal date night budget to gift.
I almost always look at the touring Broadway shows coming to our area as one of the gifts. I choose the one that I think he'll enjoy the most, and i make a date out of it! This year, Disney's Aladdin is hot with the new live-action movie coming out. I knew the Broadway-style musical would be fun to see and hone in our childhood nostalgia of the film.
We've been really lucky to see a lot of shows at this point. I'm glad I have a husband who first tolerated these as date nights, and soon learned to love and appreciate them too. When the show started and the orchestra blared the first song he turned to me and said: "This show is going to be excellent based on the orchestra quality alone!"
His grandpa has a Ph.D. in music and taught music most of his life. Sometimes I love when that culture shines through my small-town husband! But he was absolutely right, the orchestra was fantastic and something to experience live!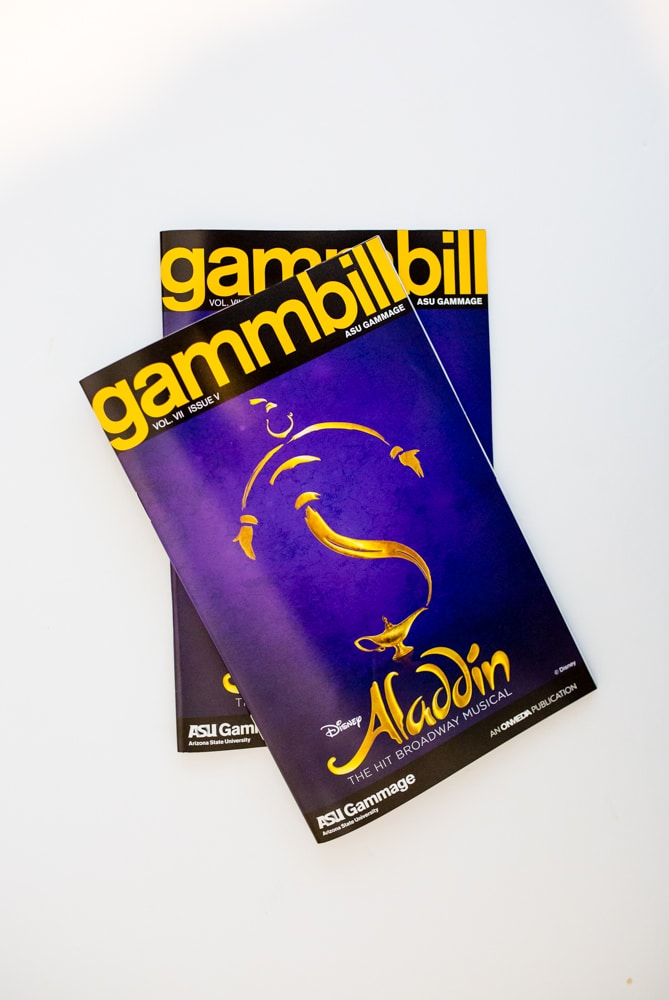 Aladdin Musical Review
Is it like watching the Disney Aladdin cartoon?
Yes and no. They've taken the best songs, the overall plot, and the costumes are all reminiscent of the Disney Aladdin cartoon. However, they've definitely given it an update that will make adults thrilled to be there while staying kid-friendly.
I was impressed with how funny this show was. That came as a total shock, but we laughed incredibly hard several times.
By far and away the best part of the show is the Genie. Oh, my word he steals the entire thing and turns it into a stand-up comedy. He throws in a lot of one-liners, pop-culture references, and mixes up the songs with some truly hilarious parts.
We both agreed that "Friend Like Me" alone is worth your ticket price. That was the most entertaining 10 minutes of my life! The Genie belts out the classic song millennials grew up with. But he also turns the entire number into every form of entertainment you've ever seen! The dancing covers every style and genre, from tap to hip hop and everything in between. He pulls in some songs and elements from other Disney movies. And of course, it's hilarious and stand-up style too. There are backflips, fireworks, acrobats, and anything you can imagine in only a few minutes. IT IS INCREDIBLE!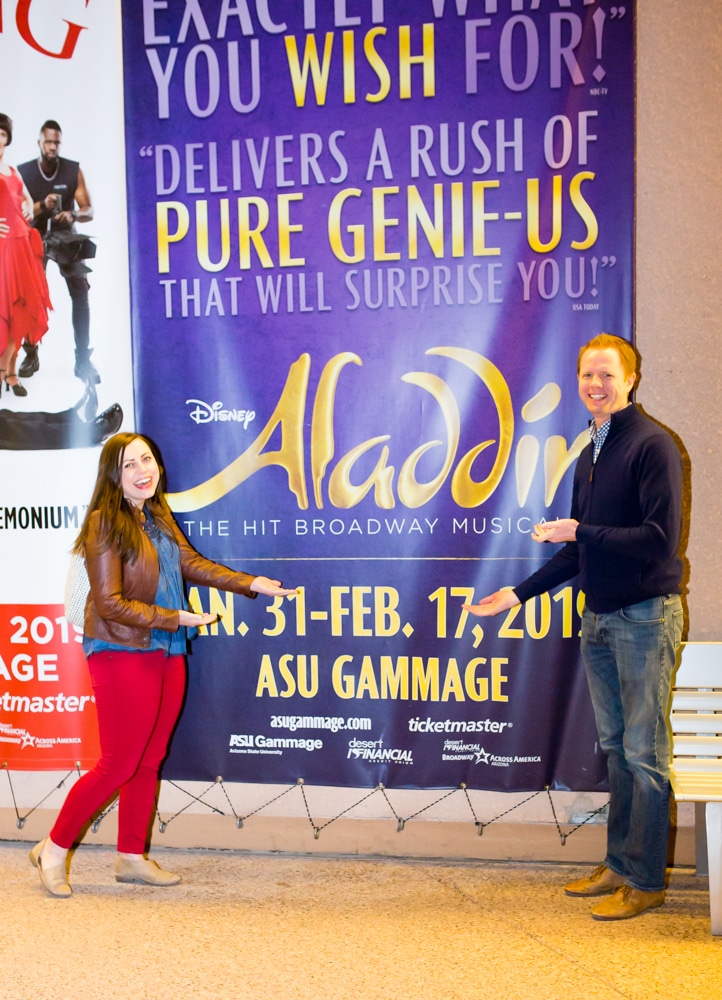 The rest of the show was well done with some modern updates that make the play feel so much more accessible than the movie. But don't worry hopeless romantics, it still has that princess and prince love story vibe Disney is known for.
We both agreed it exceeded our expectations. We'd go again. And of course, the Aladdin Musical makes for a fun date night or family date night you'll all enjoy!
Like this Aladdin Musical date night? You may like these posts too:
12 Months of Dates: Beauty and the Beast Musical
Get 365 Date Ideas!
We want to help you have the best date nights ever! Grab this FREE printable with 365 date ideas, a date for every day of the year so you never run out of ideas!