Nine Year Anniversary: a celebration of nine years together with annual anniversary pictures and how we celebrate our ninth year of marriage!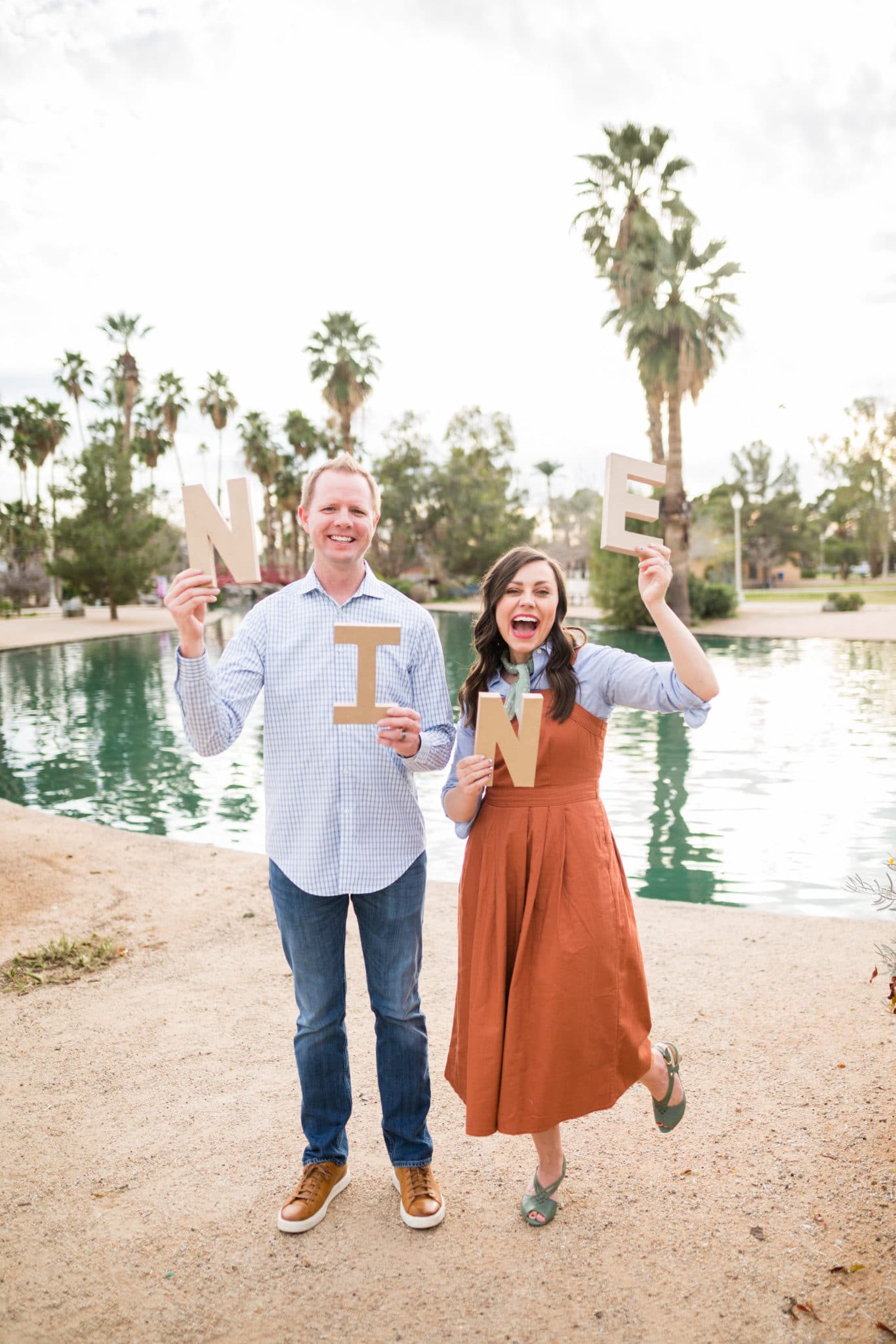 Our Anniversary Tradition
When we were newlyweds, we decided to start a tradition that we've faithfully done on every anniversary. We take anniversary pictures with a professional photographer.
I knew it would be the perfect time to capture our love. Plus, it really documents us and our changing family. I'm so excited that we're on the ninth year into this! I'm even more excited that our friend Chrissy was able to fit us in a few weeks early this year so we could enjoy these on our actual anniversary! Hooray for me for actually planning more ahead this year! Hooray, maybe I am pulling of the new baby haze 19 months later!
We love to grab a few props to document the year. Usually, we have a babysitter or at least our kids in a stroller so we can enjoy some romantic and solo couple pictures.
But it's always so fun to have the kids jump in for a few shots! We've had years we've announced a pregnancy with our pictures. There have been pictures with new babies. Also, many years there were just us two and it helped remind of us of our engagement pictures.
It's always a great date to just be together! But truly, these sessions are becoming treasures that are documenting our lives.
As cheesy as it sounds, we love the evidence that we're growing old together. And every year we add to our anniversary pictures show another happy year.
Also, there are typically two outfits, and we love to document the highlights of the year too. So those posts are coming next week! Not to mention it's all we can do not to share the many amazing pictures Chrissy takes. She floors us every time with her talent to capture our personalities and relationship.
It's about the best way to celebrate our nine-year anniversary!
Year Nine Anniversary Gift
I think when you've been together for so many years, the gift of documenting your love with pictures makes the perfect gift! Plus, it's one we know our posterity will love for genealogy purposes. So if you need a ninth wedding anniversary gift, we highly recommend you add pictures to your plans!
WANNA SEE ALL THE YEARS PRIOR TO OUR Ninth WEDDING ANNIVERSARY PHOTOSHOOT?
HERE ARE ALL OUR PAST ANNIVERSARY PHOTOSHOOT PICTURES:
Celebrating Anniversary #6