Looking for some exciting late-night date ideas to spice up your love life? Look no further! Plan your next fun late-night date night with these 60 unique and unforgettable ideas for your next date night.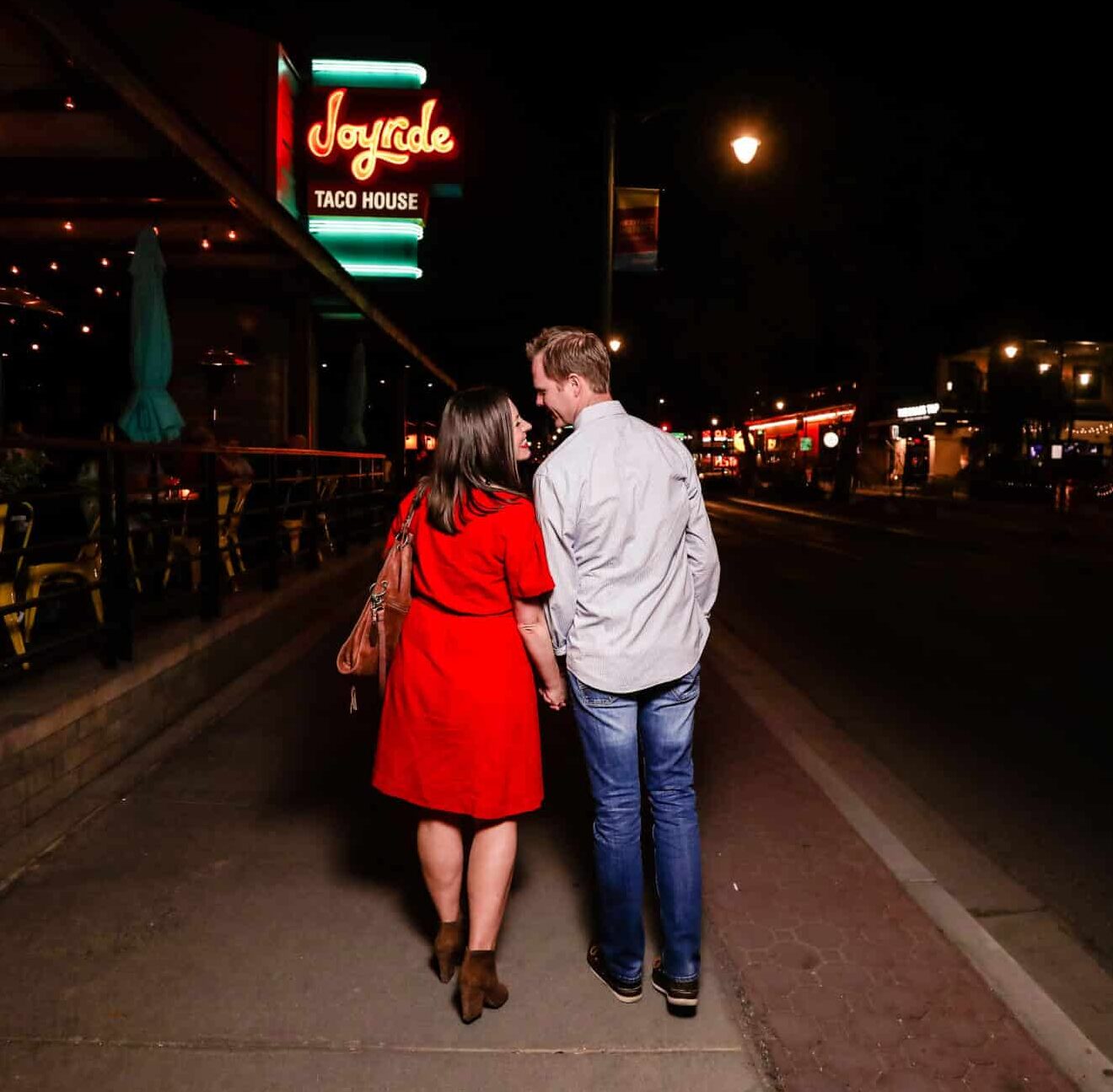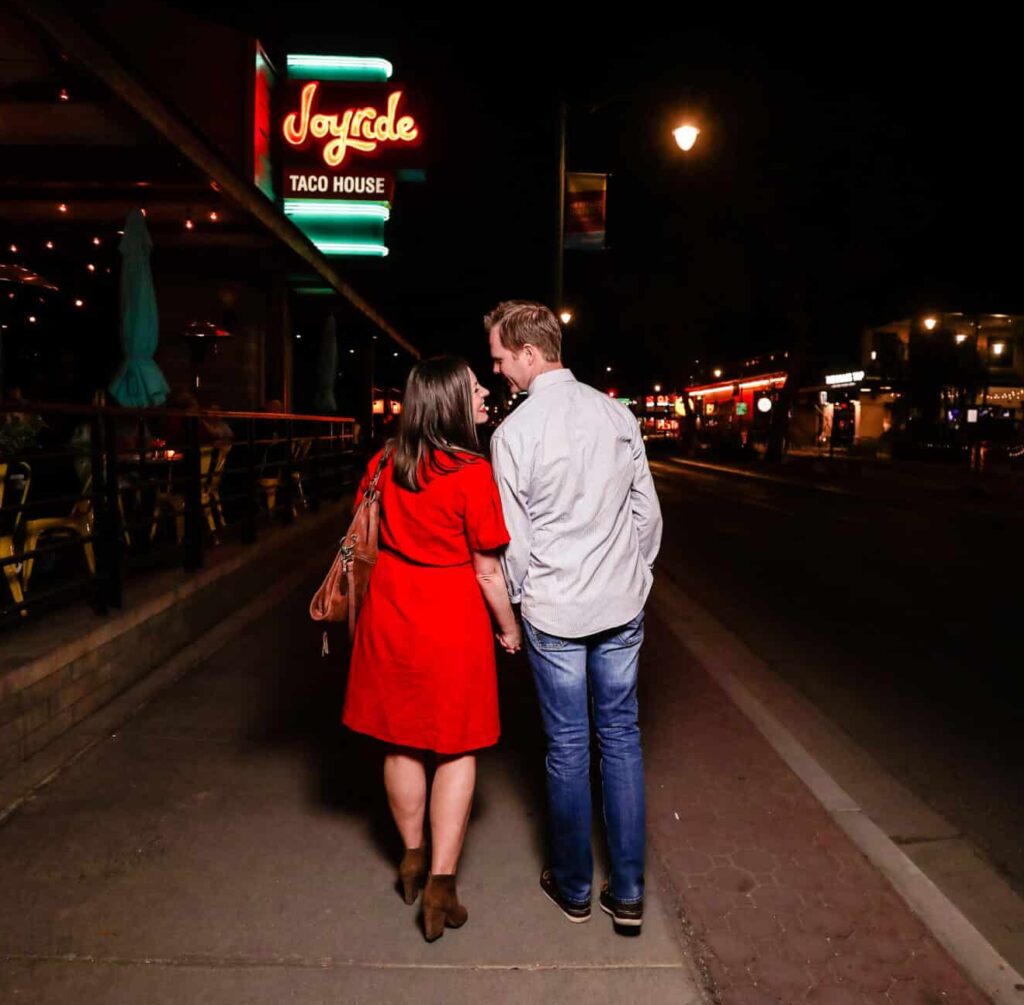 Whether you're in a long-term relationship or a new couple, going on a date is a great way to spend quality time together and keep the romance alive. However, sometimes couples need a late-night date night to fit in their schedules and make date night happen.
We know there are seasons of life when a late-night date is all you can make happen! Many married couples with kids need to make a date happen after kids go to bed. Many college-aged couples work or have classes until later hours, and the party sometimes just doesn't get started until later in the night. Whatever your circumstances or phase of life, sometimes a late-night date night is actually the perfect time to do something fun together and connect!
But finding the perfect date idea can be a challenge, especially when you're limited to late-night hours. Fear not, though – we've got you covered with these ten late-night date ideas that are sure to impress.
Fun Late-Night Date Ideas
A late-night stroll
One of the simplest yet most romantic late-night date ideas is taking a stroll together. Walking hand-in-hand with your significant other under the stars can be a great way to unwind after a long day and reconnect. Find a peaceful park, beach or quiet neighborhood to take a walk, and enjoy the peacefulness of the night.
Nighttime picnic
A nighttime picnic can be a fun and intimate date idea. Prepare a basket with your favorite snacks and drinks, grab a blanket, and head to your local park or beach to enjoy the night sky together. Don't forget to bring a candle or lantern to set the mood.
Check out our picnic date ideas post with tons of ideas to make a picnic date happen!
Go See the Lights
There is something so romantic about heading to the outskirts of town, or up on a balcony, and watching the city lights from a view.
Visit an open-air market
If you're looking for a unique date idea, consider visiting an open-air market. These markets usually take place in the evening or at night and offer a variety of foods, drinks, and crafts to enjoy. Strolling through the market and trying out new things with your partner can be a great way to bond and create new memories.
Stargazing is a classic late-night date idea that never gets old. Find a secluded spot away from city lights and bring a blanket to lie on. Use a stargazing app to help you identify the constellations and planets, and enjoy the beauty of the night sky with your loved one.
Attend a midnight movie
Going to a midnight movie can be a fun and exciting date idea. Many theaters offer midnight showings of popular movies, giving you a chance to enjoy the movie without the crowds. Make sure to grab some popcorn and snacks, and cuddle up with your partner for a romantic and thrilling night.
Hot Air Balloon Ride
Did you know you can do a moonlight hot air balloon ride and see views of the city lights? It's one of those very special dates worth the splurge!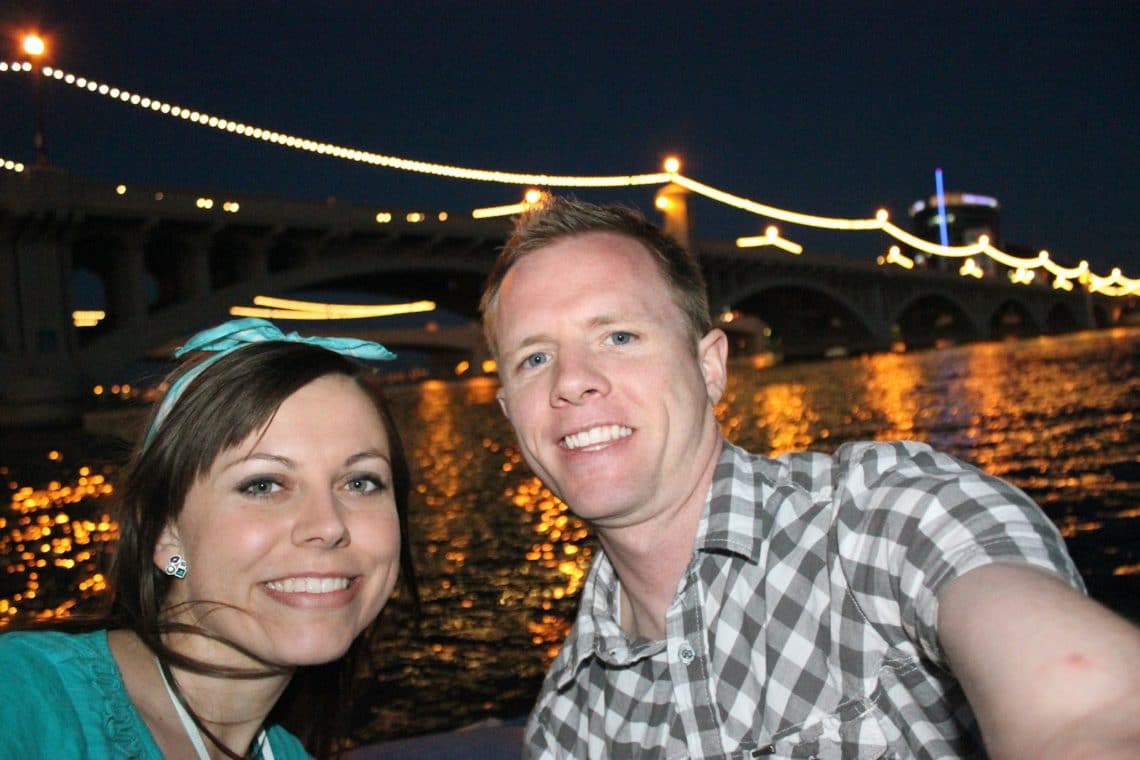 Moonlit Paddleboat Date
Rent paddleboats for a romantic stroll. We love doing this in the summer when the sun sets late and watching the sunset with a picnic dinner. Then, we go paddleboat around the lake for stunning views under the stars.
Take a cooking class
Taking a cooking class together can be a unique and interactive date idea. Many cooking schools offer late-night classes, where you can learn new recipes and techniques while spending quality time with your loved one. Cooking together can also be a fun way to bond and create new memories.
Go to a 24-Hour Diner
A 24-hour diner can be a great late-night date idea, especially if you're both night owls. Enjoy breakfast foods, or grab dessert while you chat and connect with your partner. You can also people-watch and enjoy the unique atmosphere of a 24-hour diner.
Late-Night Mini Golf
Putt around with glow-in-the-dark mini golf. Glow golf is a fun option usually available for a late night date nights on the weekends.
Karaoke Night
It's not hard to find a karaoke bar or social lounges that offer karaoke late-night hours. Reserve a spot and enjoy one of the best late-night date ideas you can do with a group.
Take a Ghost Tour
If you and your partner are into the paranormal, taking a ghost tour can be a thrilling late-night date idea. Many cities offer ghost tours that take place after dark, allowing you to explore haunted locations and learn about the history and legends surrounding them. It's a great way to get close to your partner while experiencing a spooky adventure.
Moonlight Ballet
Many ballet companies offer a show outside, under the stars. It's a romantic way to mix up a ballet show, and it happens later at night for a great late night date night.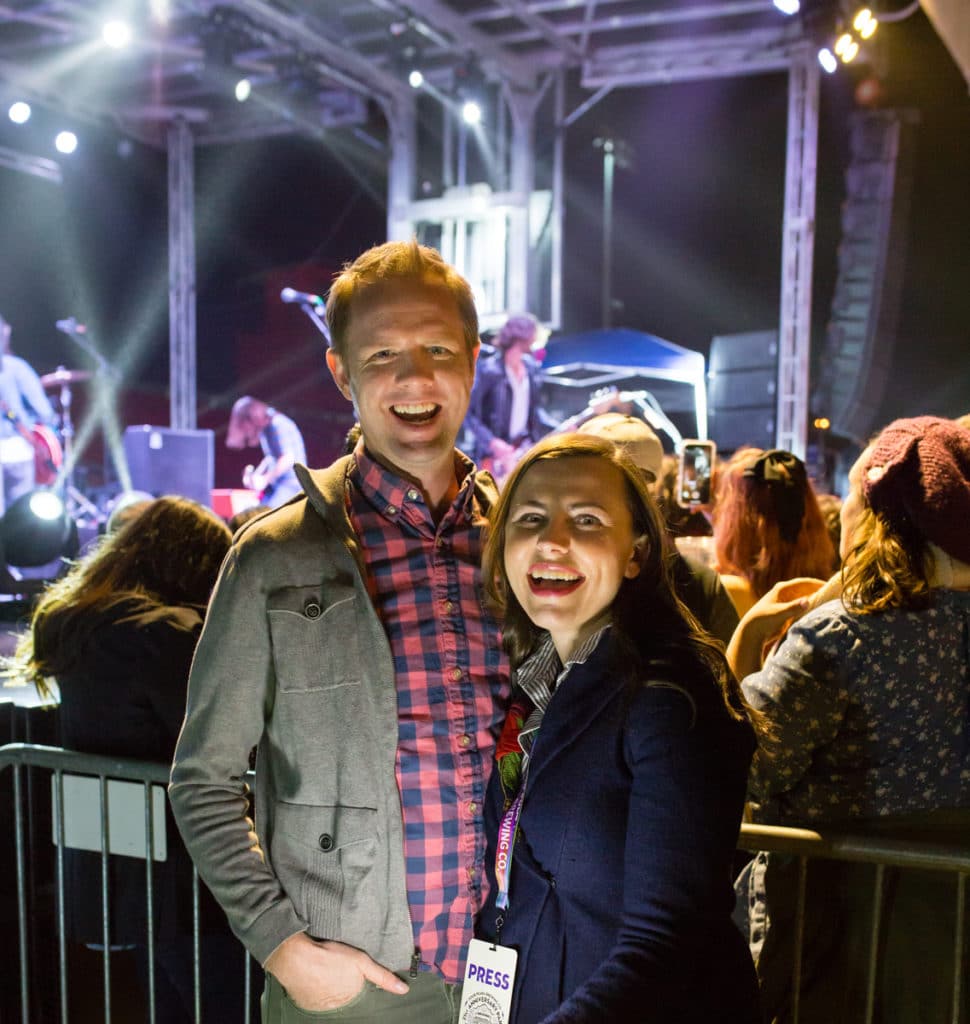 Attend a Nighttime Concert
Attending a nighttime concert can be a fun and exciting date idea for music lovers. Many venues offer shows that start later in the evening, giving you a chance to enjoy the music and atmosphere under the stars. Grab a couple of drinks and dance the night away with your partner while you enjoy some live music.
City Tour
Take a late-night tour of the city. Many offer electric scooter tours of historic areas, after hours building tours, or art tours.
Billiard Game Night
Your local pool hall more likely than not gets the party started and the games really going after most places close. Whether you're a pool shark or a complete newbie, some billiard games area. great way to connect and enjoy some time together.
Hit Up the Bowling Alley
If you've never done cosmic bowling, it's one of those fun date ideas you can usually only do late at night. They turn the lights down and turn the black lights up, It's a party and a great date!
Observatory Visit
Learn about astronomy and enjoy a nighttime telescope viewing at an observatory.
Laser Light Show
Most science centers/museums or planetariums host laser light shows. It's like having your own rave with the stars coordinated to popular music. They usually only allow adults to attend these after-hour late night events.
Laser Tag
Release your inner child with a game of laser tag.
Moonlit Hike
If you want a truly late night date night and are up for an all-nighter, plan a hiking date with flashlights, headlamps, and a hike by moonlight. You can find a scenic spot to talk, take a snooze, and prepare to watch the sunrise the next morning. It's a unique experience and a truly stunning date!
Check out our hiking date post for tips to find great hiking trails for a date!
Amusement Park Date
There's something so romantic about a thrill ride on a roller coaster with the colorful lights of an amusement park.
Visit the Fair
Ride a Ferris wheel, play some fair games, and eat some deep-fried junk food together. Try to win your boyfriend/girlfriend a stuffed animal. And make sure you split some cotton candy.
Nighttime Boat Ride
Take a romantic boat ride under the stars for a peaceful and serene date. There's just something about the water with moonlight and the sound of waves that makes a night boat cruise a really romantic date!
Show off your moves at a local roller skating rink for a fun and active date. It's the perfect date to hold hands and feel like teenagers again!
Fast Food Run
Do you know what's open and ready for you unitl midnight or even 1:00 am? A fast food restaurant! Head in for a late-night food run, or grab food from the drive-through.
See a Play at Your Local Theater
It's a great way to dress up and enjoy a special date in your own city or neighborhood. And many plays start later at night and end quite late too! It's the date we always have to make sure we have a babysitter up for an extra late night.
Gym Date
Head to a 24 hour gym and get in a late night sweat together.
Aquarium After Hours
Many aquariums host an after hours event at night at least once a month, if not every weekend. An aquarium date makes for a really romantic and peaceful connecting date. And it's extra fun to go when it's mostly couples enjoying the experience.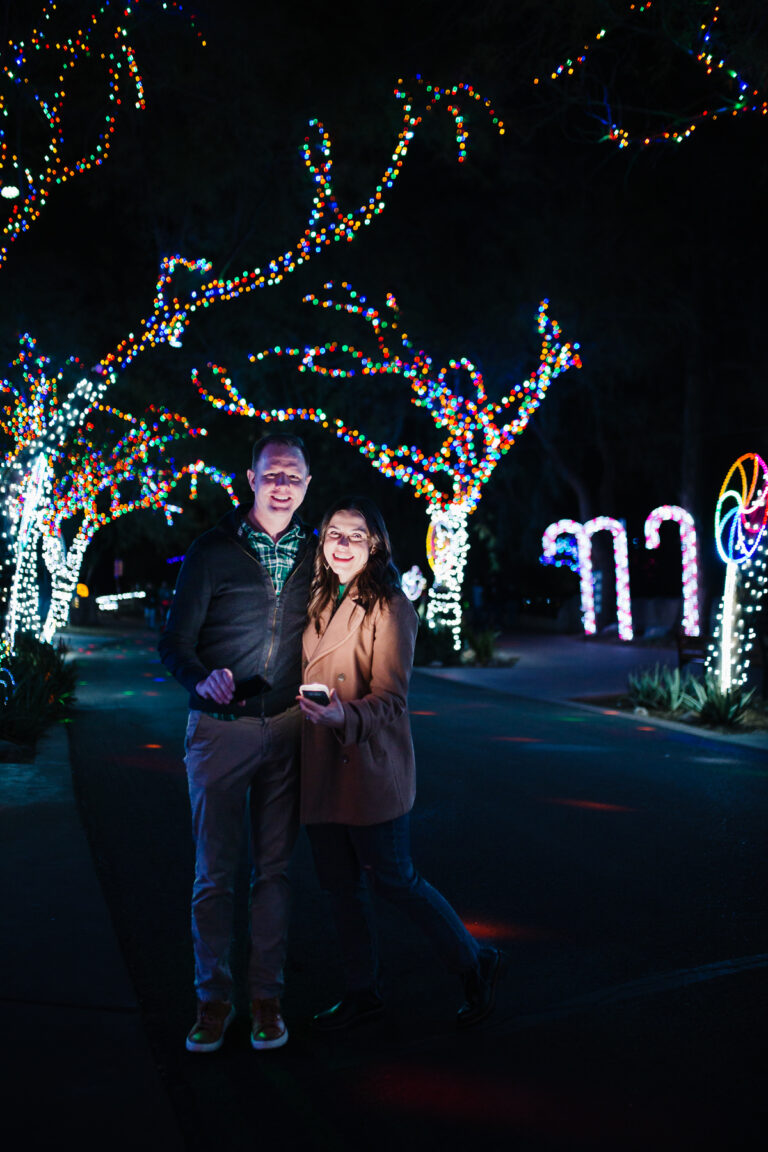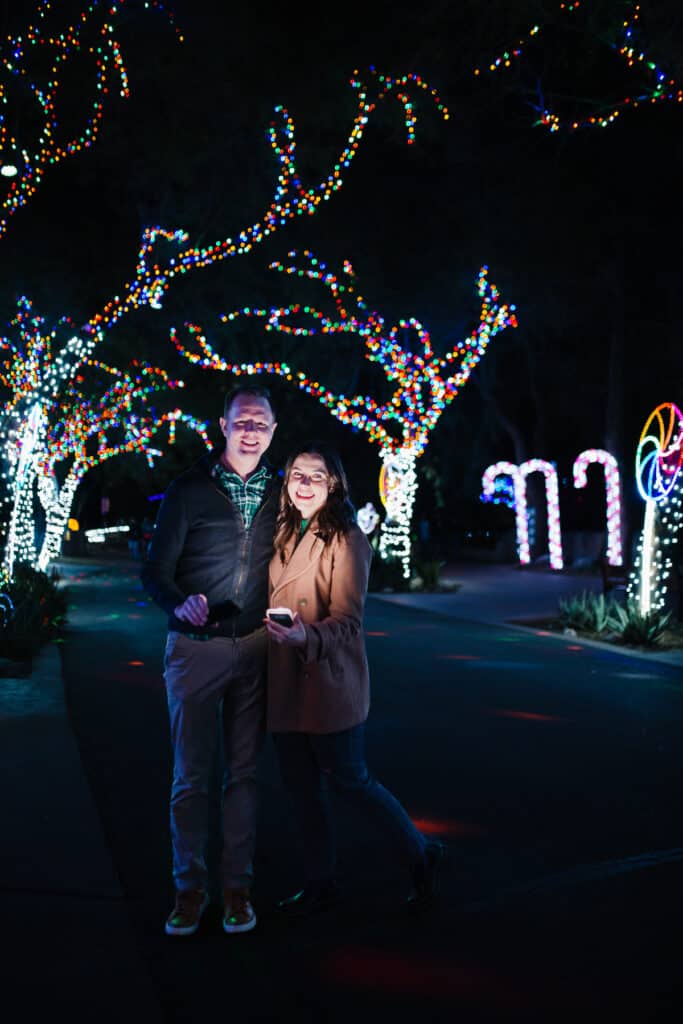 During the holiday season, and into the new year, most zoos host Zoolights after normal hours. It's typically a fun take on a zoo date, with a walk through the zoo after hours.
Most comedy shows happen pretty late at night! Find a comedian touring and book a late night date night to their show. You can also attend an improv date night show later at night!
At Home Late Night Date Nights
A game night can be a fun and cozy date idea for couples who love to play games. Choose your favorite board game or card games and spend the night laughing and competing with your partner. You can also make it a double date with another couple to add to the fun. Check out our list of the 100 best games for couples to help you find a great game!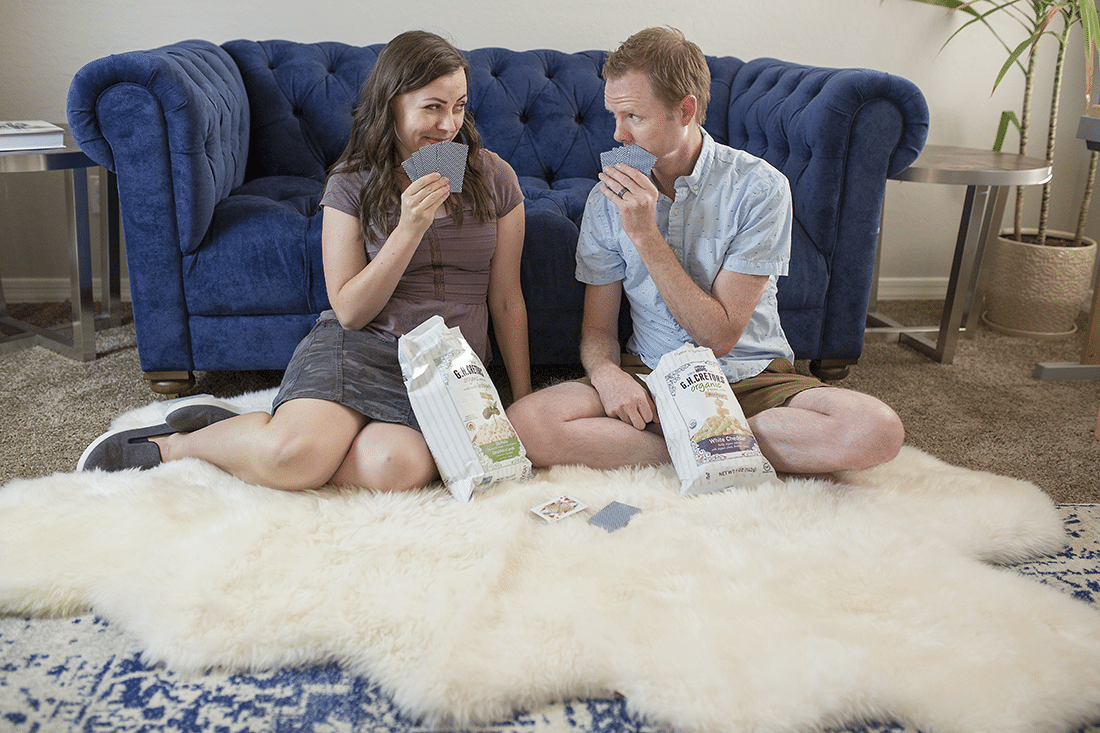 This is a little different than a typical game night. This game is designed for couples who have been together for a while, and it is truly hilarious! It's the perfect game for married couples who want to spice up date night after the kids go to bed!
Video Game Tournament
Find a video game you are both interested in, and have a video game tournament together. Bonus points for getting an old-school game and seeing if you can beat the entire game together!
Appetizer Spread
Get a bunch of finger foods and enjoy an inverse happy hour. Some late night snacks and conversation are always a great idea!
Charcuterie Board
How easy is a cheese board or a themed charcuterie board? Surprisingly pretty easy! It's a delicious way to do a late-night date night too!
Set up a tent in the living room and get ready for a cute indoor camping date night!
Work on DIY Projects
In 2020, when there wasn't anywhere to go, and home date night ideas were all we had, we actually used the time to remodel our home. We would crank up the music, get some snacks or treats, and tackle DIY projects together. It's amazing how much fun you can have and how productive you can be even when it's a late-night date night after you put kids to bed!
Good news, we have a Would You Rather for Couples free printable you can download and have this date night ready to go!
Build a Blanket Fort
This is one of those easy things that's a surprisingly romantic date idea! Turn it into a romantic fort date by adding a few string lights for some ambiance. You get bonus points for adding in some romantic snacks to enjoy in your fort together.
Love Languages Date Night
Have a 5 Love Languages Date Night. Take the quiz, read The 5 Love Languages and discuss what you can do better to help your spouse feel loved. We have a free printable activity to help walk you through this date!
Take a Living Room Dance Class
Did you know you can learn almost any type of dance in the comfort of your living room? Take the pressure out of learning something new, and do an online class for two. We love this date for married couples who would love a night out, and feel stuck at home and need a date after kids are in bed. It's also a fantastic way to learn a dance for your wedding, or a dance or an upcoming wedding you two may attend together!
Netflix and Chill
I know this is nothing original in terms of date night plans. However, when it's late, and many places are already closed, this is an easy and fun date night! Give yourself the excuse to binge-watch a new series. You can also go back to some of your favorite shows and relive them in bulk while you cuddle up for date night.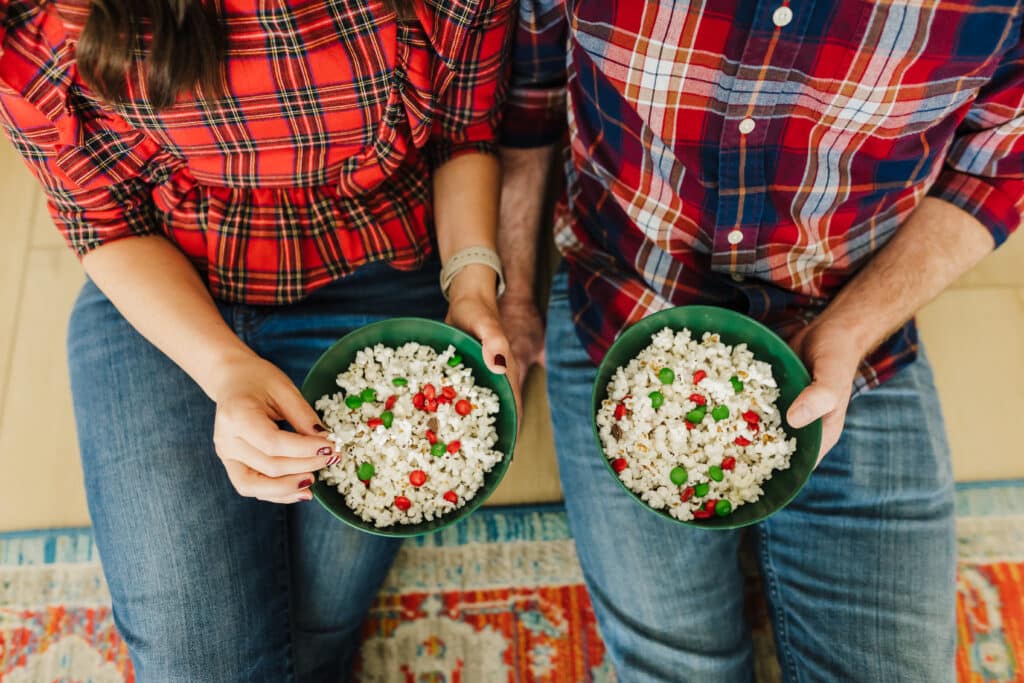 Make Some Popcorn
You can go with the classic buttered popcorn, in fact, check out our favorite silicone popcorn popper for an easy way to do this! However, a popcorn bar and some creative flavors go such a long way! It's the perfect way to shake up a movie date.
Here are a bunch of our favorite popcorn flavors, kernals, and the best popcorn popper to help you with a popcorn night!
Backyard Movie Date
There's something about watching a movie under the stars by the light of the moon. Any time after sunset, you are set for a backyard movie date!
Check out our post about how to create your own outdoor movie theater. You can do it inexpensively with a pillow or laptop, or get a setup for this fun date night idea you can do on repeat.
Give Each Other Massages
Check out some simple massage techniques and get some massage oil.
Spa Night Date
If you're craving a relaxing date night, spa nights are a fantastic idea! Grab some face masks, and foot masks, and get ready for a little pampering for two.
Take Personality Quizzes
Do you already know each other's enneagram numbers? Have you ever done the Strengthfinder2.0 quiz? An after-hours date is a great opportunity to re-take these and discuss your personality types together!
Maybe you're stuck in a moment where it's hard to leave the house, but it likely won't be forever. So take the time to make a list of a bunch of things you'd like to do together, place you'd love to visit, travel goals, and future date nights.
We did a bucket list date night several years ago, and I'm pleased to say it made many awesome date night plans come to fruition!
Dinner for Two
Plan a full menu and make a romantic dinner together. I had friends who used to put their small kids to bed a little early one night a week, and then would go all out with a gourmet dinner for two. It was about the cutest way to make a date night happen without having to pay for a babysitter!
Dinner on the Rooftop
If you have access to your home's rooftop, the apartment complex's rooftop. or an office building rooftop, you're set up for an excellent date under the moonlight.
Beverage Tasting Date
Grab our free taste test scorecard and get a bunch of drinks to try after hours. You can turn it into an at-home wine-tasting night, or an at-home Lecroix taste-off. We love to grab sparkling juices from Trader Joe's and compare flavors. Whatever you love to drink makes a great item to enjoy and taste test.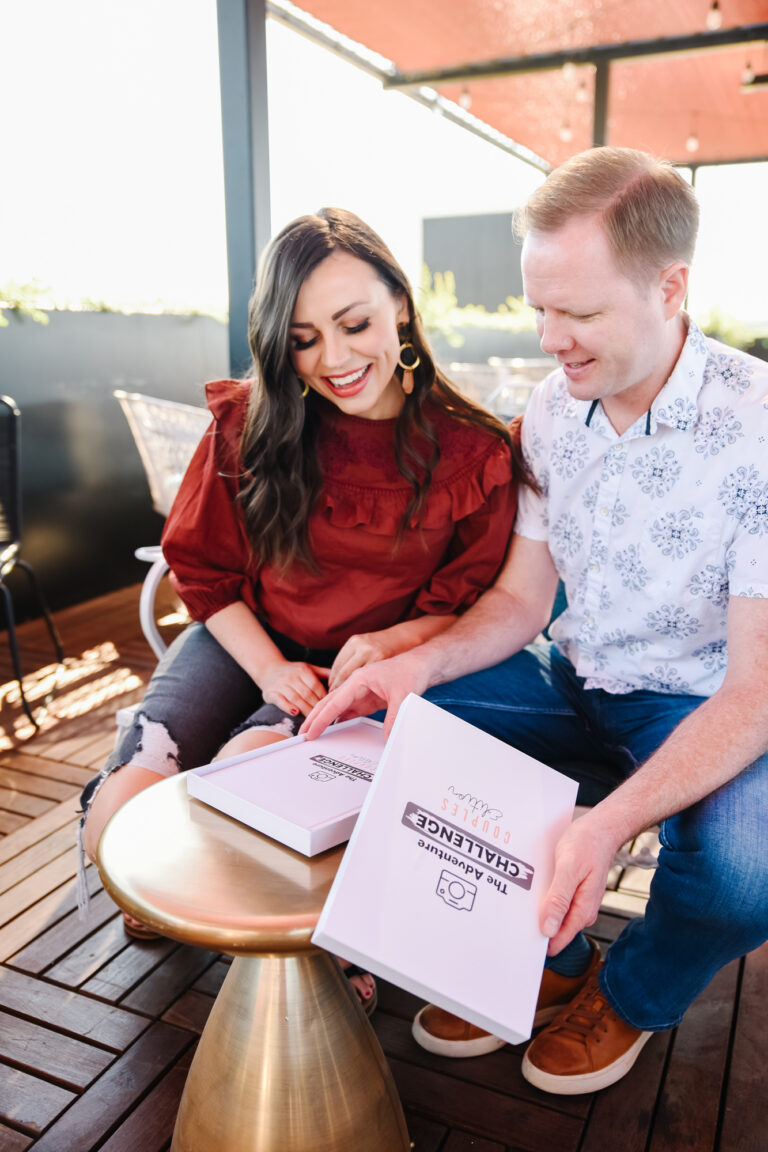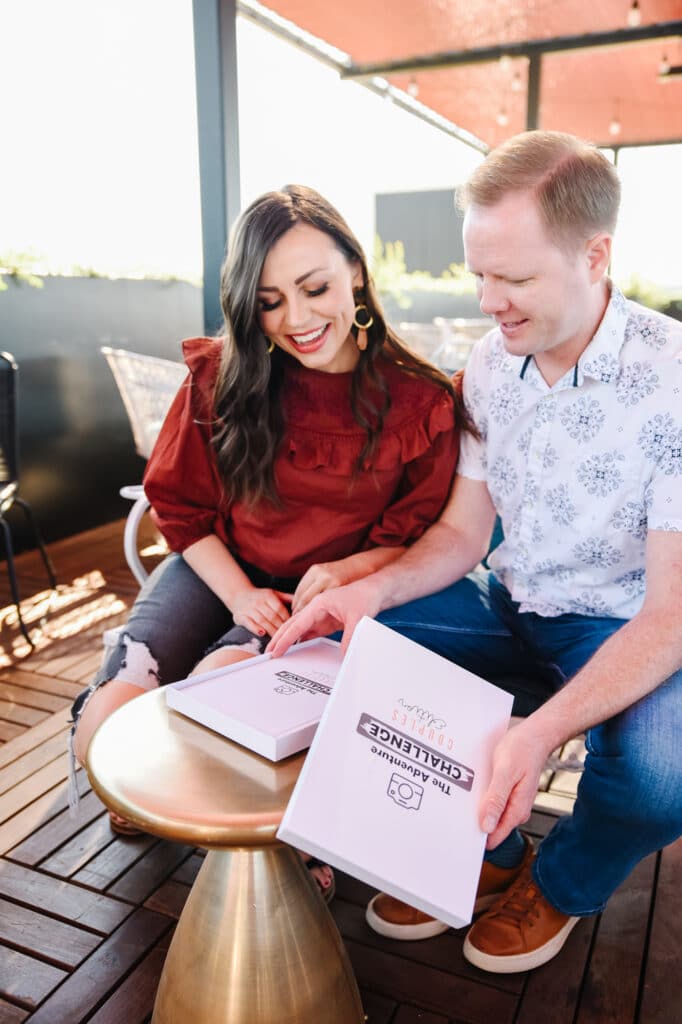 Adventure Challenge
Do an Adventure Challenge for Couples date night like the blindfold baking date night. They're full of creative date night ideas with many perfect home date idea options!
Adventure Challenge…In Bed
If you're up for a romantic night and ready to shake up the bedroom, this book is for you! It's meant to bring new levels of your relationship out physically with foreplay and intimacy challenges. It takes things beyond PG but is still tasteful enough to not feel sleazy trying it. It has many 5-star ratings with great reviews saying it helped take intimacy to the next level. 
Bonfire Night
Head to the backyard and grab a fire pit for a bonfire night. You can roast s'mores, tell some ghost stories, or just snuggle up by the fire.
Take a Bath Together
Set up a romantic bath for two. You can take a bubble bath, do a relaxing Epsom salt bath, or just add some candles, rose petals, and music for a very romantic bath for two!
Read a Thon Date
We love doing a read-a-thon at home for our kids, but it's a really fun date night too!
Cozy up to a chill late night with a read-a-thon. You can read books together, or each grab your own read and enjoy being near each other.
Pizza Night
You can order a pizza late into the night, and enjoy a pizza date pretty easily! But it's also fun to create your own pizza with our foolproof easy pizza dough recipe. Grab a variety of toppings and build your own personal pizzas. Bonus points if they're heart-shaped pizzas!
If you hoped to head out for a date night, but you're actually stuck in a car date is a great way to go! Just change up your date night plans from the couch to the car, and enjoy a great date! And if you need some inspiration, check out our car date ideas post.
Late Night Date FAQs
Are these late-night date ideas suitable for all couples?
These date ideas are suitable for most couples. Some are meant for couples in long-term relationships, but many work great for anyone! It's important to consider your partner's interests and preferences before choosing an activity.
Do I need to spend a lot of money for these date ideas?
No, many of these ideas are affordable or free. It's all about spending quality time together, not how much money you spend.
What's an appropriate time for a date?
Many couples plan dinner dates at 7:00, and pick up their date around 6:30. Most date activities start between 7pm and 9pm. But clearly you can make a late night happen whenever works for you using this list of 60 great late dates! 
How do you spice up date night?
Try something new, plan a date to impress, and get out of your normal routine. You can also try more romantic and intimate dates to keep things feeling extra exciting. 
Is 9pm too late for a date night?
This is going to depend on the couple! Some people are in bed by 9:00 p.m., and some are ready to party! Check with your date and make sure they're okay with a later date night before you plan it. 
Make a date night happen!
There are clearlly many exciting and unique late-night date ideas that can add some spark to your love life! From stargazing to attending a concert, the possibilities are endless. The most important thing is to spend quality time together and create lasting memories. So, next time you're planning a late-night date, consider trying one of these ideas and see where the night takes you!
Be sure to check out these date ideas lists too for even more great date ideas!
Simple Date Ideas with Lots of Last Minute Date Ideas!
Get 365 Date Ideas!
We want to help you have the best date nights ever! Grab this FREE printable with 365 date ideas, a date for every day of the year so you never run out of ideas!