Plan a fun and unique group date experience! Check out these 50 fun group date ideas that are perfect for friends, couples, and everyone in between!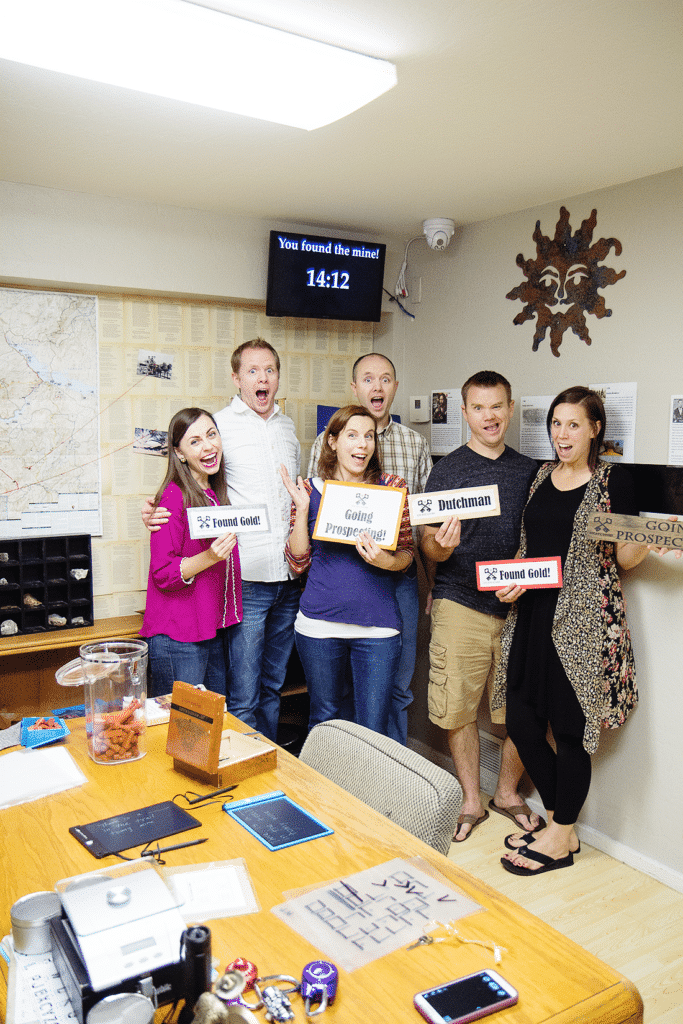 A fun group date night gives the best of both worlds: time with your date and time with your friends! Whether you're in a new relationship, a long-term one, or simply looking for fun activities to enjoy with your friends, a group date is a great idea! Fun group date ideas offer an amazing way to have fun, get to know one another better, and create lasting memories.
Here are 50 fun group date ideas to plan your next group date night!
1. Potluck Dinner
A potluck dinner allows everyone to showcase their cooking skills, or at least their ability to choose a delicious store-bought dish. This not only provides a variety of food to enjoy but also sparks conversation and creates a sense of community. And, it's easy to host one in your own home or backyard. Feel free to assign a theme like a cheese and crackers night, or appetizer-only night. We've had friends host a dinner party and assign each couple a new recipe to bring. Or, you can let friends showcase their culinary talents and invite them to bring any dish they'd like!
2. Amusement Park Date
There's something so fun about an amusement park with friends. You chat while you're in line for rides, split all amusement park snacks, and release some stress screaming on roller coasters.
3. Game Night
Invite your friends over for a night of friendly competition. From board games and card games to video games, the options are endless. You can even add a fun twist by having a small prize for the winner.
4. Hiking Adventure
For adventurous groups, a hiking date trip can be an exhilarating experience. Choose a trail that suits everyone's fitness levels, pack some snacks, and set off on a fun-filled day of exploration and bonding. This is also a surprisingly romantic date idea to do at sunrise. Head out early and hike to a scenic view for one of the most incredible experiences!
5. Winery Tour/Wine Tasting Tour
Whether you're a wine connoisseur, simply enjoy a glass now and then, or don't even drink, a winery tour is a very cool group date! A wine-tasting tour can be a fun and educational group date idea for those who do drink. Many vineyards offer tours and tasting sessions, and it's a great opportunity to learn about different types of wine, or see some of the prettiest locations so worth a tour!
6. Trivia Night
Organize a trivia night at home or head to a local bar or restaurant that hosts one. This not only stimulates your brain but also helps you learn new things about each other based on your areas of knowledge.
7. DIY Craft Night
Get your creative juices flowing with a DIY craft night. It's an excellent opportunity to unleash your creativity, try something new, and take home a handmade memento at the end of the night.
8. Karaoke Night
Show off your singing skills, or lack thereof, in a fun-filled karaoke night. It doesn't matter if you can't carry a tune; the goal is to let loose and have a good time. You can assign solos or duets, and all are a fun time! Find a karaoke bar or a restaurant with a special karaoke night and reserve an area for everyone to participate in this creative date!
Set up a projector in your backyard, bring some comfy chairs and blankets, prepare popcorn and drinks, and enjoy a classic movie under the stars. Check out our tutorial on how to create an outdoor movie night setup. This offers a unique twist to the usual movie night and creates a magical atmosphere.
10. Themed Costume Party
Choose a fun theme, such as a decade or a movie franchise, and ask everyone to dress up accordingly. This not only adds a fun element to the gathering but also provides excellent photo opportunities.
Puzzles, clues, teamwork – an escape room offers all these and more. It's an engaging and interactive group date idea that encourages collaboration and quick thinking.
12. Cooking Class
Whether you're a seasoned home cook or a kitchen novice, a group cooking class is a fun and tasty experience. Learn new recipes, cooking techniques, and enjoy the fruits of your labor at the end of the session.
13. Picnic in the Park
Pack some sandwiches, fruit, snacks, and drinks, bring a blanket and enjoy a leisurely afternoon in the park. A picnic offers the perfect blend of relaxation, conversation, and natural beauty.
14. Bowling
Head to the bowling alley , and turn up the competition or try bowling with a twist for one of those fun date night ideas with a twist. Bowling is a classic group date idea that combines fun, competition, and skill. Whether you're a pro or a beginner, bowling guarantees lots of laughs and fun.
15. Museum Tour
A museum tour can be an educational and inspiring group date idea. Choose a museum that caters to everyone's interest, be it art, history, science, or something else.
16. A Beach Day Out
What can be more relaxing and fun than a day out on the beach? Sun, sand, sea, and great company is the ultimate recipe for a delightful day. Pack some snacks, beach games, and sunscreen, and you're set for a fantastic group date at the beach.
17. Sporting Event
For sports enthusiasts, attending a live sports event can be thrilling. Choose a sport that everyone enjoys and cheer on your team together.
18. Ice Skating
Ice skating is a fun and exciting group date idea, particularly during the winter months. Whether you're a seasoned skater or a beginner, it's guaranteed to create many laughs and memorable moments.
19. Comedy Club Visit
Who doesn't love a good laugh? A comedy show to see a favorite comedian is even more fun with friends. Visiting a comedy club offers an evening of entertainment, laughter, and relaxation.
20. Group Workout Class
A group workout class can be a fun and healthy group date idea. Whether it's yoga, spinning, Zumba, or kickboxing, working out together can be energizing and rewarding.
21. Volunteering
Turn your group date into a day of giving back by volunteering at a local charity, soup kitchen, church, or school. It's a rewarding experience to volunteer that strengthens bonds and makes a positive difference in your community.
22. Paintball
An adrenaline-filled activity, paintball allows for friendly competition and teamwork. It's a great way to blow off some steam and enjoy a thrilling experience.
23. Book Club
For the literary-minded, consider forming a book club. Select a book everyone is interested in, read it separately, and then gather to discuss your thoughts and interpretations. We had a couple's book club as newlyweds, and it was such a cool way to shake up date night! And, you get bonus points for pairing a book with a themed snack.
24. Mini Golf
Mini golf is a classic group date idea that brings out the playful and competitive spirit in everyone. Plus, it doesn't require any specific skill set, making it enjoyable for all.
25. Pottery Class
A pottery class is a unique and creative group date idea. It allows everyone to learn a new skill and create something tangible they can take home.
26. Food Truck Tour
Food truck tours offer a variety of delicious cuisines to try. You can sample different dishes and enjoy the vibrant and often eclectic atmosphere.
27. Scavenger Hunt
Plan a scavenger hunt around your city or neighborhood. It's fun, interactive, and a great way to explore your local area. Check out youtube for a few fun examples and ideas.
28. Drive-In Date
Shake up a normal movie theater date with a fun drive-in movie date night. Pack a picnic or at least plenty of snacks and head to the drive-in after sunset. Bring camping chairs to let the group sit together, or get a few truckbeds for a fun way to enjoy the movie together.
29. Home Improvement Project
Tackle a DIY home improvement project together. It could be painting a room, building furniture, or even renovating an entire space. It's a productive and satisfying way to spend time together. Plus, you can rotate homes and make sure everyone gets a major renovation project tackled together.
30. Group Photography Outing
Grab your cameras and head out for a group photography outing. Choose a location, such as a park, beach, or historic site, and let your creativity flow.
31. Farmers Market Cooking Challenge
Here's a twist on the farmers market visit – turn it into a cooking challenge. Each person or team buys ingredients from the market and then uses them to prepare a meal for the group.
32. Dance Class
Whether it's salsa, ballroom, hip hop, or Zumba, a group dance class is a fun and energizing date idea. You could even get your boots on and try country line dancing! It allows everyone to let loose and learn some new moves. Contact your local theater or dance studio to find a great group dance class near you.
33. Group Painting Class
A group painting class is another great creative outlet. Plus, you'll each have a piece of artwork to take home at the end.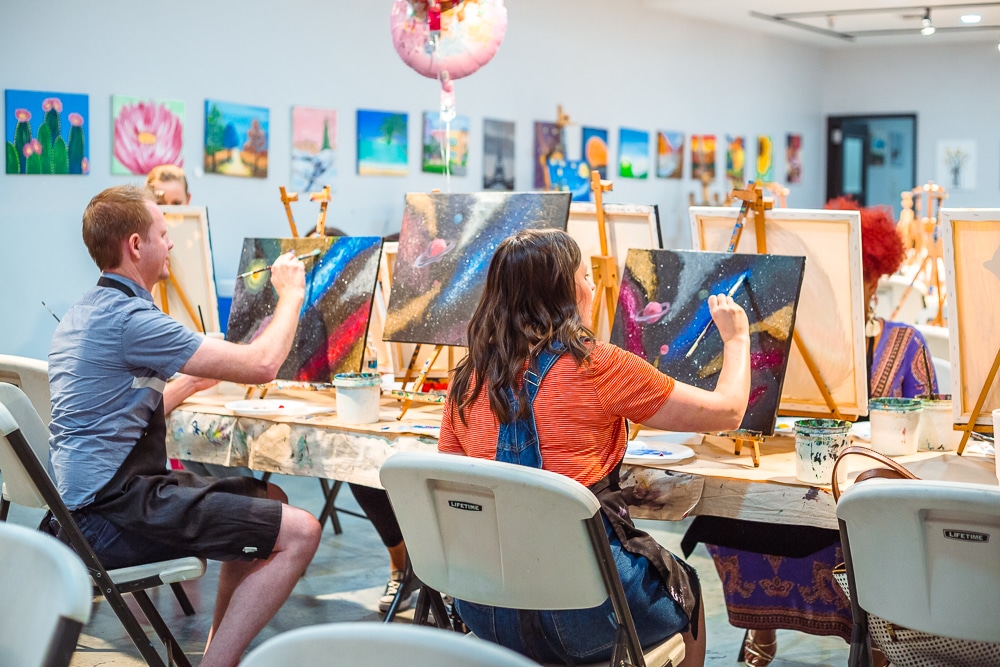 34. Nature Walk and Bird Watching
If you're a nature-loving group, consider a nature walk and bird watching. It's peaceful, and refreshing, and offers plenty of opportunities for great conversation.
35. Cultural Festival
Attending a cultural festival can be a fun and enlightening group date. You can enjoy music, food, and performances, and learn about a different culture.
36. Themed Movie Marathon
A themed movie marathon can be a relaxing and nostalgic group date idea. Choose a theme or franchise, like Star Wars or Marvel, and let the marathon begin.
37. Rolling Skating Date
A trip to a roller rink is one of those fun, nostalgic things that makes for one of the best group date ideas, or double date ideas. You can have fun skating to song requests, participate in dance challenges, and crack each other up while you fit in this super fun active date idea!
38. DIY Pizza Night
Have a DIY pizza night where everyone creates their own pizza. Check out our fool-proof homemade pizza dough recipe for an easy base. It's fun, interactive, and delicious! Not to mention, a huge crowd pleaser a favorite of all group date ideas for couples of all ages!
39. Outdoor Yoga
Outdoor yoga combines fitness, relaxation, and the beauty of nature into one rejuvenating group date.
40. Astronomy Night
Grab some telescopes and blankets for a night of stargazing. It's a serene and magical experience that'll leave everyone in awe.
41. Group Music Jam
If you have musicians in the group, a music jam session can be a fun and harmonious group date idea. And if you don't, hit up an open mic night and enjoy other musicians rocking out together.
42. Bike Tour
A bike tour around your city or countryside can be an active and adventurous group date idea. Plus a bike ride typically provides plenty of time to talk and reconnect with friends.
43. DIY Spa Day
A DIY spa day is a pampering and relaxing group date idea. You can make homemade face masks, give each other manicures, and just unwind.
44. Photo Booth Fun
Set up a DIY photo booth at home with props and a backdrop. It's a fun and creative group date idea that leaves you with great photos to remember.
45. Murder Mystery Party
A murder mystery party is an interactive and thrilling group date idea. Everyone gets to participate and play a role in the mystery.
46. Barbecue Party
A barbecue party is a classic group date idea that combines delicious food, outdoor fun, and great company.
47. DIY Dessert Bar
Set up a DIY dessert bar with various toppings, ice cream, and pastries. It's a sweet and tasty group date idea.
48. Local Tourist Day
Play tourists in your own city. Visit the landmarks, museums, or other tourist spots that you've never been to before.
49. Virtual Reality Gaming
If you're a group of tech lovers, a virtual reality gaming experience can be an exciting and immersive group date idea.
50. Campfire and Storytelling Night
Set up a campfire in your backyard, bring some marshmallows, and share stories. It's a cozy and intimate group date idea that'll bring everyone closer.
Group Date FAQs
How do I organize a group date?
Organizing a group date involves several steps: deciding on the date and time, choosing an activity that everyone will enjoy, coordinating transportation, and communicating the plan to all attendees. It might also involve making reservations, purchasing tickets, or preparing certain items in advance.
What are some things to consider when choosing a group date activity?
Consider the interests, preferences, and physical abilities of the group members. Make sure the activity is something everyone can participate in and enjoy. Also consider the budget, location, and weather conditions.
Why are double dates fun?
Double dates are fun because they give you a chance to enjoy your date, and still spend time with friends. Many couples love doing a group date night to enjoy the best of both worlds!
How can I make my group date more fun?
Keeping everyone involved and engaged is the key to a fun group date. Plan some ice-breaker games or activities, allow time for everyone to socialize and get to know each other, and ensure there's enough food and drinks.
Plan Your Next Fun Group Date!
Group dates are an exciting way to connect with friends, strengthen relationships, and create unforgettable memories. These 50 fun group date ideas are all tried and true date ideas groups love!
Remember to keep an open mind, be flexible, and focus on enjoying the experience rather than stressing over the details. After all, it's the laughter, the shared moments, and the joy of being with people you care about that truly make a group date special. So go ahead, plan that group date, and let the fun times roll!
Like these group date ideas? Be sure to check out these posts too:
Feed My Starving Children: Service Group Date Night
101 Fun Date Ideas for Couples
Get 365 Date Ideas!
We want to help you have the best date nights ever! Grab this FREE printable with 365 date ideas, a date for every day of the year so you never run out of ideas!